Vapers Digest March 26th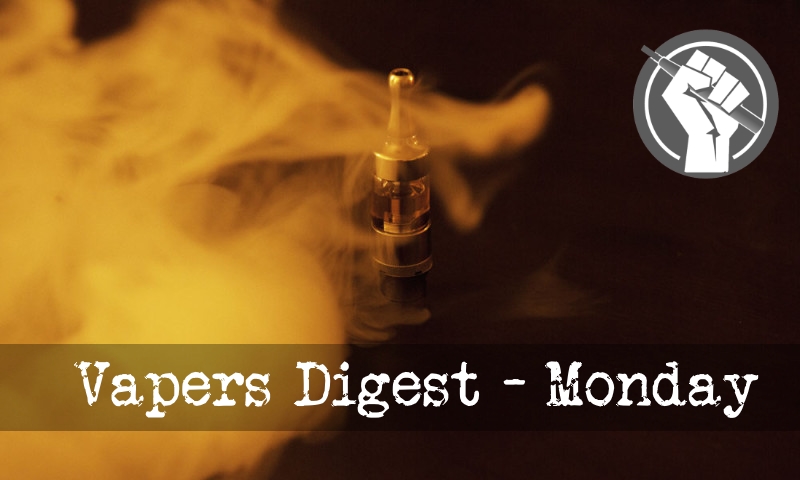 Monday's News at a glance:
Will somebody please stop thinking about the children? – Rhode Island's Impending 80% E-Cigarette Tax – Reddit Bans Sales and Trades of E-Juice on ECR – Unions Oppose Workplace Vaping – E-cigarettes and the obsolescence of combustion – Relationships matter, no matter where you live – Nicotine not to be blamed for smoking-related deaths – Vaping Won't Stain Teeth – Vaping In The News – Nicotine Science and Policy Daily Digest
Will somebody please stop thinking about the children?
Public health is essentially concerned with prevention and when it comes to tackling global communicable diseases like smallpox, TB and other diseases, there are many public health success stories. However, preventing the development of non-communicable diseases like the fall-out from drinking, smoking and drug use is a much more challenging prospect. The early efforts at substance use prevention in the West were spearheaded by faith groups and moral reformers whose goal was total abstinence.
The Consumer Advocates for Smoke-Free Alternatives Association (CASAA), is urging all vaping advocates to speak up against an unreasonable 80% tax on e-cigarettes, that may be implemented in Rhode Island.

Rhode Island's Governor Gina Raimondo's state budget plan would change the definition of "other tobacco products" to include e-cigarettes and would impose a new 80 % wholesale tax on these products.

The House Finance Committee was set to debate the tax at a hearing scheduled for last Wednesday, the 21st of March. However due to inclement weather that is forecast for Rhode Island and surrounding states, the hearing has been postponed.
---

---
Jim McDonald, Vaping 360
Reddit has restricted sales — and even the promotion of outside sales — of e-liquid on the electronic_cigarette subgroup (called a subreddit), and all related Reddit forums. The new stance is somewhat confusing, since it even prevents posts that include links to outside websites.

The change is part of a larger policy shift restricting commerce in age-restricted products on Reddit, probably prompted by concern over gun trades in the wake of the Parkland, Florida school massacre. There have also been moves in Congress — ostensibly aimed at sex trafficking — to hold internet sites responsible for illegal activities stemming from ads placed on the sites.
Mawsley, Planet of the Vapes
The All Party Parliamentary Group (APPG) for E-Cigarettes met in Committee Room 18 at the House of Commons, last Wednesday. Representatives of the British Beer and Pub Association (BBPA), the UK vaping industry, the New Nicotine Alliance (NNA) and the Trade Union Congress (TUC) were present, as well as the usual collection of politicians, all to discuss allowing vaping in and around parliament.
---
---
No matter where you live – Dr Garth Reid
Just before the start of the year I was invited to Hong Kong to talk to its government about Scotland's unanimous stance that vaping e-cigarettes is less harmful to health than smoking tobacco. It came about because of our close working relationship with ASH Scotland, the anti-smoking charity, and its CEO Sheila Duffy who recommended me.
---

---
In smoking cessation & reduction: Population Assessment of Tobacco & Health
We used nationally representative data from the Population Assessment of Tobacco and Health Study waves 1 (2013–2014) and 2 (2014–2015) to investigate the associations between e-cigarette initiation and cigarette cessation/reduction in the USA. We limited the sample to current cigarette smokers aged 25+ years who were not current e-cigarette users at wave 1. We modelled 30-day cigarette cessation and substantial reduction in cigarette consumption as a function of e-cigarette initiation between surveys using multivariable logistic regression.
Jean-Francois Etter
Disruptive technologies change almost every aspect of our lives, and this also applies to nicotine and tobacco use. Electronic cigarettes became available 12 years ago and several other technologies that vaporize tobacco or nicotine have appeared more recently. Tobacco companies are developing new strategies that include product diversification, massive investments (billions, not millions) in new vaporizing technologies, and a stated goal to reduce the harm caused by smoking and to eliminate tobacco combustion

Association of Vapors India
Fearing a blanket ban on e-cigarettes by the government in view of the limited awareness about the relative benefits of vaping over smoking, the Association of Vapors India (AVI) on Saturday stressed that nicotine should not be blamed for smoking-related deaths.

There is a widespread misconception about the health risks of vaping, which has led many Indian states to ban e-cigarettes, depriving smokers of a safer way of inhaling nicotine, said Samrat Chowdhery, Director, AVI, a not-for-profit advocacy organisation that defends the right to a healthier alternative to smoking.
Dory Jackson
On Saturday, a newly published study suggested vaping doesn't stain teeth. Scientists from the British American Tobacco (BAT) conducted a study that examined teeth exposed to cigarette smoke and teeth subjected to vaping over a two-week period. The results were presented at the American Association for Dental Research's annual conference.
---

---
Kevin Crowley, Vaping Links
Twenty One – What if we limit adulting to just one age? ~ FDA Working Double Shifts ~ Prevalence of current cigarette smoking among adults ~ Pfizer's quit-smoking Chantix fails study in adolescent smokers ~ Ball squeezing ~ Prevalence of current cigarette smoking among adults ~ How The FDA Plan To Take Nicotine Out Of Cigarettes Will Fuel Terrorism ~ State Policies Help Promote Misperception That Nicotine Causes Cancer ~ Chris Price ~ FDA Is About to Crack Down on Non-Compliant Vapes ~ Loise Ross ~ Anti-Smoking Bigots Trying to Kill Smokers and the Vaping Industry ~ Ending Global Confusion ~ CASAA
ECigClick
Vape News Headlines: NHS Should Be More E-cig Friendly – Fight Begins To Save Flavoured E-liquids – VApril Challenge – EU Told Vaping Is Good For Health – Cosmic Fog Sells Shares To Big Tobacco – Walking Whilst Smoking Could Become Illegal….and Ivanka Trump Tests E-liquid…
---
A look back at how things have moved on or otherwise….
New Nicotine Alliance
In January the High Court in London ruled that Swedish Match and NNA (as intervenor) could take their challenge against the UK and EU ban on snus to the European Court of Justice, in Luxembourg.

The documents have now been approved by the High Court and sent to the European Court of Justice. You can view them here.
Christopher Snowdon, Velvet Glove Iron Fist
The 2016 Tobacco Control Scale (TCS) was published yesterday. The TCS pats governments on the back for capitulating to the whims of the anti-smoking lobby, regardless of whether the policies actually work.

Charting each country's score against smoking rates show that obedience to 'public health' diktats is no guarantee of lower smoking rates, even if forcing people to stop smoking were ethically justifiable – which it isn't.
---
Visit Nicotine Science & Policy for more News from around the World

---