Vapers Digest March 14th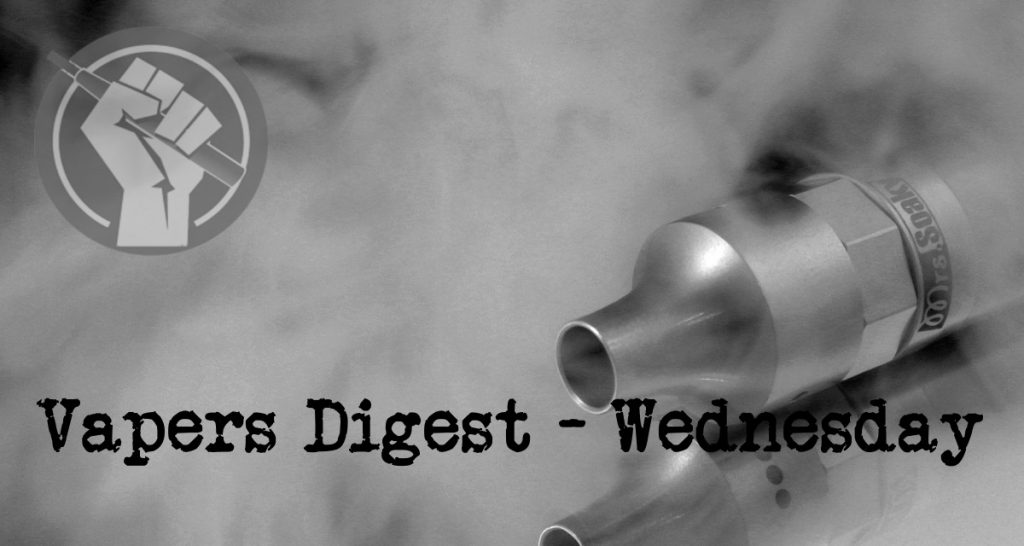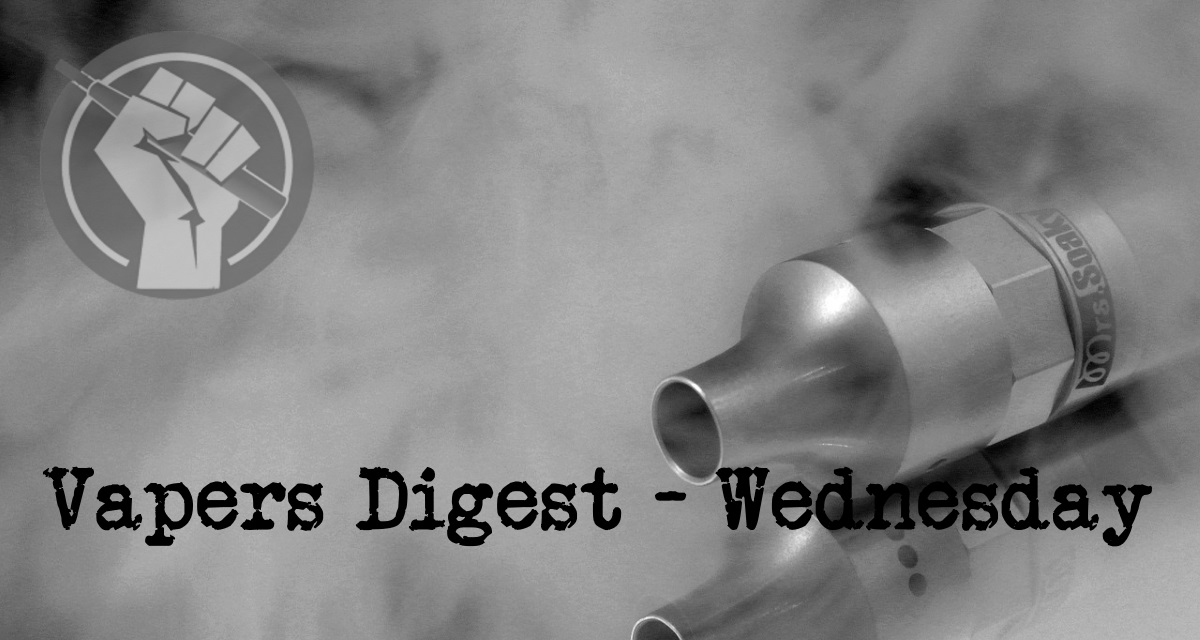 Wednesday's News at a glance:
SCIENTISTS' PROFILES – "Electronic cigarette: a potential step forward for European health" ~ Harry's blog 53: WTF ~ Public health experts rally to support US legislative initiative on vaping ~ Congress can protect youth from vapor products by passing Section 753 of the Ag Appropriations bill ~ Second Reading of Electronic Cigarettes (Regulation) Bill this Friday ~ UAE working to stop illegal import of e-cigarettes ~ UAE mulls ban on import of e-cigarettes~ Now It's Africa: Ghana Will Ban Vapes Soon ~ The Cult-Like Stupidity At #WCTOH2018 ~ Tobacco Control Addicts ~ Tobacco Control's Orwellian Statement Of 'Human Rights' From #WCTOH2018 ~ Sales of electronic cigarettes prohibited on Internet ~ No Provision in Law, but Centre Is Firm on Banning E-Cigarettes ~ Pascagoula city council adds e-cigs to smoking ordinance
Lega Italiana Anti Fumo

Tuesday 20 March at 12.30 am in European Parliament (Room JAN 6Q1) will be held the event: "Electronic cigarette and damage reduction: a potential step forward for European health".

Coordinator is Giovanni La Via, European Parliament.

PROGRAM

Agnieszka Kozakiewicz, European Commission
Riccardo Polosa, Institute of Internal Medicine and Clinical Immunology, University of Catania, Italy: "Health effects of vaping"
Linda Bauld, Professor of Health Policy, Director of the Institute for Social Marketing and Dean of Research (Impact) at the University of Stirling: "Youth and vaping. Gateway in or out of smoking"
Frank Baeyens, professor of experimental psychology at the KU Leuven: "Effectiveness of electronic cigarettes for smoking substitution"
Bernd Mayer,  Professor of Pharmacology and Toxicology at University of Graz, Austria: "Nicotine, everything you need to know but have never been told"
Karl Fagerstrom, Clinical psychologist of Smokers Information Centre, Sweden: "Accelerating the end of the tobacco epidemic. Tobacco harm reduction"
Harry Shapiro, Nicotine Science and Policy
I know there are some readers of this blog who are unfamiliar with the happy-go-lucky world of international tobacco control. Here is a snippet of back story. Derek Yach was formerly an important figure in WHO tobacco control circles until he recently became head of the Foundation for a Smoke Free World (FSFW) funded in a very transparent way by Philip Morris International.

Not surprisingly, this sparked howls of outrage from many in the tobacco control community. OK. Fair enough – be outraged and move on. OR maybe take a more grown up approach.
Clive Bates, The Counterfactual
Just out, a statement from the National Tobacco Reform Initiative –  a group of senior figures and experts in public health and tobacco control – supporting a substantial change to the legislation governing vaping products in the United States. This statement supports what is known as the Cole-Bishop rider to the Agricultural Appropriations Bill (the rider is at section 753).  This language has the following main effects:

Allows all vaping products that were on the US market in 2016 to stay on the market by waiving the requirement for 'pre-market review' (s.910), the most onerous and damaging regulatory burden – the same kind of grandfathering that was offered to cigarettes in 2009, when the Tobacco Control Act come into effect
It does not waive other requirements under the Tobacco Control Act – for example, submission of health information, ingredients and harmful constituents (s.904), misbranding (s.903) etc.
Requires FDA to develop standards for flavors and batteries
Places additional restrictions on sales and marketing
Requires certain warning labels and accurate labelling of nicotine content
Tony Abboud

, The Hill
The members of the Vapor Technology Association (VTA) – small and large vapor businesses throughout the country – are committed to protecting youth from exposure and access to vapor products. Right now, Congress has the opportunity to help protect minors by passing Section 753 of the House Agriculture Appropriations bill. Section 753, which has already passed the House without opposition, would implement the first common-sense restrictions to keep vapor products away from teenagers. We strongly believe in our responsibility to help protect the youngest and most vulnerable of society. Now, it's time for Congress to act to ensure these products stay out of youth's hands.
---
Pleased to see our smoking prevalence in #Herts is going down, and #ecigs #vaping is a part of this. https://t.co/dsM74AzDZx #publichealth

— Jim McManus OCDS (@jimmcmanusph) March 14, 2018
---
The Freedom Association
This Private Member's Bill has its Second Reading in the House of Commons this Friday. Introduced by Freedom Association Council member, Sir Christopher Chope MP (pictured left), its purpose is to exempt electronic cigarettes from UK law derived from the Tobacco Products Directive.
Staff Writer, Arabian Business
There are no plans to issue licenses allowing the import of the products to the country, according to the National Tobacco Control Committee. The UAE is working on regulations to stop the illegal import of e-cigarettes, as people continue to smuggle the product to the country via online orders, according to Dr Wedad Al Maidoor, head of the National Tobacco Control Committee.

She said the organisation is working with customers to find a way to stop people from ordering e-cigarettes online or bringing them into the country.

Related:

Asma Ali Zain and Angel Tesorero

The UAE is working on regulations to stop the illegal import of e-cigarettes, following which people who bring the product to the UAE or order them online will be held accountable, said a senior health official.

Dr Wedad Al Maidoor, head of the National Tobacco Control Committee, said: "All the e-cigarettes currently available in the country have not been imported, since no import standards have been specified. So, they are smuggled," she told Khaleej Times.
Jim McDonald, Vaping 360
Ghana is set to ban e-cigarettes soon. An official from the Ghana Health Service confirmed the plan at last week's World Conference on Tobacco or Health, in Cape Town, South Africa.

Divine Darlington Logo, Principal Research Officer at the Ghana Health Service, said the ban would also cover shisha (hookah tobacco), and was based on unpublished research by the health service. The news was reported by Ghanaian publication Myjoyonline.
---

---
Dick Puddlecote
As Snowdon has also written, the World Conference on Tobacco or Health (WCTOH) last week was a staggering car crash of an event where the tobacco control industry basically announced to the world that it had abandoned any last remnants of the facade that it cares for health.

The level of lying was off the scale, but it was the sheer unadulterated stupidity and naivety on display which deserves more comment in my opinion.
Switch To Ecigs.com
Last week tobacco control addicts had their own Woodstock, #WCTOH2018 in Cape Town, SA. We're talking about a large group of around 2000+ people, heavily addicted to being flown and accommodated for free and even paid for playing with their ppt presentations. There's a nearby beach to wash off all the mutual asskissing and  get ready for the next round of mutual brainwashing.

Although tobacco control addiction is a serious disease, its symptoms can be a real fun. Hence the top list below.

Carl V. Phillips, The Daily Vaper
Last week's tobacco control meeting in Cape Town, South Africa, the World Conference on Tobacco or [sic] Health, produced many awful communications, some of which were previously reported. Probably the worst was an official statement adopted at the meeting entitled, "Cape Town Declaration on Human Rights and a Tobacco-free World." With this, a lobbying enterprise whose efforts are entirely about denying people's choices tries to claim the mantle of human rights. The document is so Orwellian that it comes close to literally saying "freedom is slavery."
Lars Anderson, The Brussels Times
The Council of State refused the request from two retail sellers to reverse the prohibition.
---

---
, The Quint
In a controversial stand, the Union Ministry of Health and Family Welfare (MoHFW) has taken an in-principle decision to ban the manufacture, distribution and sale of all Electronic Nicotine Delivery Systems (ENDS) – more popularly called e-cigarettes across India and heatsticks abroad, according to a draft proposal of the ministry.
, WMC Action News
A change to Pascagoula's smoking ordinance could cause some who use e-cigarettes to rethink where they vape. Theresa Gouff is an owner of Outrigger Bar and Grill in Pascagoula. She has a lot of regulars who fills these seats, some of whom vape at the bar. Soon, those vapers will have to join her in the smoking section outdoors. "If you're going to do it for smoking, you might as well do it for all of it," she said. She's referring to a change to add e-cigarettes to the city's smoking ordinance. The city council adopted the amendment last week, meaning once it takes effect, vapers will have to follow the same rules as smokers.
---
A look back at how things have moved on or otherwise….
Michael Siegel, TobaccoAnalysis
A paper published in the current issue of the Annals of the American Thoracic Society reports the results of a survey regarding physician recommendations to their patients about the use of electronic cigarettes for smoking cessation.

Physicians were given a clinical scenario in which a patient who smokes seeks advice about smoking cessation. Most physicians report that they would recommend the patient try FDA-approved medication before trying e-cigarettes. However, physicians who recommended against e-cigarettes initially were then given a further scenario in which the patient tells the physician that they tried other medications to quit before, that they refuse a prescription, and that they ask the physician again whether they should try e-cigarettes to quit.
Amercians for Tax Reform
President Trump has nominated Scott Gottlieb to head the Food and Drug Administration (FDA), an agency mired in red tape and bureaucracy. You may recall, Gottlieb was first on my list of options under consideration and there are plenty of reasons to believe this is a good thing for the vapor industry and its consumers.

Nearly all of what you'll read about Gottlieb relates to his belief that the approval of medicines and medical devices must be sped up. While many of you reading this may have an interest in those topics, I'm going to avoid commentary on the subject (other than to say it's great) and focus on two issues of relevance to this newsletter.
---
Visit Nicotine Science & Policy for more News from around the World

---