Vapers Digest 5th November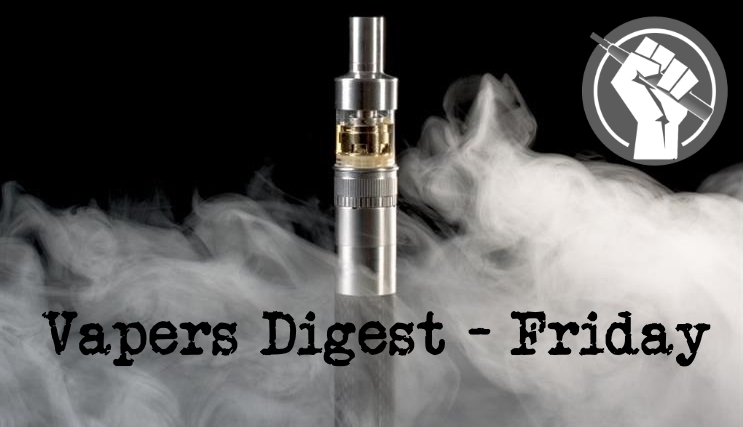 Friday's News at a glance:
Sinn Féin call for flavor ban – What do we know about COP9? – Urgent! Tell Congress to Kill the Outrageous Nicotine Tax – "Build Back Better" Nicotine Tax – Democrats Hike Taxes on Vaping – Vaping Can Help America Quit Smoking – Negative Capewell –  Capewell Debunked – An Expert's Perspective – WHO Told To Support Harm Reduction – COEHAR Completes Evidence Review – 5 things we'd like to see happen at WHO COP9 – FCTC COP9: Liberate the vape! – More Calls for Harm Reduction Ahead of COP9 – Is WHO slamming the door on tobacco harm reduction? – Smokers Can't Afford WHO To Be Wrong Again! – My Dear: A short epistolary novel – FDA Memos Reveal Its "Fatal Flaw" – Oireachtas committee warns against banning e-cigarettes – A Never-Ending War? – Taipei set to ban sale of vaping products – Global tobacco control 'hugely outdated' – Nicotine Science and Policy Daily Digest
thatgotmethinkingblog
After the first session of Pre-Legislative scrutiny of the Public Health (Tobacco) Bill 2021 SF TD, Thomas Gould tweeted that Government must heed charities call for a ban on flavoured vaping products.

He linked to a page on the SF website which echoed this call and went further with justifications based on misinformation and propaganda from the U.S.

"Vaping has been seen to be a gateway to smoking in young people and the nicotine in vaping products can cause damage to a young person's brain."
COPWatch
FCTC's Ninth Conference of Parties (COP 9) will be held from 8-13 November 2021, following a postponement from 2020 due to COVID-19.

This COP will be virtual, with the FCTC website noting that "Special Procedures need to be adopted so that the Ninth Session of the Conference of the Parties (COP9) to the WHO FCTC can pursue its work in a virtual format".  COP involves a lot of participants from all over the world, so this is likely to be difficult to manage.
---

---
Kill the Outrageous Nicotine Tax – Jim McDonald
After the White House last week removed proposed nicotine tax language from the slimmed down Build Back Better reconciliation bill, the tax is now back. The tax is a clear violation of President Biden's pledge not to raise taxes on anyone making less than $400,000 a year.

The proposed tax, which would astronomically increase the cost of low-risk nicotine products like vapes, was added back to the bill today by House Democrats.

Advocacy groups like CASAA and the American Vaping Association are urging vapers to take immediate action by calling and emailing their members of Congress today.
Will Hurt Democrats in 2022 – Gregory Conley
Later today, House Speaker Nancy Pelosi (D-CA) is expected to hold a vote on the so called Build Back Better ("BBB") bill, a $1.75 trillion tax and spending plan that President Joe Biden has made passing a top priority. Heading into the vote, the American Vaping Association is cautioning House Democrats that the excise tax on nicotine products contained within the BBB bill will harm public health and alienate millions of voters heading into the 2022 midterm elections.

The new tax hike proposal came as a surprise to harm reduction advocates. When the Biden White House released their proposed framework for the bill last week
---
---
Christian Britschgi
Democrats are trying to pay for regressive tax cuts in their social spending bill with a big regressive tax hike on vapers. The latest version of the "Build Back Better" plan that's currently being considered in the House of Representatives would slap a new excise tax on any nicotine product "that has been extracted, concentrated, or synthesized" (i.e., nicotine-containing vaping liquid) at the rate of $50.33 per 1,810 milligrams of nicotine.

This is mercifully only half the size of the vaping tax that was included in the first version of the bill. It would nevertheless lead to a massive tax increase on vapers and the businesses that sell to them.
John Burzawa
Last month, the U.S. Food and Drug Administration authorized the sale of the Vuse Solo, a first-of-its-kind acknowledgment that ENDS (electronic nicotine delivery system) products have a positive impact on public health.

According to the FDA's Technical Project Lead Review, "studies have shown that daily ENDS use is associated with significant reductions in combusted cigarette use." The review also suggests that devices like the Vuse Solo are much less toxic than cigarettes, greatly reduce smokers' exposure to carcinogens, and appeal mainly to cigarette-using individuals.

Five from Dave Cross, Planet of the Vapes:
The Daily Mail has put a negative spin on the MHRA 'vapes on the NHS' announcement by dredging up an old study and getting Simon Capewell to share his blinkered opinion. Capewell has been a long-standing opponent of tobacco harm reduction and is an expert in adding hashtags to all of his Twitter comments.

While everyone else was celebrating a positive move to combat tobacco-related disease, the Daily Mail asked: "Are worried doctors set to block e-cigarette prescriptions?"
Simon Capewell told Daily Mail readers: "As a scientist who has spent 30 years in public health research, particularly in regard to heart disease, smoking and diet, I can assure the Health Secretary that e-cigarettes are not the answer." In this article we take all of his points and systematically debunk them.

Capewell says he was initially undecided about vaping. If this is true, then it didn't last long as he swiftly jumped on the anti-ecig bus with a handful of other British academic outliers. His past actions have been well documented on Planet of the Vapes.
Clive Bates offers clarification through the noise surrounding the announcement that the MHRA has updated its guidance on how vaping products can become licensed for prescription. Is it the good news that has been celebrated, or does he think it offers problems of its own?

The Nigerian-based strategist, advocate and communicator currently runs Counterfactual Consulting following a diverse career including working for IBM, being the Director of Action on Smoking and Health (ASH), and being part of Prime Minister Blair's Strategy Unit.
Trade and consumer groups from around the world call on World Health Organisation (WHO) to support harm reduction following a meeting of international parliamentarians hosted by Chair of UK All-Party Parliamentary Group (APPG) for Vaping Mark Pawsey MP.

The trade and consumer harm reduction groups from around the world met to discuss the threat to tobacco harm reduction if the WHO's Conference of the Parties (COP9) continues in its current anti-vaping trajectory.
Professor Polosa's Centre of Excellence for the Acceleration of Harm Reduction (COEHAR) at the University of Catania has completed an evidence review. It finds that a surprisingly small number of negative studies can be considered "truly informative", but that its own ranks "among the best in the current scientific landscape".

COEHAR says: "It is surprising to note that there are very few studies that can be considered truly informative of the risk-benefit ratio of new technologies with reduced risk in terms of their impact on health. We are proud to say that CoEHAR research ranks among the best in the current scientific landscape."
---

---
"I'm deeply concerned by WHO's lack of interest in global developments towards safer nicotine products."
In the lead-up to the Ninth Session of the Conference of the Parties (COP9) of the WHO Framework Convention on Tobacco Control (WHO FCTC), numerous issues remain obscure, for instance, the lack of a serious discussion on tobacco harm reduction, and secrecy surrounding the topics to be discussed. A practice is driven by a censorship approach that does not accurately reflect current tobacco control policies that are enigmatic, not based on science, and based on censorship of media outlets. The FCTC has lost sight of its original purpose: to ensure safe and healthy lives for everyone, wherever they live in the world.
sCOPe
The World Health Organization's failure to declare a global emergency in 2020 will be repeated in 2021 when the WHO will likely abandon international tobacco harm reduction efforts and condemn millions of smokers to an early death," says Nancy Loucas, a leading consumer advocate.

"The WHO got it totally wrong on Covid-19, and it's no surprise they've also got it very wrong with safer nicotine products such as vaping," she says.
Snusforumet
Ahead of the WHO COP9 meetings, check out the Snusforumet wish list of possible events, developments, and decisions that we'd like to see happen when it comes to the FCTC and tobacco harm reduction. But we won't hold our breath – and neither should you. #snussatire

After a series of delays and less than encouraging news about the agenda for the WHO COP9 meetings, it's finally time for the shadowy powers that be to gather (virtually) for anything-but-fruitful discussions about how to best tackle the world's persistent smoking problem.
Ivo Vegter
What should be top of the agenda at next week's 9th Conference of the Parties of the Framework Convention on Tobacco Control won't be on the agenda at all: regulating vaping like coffee.

South Africa's stalled Control of Tobacco Products and Electronic Delivery Systems Bill, which has yet to land on Cabinet desks, treats vapes, a.k.a. vapourisers, a.k.a. vaping devices, a.k.a. e-cigarettes, a.k.a. electronic nicotine (or non-nicotine) delivery systems (ENDS or ENNDS, respectively), as if they were tobacco products.
Is WHO slamming the door on tobacco harm reduction?
Johannesburg – When the Ninth Conference of the Parties (COP9) to the World Health Organization's Framework Convention on Tobacco Control (WHO FCTC) kicks off later this month, there will be an important voice missing at the talks: members of the vapour products industry.

While it's bad enough that an industry that'll be directly affected by the convention's recommendations doesn't have a seat at the table, its exclusion could also have seriously detrimental consequences for tobacco harm reduction, especially in lower and middle-income countries.
Activists continue to urge participants in the ninth Conference of the Parties (COP9) to the World Health Organization's Framework Convention on Tobacco Control to seriously consider tobacco harm reduction in their deliberations.

COP9 will take place Nov. 8-13 online. During the convention, delegates will debate measures to reduce smoking-related death and disease. To the frustration of many tobacco harm reduction proponents, the WHO has been suspicious of vaping and other reduced-risk products, viewing them as an industry tool to keep consumers hooked on nicotine.
INNCO
When you started to work in tobacco control, I was so proud of you. You were saving lives. You were fighting against big evil industries for the good of humanity. But now, I can't recognize you. I feel you are totally lost and it breaks my heart. I would like to help you but you don't see me anymore.

The sectarian extremist groups, you started to hang around with, brainwashed you. Yes, they have money and during the blooming era it seemed a good idea to use it to finance the cause. But the strings attached to this money diverted you from a compassionate harm reduction approach. They told you: "There is only one way, ours!" I know that harm reduction was one of your initial aims but you were so scared to lose their tainted friendship that you preferred to forget your own principles.

Rejection Plan for Flavored Vapes – Alex Norcia
There's an ongoing theory about the Food and Drug Administration (FDA) within the vaping community: The agency did not anticipate the onslaught of 6 million-plus premarket tobacco product applications (PMTAs) it received by a September 2020 deadline, and had to devise some way to try to sort through them all by the following year. It would be no easy feat, but the bar for authorization would be set incredibly high—and that, in the FDA's view, would help.

Documents obtained by Filter shed new light on how this murky process has looked from the heavily criticized agency's perspective.
Warns against banning e-cigarettes
Removing e-cigarettes from sale could have negative consequences for people trying to quit smoking, the Oireachtas Health Committee has heard.

More than one-third of smokers who try to quit using cigarettes opt for e-cigarettes, according to a member of the Department of Health's Tobacco & Alcohol Control unit.

The comment was made as part of a discussion on the new Public Health (Tobacco and Nicotine Inhaling Products) Bill, which proposes new retail licensing laws.
Global State of Tobacco Harm Reduction | RegWatch
A Never-Ending War? – Marie Camara
The latest Global State of Tobacco Harm Reduction report was launched on October 27th, 2021. Titled: " Fighting the last war: the WHO and International Tobacco Control , its release comes ahead of the forthcoming Conference of the Parties (COP 9).

The "Fighting the Last War" report challenges the direction of evolution of the World Health Organization's Framework Convention on Tobacco Control (FCTC). This 2005 international treaty aimed at reducing tobacco related diseases. Nevertheless, for many, it is no longer suited for the present international public health context. Worse, it prevents other innovative and scientifically proven solutions from opening doors for consumers who are not quitting.
Global State of Tobacco Harm Reduction | RegWatch
Huang Tzu-ti
A ban on electronic cigarettes and heated tobacco products (HTPs) passed the third reading at the Taipei City Council on Wednesday (Nov. 3), positioning the capital to become the first city in Taiwan to outlaw novel tobacco products.

The city ordinance stipulates that the manufacture, import, sale, supply, display, or advertising of the products is illegal, while their use is banned within 50 meters of school campuses. The regulation is pending Cabinet approval, wrote CNA.
Dr Kgosi Letlape
The 16-year-old Framework Convention on Tobacco Control (FTCT) of the World Health Organisation – signed by 180 countries including South Africa and many other African nations – is wholly inadequate to address the now ubiquitous tobacco harm reduction market, says Dr Kgosi Letlape, president of the Africa Medical Association.

He and other African clinicians shared their experiences on advocacy and policies around tobacco harm reduction on the continent, at the 4th Scientific Summit on Tobacco Harm Reduction: Novel products, research and policy, writes Chris Bateman for MedicalBrief.
---
A look back at how things have moved on or otherwise….
Sarah Victoria Gentry, Real Clear Public Affairs
Bottom line: This study finds that ex-smokers who begin vaping on insufficient nicotine levels and a less powerful device have a greater risk of relapse. Self-report patterns of device use by vapers suggest changing patterns over time, with many users moving from less sophisticated, tobacco-flavored cig-a-like devices, to more sophisticated tank devices with fruit/sweet/food flavors.
Global State of Tobacco Harm Reduction
 It's the second in our GSTHR series which documents the development of tobacco harm reduction and use, availability and regulatory responses to safer nicotine products around the world, and comes two years after No Fire, No Smoke, our first GSTHR report (2018).
Knowledge Action Change, Cision, PR Newswire
Burning Issues: The Global State of Tobacco Harm Reduction (GSTHR) 2020 published by UK public health agency Knowledge Action Change (KAC) demonstrates an urgent need to scale up tobacco harm reduction, which enables smokers to switch to safer nicotine products, eliminating the smoke that causes death and disease.
---
Visit Nicotine Science & Policy for more News from around the World

---