Vapers Digest 3rd November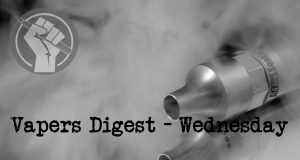 Wednesday's News at a glance:
What does the announcement that vaping may be prescribed by doctors mean to UK consumers ~ Systematic Review Confirms Harmful Health Outcomes from Ecigarettes are Minimal to Zero ~ Smoking Cessation: Prescription of E-cigarettes ~ 'Anti-smoking McCarthyism' behind Sweden's lack of tobacco harm reduction leadership ~ Time for United States to Embrace All Forms of Harm Reduction ~  The FDA's Overdue Approval of E-Cigarettes ~ The FDA's Vape Fiasco Will Perpetuate Smoking Deaths ~ Medicalised Vapes Provoke Response ~ Industry Response To Medicalisation Prospect ~ Geneva Protest ~ The other COP ~ Can Big Tobacco really ditch the cigarettes? ~ FPMPAM: Vape Tax Must Be Backed By Strict Regulations
---
---
Lindsey Stroud, Town Hall
On October 27, Health and Human Services (HHS) Secretary Xavier Becerra announced a sweeping federal plan to address and reduce the devastating toll of overdoses in America with the release of the HHS Overdose Prevention Strategy.

In the agency's press release, Secretary Becerra noted that with the new strategy, HHS will be "breaking new ground to address the full range of drug use and addiction." Specifically, Becerra commented that the "new strategy focuses on people – putting the very individuals who have struggled with addiction in positions of power."
Guy Bentley, National Review
The Food and Drug Administration is facing backlash from anti-vaping members of Congress and other public-health campaigners for officially authorizing an e-cigarette as "appropriate for the protection of public health."

The FDA's decision to approve the Vuse Solo e-cigarette last month is a historic one: It marks the first time that America's leading public-health agency officially recognized the potential of e-cigarettes to help smokers quit.
---

---
THREE from Dave Cross, Planet of the Vapes
The updated guidance for e-cigarette firms seeking a medicinal licence for their products published by the Medicines and Healthcare Products Regulatory Agency (MHRA) has been welcomed by health leaders, clinicians and tobacco experts.
UK Vaping Industry Association (UKVIA) responded to the news that e-cigarettes could be prescribed by NHS doctors as a "world first". Independent British Vape Trade Association (IBVTA) board members also welcomed the move, and VPZ, the UK's largest vaping retailer with 157 stores throughout the country, celebrated it as "a huge leap forward".
A protest march against smoker oppression will proceed from the Broken Chair point in front of the United Nations to World Health Organisation's (WHO) headquarters in Geneva, on 7 November 2021, at 11am. Participation is free and organisers plan to transport
---
I'll be there! https://t.co/kVarLelzsU

— Charles A. Gardner, PhD (@ChaunceyGardner) November 3, 2021
---
Christopher Snowdon, ChristopherSnowdon.com
Property Rights Alliance with the Institute of Economic Affairs and New Zealand Taxpayers Union will host a timely discussion on harm reduction, consumer choice, and freedom. Featuring:

Christopher Snowdon, Head of Lifestyle Economics, Institute of Economic Affairs; Louis Houlbrooke, Campaigns Manager, New Zealand Taxpayers Union; Tim Andrews, Director of Consumer Issues, Americans for Tax Reform; and moderated by Lorenzo Montanari.
---

---
George Nott, The Grocer
Altria is 'Moving Beyond Smoking'. Philip Morris is delivering a 'Smoke-Free Future'. British American Tobacco is building 'A Better Tomorrow' and Japan Tobacco International is 'Building A Brighter Future' with "less risky products". Meanwhile, Imperial is making a "meaningful contribution to harm reduction" through its next-generation products.
Code Blue
The Federation of Private Medical Practitioners Associations Malaysia (FPMPAM) supports the government's move to tax vape liquids containing nicotine as announced in Budget 2022.

FPMPAM president Dr Steven Chow, in a statement today, said the government's decision to expand the taxation framework for nicotine vape liquids must be supported by strict regulations that need to be immediately put in place.
---
Dick Puddlecote
In recent weeks I've written about the ridiculous unintended consequences of the TPD towards vaping.

In August it was noteworthy at Vapefest that vendors were not selling pre-mixed e-liquid, but instead – because no-one wants to buy a whole load of 10ml bottles – were shifting large amounts of flavour concentrates to be mixed at home.
Brian Fojtik, Reason Foundation
Last month, Sen. Chuck Schumer (D-NY) called on Food and Drug Administration (FDA) Commissioner Scott Gottlieb to reverse his decision to delay implementation of draconian new federal regulations that many observers believe would be a de facto ban on the products. While Sen. Schumer claims the new regulations would treat e-cigarettes like other tobacco products, most observers believe the FDA regulations would treat vapor products more harshly than traditional cigarettes, with as many as three million new vapor products being banned while allowing real cigarettes to be sold the same as they always have been.
---
Visit Nicotine Science & Policy for more News from around the World

---