Vapers Digest 1st November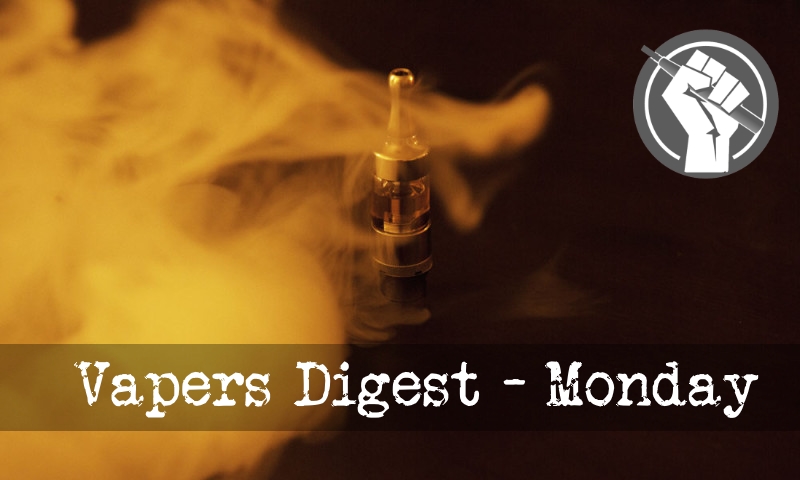 Monday's News at a glance:
ETHRA October news roundup – Contemptible misinformation about vaping in the Daily Mail – Our health – Consumers the often forgotten majority – 'There is something for everybody' – VBI Demands Evidence-Based Debate – Javid Announces Medical Vape Plan – Malaysia Will Legalize and Tax Nicotine Vaping – Fighting for Smokers' Access to Safer Alternatives – Good COP Distracts From Bad COP – Nicotine Science and Policy Daily Digest
ETHRA
ETHRA's monthly roundup of news: Expert letter to FCTC delegates calls for change – COP9 goes online – BECA updates – COPWatch: a consumer guide to FCTC COP – sCOPe Livestream Event – Fighting the last war: The WHO and international tobacco control – country updates. Read on for more.
About vaping in the Daily Mail
Christopher Snowdon, Velvet Glove Iron Fist
After the government announced the possibility of e-cigarettes being available on prescription (which has always been an option anyway), journalists went looking for anti-vaping voices to give an alternative viewpoint. As usual, the 'public health' dinosaurs Martin McKee and Simon Capewell were invited to spout their nonsense. Both feature heavily in this Sunday Times article.Daily Mail. Almost every word of it is untrue.
---

---
thatgotmethinkingblog
At the recent launch of Fighting The Last War: The Who and International Tobacco Control, Our trustee Tom Gleeson spoke on Our health – Consumers the often forgotten majority.

When you listen to any discussion on safer nicotine products, e-cigarettes, novel nicotine products, whatever term is used, you hear from tobacco control, the cancer society, you hear from retailers associations but you don't hear from the consumers themselves. They are often mentioned and referred to, sometimes they're even referred to as people, although that's avoided because it humanises them. People have family's, brothers sisters, children, spouses. People have cares and worries, they have hobbies and favourite sports teams.
---
---
Readers on switching from cigarettes to vaping
Rachel Obordo – The Guardian
Four people reveal how using e-cigarettes helped them stop smoking and how they can help others quit

In an attempt to reduce the smoking rates in England, the NHS is considering making e-cigarettes available on prescription to help tobacco smokers quit and switch to vaping.

Four people speak about their experiences of using e-cigarettes and how they helped them stop smoking.

Two from Dave Cross, Planet of the Vapes:
Vape Business Ireland (VBI) is demanding the Irish Government has a balanced and evidence-based debate on vaping as a harm reduction tool. It argues that it has never been more important as the Government targets a Tobacco Free Ireland by 2025.

The message from VBI was delivered to Taoiseach Micheál Martin TD prior to him opening the Leadership Summit on Tobacco Control hosted by the advisory board of the World Conference on Tobacco or Health (WCTOH).
The Department of Health and Social Care and Office for Health Improvement and Disparities have announced that e-cigarettes could be prescribed on the NHS in England to help people stop smoking tobacco products. Health and Social Care Secretary Sajid Javid welcomed the latest step forward in the licensing process for manufacturers.

Medical regulator to work with manufacturers to assess safety and effectiveness of products
Move supports government ambition for England to be smoke-free by 2030 and to reduce stark health disparities in smoking rates

The Medicines and Healthcare products Regulatory Agency (MHRA) is publishing updated guidance that paves the way for medicinally licensed e-cigarette products to be prescribed for tobacco smokers who wish to quit smoking.
---

---
Fighting for Smokers' Access to Safer Alternatives
Diane Caruana, Vaping Post
Despite the confusion that the name of the group may bring about, given that most vapers are former smokers, the aim of the recently launched Smokers Rights Movement is fighting for smokers' rights to have access to reduced risk nicotine products.

The "Smokers Rights Movement" was solely funded by Max Kosenko, the CEO of Ritchy Group, which is one of the biggest e-liquid manufacturers in Europe. The group however is independent, with no association to any vape or tobacco company, and aims to steer clear from any donations that are affiliated to the tobacco industry.
Jim McDonald, Vaping 360
One of the world's largest vaping markets will finally include legal nicotine when the Malaysian government formalizes its plan to regulate and tax vaping products. Consumer products containing nicotine are currently illegal in Malaysia.

Multiple Malaysian news outlets reported today that the government has included an excise tax on nicotine-containing e-liquid in its budget proposal for 2022. The decision was announced by Finance Minister Tengku Zafrul Aziz.
Teh Athira Yusof
Vape industry players have called on the government to review the excise tax increase on vapes and electronic cigarettes that could increase the products' prices following the 2022 Budget announcement yesterday.

Malaysian Vape Industry Advocacy (MVIA) president Rizani Zakaria said the expansion of the excise tax on vapes and electronic cigarettes should be low for the products and no more than traditional nicotine items.

"We hope the government can consider reviewing the tax rate that has been set because it is quite high. The increase in tax will make vape products more expensive than tobacco cigarettes in Malaysia.

sCOPe
A major UN climate change conference may overshadow an equally important World Health Organization conference where decision-makers are likely to ignore scientific evidence, consigning millions of tobacco smokers to an early death, says the organiser of sCOPe – a virtual broadcasting event.

sCOPe will be simulcast on Facebook and YouTube from 8 to 12 November. It will focus on COP9, the 9th Conference of Parties for the WHO Framework Convention on Tobacco Control (FCTC) to be held from 8 November.
And delegates of the Ninth Conference of Parties (COP9) regarding the Framework Convention on Tobacco Control (FCTC)
Africa Harm Reduction Alliance
Ahead of COP9, the Africa Harm Reduction Alliance (AHRA) warmly welcomes the letter signed by eminent tobacco harm reduction scientists and experts from around the world, urging COP9 delegates to challenge WHO's stance on alternative nicotine products.

We join the call to make FCTC negotiations more open and accessible to stakeholders with harm-reduction perspectives and echo the need for an independent review to be conducted into WHO and FCTC tobacco policies.
The U.S. Food and Drug Administration approves an ENDS product for marketing.
Timothy S. Donahue
The U.S. Food and Drug Administration has created quite the mess. The regulatory agency's handling of premarket tobacco product applications (PMTAs) has left many in the nicotine industry bewildered. It started with numerous refuse to accept and refuse to file letters. Then the agency began sending out marketing denial orders (MDOs). After publicly rescinding one of the MDOs—and with rumors circulating about additional rescissions—the agency is now being sued by at least 28 companies for making "arbitrary" decisions in reviewing PMTAs. The MDOs of least four companies have been granted a temporary stay through the courts or by the FDA itself.
Brandee Eubank
This month's roundup of articles includes big news coming out of Malaysia and the United States in addition to reports from around the globe. Also featured heavily in the news– scientists, activists, and consumers question the wisdom and motivation of the World Health Organization and governments pushing anti-nicotine policies at the expense of public health.
---
A look back at how things have moved on or otherwise…
Suggesting post-Brexit reforms
Yesterday, the NNA wrote to the Parliamentary Under-Secretary of State for Prevention, Public Health and Primary Care at the Department of Health and Social Care – Jo Churchill – and the Director of the Number 10 Policy Unit – Munira Mirza – to suggest post-Brexit tobacco and nicotine policy reforms.

On behalf of UK consumers of vaping and other low-risk nicotine products, we proposed steps towards creating a coherent risk-based framework for all safer nicotine products to promote a post-Brexit win for both public health and personal and economic wellbeing.
3-4 December 2020
We are excited to announce that this year's London E-Cigarette Summit, is moving online. The Virtual E-Cigarette Summit will take place between 3-4 December 2020.

2020 has been an incredibly challenging year for us all, and while it isn't possible to welcome you in person, we hope that the virtual event will provide a welcoming focal point to grapple with the challenging public health questions that continue to be posed by e-cigarettes and new novel nicotine products.
---
Visit Nicotine Science & Policy for more News from around the World

---