Vapers Digest 29th October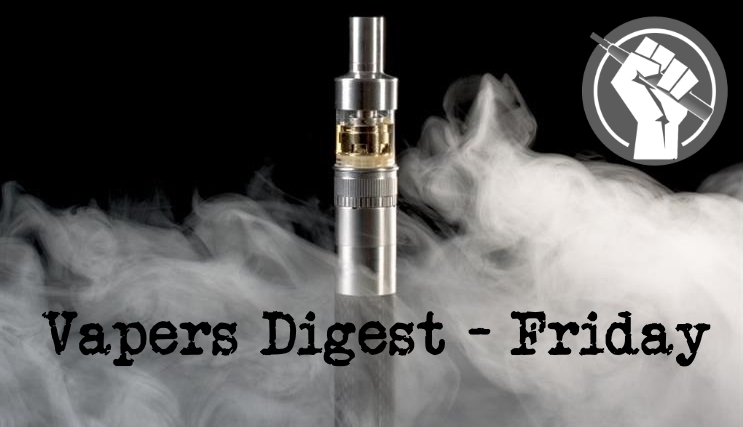 Friday's News at a glance:
E-cigarettes could be available on NHS to tackle smoking rates – 100 experts speak up in favour of harm reduction – UK National Health Service Will Pay for Prescription Vapes – Tobacco Industry, my Love – GSTHR 'Fighting the Last War' – Excoriation of the WHO and Tobacco Control – If Less Vaping Means More Smoking – Global Pressure Mounts on WHO – NNA Welcomes Specialist Intervention – Geekbar Announces Factory Closures – Relapse Study Criticised – E-Cigarette Opponents Torture PATH – Why Did Cigarette Sales Rise in 2020 – First Vape Company Full Stay Is Issued – The Youth Vaping "Epidemic" Has Ended – Anti-Vaping Scare Tactics and Cigarette Sales – Fifth Circuit Rebukes FDA for Regulatory "Switcheroo" – Harm Reduction and bias – Government To Tax Vape Liquids – Is plain packaging of snus working in Norway? – Harm reduction gains traction – Nicotine Science and Policy Daily Digest
To tackle smoking rates – BBC
E-cigarettes could soon be prescribed on the NHS in England to help people stop smoking tobacco products.
The Medicines and Healthcare Products Regulatory Agency is inviting manufacturers to submit goods for approval to be prescribed.

It could mean England becomes the first country in the world to prescribe e-cigarettes as a medical product.
There has been much debate over the years about whether e-cigarettes should be used for this purpose.
In favour of harm reduction – NNA
The NNA heartily welcomes the dramatic intervention of 100 specialists in nicotine science, policy and practice who have submitted a letter this week criticising the WHO for their objections to tobacco harm reduction.

They make a number of recommendations for the WHO which should be heeded. To ensure that tobacco harm reduction is adopted as a goal of the WHO worldwide rather than insisting on prohibition or stringent restrictions; to properly assess the potential of reduced risk products as a significant driver of smoking cessation where they are allowed to flourish; to recognise the damaging consequences of the WHO's current prohibitionist approach towards harm reduction; to stop excluding valid stakeholders, including consumers, from debate on spurious grounds; to review the current precautionary approach and the unintended consequences it is creating; and to review the WHO's current counterproductive approach to tobacco control.
---

---
Jim McDonald, Vaping 360
Britain's National Health Service (NHS) will subsidize the cost of e-cigarettes for low-income residents trying to quit smoking. The initiative was announced today by UK Health Secretary Sajid Javid.

"Opening the door to a licensed e-cigarette prescribed on the NHS has the potential to tackle the stark disparities in smoking rates across the country, helping people stop smoking wherever they live and whatever their background," said Javid.
The US FDA's wonderful romance: The story behind the US Food and Drug Administration (FDA) recent market approvals of tobacco industry products while spurning literally millions of independent claimants, all refillable vaping system producers and sellers, can be difficult to understand. Why did the FDA only approve these products? The R.J. Reynolds (British American Tobacco, BAT) Vuse Solo proprietary vaping system and an obscure discontinued (sic) oral tobacco industry product, after earlier authorizing Altria's (Philip Morris International, PMI) IQOS proprietary heated tobacco system?
---
---
Launch Event Round Up – Kayleigh Jenkins
On October 27th 2021, the Global State of Tobacco Harm Reduction (GSTHR) launched their latest report 'Fighting the Last War: The WHO and International Tobacco Control' at a conference at London's Oval Cricket Ground – with both physical attendees and a further 100 (including us!) watching online.

With 1.1 billion smokers worldwide, 8 million annual smoking-related deaths and smoking the single biggest preventable cause of non-communicable diseases, the report examines the progress and barriers affecting global tobacco harm reduction.
An Excoriation of the WHO and Tobacco Control – Helen Redmond
The image on the cover of the new report, Fighting The Last War: The Who and International Tobacco Control, is a distillation of that war. On one side is a mass of menacing, angry orange and yellow smoke; on the other, a cool-white cloud of fluorescent vapor. The unmistakable message: Smoke kills, vapor saves.

For readers interested in how international tobacco control groups function on a granular level, one of the first sections deconstructs in plain language the complicated intersectionality of the World Health Organization (WHO), the Conference of the Parties and tobacco control NGOs.

Five from Dave Cross, Planet of the Vapes:
Fighting The Last War: The WHO and International Tobacco Control is the latest report from K∙A∙C's Global State of Tobacco Harm Reduction (GSTHR). The report argues "tobacco control policy is frozen in time"; status quo keeps adult smokers smoking rather than switching to safer nicotine, favouring the tobacco industry. International experts from tobacco control, drug policy and nicotine consumer advocacy will speak at a free hybrid report launch today from 11am BST.

The ninth biennial meeting of the COP (COP9) to the Framework Convention on Tobacco Control (FCTC), to be held virtually from 8 – 13 November, has barely warranted a mention in the news or in speeches from heads of state. Fighting The Last War:
Just two weeks out from the World Health Organization's COP9 conference on tobacco control, pressure is mounting on delegates from 182 member countries to push for a positive stance on tobacco harm reduction (THR). The calls come as a significant round-the-clock global broadcasting event has been announced to take place during COP9.

Dubbed 'sCOPe', the five-day livestream will see THR experts and consumers, from around the world, challenge and scrutinise the key conference. It was covered in more depth in an article on Planet of the Vapes last week.
The New Nicotine Alliance (NNA) says it "heartily welcomes" the dramatic intervention of 100 specialists in nicotine science, policy and practice. The specialists sent a letter last week to delegate nations to the forthcoming Conference of Parties (COP9). The letter criticised the World Health Organisation (WHO) for their objections to tobacco harm reduction.

The NNA says the specialists' letter makes several recommendations for the WHO, "which should be heeded." The recommendations can be seen in our article carried last week
Geek Bar says it has been instrumental in closing down seven counterfeit factories in China over the past six weeks. The disposable vapes manufacturer worked alongside Chinese police to remove over 100,000 counterfeit vapes originally destined for the UK says these will be destroyed.

Geek Bar says: "The company has been working closely with the authorities in China to identify factories producing fake products. This has resulted in the closure of seven counterfeit production facilities and the seizure of more than 100,000 fake products destined for the UK. Those responsible for setting up these illegal factories are now facing criminal charges and if found guilty, a minimum three-year prison sentence.
A study has been published in JAMA Network Open looking at the incidence of cigarette smoking relapse among individuals who switched to using electronic cigarettes. It concluded that vaping does not prevent people switching back to smoking and has drawn criticism from leading cessation expert Professor Peter Hajek.

The study (1), "Incidence of Cigarette Smoking Relapse Among Individuals Who Switched to e-Cigarettes or Other Tobacco Products", sees the authors saying they found: "9.4% of respondents who smoked cigarettes became recent former smokers one year later. Switching to any tobacco product including e-cigarettes was associated with an 8.5% increase in relapse to smoking over the next year".
---

---
"One-Puff" Relapse Data to Deny E-Cigarettes' Cessation Impact
Brad Rodu, Tobacco Truth
You may have seen headlines like this from CNN: "Using e-cigarettes to prevent smoking relapse doesn't work well, study finds," with quotes from the study's lead author, Dr. John Pierce of the University of California San Diego.

The research, which appeared in the journal JAMA Network Open (here), relied on data from the FDA's Population Assessment of Tobacco and Health (PATH) Survey, which for five years has followed smokers and other tobacco users.

Dr. Pierce generated news coverage largely by making a number of hyperbolic claims:
That Won't Be a Public Health Victory – Jacob Sullum
Cigarette sales in the United States rose last year for the first time in two decades, according to data published by the Federal Trade Commission this week. Although the 0.4 percent increase may be due at least partly to smokers who stocked up on cigarettes during the COVID-19 pandemic, it coincided with declines in e-cigarette use by teenagers and adults—a potential warning sign that the campaign against vaping is undermining public health by boosting cigarette consumption.

In 2020, despite the increase in cigarette purchases, it looks like the percentage of adults who smoked continued a long decline that began in the 1960s.
And Suggests the FDA Miscalculated – Alex Norcia
On October 26, a United States federal court of appeals granted a full stay for vapor company Triton. This will allow Triton, which received a marketing denial (MDO) from the Food and Drug Administration (FDA) in September, to continue selling its products while a petition for review weaves its way through the judicial system. It's the first full stay of its kind for a vapor company.

The decision has been met with praise and mockery from consumer advocates and the industry, who have long criticized the FDA for an onerous premarket tobacco product application (PMTA) process that favors well-financed corporations over mom-and-pop businesses.
But vaping still a blind spot for many
With Canada's opioid crisis leading to a tragic uptick in overdose deaths, momentum is now building among policymakers and public health experts alike to double down on the harm reduction approaches which have helped other countries—including Portugal and Estonia—turn around overdose epidemics, including the decriminalization of small quantities of illicit drugs and safer supply programmes.

Something evidently needs to change. Over the past 25 years, the use of opioids, methamphetamine, cocaine and its derivatives has remained consistently high across Canada, and more than 21,000 people have tragically died from preventable toxic drug poisonings.

After Falling for 20 Years? – Jim McDonald
For the first time in 20 years, cigarette sales increased in 2020. That's the conclusion of a new Federal Trade Commission report published yesterday.

Americans bought 203.7 billion cigarettes (about 10.2 billion packs) last year—an increase of 800 million cigarettes, or 0.4 percent. That breaks down to an average of about 300 packs a year for each of the approximately 30 million people who smoke, or a little less than a pack a day each.

Mainstream news outlets have focused on the coronavirus pandemic as the primary reason for the increase, but a more likely cause is the decline of the U.S. vaping market in recent years. There are multiple factors that have led to vaping declines:
Veronique de Rugy
New government data shows that sales of cigarettes and smokeless tobacco products increased last year for the first time in two decades, raising concerns that pandemic-related stress spurred an uptick in smoking . . .

The largest U.S. cigarette producers sold an estimated 203.7 billion cigarettes to wholesalers and retailers in 2020, representing an increase of about 800 million over 2019, according to an annual report released Tuesday by the Federal Trade Commission. Sales of smokeless tobacco products such as chewing tobacco also increased slightly to 126.9 million, according to a parallel FTC report.
So Should Extremism Youth-Centric Anti-Vaping Measures – Michelle Minton
People will tolerate just about any imposition if they believe it will protect children from harm. Hence, appeals to "think of the children" are often invoked in politics. But nowhere has this sort of emotional manipulation been as blatant as with the issue of e-cigarettes. It is no accident that the debate over vaping has become singularly fixated on the issue of youth vaping. That is the intended result of a well-funded political campaign aimed at dragging the conversation away from the science, which shows e-cigarettes are a life-saving alternative to combustible tobacco, and instead transforming the issue into a false moral choice between saving adults or protecting children. So far, that prohibitionist narrative has worked.
For Regulatory "Switcheroo" in Denying Vaping Product Applications
In 2016 the Food & Drug Administration "deemed" electronic cigarettes, vaping pens, and other electronic Nicotine delivery systems ("ENDS") to be "tobacco products" under the Family Smoking Prevention and Tobacco Control Act. As a consequence, all ENDS manufacturers were required to submit premarket tobacco applications (PMTAs) in order to continue selling their wares. Under the Tobacco Act, the FDA is only to approve a PMTA if it concludes approval is "appropriate for the protection of public health," taking into account "the risks and benefits to the population as a whole." Without a PMTA, a deemed tobacco product cannot be sold.
A review confirms that ecigs are less harmful, but high-quality studies are much needed
A pioneering review evaluates the link between the use of ecig and the implications on health. The review examines 755 case studies, conducted in the last five years, which have reported damage to health caused by electronic cigarettes.

The European Commission recently issued a report which emphasized the damage caused by the use of electronic nicotine-releasing devices. At the same time, it requested for ecigs the same stringent rules valid for all tobacco products in the market. However, it is unclear on what basis the decision by Commission came from. Indeed, it seems that the sources used by government bodies in Brussels came from poor-quality studies.
The federal government is planning to tax vape liquids containing nicotine, marking Malaysia's move to regulate instead of ban e-cigarettes.

"The government plans to introduce excise duty on liquid or gel products containing nicotine used for electronic cigarettes and vapes," Finance Minister Tengku Zafrul Aziz said during the tabling of Budget 2022 in Parliament.

Health Minister Khairy Jamaluddin recently told the World Health Organization (WHO) that Malaysia will soon regulate e-cigarettes or electronic nicotine delivery systems (ENDS) so that they do not become accessible to schoolchildren.
Working in Norway?
Researchers at the Norwegian Institute of Public Health (NIPH) found that plain packaging did not produce a decline in men's snus use in Norway, with "inconclusive results" on both smoking and women's snus use.

The study, carried out by the national public health agency and published in the official journal of the Society for Research on Nicotine and Tobacco (SNRT), concluded that men's use of snus in Norway actually increased after the imposition of standardised packaging.
---
A look back at how things have moved on or otherwise….
Jerry Rogers, Real Clear Health
The coronavirus pandemic has taught us for certain that public health experts should stick to public health. After suffering through months of the COVID-19 lockdowns and surges, American's are fully aware how politics and misinformation can negatively impact public health. The fact is that when the medical and health communities lose their focus on data and science – distracted by partisan advocates and social justice campaigns – Americans pay the ultimate price in terms of their health and well-being.
Inquirer
A medical expert urged the Food and Drugs Administration to base the proposed vape and heated tobacco regulations on science — not on fiction — in the wake of the beleaguered agency's admission that it received funding from foreign anti-tobacco organizations.

"Science — and there is an abundance of curated and peer-reviewed studies out there — should be the basis of regulation. Not political or ideological agenda," Dr. Lorenzo Mata Jr., president of Quit For Good, said in a statement sent to INQUIRER.net on Tuesday.
---
Visit Nicotine Science & Policy for more News from around the World

---