Vapers Digest 27 October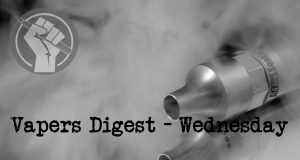 Wednesday's News at a glance:
Pragmatic paradigm needed in tackling tobacco harm ~ Is the vision of a non-combustible tobacco industry within reach? ~ 'Tall tales and toxic tweets about e-cigarettes are stopping smokers quitting' ~ Disingenuous Youth Survey ~ WVA Advisory Board Grows ~ Europeans COP Another Letter~ Whose WHO? ~ Judges Reject FDA's "Surprise Switcheroo," Issue Stay to Triton ~ Texas company can keep selling flavored e-cigs, 5th Circuit rules ~ Southmead Hospital could get vaping zones to make it 'truly smoke-free' ~ FTC Report Finds Annual Cigarette Sales Increased for the First Time in 20 Years
---
---

---
THREE from Dave Cross, Planet of the Vapes
A recently released Youth19 survey, which questioned Auckland, Northland, and Waikato secondary school students on vaping, was conducted prior to New Zealand's Parliament passing the Smokefree Environments and Regulated Products (Vaping) Amendment Act last year and well before many significant regulations came into force. It has been described as "dated, disingenuous and damaging" by the Aotearoa Vapers Community Advocacy (AVCA).
The World Vapers' Alliance (WVA) has grown with the addition of two new members to its Advisory Board. The addition of a former health minister and a president of a consumer association has been welcomed and the WVA hopes they will be able to use their voices to strengthen its message about vaping around the world.
The European Tobacco Harm Reduction Advocates organisation (ETHRA) and its partner organisations have written to the Heads of Delegation of the European Parties to the Framework Convention on Tobacco Control (FCTC), in advance of the 9th Conference of the Parties (COP9). The letter calls on those delegates to impress upon the World Health Organisation (WHO) the need to "modernise its approach to tobacco policy, and to include tobacco harm reduction in the FCTC."
---
Next month, the World Health Organisation will meet (virtually) for the 9th Congress of Parties (COP9) on the Framework Convention on Tobacco Control (FCTC).

The remote nature of the event will militate against some of the less savoury features of the operation. Delegates from innumerable lobbies for more authoritarian restrictions (their counterparts are not welcome) will not be able to physically howl down delegates from the countries which are supposed to be making the decisions.
Jim McDonald, Vaping 360
In a decision that could shake up the FDA's premarket review process for vaping products, a federal court has granted a stay to Triton Distribution, preventing FDA enforcement of the agency's Marketing Denial Order (MDO).

A three-judge panel on the 5th Circuit Court of Appeals found that Triton (also known as Wages and White Lion Investments, LLC) is likely to succeed in its MDO appeal, and that the FDA order is "likely arbitrary, capricious or otherwise unlawful."
Brendan Pierson, Reuters
Triton Distribution can continue selling its flavored e-cigarettes, a federal appeals court has ruled, despite the U.S. Food and Drug Administration's decision to the contrary.

In a unanimous opinion on Tuesday, the 5th U.S. Circuit Court of Appeals said that when the FDA last month denied the Richardson, Texas-based company's application to sell its products, the agency did not give adequate consideration to Triton's marketing plan to reduce the products' appeal to youth.
---

---
Amanda Cameron, Bristol Live
Vaping areas could be introduced at a large Bristol hospital in a bid to make the site "truly smoke-free".

Southmead Hospital in north Bristol is a designated 'smoke-free' site, in line with NHS guidelines, but many people ignore the ban.

In 2017, North Bristol NHS Trust, which runs the hospital, bowed to public pressure and introduced two smoking shelters outside the main entrance and maternity ward.
Federal Trade Commission (FTC)
The number of cigarettes that the largest cigarette companies in the United States sold to wholesalers and retailers nationwide increased from 202.9 billion in 2019 to 203.7 billion in 2020, according to the most recent Federal Trade Commission Cigarette Report. This represents the first time annual cigarette sales have increased in 20 years.

According to the 2020 Smokeless Tobacco Report, smokeless tobacco sales increased from 126.0 million pounds in 2019 to 126.9 million pounds in 2020. The revenue from those sales rose from $4.53 billion in 2019 to $4.82 billion in 2020. For the first time, the Commission is reporting sales of nicotine lozenges or nicotine pouches not containing tobacco. In 2020, the companies sold 140.7 million units of such products in the United States, for $420.5 million.
---
Dick Puddlecote
Earlier this week I wrote to the Foreign and Commonwealth Office (FCO) to point out that they issued warnings about travelling to Thailand but didn't mention that vapers could be criminalised in Australia too.

Well, I've heard back and the page relating to Oz has now been updated with this wording … immediately after the part about illegal drugs.
Carl V. Phillips, Daily Vaper
In his prepared remarks for a Congressional hearing this week, FDA Commissioner Scott Gottlieb sought to draw a distinction between opioid dependence and addiction. According to the definition of addiction he sketched, nicotine and tobacco products are not addictive. This flatly contradicts the recent deluge of claims by FDA that these are addictive, claims that are central to FDA's top tobacco policy priorities.
---
Visit Nicotine Science & Policy for more News from around the World

---