Vapers Digest 25th October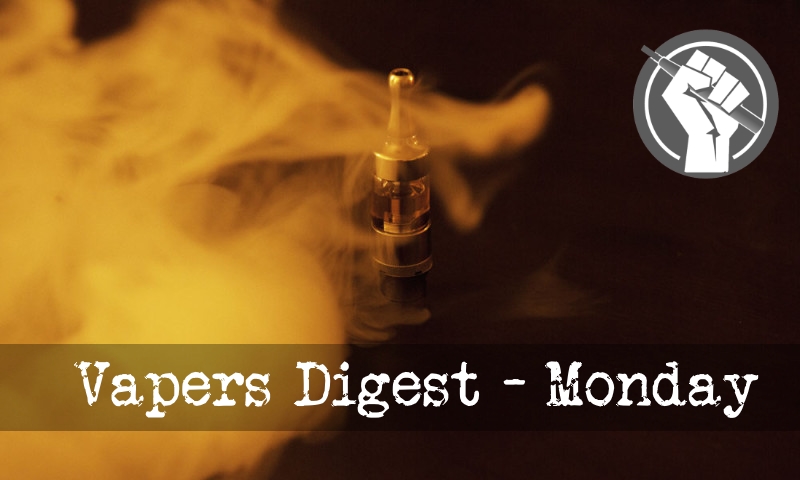 Monday's News at a glance:
COPWATCH: a Consumer Guide to FCTC COP – Electronic cigarettes are the single most effective quitting aid – During the EVALI lung crisis, my state banned all vapes – FDA Puts A Second Vape Company Back Under Review – 100 Expert Voices – Expert Response to the 100's Letter – World Health Organization Shamed Further by 100 Experts – Britain should not listen to the WHO on vaping – Global pressure mounts ahead of COP9 – Is The WHO Wrong – Some breathing space for the vaping industry – On e-cigarettes, follow the science – FDA: E-cigarettes proven harm reduced product – Nicotine Science and Policy Daily Digest
Cop Watch
This website is written and published by consumers of safer nicotine products. We are dismayed at the lack of transparency around the Framework Convention on Tobacco Control (FCTC) and the Conference Of the Parties (COP) and at WHO's efforts to deny smokers access to lifesaving "novel" products such as vapes, heated tobacco products and snus. The aim of this website is to demystify the workings of FCTC and COP.

Here is a brief list of what we think needs to change. What do you think? Let us know in the comments. Visit the links at the end to explore these issues in more detail. See our Glossary for short explanations of the acronyms.
Dr Colin Mendelsohn
Vaping nicotine is more effective than all the available stop-smoking medicines, varenicline, nicotine replacement therapy and bupropion, according to a comprehensive analysis funded by the prestigious UK National Institute for Health Research.

The study analysed 171 randomised controlled trials (RCTs) using a technique called a "network meta-analysis". This allows treatments to be compared with each other without having to test them head-to-head in the one trial.

In order of effectiveness the results were:
---

---
My state banned all vapes. We were wrong. – Shaleen Title
Earlier this month, a federally-funded study on vaping-related lung injuries confirmed what experts have been saying for years: Legal, regulated cannabis is far safer and better for public health than products purchased in the illicit market.

The new study examined the 2019 outbreak of vaping lung injuries, which sickened thousands of people across the country and killed at least 68. Analyzing state-level data, researchers found that states where marijuana was legal for adults had a 42% lower incidence of cases.

The lone exception among legal-cannabis states was my home state of Massachusetts, where the incidence of the disease (known as EVALI, or VAPI) was in the top fifth of all U.S. states. Other legal states were in the bottom half.
---
---
Back Under Review – Alex Norcia
On October 22, the Food and Drug Administration (FDA) put Fumizer's flavored vaping products back under review—rescinding the denial it had issued in September. The reversal marks the second such rescission from the agency to date.

In early September, the FDA issued a marketing denial order (MDO) for Fumizer's flavored vaping products. The company, like all others in the United States, had until September 2020 to file a premarket tobacco product application (PMTA) in order for its vapes and e-liquids to remain on the marketplace. The FDA, in turn, had until September 2021 to look over the PMTAs, which companies had to submit for every single product they wanted to keep selling.

Two from Dave Cross, Planet of the Vapes:
One hundred specialists in nicotine science, policy and practice have written a letter to the 182 parties (countries) to the Framework Convention on Tobacco Control to take a more positive stance on tobacco harm reduction. Clive Bates says the content of the letter pushes back against WHO's misguided and unscientific drive for prohibition or excessive regulation and taxation of vaping products, heated and smokeless tobacco products, and novel oral nicotine products, such as pouches.

They say: "We recognise there is uncertainty as to the benefits and risks associated with the evolving marketplace of non-combustible tobacco products over the longer term, and we recognise there is a continuum of risk in these products. We are also duly cautious about the involvement of the tobacco industry. However, we must also consider the substantial body of evidence we do have and not allow excessive caution or residual uncertainties to deny smokers promising options to switch away from the combustible products that we know with certainty are lethal."
Last week, 100 nicotine science, policy and practice specialists wrote a letter to the 182 countries signed up to the Framework Convention on Tobacco Control. It urged them to take a more positive stance on tobacco harm reduction. A number of harm reduction experts have made comment.

Professor David Nutt, Imperial College, said: "Smoking causes a massive burden of death and disease worldwide, killing about eight million people annually and so on a similar scale to the COVID pandemic so far. But we now have vaping and other smoke-free alternatives to cigarettes that can dramatically cut the risks for people who cannot or do not want to quit using nicotine. There is no real scientific doubt that these smoke-free products are much safer than smoking and that they can help smokers quit. So, we should be working hard to make that happen.
---

---
Shamed Further by 100 Experts – Martin Cullip
In recent years, the World Health Organization (WHO) keeps stumbling from one embarrassing episode to another. This week it has been embarrassed once again by a letter signed by 100 specialists in nicotine science, policy and practice, condemning the organization's stance on tobacco harm reduction.

In 2017, the global health agency attracted widespread ridicule when Director-General Tedros Adhanom Ghebreyesus installed brutal Zimbabwean Dictator, Robert Mugabe, as a goodwill ambassador. The WHO has more recently been criticized heavily for slavishly kowtowing to the Chinese government.
Adam Afriyie MP
When we voted to leave the European Union, it was to escape the rule of Brussels. Freedom to decide our own laws for ourselves was as a key reason why so many people voted the way that they did in the 2016 referendum.

Exiting the EU has given us a new mandate to take a fresh look at all the rules and regulations imposed upon us by multinational bodies, consider why they were imposed in the first place and assess whether they should remain or be revoked or improved upon.

One such policy area that stands out is smoking. Harm reduction products such as vaping, e-cigarettes, heat-not-burn tobacco and nicotine pouches are back on the agenda.
Just two weeks out from the World Health Organization's COP9 conference on tobacco control, pressure is mounting on delegates from 182 member countries to push for a positive stance on Tobacco Harm Reduction (THR).

The calls come as a significant round-the-clock global broadcasting event has been announced to take place during COP9. Dubbed 'sCOPe', the five-day livestream will see THR experts and consumers, from around the world, challenge and scrutinise the key conference.

The Ninth Session of the Conference of the Parties (COP9) to the WHO Framework Convention on Tobacco Control (FCTC) starts on Monday, 8 November. Involving 182 parties, or countries, it will be held online and behind closed doors.
For Discrediting Alternative Solutions To Stop Smoking? – David Tang
A panel of 100 independent specialists in the field of tobacco and nicotine science and policy disagrees with the World Health Organisation's (WHO) reasoning to discredit the use of tobacco harm reduction (THR) strategies.

In an open letter directed to the WHO Framework Convention on Tobacco Control (FCTC), experts noted that the world was turning down the opportunity to avoid millions of smoking-related deaths by turning its back on THR methods such as electronic nicotine delivery systems (ENDS).

Shantanu Guha Ray
A decision by the US Food and Drug Administration early this month is significant by all counts, with deep implications for India. The US FDA has announced it has authorised marketing of three new tobacco products, marking the first set of electronic nicotine delivery system (ENDS) products ever to be authorized by the FDA through the Premarket Tobacco Product Application (PMTA) pathway.

It is highly likely that the decision for the US markets will soon travel across the seven seas to India, home to almost 267 million tobacco users. On paper, the Indian government continues to bane-cigarettes despite mounting evidence that shows, although not risk-free, e-cigarettes may lessen the risk of developing diseases like lung cancer and COPD by up to 95 per cent.

Derek Yach
In 2019, the Indian government announced a ban on e-cigarettes to contain the threat they posed to future generations. The decision might as well have been scripted by the WHO, which continues to insist that all tobacco products are the same, despite mounting evidence to the contrary

For a country that is home to almost 267 million tobacco users, this decision is, to be blunt, shameful. About a million people die each year in India from tobacco-related causes, and research shows e-cigarettes, although not risk-free, may lessen the risk of developing diseases like lung cancer and COPD by up to 95% because they contain no tar and significantly fewer chemicals than that make up the toxic stew of smoke in combustibles.
Kumar Subramanian
IN A landmark decision, the United States Food and Drug Administration (US FDA) announced on Oct 12 that it has authorised the first set of e-cigarette products for sale in the US.

In greenlighting these products, the agency signalled that it believed vaping products offer smokers the opportunity to quit traditional cigarettes with reduced exposure to harmful chemicals.

Following its decision, FDA said in a statement that the authorisation is an important step toward ensuring all new products undergo the FDA's robust, scientific premarket evaluation.
---
A look back at how things have moved on or otherwise…
About rules lowering nicotine levels in cigarettes – and what to do instead
Clive Bates, The Counterfactual
To mark the annual US Food Drug and Law Institute Tobacco and Nicotine Products Regulation and Policy Conference (21-23 Oct), where FDA traditionally gives an update on its plans for nicotine regulation, I thought it worth noting that the centrepiece of its comprehensive strategy for nicotine seems to have disappeared.   This would be a proposed rule lowering nicotine levels in cigarettes with a view to making them sub-addictive – persuading adults to quit and adolescents to never start.  The trouble is that consumers, markets, producers, and criminal networks have a way of thwarting such bold measures.
Independent British Vape Trade Association (IBVTA)
The IBVTA shares the view of Professor John Britton of the University of Nottingham, and former Chair of the Royal College of Physicians Tobacco Advisory Group, that vape stores should be deemed essential retail outlets.

Every year, over 70,000 people across the UK die of a smoking related illness, and smoking is the largest single cause of avoidable early death in Wales. In 2018, around 5,600 deaths in people aged 35 and over were attributable to smoking, which is 16.5 percent of all deaths in this age group.[1]

Reducing the health impacts of smoking is a recognised policy priority for the Welsh Government. Smoking remains one of the main causes of inequalities in health in Wales, with smoking rates in the most deprived areas over double those of the least deprived areas.[2] Providing ready access to safer alternative products should be at the forefront during consideration by governments as to which businesses are deemed essential and permitted to remain open.
---
Visit Nicotine Science & Policy for more News from around the World

---