Vaping Digest 23rd October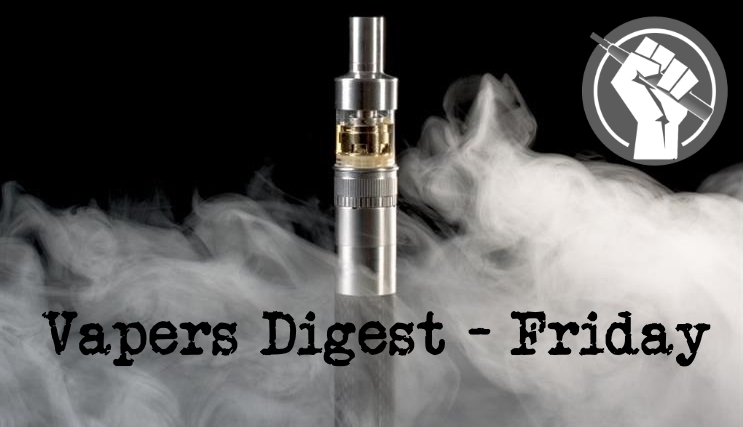 Friday's News at a glance:
Twenty reasons to be sceptical about rules lowering nicotine levels in cigarettes – IBVTA writes to Welsh Government – Good News: Young Adults Sustain the High School Smoking Decline! – The unfortunate case of the Cochrane Review – Vaping Looks Like a Gateway Out of—Not Into—Smoking – CoEHAR's study confirms beneficial effects of ECIG on COPD smokers – Polosa's COPD Follow-up – Vaping During Pregnancy – We Vape Welcomes Cochrane Update – COVID Prompts Vape Tax – Prohibiting E-cigarettes Leads to Smuggling and Smoking – Unfolding Tragedy of India's Vape Prohibition – Vaping debate to be heard by Senate inquiry – Nicotine Science and Policy Daily Digest
About rules lowering nicotine levels in cigarettes – and what to do instead
Clive Bates, The Counterfactual
To mark the annual US Food Drug and Law Institute Tobacco and Nicotine Products Regulation and Policy Conference (21-23 Oct), where FDA traditionally gives an update on its plans for nicotine regulation, I thought it worth noting that the centrepiece of its comprehensive strategy for nicotine seems to have disappeared.   This would be a proposed rule lowering nicotine levels in cigarettes with a view to making them sub-addictive – persuading adults to quit and adolescents to never start.  The trouble is that consumers, markets, producers, and criminal networks have a way of thwarting such bold measures.
Independent British Vape Trade Association (IBVTA)
The IBVTA shares the view of Professor John Britton of the University of Nottingham, and former Chair of the Royal College of Physicians Tobacco Advisory Group, that vape stores should be deemed essential retail outlets.

Every year, over 70,000 people across the UK die of a smoking related illness, and smoking is the largest single cause of avoidable early death in Wales. In 2018, around 5,600 deaths in people aged 35 and over were attributable to smoking, which is 16.5 percent of all deaths in this age group.[1]

Reducing the health impacts of smoking is a recognised policy priority for the Welsh Government. Smoking remains one of the main causes of inequalities in health in Wales, with smoking rates in the most deprived areas over double those of the least deprived areas.[2] Providing ready access to safer alternative products should be at the forefront during consideration by governments as to which businesses are deemed essential and permitted to remain open.
---

---
Sustain the High School Smoking Decline! – Brad Rodu
In January, I discussed results from the 2019 National Youth Tobacco Survey (NYTS) showing that vaping among high school students increased considerably over the past five years, as use of cigarettes declined at a rapid rate (here).  With the release of 2019 data from the National Health Interview Survey (NHIS), which I summarized a week ago (here), it is useful to compare high school vaping and smoking rates with those among young adults 18-24 years old, as seen in the chart at left.

The prevalence of smoking in 2014 – the first year that the NHIS collected vaping information – was 16.6%; it had fallen by over one-half by 2019, to 7.7%.  That was even better than the decline in smoking among high schoolers, which fell from 9.2% in 2014, to 5.7% in 2019 (in the chart below, for easy comparison).
Carl V. Phillips, Anti-THR Lies
As many of you are aware, there was a recent major update to the old Cochrane Review of smoking cessation intervention studies (trials) that gave some or all participants e-cigarettes. This report is an unfortunate turn of events. I foresee yet another highly publicized vaping "success" statistic that so hugely underestimates the benefits of vaping that it is really a perfect anti-vaping talking point.

For those not familiar, Cochrane reviews are complicated-seeming simplistic analyses where a bunch of study results are averaged together, using a technique that is typically called "meta-analysis" though is properly described as "synthetic meta-analysis" (as in, synthesizing the results; it is not the only kind of meta-analysis).
---
---
Out of—Not Into—Smoking – Filter Magazine
In the United States, federal agencies and private organizations have pushed the narrative that the use of e-cigarettes threatens to get more people "hooked" on combustible products, leading to laws that have reduced the availability of non-smoke alternatives.

A new study from the United Kingdom, a country that recognizes and promotes vaping as a harm reduction intervention to smoking, found that most adult vapers buck the behavioral trajectory alleged across the Atlantic.

In 2020, more than half (58 percent) of UK adult vapers are ex-smokers—a proportion that's been trending upwards since 2014. Meanwhile the proportion of adult vapers who are also current smokers has been on the decline—this year hitting 38 percent, compared with 65 percent six years ago, according to a YouGov survey commissioned by Action on Smoking and Health, a UK-based organization aiming to end global harms of tobacco. Only 2 percent of the vapers were never-smokers.
Beneficial effects of ECIG on COPD smokers
Link: COPD smokers who switched to e-cigarettes: health outcomes at 5-year follow up

Catania, 22th October 2020 – CoEHAR's researchers have just published the longest clinical follow-up of E-cigarette users ever reported. The study "COPD smokers who switched to e-cigarettes: health outcomes at 5-year follow up" explores the long term effects of E-cigarette use in patients with chronic obstructive pulmonary disease (COPD) and confirms that regular use can ameliorate objective and subjective COPD and is long lasting.

COPD patients who switch from conventional smoking to regular vaping achieve sustained abstinence resulting in a 50% reduction in COPD exacerbations and overall improvement in exercise tolerance and quality of life.

Four from Dave Cross, Planet of the Vapes:
Riccardo Polosa is one of the most prolific academic authors on the subject of vaping and tobacco harm reduction. As the founder of the Centre of Excellence for the Acceleration of Harm Reduction, President of the Italian Anti-Smoking League, and Special Scientific Advisor to the International Network of Nicotine Consumer Organizations, Riccardo has pressed governments around the world to adopt common-sense approaches to vaping. Now he follows up a COPD study he conducted five years ago.

In 2015, Polosa looked at published papers on the subject and found "there certainly is no evidence to date to suggest that there are any clinically significant adverse lung effects, at least acutely. Smokers with pre-existing asthma and COPD may benefit from regular EC [electronic cigarette] use." [link]
Suzanne Froggatt, Nadja Reissland, and Judith Covey from the Psychology Department at Durham University have published findings from a study looking at infants born to smoking and vaping mothers. They found the birth outcomes from vaping mothers was the same as for non-smoking/vaping mothers but said infant motor maturity was decreased. Experts have commented on the findings.

The trio studied 83 infants as part of the study. They were either exposed prenatally to cigarettes, e-cigarettes, or not exposed to either as the mothers neither smoked nor vaped. They state, "differences were assessed between these three groups for birth outcomes and scores on the Neonatal Behavioural Assessment Scale (NBAS) at one month of age."
We Vape, a campaign group founded by vapers for vapers, has welcomed the publication of the Cochrane Library evidence update on vaping. The update, released yesterday, highlighted that vaping is 70% more effective than nicotine replacement therapy in helping people quit smoking. An important message for smokers as the UK moves towards its smoke-free goal of 2030.

We Vape is a campaign created by vapers for vapers. We provide a voice for the UK vaping community and stand up for the rights of adults looking to improve their health. By raising the collective voice of the UK's 3.6 million vapers, we hope to help further reduce smoking and to let politicians, the media, the public health community and the anti-vaping brigade know that vaping saves lives.
The Bailiwick of Jersey, known to most simply as the island of Jersey, is famed for its welcoming tax legislation for the wealthy. Many companies set up operations on the British Crown dependency to take advantage of the secrecy and beneficial rates. Claiming the COVID-19 pandemic has hit the Channel Island's income, the government has announced it is looking at levying a tax on vape companies which could lead to price rises in the United Kingdom.

Jersey's standard rate for corporate income tax is 0%, hence the attractiveness of setting up there. There are exceptions; financial service companies pay a 10% rate, utilities and large corporate retailers pay double that. Despite the low rates, it all racks up to about £800million for an island measuring barely 45 square miles.
---

---
Prohibiting E-cigarettes Leads to Smuggling and Smoking
Michelle Minton, CEI
Anyone with a passing knowledge of American history is aware of the failures of prohibition. Both the now-repealed ban on alcohol and the ongoing "war on drugs" did little to reduce demand for substances, instead pushing people toward more dangerous behaviors, fueling illicit markets and drug cartels, and putting otherwise law-abiding citizens in conflict (sometimes fatal) with law enforcement.

Yet, we never seem to learn. Though they avoid the word "prohibition," those in power continue to present bans as the solution to all manner of social issues. Most recently, the approach has been pursued as the remedy for youth e-cigarette use. But, as we are already beginning to see, this new prohibition will be no more successful than those that came before.
To reimburse vaping group's costs for lawsuit on flavored e-cig ban
A judge has ordered New York state to reimburse a vaping trade group's attorney fees connected to a lawsuit over the state's attempt last year to impose an emergency ban on flavored e-cigarettes.

Acting state Supreme Court Justice Catherine Cholakis on Wednesday sided with the vaping group that argued state officials overreached their authority and thus should cover the legal costs associated with fighting the ban.

Vape shops and the Vapor Technology Association trade group filed the lawsuit and are seeking about $381,000 in attorneys' fees and costs from the state. Cholakis noted an evidentiary hearing will be set to determine if the amount is accurate, court records show.

Alex Norcia, Filter Magazine
Born and raised in Mumbai, Aditi Sharma now lives in Pune, a sprawling city in the western Indian state of Maharashtra, and works long, odd hours at a popular English-language daily newspaper. After watching her husband, another longtime smoker, use an open-system vape to get himself off combustible cigarettes, she decided to give it a go, too. Eventually, the effort stuck. She felt healthier. She could exercise more easily. She didn't smell of smoke.

But whenever the New York Times publishes a new article about JUUL, Sharma has to defend vaping to her newsroom. Her peers are well aware that the past two years have been contentious for the company in the United States, as countless stories have circulated about its former marketing toward the country's youth and, then, its pursuits abroad.
Michael Johnsen MP is a NSW Member of Parliament who quit smoking with vaping.
Jackson Worthington
The tobacco harm reduction debate is hotly contested throughout Australia and especially Tasmania where declining smoking rates have stalled, a member of parliament wants to raise the legal smoking age to 21 and research has outlined the dangers of electronic cigarettes.

Vaping is a key part of the harm reduction debate. On one side, business and harm reduction groups have argued for the legalisation of tobacco vaping products for years. But, members of health and research communities have pushed back – drawing links between vaping and lung damage and suggesting that legalisation could lead to widespread use amongst young people.
Why the next 12 months is critical for vaping regulation
The Therapeutic Goods Administration (TGA) last month handed down an interim decision that nicotine-containing vaping products would be permitted in Australia on a streamlined prescription-only model for smoking cessation.

The move – in which doctors prescribe and pharmacists dispense – is aimed at stemming the flow of black market imported nicotine e-liquid, which pro-vaping group Legalise Vaping states is the main way users currently gain access.

'Most users feel compelled to either import nicotine illegally without a prescription or purchase it from the unregulated black market,' it states.
---
A look back at how things have moved on or otherwise….
Food and Drug Administration
The U.S. Food and Drug Administration announced today that, for the first time, it has authorized the marketing of products through the modified risk tobacco product (MRTP) pathway. The authorizations are for eight Swedish Match USA, Inc. snus smokeless tobacco products sold under the "General" brand name.
Dave Cross, Planet Of The Vapes
Individual states and weak-minded politicians have been lining up in the USA to try to benefit politically or financially from the recent outbreak of THC-related deaths. Rushing to push 'executive orders', bypassing the legislative process, to prohibit the sale of vape products caused uproar and disbelief. The legal challenges to these undemocratic moves is meeting with success.
Australian Tobacco Harm Reduction Association (ATHRA)
In 2015/16 smoking killed over 20,000 Australians and cost the country $136 billion, according to a new report. The report concludes that Australia 'needs to continue to invest in strategies to prevent and reduce smoking, and the associated significant morbidity and mortality'.
---
Visit Nicotine Science & Policy for more News from around the World

---