Vaping Digest 21st October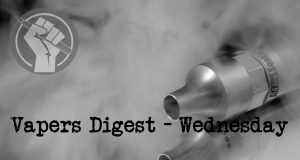 Wednesday's News at a glance:
Letter to the Dutch Parliament to express concern about the possible ban on flavoured e-cigarettes in the Netherlands ~ SCHEER report on vaping pretends it's still 2011 ~ Response to the extremely poor European Commission SCHEER preliminary opinion on e-cigarettes ~ Exclusive: Mark Pawsey MP on the opportunities and challenges facing vape in 2021 ~ Commenting on Flavor Bans: What Should You Discuss? ~ Local Flavor Bans Are A Bad Idea ~ Australian Advocates Not Listening ~ The Lancet Launches Another Attack ~ Nicotine e-liquids require urgent regulation in Australia ~ Why doctors may start prescribing nicotine to help beat disease: New research shows the addictive element of cigarettes may be a potential treatment for Parkinson's, dementia and even Covid-19 ~ Consumer group eyes filing graft charges against FDA ~ Opinion: We must unite to protect vape ~ Michael's story part 2 / 4 ~ Michael's story part 3 / 4
about the possible ban on flavoured e-cigarettes in the Netherlands
Karolien Adriaens, PhD, Frank Baeyens, PhD, Konstantinos Farsalinos, MD, MPH, Ecigarette Research
While everyone's attention is essentially on the COVID-19 pandemic, there are some developments in the field of tobacco harm reduction and e-cigarettes. Besides the recent SCHEER report, for which i will prepare a detailed response, another important issue has been the discussions in the Netherlands concerning a potential ban on flavored e-cigarettes. Together with Dr Karolien Adriaens and Prof Fran Baeyens from the Univ. Of Leuven, we prepared a letter that was sent to the Secretary for Health, Welfare and Sports concerning this issue. The leter is presented below.
Christopher Snowdon, Velvet Glove Iron Fist
Last month, the EU's Scientific Committee on Health, Environmental and Emerging Risks (SCHEER) published a preliminary opinion on electronic cigarettes which assesses the risks associated with vaping products and is designed to alert the European Commission to the "potential need for legislative amendments" to the Tobacco Products Directive. Reading it is like taking a step back in time, or being in Australia.
Clive Bates, CounterFactual
I have made a short submission to the consultation on the European Commission SCHEER Committee preliminary opinion on e-cigarettes.  You can respond to the consultation on this very poor scientific assessment here, where you can find all relevant documentation.  The closing date is just before midnight CET, Monday 26 October 2020. All contributions are helpful, but keep it polite, objective and on the subject – the science of e-cigarettes – and most importantly, in your own words.

---
Vape Business
Founder of the All-Party Parliamentary Group on Vaping tells Vape Business about the group's plans for the current parliamentary year.

Vape Business: What will be the priorities for the APPG this year?

Mark Pawsey: The APPG is looking to hold two inquiries this parliamentary year. The first will look at [World Health Organisation's vape-focused "conference of the parties"] COP9 and address concerns around the WHO potentially advocating for a ban on reduced risk and/or vaping products or for them to be treated in the same manner as cigarettes and combustible tobacco. The second will look at the potential for new domestic vaping legislation post-Brexit.
---
Jim McDonald, Vaping360
Flavor bans are probably the most common current threat to vaping in states and municipalities—and next year we'll probably see more of them. Usually they're laws passed by state legislatures or city councils. Sometimes, as with the Rhode Island flavor ban or the currently proposed Michigan flavor ban, they're presented as health department rules.
Alec Ulasevich, Reason Foundation
During the EVALI outbreak of 2019, nine states either banned or tried to ban sales of flavored e-cigarettes through executive action, with Mas-sachusetts banning the sale of all vaping products. Proposed bans in New York and Montana were over-turned in courts. EVALI, which stands for e-cigarette or vaping use-associated lung injury, was caused by the use of black market, mostly THC cartridges laced with Vita-min E acetate. The stated impetus for the bans was thus to protect public health from potentially deadly products, however, the bans applied to legal and regulated products which were not a factor in the outbreak.
---
TWO from Dave Cross, Planet of The Vapes
Researchers at Curtin University, University of Sydney, and University of Exeter are concerned about a growth in vaping through online retailing and social media consumption. They conducted a study looking at posts on the Twitter social media platform and discovered that advocates are not listening to their lies and promoting tobacco harm reduction.
The Lancet medical journal has launched another scathing and unfounded attack on the work being done by the Foundation for a Smoke-Free World (FSFW). Despite being one of the world's oldest and best-known general medical journals, priding itself on its peer-review process, it's editorial frequently sound like they come straight from the desk of Professor Martin McKee.
---
Australian Tobacco Harm Reduction Association (ATHRA)
THERE ARE NO MANDATORY safety or quality standards for nicotine liquids in Australia as there are for all other consumer and medical products. This leaves users at risk from unsafe products and children at risk of poisoning from unsafe containers.

Vaping nicotine is legal under current laws and new guidelines proposed by the Health Minister. The Minister has raised concerns about 'imported products of dubious safety and quality'. However, there has been no attempt to correct this glaring void in consumer safety.
New research shows the addictive element of cigarettes may be a potential treatment for Parkinson's, dementia and even Covid-19
Lois Rogers, The Daily Mail
Matt Eagles smoked his first cigarettes — which he bought quite easily from the local newsagent — aged 12.

'I was the sort of kid who just liked being naughty, but it soon became a regular habit,' says the 51-year-old from Cuddington, Cheshire.

It's a story familiar to millions, but while smoking is universally regarded as bad for health, in Matt's case he believes the nicotine from the cigarettes may have had an unexpected benefit.
---
Manila Bulletin
The troubles for the Food and Drug Administration (FDA) which admitted receiving foreign grants from vested interest groups continue to pile up as stakeholders threaten to file graft charges against the beleaguered agency before the Ombudsman.

Anton Israel, president of the Nicotine Consumers Union of the Philippines (NCUP) said "if the FDA ignores the views of legitimate and impacted stakeholders and proceeds with the adoption of an administrative order lifted from the playbook of their anti-tobacco patrons, we would be constrained to file an anti-graft case with the Ombudsman."
Vape Business
Stoptober is a great time to join our campaign and help support vapers and smokers alike, says Mark Oates, founder We Vape

As we near the end of Stoptober, we see all over social media just how much vaping is enabling smokers to make smarter choices and quit smoking. I started We Vape to stand up for vapers across the UK. We Vape's goal is to make sure the UK Government continues to encourage vaping as a means of helping smokers quit.

---
With the evidence on e-cigarettes? – John N Newton
At a time of crisis, there is pressure to act, but at such a time, it is especially important that any action is informed by rational assessment of the relevant scientific evidence. The ongoing outbreak of vaping-associated respiratory illness in the USA is a case in point. A serious problem such as this requires a serious and well informed response.

The US Centers for Disease Control and Prevention are currently engaged in evaluating information on some 1300 cases of lung disease, including 26 deaths.1 The investigation continues, but results so far strongly implicate use of illicit tetrahydrocannabinol products in vaping fluids as a cause.
Dave Cross, Planet of the Vapes
The brand owners believe this to be a world-first, a vaping system branded specifically for the healthcare sector, now available in many pharmacies throughout New Zealand. The off-the-shelf product, branded 'Vapix', is marketed to smokers over 18 years of age, encouraging them to "Make The Switch".

Vapix's Kiwi owners and developers say getting a high-quality vaping product into pharmacies is well overdue. The move has also been welcomed by many in the health sector.
---
Visit Nicotine Science & Policy for more News from around the World

---