Vaping Digest 26th October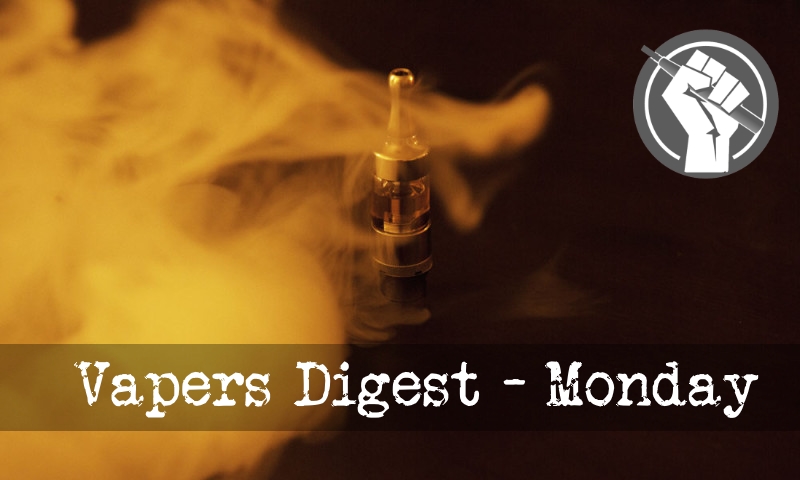 Monday's News at a glance:
'Global State of THR' Set for Release – Leafly Magazine discovered true cause of EVALI at least six months before CDC – Tobacco Harm Reduction – 7 things you need to know about vaping – Wales Forgets About Vaping – Quitting Smoking for Mental Health – Kick the Habit – VG/PG Cops – Relapse Risk – Cancer Council Australia and Heart Foundation misinformed on vaping – Rachael's Story Part 1 / 6 – Nicotine Science and Policy Daily Digest
Tobacco Reporter
Knowledge-Action-Change is set to launch a new report documenting the advances and significant challenges facing tobacco harm reduction in 2020.

Titled, "Burning Issues: The Global State of Tobacco Harm Reduction 2020," the report will be released Nov. 4, 2020.

The report is the second in a biennial series from the Global State of Tobacco Harm Reduction (GSTHR), a project established to map the development of tobacco harm reduction and use, availability and regulatory responses to safer nicotine products around the world.
Of EVALI at least six months before CDC – Matt Rowland
In September 2019, the US Centers for Disease Control and Prevention (CDC) began reporting of a mysterious outbreak of "vaping related" lung injuries predominately occurring in Wisconsin. By late February 2020, over 2,700 cases had been reported across all 50 states with a confirmed 64 fatalities.

Over the nearly six-month timeframe, the CDC issued multiple public health warnings strongly recommending the avoidance of any vaping product. Since the overwhelming majority of average Americans automatically assumes that vapor products are nicotine-based only, the CDC's actions wrongly implied that conventional vapes were potentially deadly.
---

---
Muzammil Ferozi
Tobacco harm reduction (THR) is a health strategy implemented to curtail the risks associated with tobacco products to users and society at large. The concept of THR dates back to 1976 when Professor Michael Russell, also considered the father of tobacco harm reduction, stated that people smoke for nicotine but they die from the tar. Russell's advocacy that the ratio of tar to nicotine could be the key to a less harmful smoking experience has served as a stencil for strategies implemented against tobacco harm by health organizations today.

Unfortunately, Pakistan is among the high-burden tobacco-use countries identified by the World Health Organization. According to the Journal of Pakistan Medical Association's estimations, almost 36% of males and 9% of females in Pakistan are addicted to tobacco or tobacco-based products. In addition to that, approximately 1,200 children in Pakistan start smoking every day!
---
Have you done ETHRA's EU Nicotine Users Survey, yet?
Available in multiple languages, only takes a few minutes to do.
DO the survey, SHARE the survey! https://t.co/DTfwmDLuAn pic.twitter.com/wxeAaNehy6

— European Tobacco Harm Reduction Advocates (@europethra) October 14, 2020
Conclusions
An indirect method of simulation modelling indicates that substantial reductions in smoking prevalence occurred in England from 2012–2019 coinciding with the growth in nicotine vaping product use.https://t.co/jqQAcM4nPD

via David Levy et al ( inc @jamiebrown10 )

— Alan Beard (@Alan_Beard1) October 26, 2020
---
Sarah Britton
"As vape stores were forced to shut down during lockdown, adult vapers had to look elsewhere to stock up on their vaping e-liquids and devices," says Nick Geens, head of logic and reduced risk products at JTI UK. This resulted in vaping sales growing by 33% in the convenience channel during this period [IRI Marketplace, EXT1 Convenience GB, Total E-Vapour Category, Unit Sales, Av. During lockdown to w/e 14/06/20, av. Pre lockdown to w/e 15/03/20].

Despite vape stores reopening on 15 June, sales of Reduced Risk Products in traditional retail remained 10% higher than pre-lockdown levels [IRI Marketplace, Total E-Vapour Category, Unit Sales, Av. Post to w/e 20/09/20, Av. Pre lockdown to w/e 15/03/20] – with convenience up by 15% [IRI Marketplace, Convenience].

Five from Dave Cross, Planet of the Vapes
Mark Drakeford's Welsh administration continues its current mission to ban things, this time focussing on smoking. The government will extend bans on smoking with the aim of "de-normalising" it, and funds have been set aside to put the measures into place, but there is no mention of vaping.

Drakeford's Health Minister Vaughan Gething has announced they intend to ban smoking from ban smoking from all school, hospital grounds and public grounds.
Nowadays, we're fortunate to live in a society where mental health is talked about relatively openly and isn't frowned upon as a shameful, embarrassing topic. More and more people at the height of their industries are coming forward to talk about their experiences and the impact of mental health, from Ed Sheeran to Prince William.

This has led to a focus, and a detachment of stigma, surrounding mental health conditions, which allows for more and more people taking the step forward to talk and take advice.

What many are unaware of is the relationship between smoking and mental health, possibly due to the lack of studies and spotlight on the subject matter
Today Innokin announced that they are glad to reach thousands of people by spreading our message at the EFL Championship matches this year. They hope this campaign brings attention to the alternatives to smoking, the health risks of smoking are known by everyone but that doesn't mean quitting is easy, especially without help and they'd like to support you in your journey to finally being smoke-free and living a healthier, happier lifestyle.

Innokin has always had harm reduction at the heart of everything they do and this year for Stoptober, they are glad to team up with English Football League (EFL) to advise people to kick the habit and make the switch. Year after year Innokin's starter kits win multiple awards, and more importantly, help thousands of people to kick the habit.
The Bridgewater police in Massachusetts is throwing itself into the Drug Enforcement Agency's (DEA) National Drug Take Back Day. Ever keen to crack down on crime, Chief Christopher D. Delmonte announced the force's participation and his hopes to clear the streets of dangerous drugs this Saturday. Just one problem, he's unleashing his PG/VG PCs.

National Drug Take Back Day is a biannual, free, no-questions-asked event that gives the community the opportunity to aid in the fight against substance use disorder by disposing of potentially dangerous expired, unwanted or unused prescription drugs.

The event is due to start on October 24, at 10:00 AM, and will run for five hours.
Researchers at the University of East Anglia (UEA) have looked at ex-smokers who lapse back to tobacco use. Sarah Victoria Gentry, Emma Ward, Lynne Dawkins, Richard Holland, and Caitlin Notley found that smokers who had switched to vaping didn't consider their quit attempt over if they briefly lapsed – unlike those who tried to quit using other methods.

The study, "Reported patterns of vaping to support long-term abstinence from smoking: a cross-sectional survey of a convenience sample of vapers", has just been published in the Drug and Alcohol Review journal.
---

---
Misinformed on vaping – Colin Mendelsohn
CANCER COUNCIL AUSTRALIA and the Heart Foundation circulated a 'fact sheet' on vaping nicotine last week to federal Members of Parliament. Unfortunately, this document contains a number of significant factual errors and omits important evidence. It cannot be regarded by policy makers or the media as reliable.

We examine six of the more egregious claims made in the document. (Download our response here)

Rachael is a disabled, Indigenous former nurse who turned her life around with vaping.
Vapes More Effective to Quit Smoking than Gum or Patch | RegWatch
---
A look back at how things have moved on or otherwise…
Is wrong and should be rejected by the EU – ETHRA
An article in the Tobacco Control Journal by a Finnish public health advocate has urged the EU to change its policy towards vaping products in the Tobacco Products Directive (TPD). ETHRA fully rejects the reasoning contained in the article and we are shocked that a member state can attempt to impose its extreme position on others in the EU by advocating for prohibitions not welcome elsewhere.

Eeva Ollila of the Cancer Society of Finland boasts that her country's extreme anti-nicotine policy is being inconvenienced by the EU treading a path which accepts reduced risk products as a valid option for smokers seeking to quit.
For Informed Vapers & Vape Shops – James Dunworth
I'm quite proud that the teams in our vape stores are clued up on vaping myths. Thanks to their research, and regular updates from head office, they have the knowledge, information and confidence to deal with concerns generated by negative press.

When we visit other shops, though, that's not always the case, and I've seen some vape sellers struggle to answer questions. That's not surprising, as it can be quite time consuming to keep up with every vape story!

So we've put together a list of the common myths currently doing the rounds. I hope these will help both vapers and vape shops in the inevitable debates on the safety of vaping.
With Vaping – Matt Ridley
The Volstead Act prohibiting intoxicating beverages became law on October 28, 1919—a century ago this week—and came into force a few months later. Most people now agree that Prohibition was a failure, driving the alcohol industry underground, where its products became unsafe, its profits lucrative and tax-free, and its methods violent. Most countries have since taken the view that it is better to legalize, regulate and tax drink than to ban it.

Today, there is a similar debate over vaping, a popular new practice prohibited or heavily restricted in many countries. Electronic cigarettes, which use heating elements to vaporize liquids usually containing nicotine..
---
Visit Nicotine Science & Policy for more News from around the World

---