Vaping Digest 28th October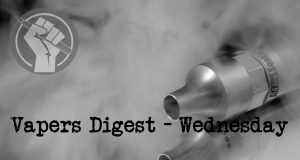 Wednesday's News at a glance:
Anti-Science War on Vaping ~ Base vape, heated tobacco regulations on science, not fiction, says expert ~ Senior health officials misinformed about vaping at the Senate Estimates Hearing ~ Introducing ATHRA's FAQs. How to fact check spurious claims on vaping ~ FDA receiving foreign money 'shameful and scandalous' — vaping groups ~ Can Banning E-Cigarettes Do More Harm Than Good? ~ Questions in Parliament ~ Number of GB Vapers Declines ~ Rachael's story part 2 ~ Rachael's story part 3 ~ Retailers call for a fair go with the sale of e-cigarettes ~ Opinion: Measure 108's vaping tax neither smart nor humane
Jerry Rogers, Real Clear Health
The coronavirus pandemic has taught us for certain that public health experts should stick to public health. After suffering through months of the COVID-19 lockdowns and surges, American's are fully aware how politics and misinformation can negatively impact public health. The fact is that when the medical and health communities lose their focus on data and science – distracted by partisan advocates and social justice campaigns – Americans pay the ultimate price in terms of their health and well-being.
Inquirer
A medical expert urged the Food and Drugs Administration to base the proposed vape and heated tobacco regulations on science — not on fiction — in the wake of the beleaguered agency's admission that it received funding from foreign anti-tobacco organizations.

"Science — and there is an abundance of curated and peer-reviewed studies out there — should be the basis of regulation. Not political or ideological agenda," Dr. Lorenzo Mata Jr., president of Quit For Good, said in a statement sent to INQUIRER.net on Tuesday.

---
Two from the Australian Tobacco Harm Reduction Association
The TGA's Professor John Skerritt and Professor Brendan Murphy, Secretary of the Department of Health were questioned on vaping at the Senate Estimates hearing on 27 October 2020. Some of their replies were less than accurate.
TO ADDRESS THE RAMPANT MISINFORMATION about vaping nicotine, ATHRA has prepared an evidence-based up-to-date FAQ with an Australian focus, available here. This can be used to fact check spurious claims as they appear.
---
Manila Bulletin
Vaping experts scored the Food and Drugs Administration (FDA) for receiving foreign grants from American business interest groups to virtually impose a ban on e-cigarettes and heated tobacco products in the country describing it as a "shameful and scandalous" act.
, Scoop
It has been a year since the Indian government banned electronic cigarettes, enough time to gauge its impact, whether it has served the intended purpose of preventing teen access and strengthened tobacco policy, and if there are any negative outcomes. Long before India prohibited e-cigarettes last September, some other low- and middle-income countries – Mexico, Brazil and Thailand – had enacted a similar sale ban.
---
TWO from Dave Cross, Planet of The Vapes
Labour's Dan Jarvis wondered about Smokefree England progress and Big Tobacco levies. Baroness Kennedy pondered on the impact of COVID-19 on smoking rates, and Labour's Alex Sobel how vaping has affected COVID-19 symptoms.
Unfounded concerns about safety of e-cigarettes are likely to be behind the reported drop in the number of vapers in Great Britain according to recent study from Action on Smoking and Health (ASH UK). The report highlights how, shockingly, "just 39% of smokers in Great Britain correctly believe vaping is less harmful than smoking in 2020".
---
---
Deborah Jackson, Convenience & Impulse Retailing
Industry associations are calling on the government to allow small businesses who currently sell cigarettes and other nicotine products to be given access to less harmful alternatives such as vaping or e-cigarettes.

The Australasian Association of Convenience Stores (AACS) and the National Retailers Association (NRA) have both recently highlighted that the Federal Government's decisions regarding the sale of smoke free tobacco products will hurt Australian retailers.
Jacob Grier, Oregon Live

If there were a measure on the Oregon ballot to raise taxes on products that help people quit smoking, such as nicotine patches and gums, there would be no doubt that this would be bad for public health. Oregon's Measure 108, which would impose substantial new taxes on vaping products, is misguided for precisely the same reason. By raising the cost of the most effective smoking cessation devices ever invented, it will unintentionally perpetuate cigarette smoking.

---
But JUUL Labs threatens the whole industry – Fergus Mason, Vaping Post
Leading pod mod maker JUUL Labs has angered vapers by surrendering to pressure and withdrawing most of its flavoured cartridges from sale. With such a prominent company axing flavours, there will now be more pressure on the rest of the industry to do the same. This is all happening as the US lung disease epidemic caused by contaminated THC cartridges begins to stabilise, with new cases falling off sharply. There are signs that states are beginning to back away from extreme anti-vaping laws, with California's governor vetoing one bill that would have loaded companies with extra paperwork, and Iowa's governor saying she won't use an executive order to ban sales of e-cigs.
Dave Cross, Planet of the Vapes
Cancer Research UK has conducted a cross-sectional survey of nurses and GPs across the UK. While the positive noises being made should be welcomed, some will be scratching their heads at the remaining level of ignorance about vaping within nursing and GP circles.

"E-cigarettes are a new technology that provides both a challenge and an opportunity for the future of tobacco control. While they should not be used by people who don't smoke, many people who smoke find them to be useful for helping them move away from tobacco, and currently they are the most frequently used tool for smoking cessation in the UK," says Dr Richard Roope in the editorial.
Eli Lehrer, Real Clear Health
E-cigarettes have become a topic of serious controversy around the United States — and not without reason. The number of teenagers using e-cigarettes has increased once again. And already, 13 people have died and over 800 more have become sick from using THC-containing vaping products derived from marijuana.

Although nothing has linked the current spate of illnesses to the types of "closed system" e-cigarette products sold in convenience stores — or any nicotine e-cigarettes, for that matter —many have sprung into action.
---
Visit Nicotine Science & Policy for more News from around the World

---