Vaping Digest 30th October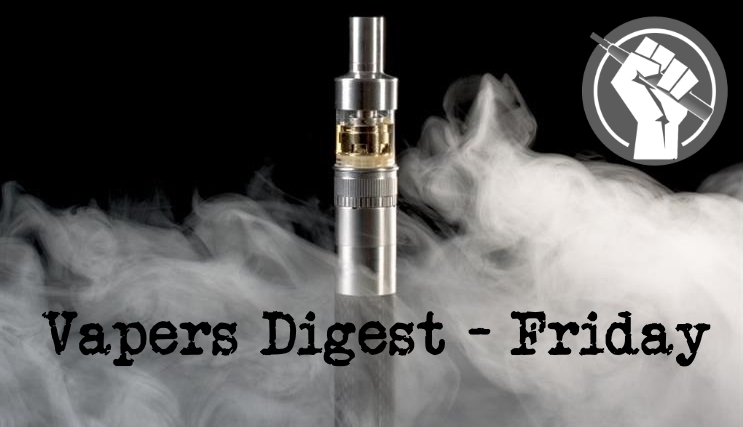 Friday's News at a glance:
NNA writes to the UK government suggesting post-Brexit reforms – The Virtual E-Cigarette Summit, 3-4 December 2020 – European survey: 80 percent of vapers stopped smoking completely – Europe's Beating Cancer Plan – E-Cigarettes = Nicotine Medicines = Prescription Medicines = Cold Turkey – Liability Claims That Vaping Exacerbates COVID-19 Currently Do Not Hold Up In U.S. Courts – Another Setback For The Oz Nic Ban – Help The University of Exeter – NZ Vape Tax Warning – Tipping Points – Access to safer nicotine products – Democrats More at Risk for Anti-E-Cigarette Stance – Altria takes $2.6 billion hit – BAT Highlights Serious Inaccuracies – Australia Up In Smoke – Nicotine Science and Policy Daily Digest
Suggesting post-Brexit reforms
Yesterday, the NNA wrote to the Parliamentary Under-Secretary of State for Prevention, Public Health and Primary Care at the Department of Health and Social Care – Jo Churchill – and the Director of the Number 10 Policy Unit – Munira Mirza – to suggest post-Brexit tobacco and nicotine policy reforms.

On behalf of UK consumers of vaping and other low-risk nicotine products, we proposed steps towards creating a coherent risk-based framework for all safer nicotine products to promote a post-Brexit win for both public health and personal and economic wellbeing.
3-4 December 2020
We are excited to announce that this year's London E-Cigarette Summit, is moving online. The Virtual E-Cigarette Summit will take place between 3-4 December 2020.

2020 has been an incredibly challenging year for us all, and while it isn't possible to welcome you in person, we hope that the virtual event will provide a welcoming focal point to grapple with the challenging public health questions that continue to be posed by e-cigarettes and new novel nicotine products.
---

---
80 percent of vapers stopped smoking completely
More than 80 percent of smokers who switched to e-cigarettes have completely stopped smoking. Around 65 percent of vapers in Europe use fruit or sweet liquids. These are two important results of a survey carried out by the European Independent Vape Alliance (IEVA). More than 3,300 european e-cigarette users took part.

The European survey shows: E-cigarettes are a widely used method in Europe to stop tobacco use. 81 percent of vapers have completely stopped using tobacco. Further twelve percent have reduced smoking with the help of e-cigarettes.
Time to back vaping and beat cancer
Europe's Beating Cancer Plan needs bold action on tobacco, and MEPs must Back Vaping to Beat Cancer, according to the World Vapers' Alliance. The Special Committee on Beating Cancer (BECA) today identified that 'tobacco use, in particular cigarette smoking is the main risk factor for cancer death in Europe'.

Commenting on the new document, World Vapers' Alliance (WVA) Director Michael Landl said: "To succeed in its mission, the BECA committee and the European Parliament must be brave enough to endorse new approaches…
---
---
Prescription Medicines = Cold Turkey: All Help Some Smokers Quit
Brad Rodu, Tobacco Truth
Thirty-six co-authors, peer review, and they still got it wrong.

Dr. John Pierce and 35 colleagues have published a study in the journal PLoS One analyzing data from FDA Population Assessment of Tobacco and Health (PATH) surveys.  Their work was touted in a University of California San Diego press release titled, "E-cigarettes Don't Help Smokers Quit and They May Become Addicted to Vaping."  But their study actually proved that e-cigarettes are as helpful as medicines promoted by anti-tobacco crusaders.
Currently Do Not Hold Up In U.S. Courts – Michael McGrady
A variety of peer-reviewed studies argue the connection between the use and behavior of vaping products and devices and how such activities can exacerbate COVID-19.

Filter magazine published a tremendous analysis of the debate related to vaping and COVID-19. Authors Annie Kleykamp and Helen Redmond point to several instances in the venue of peer-reviewed research. Nicotine & Tobacco Research published an editorial by journal editor-in-chief Marcus Munafò and deputy editor Richard Edwards arguing that there's very little evidence to make effective claims about vaping and COVID-19.

Four from Dave Cross, Planet of the Vapes, 
"Huge news! The January 1st nicotine import ban has been defeated…for now," declared Legalise Vaping Australia (LVA). The Australian Therapeutic Goods Association (TGA) has announced that Greg Hunt's plans to place a de facto ban on vaping has been postponed and advocates are hoping this could lead its permanent scrapping.

LVA said: "Your voices are being heard and this is what has driven this change. But we must not stop. The TGA and Greg Hunt are on the back foot and it's all thanks to your efforts! Thank you everyone, for everything you have done to join our fight! This is a great day – but the battle to legalise nicotine in Australia is just beginning!"
Gina Collins at the University of Exeter has approached Planet of the Vapes to enlist our help in a research project. Gina is looking for people who are about to or have recently switched from smoking tobacco products to vaping, and participants will be rewarded for their time.

Gina told us: "I am a PhD researcher at the University of Exeter and I'm looking to interview former smokers who have recently quit (in the last month) to take part in our paid study on how people experience the switch from smoking to vaping."
Smoking and vaping voters were warned that supporting a party with a policy of taxing harm reduction might come back to bite them in the wallet. Aotearoa Vapers Community Advocacy (AVCA) said that the New Zealand Green Party could influence taxes on equipment and eliquid as Labour failed to achieve an outright majority in the General Election.

In 2014, research was published in Italy showing that smokers had a good level of awareness of vaping. It found 3.5 million smokers had tried it, which resulted in more than 600,000 Italians regularly using e-cigarettes to reduce or quit smoking.
EC Pharmacology and Toxicology (ECPT) has published a paper by Joel Nitzkin that details the tipping points for electronic cigarettes and how public sentiment has shifted in the United States since the quit tool gained popularity. He poses questions asking why the USA is facing the demise of most of the e-cigarette industry and what, if anything, can be done about it.

ECPT is an internationally peer reviewed journal that, "desires to publish articles on all aspects of Pharmacology and Toxicology. The journal aims to publish clinical and experimental work on all the topics related to Pharmacology and Toxicology."
---

---
In low- and middle-income countries more vital than ever – Joseph Magero
80% of smokers live in low-and middle-income countries and have no access to safer nicotine products — resulting in greater pain and suffering, prolonged illness and preventable deaths. Health professionals and Policy makers in Africa find themselves confronted by a phenomenon of rising cigarette smoking rates. Despite some effort by African governments in achieving some of the Sustainable Development Goals, reducing tobacco smoking has proved the hardest to deliver. Although the prevalence rate of cigarette smoking in Africa today is only 14%; low, compared to North America (23%) and the Eastern Mediterranean (31%), its growth is the highest on the planet!
For Anti-E-Cigarette Stance – Michelle Minton
Millions of adult vapers across the country could determine the outcome of races in battleground states. According to Gallup, about 8 percent of U.S. adults, around 17 million people, reported vaping regularly in 2019. This constituency is demographically and politically diverse but, polling indicates, active and motivated by this single issue.

Over 96 percent of vapers polled said they were likely to vote in the general election, with more than 85 percent definitely voting, according to a survey conducted in October 2019 by McLaughlin & Associates. Moreover, 60 percent of vapers polled said that government attempts to ban the sale and use of nicotine vapor products would cause them to register as new voters.

In EU e-Cigarette Review
BAT has called on a European Commission scientific committee to enhance the quality of its ongoing review into e-cigarettes. BAT highlighted several serious flaws, the details of which it makes public today. The results of the review may pave the way for revisions to rules that affect millions of vapers across the EU.

The SCHEER Committee (Scientific Committee on Health, Environmental and Emerging Risks) is an advisory body that was tasked with producing a scientific review of the health effects of e-cigarettes as part of the European Commission's forthcoming review of the Tobacco Products Directive. The consultation period for this review has now closed.
In tobacco harm-reduction debate
Recently, British American Tobacco's (BAT) nicotine pouch marketed by the brand name 'LYFT' made headlines after the Ministry of Health Cabinet Secretary Mutahi Kagwe questioned its registration and licensing.

BAT positions Lyft as a tobacco-free modern oral nicotine pouch. BAT introduced the reduced-risk portfolio to provide consumers alternatives to the combustible cigarette.
As Juul valuation crumbles
Altria Group Inc MO.N on Friday took a third-quarter hit of $2.6 billion to its investment in Juul Labs Inc, further diminishing the value of its initial $12.8 billion stake in the e-cigarette maker that is facing increased regulatory scrutiny.

Its stake in Juul is now worth $1.6 billion, the company said, implying that the value of the vaping products maker was a fraction of the $38 billion it was worth when the cigarette company picked up a 35% stake in December 2018.
Of banning flavoured products
After 31 years of smoking cigarettes, 25 years of which he smoked a pack-a-day, Cooper tried vaping in 2016 and he said he ditched his cigarettes the next day.

Cooper is the owner of the Village Reddi-Mart on Byrne Road and the creator of the Yellowknife Vape Enthusiasts Facebook group. He said he knows of hundreds of people who quit smoking thanks to vaping.
A documentary about smoking & vaping in Australia in 2020
Rachael is a disabled, Indigenous former nurse who turned her life around with vaping.
How COVID-19 Is Being Used to Destroy Vaping | RegWatch
---
A look back at how things have moved on or otherwise….
Royal College of Physicians
Following reported deaths and disease in the US linked to vaping, there has been considerable public concern about the safety of vaping products and whether or not it is safe to continue vaping in the UK. RCP restates its position on vaping following these reports.

This briefing note outlines the current situation in the US, describes why the US is different to the UK, including the different products available and the different regulatory situation, the UK evidence so far and our continuing advice to current smokers that vaping is still far less harmful than smoking tobacco.
Public Health Matters, gov.uk
Since mid-September, headlines around the world have warned about an outbreak of serious lung disease across the US, said to be associated with vaping. As of October 22, 1,604 cases have been reported to the Center for Disease Control (CDC) from 49 US states, including 34 deaths.

The US has an estimated 9 million e-cigarette users in the country, but weekly updates on the CDC website make it clear that the group of people affected is very specific. The outbreak appears to be largely among young men: 70% of patients are male and the average age is 24. Almost half (46%) are under 21.
Jim McDonald, Vaping 360
The outbreak of lung injuries apparently caused by vaping may be leveling off or even declining, according to the Centers for Disease Control and Prevention (CDC). And while the federal agency is finally assigning "most" of the blame to black market THC products, it continues to use the nicotine vaping term "e-cigarettes" to describe the products causing harm.
---
Visit Nicotine Science & Policy for more News from around the World

---