Vaping Digest 2nd November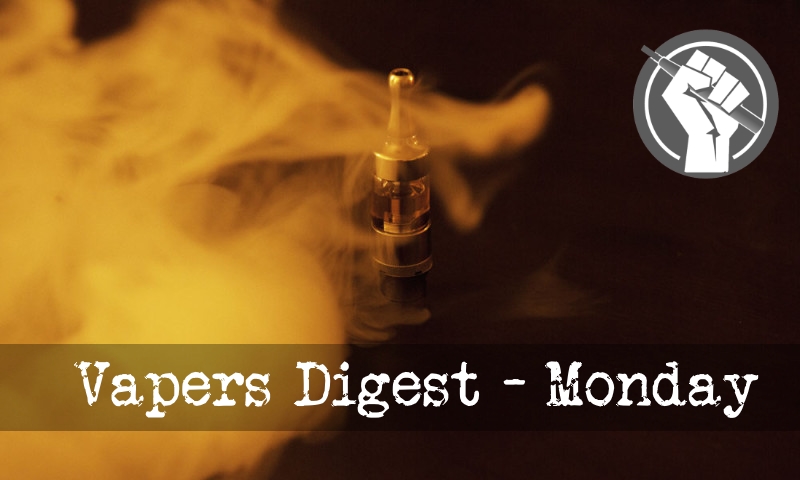 Monday's News at a glance:
Some sensible and realistic Brexit reforms – Post Brexit Vaping Regulations – NNA Offers UK Government A 10 Step Plan – IBVTA writes to MPs and Peers – Best Vape Articles for October 2020 – Long-Term Daily Vaping Doesn't Cause Lung Damage – Lockdown 2 – Fact Sheet of Lies – COP92021 – Navy Vessels To Become 'Tobacco-Free' From January – Michael Johnsen MP's campaign to make nicotine vaping liquid a consumer product in NSW – Q&A: Does India's e-cigarette ban do more harm than good? – Study: 1 in 5 Smokers Manage to Quit 6 Months After Purchasing E-Cigs – Nicotine Science and Policy Daily Digest
Christopher Snowdon, Velvet Glove Iron Fist
The New Nicotine Alliance has written to Jo Churchill (public health minister) and Munira Mirza (director of the No 10 Policy Unit) calling for some sensible reforms once Britain is no longer tied to EU rules next year. …

Nothing to disagree with there. I would only add that the government should also get rid of the (UK) legislation that bans retailers from suggesting reduced risk products to smokers. I only became aware of this law recently. Presumably, it was introduced to stop retailers encouraging people to take up 'light' cigarettes. At the very least, it could be redrafted to ensure shopkeepers don't get in trouble for recommending vapes, heated tobacco, snus etc. to confirmed smokers.
NNA Offers UK Government A 10 Step Plan – Neil Humber
Post Brexit vaping regulations have come under the spotlight with the NNA suggesting a set of proposals to the UK Government.

The 10 step plan covers e-cigarettes, smokeless tobacco – SNUS – and Heat Not Burn devices. The NNA says it's confident if implemented the new legislation would go a long way to reach the UK Government's ambitious goal of a smoke-free country by 2030.

The New Nicotine Alliance has written to the health department and unveiled 10 proposals they say will:
---

---
The IBVTA has been working with government, the devolved Parliaments, and public health stakeholders since early March, before the first national lockdown, that our members' businesses be deemed as essential and be allowed to remain open while the coronavirus outbreak is brought under control.

Last week we shared details of how vape shop owners and operators, as well as their customers, can help us with our current campaign.

This morning we have written to MPs and Peers regarding the announcement that vape shops in England are required to close from the 5th of November, and a copy of the text of that letter can be found below. The IBVTA have already received some positive responses, but will be continuing to engage on this issue over the coming days.
6 Months After Purchasing E-Cigs – Diane Caruana
A Belgian study published in the International Journal of Environmental Research and Public Health, found that approximately one in five smokers manage to quit smoking six months after purchasing their first e-cigarette.

The study titled, "About One in Five Novice Vapers Buying Their First E-Cigarette in a Vape Shop Are Smoking Abstinent after Six Months," looked into the smoking/vaping trajectories and smoking cessation success rates, of smokers after purchasing their first e-cigarette in brick-and-mortar vape shops in the Belgian region of Flanders.
---
---
Saddle Horse Blues
Another month, another round-up of the top articles on vaping and tobacco harm reduction. It's a long reading list for October and there are some really great reads. Learn how much nicotine is in a cigarette and how that compares to vaping in an article from Jim McDonald, or about the impact of vaping restrictions on Indians from Alex Norcia. Colin Mendelsohn discusses the situation facing Australians and Joseph Magero has written an article that addresses issues of access in low and middle-income countries. And, of course, we have news from Canada where smoking rates have gone up in Nova Scotia (the province with the most restrictive vape legislation) and the NWT looks at possible restrictions. Among the good news: studies continue to add to the evidence in support of vaping and  a new trade organization has been formed in the United States to help shops with the PMTA process. Happy reading!
Professor Riccardo Polosa and his team from the University of Catania prove that long-term daily vaping is not likely to cause lung disease.

Vaping has been a matter of high interest among researchers in recent years. Finally, we have gained some insight into the long-term effects of vaping, and the results are encouraging.

Professor Polosa, the Director of the Institute of Internal Medicine and Anti Smoking Center at the University of Catania, Italy, led a study that observed the health of vapers and non-smokers over the period of three and a half years.

Two from Dave Cross, Planet of the Vapes:
History is littered with disappointing second albums and poor film sequels; can the English vape industry expect anything better from the second national COVID-19 lockdown that it didn't get the first time around? Despite industry and public health experts calling for access to reduced harm products to be maintained, the government closed brick and mortar stores in March. There is a sliver of hope for them this time around.

The government has said: "To reduce social contact, the Government has ordered certain businesses and venues to close. These include: all non-essential retail, including, but not limited to clothing and electronics stores, vehicle showrooms, travel agents, betting shops, auction houses, tailors, car washes, tobacco and vape shops."
Cancer Council Australia and Australia's Heart Foundation has issued a "fact sheet" to Australian politicians. The document is a shameless, ideologically driven list of lies and half-truths. The Australian Tobacco Harm Reduction Association (ATHRA) has slammed this attempt at misdirection on such an important issue.

"Electronic Cigarettes: Fact Check" by Australia's Cancer Council and Heart Foundation went out to MPs last week. ATHRA commented: "The document contains significant factual errors and omits important evidence. It cannot be regarded by policy makers or the media as reliable".
---

---
Foundation for a Smoke-Free World
Fifteen years ago, the World Health Organization developed the Framework Convention on Tobacco Control (FCTC), the goal of which is to provide governments with guidelines for reducing tobacco use. Since then, representatives have convened every two years to discuss ways in which the FCTC, or its implementation, might be improved. This meeting is referred to as the Conference of the Parties (COP), and its ninth iteration is scheduled to take place in November of 2021.
From January
The Royal Navy is implementing a 'tobacco-free' policy from January, with the aim of the British military being smoke-free by 2022.

From the start of 2021, tobacco products will be prohibited on all submarines and ships – the first step of a phased process.

UK defence has committed to a ban on tobacco products on all of its sites, building towards a smoke-free working environment in the next two years.
On pregnant mice slammed by animal rights campaigners
"Horrific" experiments on pregnant mice which are forced to breathe in e-cig flavours have been widely condemned by animal rights campaigners.

The National Institutes of Health (NIH) recently awarded biomedical research organisation The Lundquist Institute £1.76m ($2.3m) to research whether vaping while pregnant increases the risk of children having asthma.

To make nicotine vaping liquid a consumer product in NSW
MICHAEL JOHNSEN, Member for the Upper Hunter in the NSW Parliament is putting public health ahead of politics and is campaigning to make nicotine for vaping available as a consumer product in NSW.

A heavy smokers of 40 years, he was increasingly frustrated at his addiction and the difficulty of staying smoke-free. However he has been smoke-free for over a year since he discovered vaping and feels fantastic.
Authorized in the U.S. Market Definitely Change the Landscape of the Tobacco World?
The Annual Law and Policy Conference organized by the Food and Drug Law Institute, from October 21st to 23rd, was held virtually under the theme « Tobacco and Nicotine Products: Regulation and Policy ». A number of public health experts, doctors and consultants, discussed this topic with the Food and Drug Administration (FDA) along with the tobacco industry.

One of the discussions entitled « Modified Risk Tobacco Products (MRTPs): Recent Orders, Pending applications, and Novel products » was particularly anticipated as panelists discussed recent historical authorization from the FDA for two tobacco products to be labeled as IQOS from Philip Morris International – PMI, and Snus from Swedish Match.
Do more harm than good?
According to Samrat Chowdhery the impact of ban of e-cigarettes in India has been counter productive. With country already facing the healthcare burden the ban on harm reduction alternative has further deteriorated the situation. He explains why.

In 2019, India banned e-cigarettes. This was in the form executive order prohibits selling, producing, importing, or advertising e-cigarettes. With e-cigarettes there are advocates and detractors. Looking at things from the advocacy side is Samrat Chowdhery, who is the President of INNCO.
Information is the Key to Change
On October 21-23, the Food and Drug Law Institute (FDLI) gathered experts from the federal government, industry, non-profits, consumer advocates, and academia to address the complex legal, regulatory, compliance, and policy issues currently impacting all facets of the FDA-regulated industry. One of the main topics during the sessions was dedicated to the discussion of modified risk tobacco products.

To deal with cigarette-related diseases, tobacco companies are working to create modified risk tobacco products which aim to reduce the health risks associated with tobacco smoke.
---
A look back at how things have moved on or otherwise…
For video testimonials for new campaign – ATHRA
ATHRA urgently needs to find several Sydney-based vapers to tell their story in a video for a new campaign. We are ready to film the testimonials next week, all on one day from 7-9 November (exact date to be confirmed).

Vaping is facing a very uncertain future in Australia and must be protected. The current panic in the US about vaping-related lung injury, the 'youth epidemic' and flavours is threatening to spread to Australia and undermine the huge potential for vaping to improve public health.
Rachel Chang and Lisa Du – Bloomberg
China has banned online sales of e-cigarettes in the latest blow for the nascent vaping industry, which has come under intensifying scrutiny around the globe.

All websites and apps selling e-cigarettes should be shut down and all online marketing campaigns halted, according to a statement by the State Tobacco Monopoly Administration and State Administration for Market Regulation on Friday. The measures are aimed at protecting adolescents from vaping, it said.
---
Visit Nicotine Science & Policy for more News from around the World

---