Vaping Digest 4th November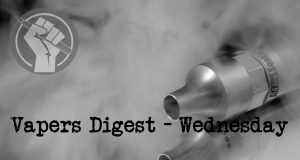 Wednesday's News at a glance:
Reported Patterns of Vaping to Support Long-Term Abstinence from Smoking: A Cross-Sectional Survey of a Convenience Sample of Vapers ~ Burning Issues: The Global State of Tobacco Harm Reduction 2020 ~ New report from the Global State of Tobacco Harm Reduction reveals only nine users of safer nicotine products for every 100 smokers worldwide – experts argue global tobacco control must adopt harm reduction to save lives~ Vaping numbers soar as Australia falls further behind the pack, Report ~ Jonathan Foulds ~ NNA Post Brexit Vape Reform Call ~ IBVTA writes to MPs and Peers ~ Remember Remember ~ Vapor vs. Smoke: Just More of the Same or Totally Different?
Bottom line: This study finds that ex-smokers who begin vaping on insufficient nicotine levels and a less powerful device have a greater risk of relapse. Self-report patterns of device use by vapers suggest changing patterns over time, with many users moving from less sophisticated, tobacco-flavored cig-a-like devices, to more sophisticated tank devices with fruit/sweet/food flavors.
Global State of Tobacco Harm Reduction
 It's the second in our GSTHR series which documents the development of tobacco harm reduction and use, availability and regulatory responses to safer nicotine products around the world, and comes two years after No Fire, No Smoke, our first GSTHR report (2018).
reveals only nine users of safer nicotine products for every 100 smokers worldwide – experts argue global tobacco control must adopt harm reduction to save lives
Knowledge Action Change, Cision, PR Newswire

---
Australian Tobacco Harm Reduction Association (ATHRA)
BURNING ISSUES, the Global State of Tobacco Harm Reduction report published today provides the latest information on safer nicotine products and their public health potential. It is also very critical of Australian policy.

Safer nicotine products (SNPs), vaping, snus and heated tobacco products, are described in the report as "one of the most startling public health success stories of modern times." Adoption has been "a public health revolution driven by consumers, with minimal cost to governments".
Jonathan Foulds, Tobacco Reporter
Nicotine is addictive. Most people who have smoked 60 cigarettes are going to be daily smokers. According to Jonathan Foulds, professor of public health sciences and psychiatry and co-director of Penn State Center for Research on Tobacco and Health, the average middle-aged smoker has made about 20 serious attempts to quit. After deciding to try to quit, the average smoker has a 95 percent chance of still smoking a year later.
---
This is what #SaferNicotine #snus & #vaping were doing to big tobacco stocks over the past five years…

Until @BloombergDotOrg, @FCTCofficial, @TheUnion_TC, & regulators stepped in to protect cigarette sales by discouraging use of safer alternatives.
(Charts from David Sweanor) pic.twitter.com/4FLQOgLVxq

— Charles A. Gardner, PhD (@ChaunceyGardner) November 3, 2020
This past weekend I had the honor of sitting down with @ChaunceyGardner to talk about #vaping & #nicotine myths, benefits and a whole mess of stuff.

It's lengthy, but well worth the listen.

Let's #RiseAndVapehttps://t.co/rZZaGbeWqr

— Logan E. 🏴 (@Logan_Exhales) November 4, 2020
---
THREE from Dave Cross, Planet of The Vapes
The New Nicotine Alliance, a charity championing the nicotine consumer's voice, and world renown tobacco harm reduction advocate Clive Bates have written to Jo Churchill, the Parliamentary Under-Secretary of State at the Department of Health and Social Care, to suggest post-Brexit tobacco and nicotine policy reforms.
The Independent British Vape Trade Association (IBVTA) has written to MPs and Peers to express its feelings on the closure of vape shops during the second national lockdown. It follows ongoing work with the government since before the March lockdown to promote the fact that vape shops are essential to improving public health.
The Australian Tobacco Harm Reduction Association (ATHRA) has put out a call to Aussie vapers to send in a personal testimony to the Senate Inquiry into Tobacco Harm Reduction by 5 November 2020. ATHRA says this is "the most important" call they've ever put out and tells vapers down under that "it is vital that you write a personal submission".
---
Jim McDonald, Vaping 360
If you've been vaping for a while, you've probably had a lot of people asking for information about that "vape smoke" you are exhaling. Some might be concerned about its effect on health, or even if the second hand vapor is dangerous. And some might just be curious.

You might have also heard the terms "vapor smoke" or "smoking vapor." While there are a lot of visual similarities between smoke and vapor, the truth is that they're vastly different in essence. Let's start by taking a look at the definitions of smoke and vapor.

---
Twenty things you should know – Clive Bates
American vapers and vaping businesses will shortly enter a period of chaos and existentially threatening regulation. First will be a ban on almost all flavours – everything except tobacco flavour and possibly menthol and mint. That is likely to shut down nearly every vape shop and e-liquid company that isn't part of a tobacco company. Then by 12 May next year, any surviving vaping companies and will have to comply with the hugely burdensome, opaque and unpredictable pre-market tobacco application process. Going into 2020, the industry will be in crisis and vapers and smokers will be in danger of losing one of the most important innovations of the century.
Dave Cross, Planet of the Vapes
A seventeen-year-old can join the American military with a parent's permission. At eighteen, they can sign up to defend their country and possibly die in action. Of course, they won't be able to take the far riskier decision to switch from smoking to vaping though as the combined brains of the U.S. Military have decided that's far too risky.

Navy Exchange is a retail store chain offering goods and services to active military, retirees, and certain civilians on Navy installations in the USA, overseas, and aboard ships. The Army & Air Force Exchange Service (AAFES) is the retailer on Army and Air Force bases around the world.
Dave Cross, Planet of the Vapes
Professor John Newton, Director of Health Improvement for Public Health England (PHE), has offered clarity and reassurance on the subject of vaping and lung disease in the United States. Although the Centres for Disease Control (CDC) has recently updated its position on THC products, it still advises everyone not to vape.

The CDC is currently warning people about "a multistate outbreak of Salmonella Dublin infections in ground beef" [link]. Unlike with vaping [link], it is not calling this a meat-related problem or advising the general public to avoid eating any meat.
---
Visit Nicotine Science & Policy for more News from around the World

---