Vaping Digest 6th November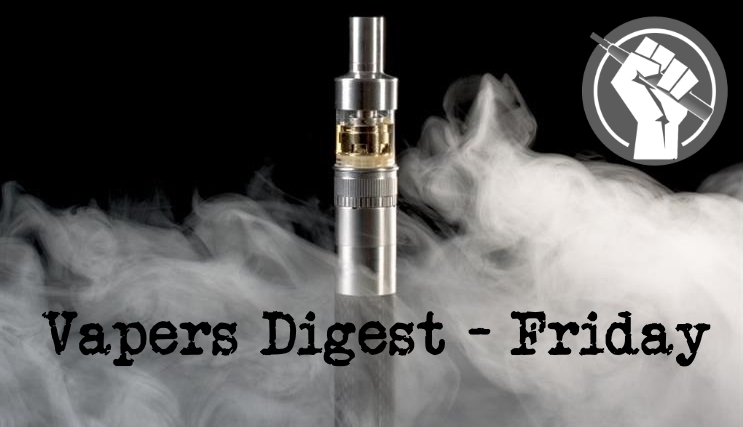 Friday's News at a glance:
The Irreconcilable Conflict Principle – Vape industry warns of 50% sales drop – The Birth of Harm Reduction – The Global State of Tobacco Harm Reduction (GSTHR) 2020 – IEVA European Survey – ASH Whipping Up A Storm – Burning Issues – Consumer Group Protests Lockdown Rules – Hawaiian Corruption Smear – The Stroke Association – Voters Approve Vape Taxes in Two States, Cannabis Sales in Five – Important Vaping Studies About Health and Usage – Consumers urge PRRD to cut foreign grants – Report urges need for THR products – Nicotine Science and Policy Daily Digest
The governing idea of tobacco control
Clive Bates, Tobacco Reporter
Sometimes defining an iron rule or governing idea and reorganizing our understanding of the world around it can be immensely revealing. Einstein developed the special theory of relativity from an assumption that the speed of light in a vacuum is unwaveringly constant. The most surprising results follow from that. Darwin showed that a simple mechanism, variation and natural selection, could explain much of the astonishing complexity of the natural world. Governing ideas are found everywhere: supply, demand and prices in economics; innocent-until-proven-guilty in criminal justice; and mutually assured destruction in arms control are further examples.

So, is there a governing idea in tobacco policy? Something that shapes everything and means that the world is understood through rigorous application of that rule? I think there is, but it is playing an ever larger, more polarizing and counterproductive role.
ECigIntelligence
Industry insiders have called for vape stores to be classed as essential outlets as all non-essential shops in England are ordered to close for a month under the new national restrictions to fight the second wave of COVID-19.

The UK Vaping Industry Association (UKVIA) has written to business secretary Alok Sharma, small business minister Paul Scully and minister for public health Jo Churchill, warning that the closure of vape shops "would be hugely detrimental to the sector's contribution to the national economy and the health of the nation".
---

---
Informs the World's Need for Safer Nicotine – Gerry Stimson
It was 1986 in the UK. Margaret Thatcher was Prime Minister, and in wood-paneled rooms near the Houses of Parliament, ministers were being briefed on a significant public health threat: HIV.

I'm a public health social scientist. Until then, my career had mainly focused on research with people who use heroin and other opiates. Thanks to my experience, I found myself helping to develop and evaluate a harm reduction approach in the UK, before it was even named as such. My work became focused on helping people who inject drugs avoid HIV infection.
---
---
The Global State of Tobacco Harm Reduction (GSTHR) 2020
Diane Caruana, Vaping Post
The 2nd edition of the Global State of Tobacco Harm Reduction (GSTHR) report took place yesterday on November 4th, with a playback available soon for anyone who missed it.

Launched yesterday with free access to all, Burning Issues: The Global State of Tobacco Harm Reduction (GSTHR) 2020, was the latest in a landmark report series from UK-based public health agency Knowledge Action Change (KAC).

"In a world first, the authors of Burning Issues revealed an estimate for the total global number of users of safer nicotine products, showing that there is an urgent need to scale up tobacco harm reduction if its full public health potential is to be realised:

Six from Dave Cross, Planet of the Vapes
New research by the Independent European Vape Alliance (IEVA) has conducted European survey that finds 80 percent of vapers stopped smoking completely. The body unites companies in the vaping sector, operating across Europe, which are independent of the tobacco industry.

The organisation says: "The founding purpose of IEVA is to fight with one voice against local and community regulations, which are not suited to vaping products and their potential in terms of public health and health risk reduction."
Action on Smoking and Health (ASH) has spoken to the media about a legal loophole it has discovered whereby free electronic cigarette samples can be given out to children legally. While this is a situation that vapers and vaping organisations would agree needs addressing, chief executive Deborah Arnott has stoked the flames by telling journalists there is a "fear" of a "sharp rise in popularity of e-cigarettes among teenagers, as seen in the US".

ASH is "a public health charity that works to eliminate the harm caused by tobacco", but this appears to be rapidly suffering from mission creep as it frequently strays into fighting nicotine use.
New research from UK-based public health agency Knowledge Action Change (KAC) reveals only nine users of safer nicotine products for every 100 smokers worldwide. Global tobacco control's hostility to tobacco harm reduction is risking the health and lives of millions with LMIC worst hit, say experts.

The launch of the launch of "Burning Issues: The Global State of Tobacco Harm Reduction (GSTHR) 2020" took place online yesterday, the original conference cancelled due to COVID-19 restrictions.
Consumer group We Vape is not happy with vape stores being classified as non-essential retail outlets. The organisation says at least 5,800 smokers won't quit because of vape shops being shut during the latest COVID-19 lockdown in England.

This week has already seen the two UK-based trade bodies speak out against the government's move to restrict access to reduced harm products. Both the UK Vaping Industry Association and the Independent British Vape Trade Association implored the government to reconsider the action given that vaping is at least 95% safer than smoking and it hopes to achieve Smoke-free status by 2030.
Hawaiian politicians have pushed the gateway theory, the renormalisation theory, and the lie about a teen vaping epidemic. They have relied on bogus studies to support a push for bans on flavours and products – but now they are trying to silence opposing comments by accusing one member of the state House of Representatives of receiving thousands of dollars from the tobacco industry.

In 2016, the Cancer Centre at the University of Hawaii claimed to have found evidence proving vaping is a gateway for teens into smoking. It followed on the back of the first ban in the United States, where the state prohibited under-21s from owning or using electronic cigarette equipment to put the brakes on "out of control vaping".
The Stroke Association has updated its position statement on the use of electronic cigarettes. It still supports vaping as an alternative to smoking based on the latest evidence from the National Health Service and Public Health England.

The Stroke Association supports people after they suffer a stroke by providing specialist support, funding critical research, and campaigning to make sure people affected by stroke get the very best care and care to rebuild their lives.
---

---
Cannabis Sales in Five – Jim McDonald
There were several state ballot measures voted on Tuesday that affect some Vaping360 readers. And, although the overall election results were mixed for vapers, a couple of well-known anti-vapers lost their elections, which is good news.
About Health and Usage – Jim McDonald
There are at least two dozen new studies on vaping published every week. Many of them are about vaping and health. They range from medical studies on vaping health risks to analysis of e-liquid or constituents in vapor to research on vaping and nicotine addiction. Some are released with a lot of fanfare, and create a huge media stir—often based on alarming claims made by the researchers or by the university press office or outside groups.

No vaping research concludes that vaping is "safe." Anytime you inhale a foreign substance or use a drug like nicotine, there is some risk built into the activity. The scientific consensus is that vaping is, by and large, safer than smoking cigarettes.

Influencing vape, heated tobacco guidelines
Consumers appealed to President Rodrigo Duterte to cut foreign funding of the Food and Drug Administration (FDA) from private vested interest groups influencing the draft regulation of vape and heated tobacco products (HTPs).

"We appeal to President Duterte to rescind the foreign grants received by the Philippine Food and Drug Administration which cast a dark cloud on the agency's role as an independent regulator and protector of public health," Anton Israel, president of the Nicotine Consumers Union of the Philippines (NCUP) said.
As human rights issue: report
Islamabad: Tobacco Harm Reduction (THR), which sits at the intersection of public health and human rights, merits its place as a human rights issue. THR policies should be regarded as complementary rather than inimical to reducing the global death and disease burden from smoking. Effective exit routes out of smoking should be made available to smokers who want to avoid smoking, and access to Safer Nicotine Products (SNPs) should be ensured to encourage them to switch away from cigarettes— one of the most dangerous ways of consuming nicotine.
 Martha Chikoti
The Global State of Tobacco Harm Reduction report has shown the need to raise awareness on tobacco harm reduction products such as e-cigarettes which allows smokers to still get nicotine while ditching traditional cigarettes which causes disease.

The Global State of Tobacco Harm Reduction was launched on Wednesday at BICC in Lilongwe.

According to the report, out of one million people who smoke tobacco only 8 percent are aware of tobacco harm reduction products such as electronic cigarettes which provide a way for preventing suffering from non-communicable diseases such lung cancer.
ATHRA
Socio-economic disadvantage – ATHRA
Brent Stafford – Regulator Watch
---
A look back at how things have moved on or otherwise….
Lexicology
In recent months, the safety and regulation of electronic cigarettes (commonly known as "e-cigarettes" or "vapes") has come under public scrutiny internationally by governments and the media following a series of e-cigarette related deaths and lung injuries reported in the United States ("US"). In particular, flavoured e-cigarette products which mimic the taste of popular sweets and desserts have been criticised for allegedly encouraging teenagers to try e-cigarettes.
New Nicotine Alliance
Dear Mayor Khan,

We note in your response to a London Mayoral question from Assembly Member Onkar Sahota on 22nd October that vaping adverts are currently not permitted on the London Underground, and that Transport for London "is currently reviewing its overall approach to Vaping advertising".

https://www.theyworkforyou.com/london/?id=2019-10-22.20007.h

While it is disappointing that a ban on advertising vaping products is in place on the tube, we are encouraged that the policy is wisely being reviewed.
---
Visit Nicotine Science & Policy for more News from around the World

---