Vaping Digest 9th November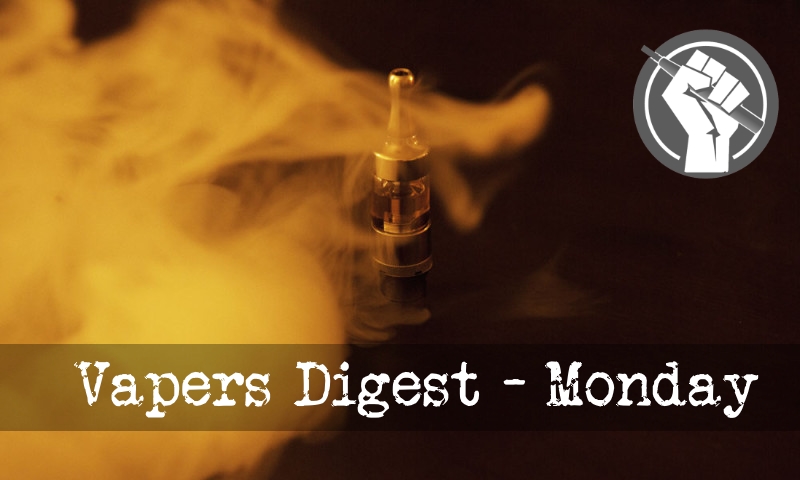 Monday's News at a glance:
Anti vaping MEP Michèle Rivasi heads "informal" TPD working group – COPD Patients Who Switch From Smoking to Vaping See Long-Term Benefits – Claim that vaping lacks evidence for quitting is misleading and wrong – Ukrainian government approved separate excise stamps for EHTPs – Academic Disconnected From Reality – UKECRF Research Roundup – Vaping More Effective for Smoking Cessation than Nicotine Patch or Gum – Tobacco harm reduction a viable solution – Vape and e-cigarette advocate groups happy with new legislation – Nicotine Science and Policy Daily Digest
Heads "informal" TPD working group – ETHRA
In a letter sent on 27 October to European authorities, including Ursula von der Leyen, President of the European Union, Michèle Rivasi calls for a "stricter supervision of e-cigarettes after the notice of harmfulness issued by the World Health Organization in July 2020". It is unclear which WHO "notice" Rivasi is referring to, but it is clearly not WHO Europe's brief from May, which is supportive of tobacco harm reduction. Rivasi claims that stricter measures could "worry the tobacco companies". Any consideration of smokers or vapers is completely absent from the letter.

The letter was sent by Rivasi and colleagues who are, in her words: "members of the informal parliamentary working group 'to prepare the revision of the tobacco directive'".
To Vaping See Long-Term Benefits – Helen Redmond
Researchers at the Center of Excellence for the Acceleration of Harm Reduction (CoEHAR*) in Catania, Italy have just published a groundbreaking study. It shows that smokers with chronic obstructive pulmonary disease (COPD) who switched to vaping reduced their yearly flare-ups by about 50 percent, significantly improved their cardio-respiratory health, and increased both their ability to exercise and their quality of life.

The study, led by CoEHAR founder Dr. Riccardo Polosa, is vitally important because COPD, to which emphysema and chronic bronchitis commonly contribute, is devastating. It makes breathing difficult and causes symptoms of wheezing, fatigue, shortness of breath, and a chronic cough.
---

---
For quitting is misleading and wrong – ATHRA
IN A SUBMISSION to the Senate Inquiry into Tobacco Harm Reduction, Professor Emily Banks claims that there is insufficient evidence that e-cigarettes are an effective aid for quitting smoking. ATHRA believes her claim is misleading and incorrect for two major reasons.

Professor Banks is a distinguished epidemiologist who leads Greg Hunt's scientific inquiry into vaping at the Australian National University. ATHRA has previously critiqued the preliminary report in an earlier blog.

Professor Banks and her team examined all the randomised controlled trials (RCTs) comparing the effectiveness of vaping to nicotine replacement therapy (NRT, such as nicotine patches and gum). They then created a meta-analysis (pooling the results from what they regarded as the best studies) which can be found here.
---
---
Яков Сташинский
Electonically heating tobacco products (EHTPs) and liquids for vaping are legally recognized as separate tobacco products, different from traditional cigarettes. Since January 1, 2021, excise stamps should be applied to EHTPs and e-cigarette liquids in Ukraine. And those excise stamps should be different from excise stamps on traditional cigarettes.

It is stated in the Resolution of the Cabinet of Ministers of Ukraine №1037 of October 29, 2020, which was officially published yesterday in Uryadovy Kurrier newspaper.

Excise stamps on EHTPs will be completely different in design and color from excise stamps on traditional cigarettes.

Two from Dave Cross, Planet of the Vapes
John Ioannidis writes in The Lancet that COVID-19 presents the world with, "an unique opportunity … to eliminate the tobacco industry". The man, who previously said most published research findings are false, has been taken to task by harm reduction expert Clive Bates.

"Most anti-tobacco measures to date target demand (eg, higher excise taxes). However, the endgame might require reducing supply," writes Ioannidis, an academic at Stanford University.

He sees the COVID-19 pandemic as presenting the world with a golden opportunity to prevent the tobacco industry from emerging "as a winner from this global event".
The UK E-Cigarette Research Forum (UKECRF) is an initiative developed by Cancer Research UK in partnership with Public Health England (PHE) and the UK Centre for Tobacco and Alcohol Studies (UKCTAS). Among other things, it brings together genuine experts to look at research related to vaping and tobacco harm reduction.

Remarkably, despite the vast list at the foot of this article, the UKECRF points out that the reading list doesn't cover every e-cigarette-related study published this month. It marks an amazing transition from the early days of vaping, when experts could legitimately claim "we don't know enough about it".
---

---
For Smoking Cessation than Nicotine Patch or Gum – Elizabeth Sheld
A new literature review conducted by the Cochrane Tobacco Addiction Group in the United Kingdom found that electronic cigarettes (ECs) are a more effective tool for smoking cessation than nicotine gum and nicotine patches (NCTs or nicotine replacement therapy.)

The review included 50 different studies involving 12,430 participants of which 26 were randomized control tests (RCTs.) The findings concluded that:

Zimbabwe
Tobacco continues to be the lifeblood for the local economy and livelihoods. By last week, US$421 million had been grossed from the sale of 124 million kilogrammes of the cash crop, according to regulator, Tobacco Industry Marketing Board (TIMB).

This, however, represents a decline from US$472 million that had been realised by the same period a year earlier. Forecasts for the 2020/2021 marketing season are encouraging.
Happy with new legislation – R. Loheswar
The Malaysia E-Vaporisers and Tobacco Alternative Association (MEVTA) and the Malaysian Vape Chamber of Commerce (MVCC) are glad to see the government impose taxes and restrictions on the sale and purchase of e-cigarettes and vaping products.

The groups said the move will help regulate the industry which has seen so much illegal sales and distribution over the past few years resulting in Malaysia becoming the number one country in the world for sales of illegal cigarettes.

"We are very happy as we have been pushing this for five years," said MVCC president Syed Azaudin Syed Ahmad.
---
A look back at how things have moved on or otherwise…
NNA October newsletter
The nights are drawing in but the NNA has been active in trying to share enlightenment in October, despite fevered negativity from many quarters and a collective media eager to promote scurrilous headlines.

This month saw developments, good and bad, which could decide the future of harm reduction, not just here in the UK, and NNA Trustees were making themselves heard.
Proves the benefits of harm reduction and should be celebrated – ETHRA
The Norwegian Institute of Public Health has just published a new report on the use of Swedish Snus. However, instead of celebrating the remarkable impact that snus has had on smoking rates in Norway, the Institute has chosen to focus on minimal risks as if to deter use of one of the safest forms of nicotine in existence.

The report speculates on a host of "probable" and "possible" negative outcomes despite snus being definitely orders of magnitude safer than smoking which it is replacing. It also worries unnecessarily about the increase in Norwegian snus users who had not previously smoked, despite it being certain that many of those would have gone on to use the most harmful nicotine delivery system – cigarettes – if snus was not readily accessible.
---
Visit Nicotine Science & Policy for more News from around the World

---