Vaping Digest November 8th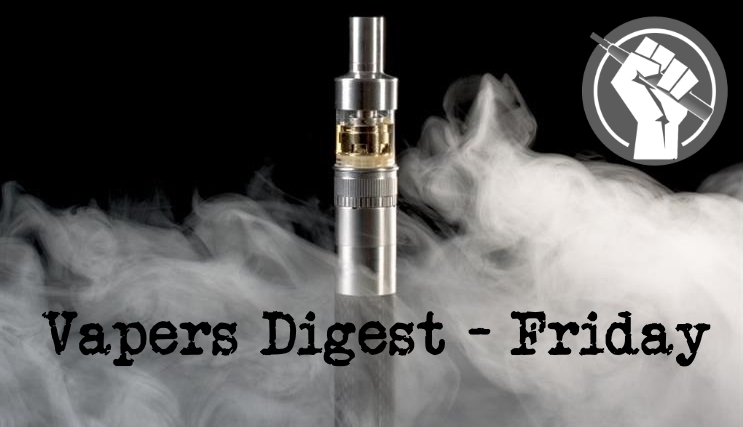 Friday's News at a glance:
The shape of things to come? – The success of snus in Norway – Policy Makers are Deceiving Themselves – As the FDA Prepares to Ban E-Cigarette Flavors – Vapes and Lung Disease: The CDC's Lesson – From 'Veronica Mars' to toxic vapes: – The illicit vaping market expands – Vaping—Seeking Clarity in a Time of Uncertainty – A Public Health Imperative – Damning Vape Ban Data – Bloomberg's Hitjob – NNA: You Khan Do Better, Mayor – Variety works to help Maori quit smoking – Vape ban gets Derry and Strabane approval – China's tobacco monopoly – Tax on vaping to come in 2020 – Nicotine Science and Policy Daily Digest
NNA October newsletter
The nights are drawing in but the NNA has been active in trying to share enlightenment in October, despite fevered negativity from many quarters and a collective media eager to promote scurrilous headlines.

This month saw developments, good and bad, which could decide the future of harm reduction, not just here in the UK, and NNA Trustees were making themselves heard.
Proves the benefits of harm reduction and should be celebrated – ETHRA
The Norwegian Institute of Public Health has just published a new report on the use of Swedish Snus. However, instead of celebrating the remarkable impact that snus has had on smoking rates in Norway, the Institute has chosen to focus on minimal risks as if to deter use of one of the safest forms of nicotine in existence.

The report speculates on a host of "probable" and "possible" negative outcomes despite snus being definitely orders of magnitude safer than smoking which it is replacing. It also worries unnecessarily about the increase in Norwegian snus users who had not previously smoked, despite it being certain that many of those would have gone on to use the most harmful nicotine delivery system – cigarettes – if snus was not readily accessible.
---

---
If They Believe Banning Flavored E-Cigs is Going to End Youth Vaping
Michael Siegel, The Rest Of The Story
Major Exemption in Proposed Flavor Ban Leaves Most Kid-Friendly Flavors on the Market

The most basic premise of the proposal to ban flavored e-cigarettes is that it will protect youth by preventing them from vaping flavored e-liquids. The flavors are the problem, so if we ban the flavors, we'll take care of the problem.

Or so the thinking goes.
---
Clive Bates Talks Impact of Trump Flavor Ban – Regulator Watch
---
The Government's Own Data Contradict Wild Claims About Adolescent Nicotine Addiction – Jacob Sullum, Reason
According to Thomas Ylioja, a "smoking cessation expert" quoted by CBS News, the latest survey data on e-cigarette use by teenagers show "we have a whole generation of young people who are addicted to these products." That premise has been endorsed by Surgeon General Jerome Adams, and it is the rationale for the ban on flavored e-cigarettes that the Food and Drug Administration (FDA) is expected to impose any day now. Yet it is demonstrably false.

In the 2019 National Youth Tobacco Survey (NYTS), according to an article published yesterday in The Journal of the American Medical Association, 27.5 percent of high school students reported using e-cigarettes in the previous month.
---
---
The CDC's Lesson in How Not to Handle an Illness Outbreak – Chelsea Boyd
Optimally resolving a nationwide outbreak of any illness involves the cooperation of not only countless local, state and federal agencies, but the media, medical providers and private industry as well. Above all, it involves cooperation from the public. Regardless of how an illness is spread or manifested, how quickly an outbreak can be brought to an end often depends on the public complying with public health messaging. This compliance, in turn, requires trust.
The rise and fall of Honey Cut – Marissa Wenzke, David Downs
More than 2,051 Americans are sick and 39 have died from vaping-associated pulmonary injury (VAPI) this year.

There are many suspects, but the US Centers for Disease Control's "very strong culprit of concern" is a new cutting agent found in illicit THC vaporizer cartridges across the nation. Tocopheryl-acetate, also known as vitamin E oil, surged in popularity on the street market ahead of the lung injury outbreak last summer.

Industrial chemical manufacturers have sold vitamin E oil for years, but only as an ingredient in hand lotions or gummy vitamins. So who turned tocopheryl-acetate into a wildly popular and potentially deadly vape cartridge additive?
Roger Bate
Driven by concerns about the illicit opioid trade, I started investigating drug dealers in the Philadelphia suburbs in 2017. I hadn't noted them selling vaping products but I wondered if they were doing so then and today. Of the six I spoke to in 2017 and 2018, one had sold vaping products, but only "made a few dollars." But now all six dealers sell vaping products. As one put it to me, "it's more important to me than many other products," although opioids are still all of the dealers largest revenue stream.
JAMA Network
As of October 28, 2019, 49 states have reported more than 1600 possible cases of severe pulmonary disease related to vaping—the inhalation of a heated, aerosolized solution—to the Centers for Disease Control and Prevention (CDC).1 To date, 34 deaths have been attributed to e-cigarette, or vaping, product use–associated lung injury (EVALI). This has resulted in a recommendation from the CDC that the public avoid the use of e-cigarette products, a proposed federal prohibition on certain products and flavors, and much uncertainty on the part of patients and clinicians. In the midst of this uncertainty, it is important to try to provide some clarity.

Four from Dave Cross, Planet of the Vapes
European Tobacco Harm Reduction Advocates (ETHRA) member SOVAPE says that reassuring the public about vaping is a public health imperative. It recently hosted the 3rd 'Sommet de la Vape' in Paris, where experts discussed vaping as a way to provide millions of years of healthy life to millions of ex-smokers.

Sommet de la Vape was chaired by Jean Pierre Couteron. Guaranteeing an ethical framework, the event opened with the release of a survey conducted by BVA and commissioned by SOVAPE: The alarming headline figures were that three in five French people think that vaping is at least as dangerous as smoking (if not more) and 80% believe that nicotine is carcinogenic.
Sales data from Piper Jaffray has highlighted a shift from vaping to smoking in the state of Massachusetts, where an "emergency ban" had been placed on the sale of flavoured juices. Vape company Alt New Zealand says that the impact of bans like this is a wake-up call for the New Zealand Government.

"The New Zealand Government needs to urgently take stock of a worrying return to deadly cigarette smoking in the US, before it introduces legislation to restrict vaping products here," said Jonathan Devery, co-owner of the largest Kiwi-owned vape company Alt New Zealand.
"Scientists are working overtime to debunk the vaping scare," scribes Bloomberg's Robert Langreth. "Portland State University chemistry professor David Peyton had never been attacked with such intensity," it continues in a piece masquerading as real journalism. What it forgets is that all science should be peer-reviewed and, if you have no reasonable response other than whining, maybe the work didn't justify being published in the first place.

Billionaire Michael Bloomberg is funding numerous groups to attack vaping in the United States and further afield, and recently distinguished himself by pretending vaping isn't safer than smoking.
The New Nicotine Alliance (NNA) has written to London mayor Sadiq Khan on the subject of the vape advertising ban on the London Underground. The leading nicotine consumer charity highlights the impact it has on smokers looking to switch, the relative safety of vaping and that advertising remains legal on London buses. Addressing the mayor, the NNA writes:

"We note in your response to a London Mayoral question from Assembly Member Onkar Sahota on 22nd October that vaping adverts are currently not permitted on the London Underground, and that Transport for London 'is currently reviewing its overall approach to Vaping advertising'
---

---
Dr Marewa Glover
A Māori health researcher has told a parliamentary committee that tackling Māori cancer rates requires embracing a variety of ways to get Māori to stop smoking. Marewa Glover made the connection at the Maori Affairs Committee inquiry into health inequities for Māori .

She warned legislation to control vaping could be counterproductive if it resulted in a formal ban of alternate products like snus, a form of powdered tobacco taken orally that is popular in Scandinavia, especially among the indigenous Sami people.
BBC News
Derry City and Strabane District Council is set to ban vaping on council-owned property. A council committee has agreed to update its existing tobacco use policy to include the use of e-cigarettes.

The ban would apply to all councillors, employees and visitors to council buildings. The council said the policy change is required because not enough is known about the long-term consequences of e-cigarette use.

Abstinence from cigarette smoking in adultrs who used a JUUL for 6 months
Christopher Russell, Farhana Haseen & Neil McKeganey
Around one third of enrolled smokers and one half of smokers who responded to a 6-month follow-up reported being past 30-day abstinent from cigarette smoking after using a JUUL vaporizer for 6 months. More frequent use of a JUUL vaporizer and primary use of JUULpods in characterizing flavors, particularly mint and mango, appeared to be important to smokers' chances of quitting. The impact of suspending retail sales of flavored JUUL pods on adult smokers' likelihood of quitting should be closely assessed.
Means big risks for e-cigarette startups – Josh Horwitz
In a glass-walled laboratory, chemists puff on vaping devices as they test liquid nicotine flavors. Nearby, staffers with cartons of instant noodles on their desks tap away at laptops, messaging suppliers and customers.

Here at the Shenzhen offices of e-cigarette start-up RELX Technology, workers scramble to keep pace with the rush of firms vying for sales in the world's biggest tobacco market. Their potential-customer base starts with 300 million Chinese smokers of traditional cigarettes – about nine times the number in the United States.
Jason Herring
Alberta intends to introduce a tax on vaping products in 2020, according to the province's budget released Thursday.

Details on the tax are scant, but it's a part of the province's review of the Tobacco and Smoking Reduction Act, which also encompasses vaping products.

The government doesn't expect the tax to generate a lot of revenue — under $10 million annually, using comparable data from United States jurisdictions. But the idea behind the tax is that it will provide a barrier for youth to access vaping products, according to the budget.
---
A look back at how things have moved on or otherwise….
Colin Mendelsohn, Australian Tobacco Harm Reduction Association
Vaping is an effective quitting aid, is safer than smoking and is unlikely to be a significant 'gateway' into smoking for young people, according to leading researcher Professor Chris Bullen. See the full presentation here.

Professor Bullen gave a keynote address on vaping at the Australasian Professional Society for Alcohol and Other Drugs Conference this week in Auckland. He is from the National Institute for Health Innovation at the University of Auckland.
PubMed
Research indicates that, over time, exclusive e-cigarette users (vapers) gradually reduce the nicotine concentration in their e-liquid and transition to more sophisticated devices. Alongside this, consumption of e-liquid increases and constant cotinine levels are maintained.
Brad Rodu, Tobacco Truth
It's surprising how many fundamentally flawed e-cigarette studies are aggressively promoted by their authors and allied organizations as grounds for FDA regulatory action.  It is also concerning when authors refuse to acknowledge or respond to honest scientific inquiries about their research.  Here is a representative case involving researchers associated with Truth Initiative, a non-profit anti-tobacco organization.
---
Visit Nicotine Science & Policy for more News from around the World

---