Vaping Digest November 11th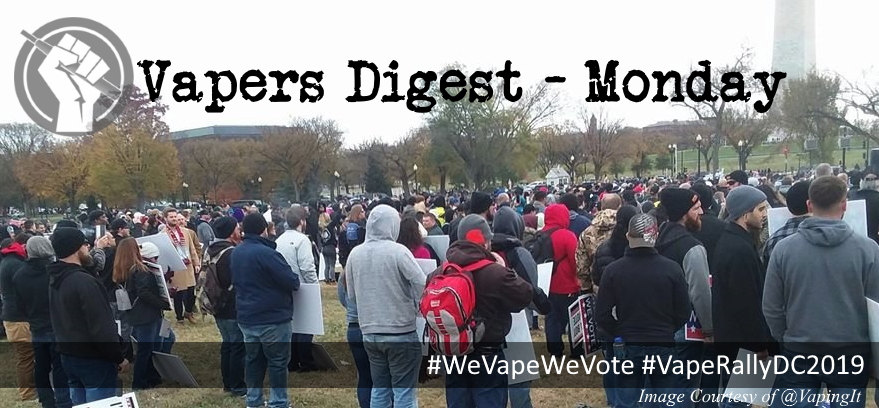 Monday's News at a glance:
Teen gateway myth busted again but Feds plan tougher regulations anyway – Flavor Ban Watch: Waiting is the Hardest Part – ASH Mental Health Report – Positivity on 5 – CDC Started a Vaping Panic – CDC and Anti-E-Cigarette Researcher Still Clinging – 'Mango Is Not a Crime' – Activists Want Trump to Know That They Vape and They Vote – The Vaping Industry Is Furious at Trump – Trump to meet with vaping industry – High School Vaping Estimates Are Hyperinflated – Banning Flavoured Vaping Unjustified – Vaping: Alarmism isn't wise – Vaping moral panic is dangerously anti-science – Vape ban full of hot air – Nicotine Science and Policy Daily Digest
But Feds plan tougher regulations anyway – Fergus Mason
US news dominates again this week, with New York's mayor trying to force through draconian anti-vaping laws in the face of opposition from vapers and the industry. The federal government is also due to announce new legislation this week, although details are sparse right now. It seems almost certain President Trump will make the "Tobacco 21" law national, and apply it to reduced-harm products as well. All this is happening against the backdrop of a major new study that shows e-cigarettes are not persuading teens to try tobacco.
Waiting is the Hardest Part – Jim McDonald
For the last week rumors have swirled around Washington that the Trump administration would very soon make good on President Trump's promise to ban flavored vaping products. Every day there have been signs that a policy announcement was imminent, but it never arrived. Now it appears we'll wait at least till next week.

Monday night and during the early hours of Tuesday morning, vaping consumer and industry organizations received notifications that their upcoming meetings with the White House Office of Management and Budget—meetings to discuss the proposed FDA flavor rule—were cancelled. The emails noted that the rule was "no longer under review."
---

---
Dave Cross, Planet of the Vapes
Action on Smoking and Health (ASH UK) has produced a report looking at the NHS mental health trusts in England for Public Health England. The survey was conducted in Spring 2019 and examines whether the Government's objective for all mental health trusts to be smokefree by 2018 has been achieved.

The report describes both the extent to which smokefree policies and support to quit smoking has been adopted and the reality of local practice in delivering these policies; it contains a section on vaping. ASH UK discovered that:
---
Will be meeting with representatives of the Vaping industry, together with medical professionals and individual state representatives, to come up with an acceptable solution to the Vaping and E-cigarette dilemma. Children's health & safety, together with jobs, will be a focus!

— Donald J. Trump (@realDonaldTrump) November 11, 2019
Says man central to the demonisation of Juul in govt and now works for Pfizer, who would profit massively from a major competitor being removed from the market. Classic corrupt rent-seeking. His Xmas bonus will be huge! https://t.co/9u0c3YZe1n

— Dick Puddlecote (@Dick_Puddlecote) November 11, 2019
---
Dave Cross, Planet of the Vapes
"No one should be put off vaping if it helps them quit tobacco", concluded Channel 5 News' Health Correspondent in her balanced and informative coverage of vaping. Catherine Jones emphasised that although fears exist in the United States, British experts should be trusted in their assessment of vaping.

Catherine Jones was justifiably shortlisted in the British Journalism Awards 2018 as evidenced by this article on vaping. Compared to the salacious nonsense being printed in the mainstream newspapers by health correspondents who ignore the science, Jones demonstrated the value of sticking to facts.

Trump-Supporting Vapers Stormed D.C. – Alex Norcia
On Saturday, Donald Trump took off on Marine One and flew over a crowd of vapers who promptly began shouting at the helicopter. The president was on his way to the University of Alabama football game, where he was likely seeking spectators who wouldn't boo him. But what many of those gathered below sought was simple: They were vapers, and they needed Trump to notice them.

They might have appreciated it if some aide leaned over to the president and explained that smoking combustible cigarettes was the number one cause of preventable death in the world, and that they believed vaping to be a safer alternative.
That They Vape and They Vote – Christian Britschgi
Several thousand activists gathered Saturday on the National Mall to voice their opposition to a federal ban on flavored nicotine vaping products. The ban, they say, will be lethal for the vaping industry, and for millions of ex-smokers who have relied on these products to quit cigarettes.

The crowd was blanketed by a heavy fog of fragrant-smelling vape clouds, but the message was crystal clear: If President Donald Trump continues with his plans for a flavor ban, he risks alienating a large, motivated bloc of single-issue voters who might otherwise be in his camp.
Could it Cost Him the Election? – EJ Dickson
On a frigid Saturday afternoon, the best-smelling place in America was Ellipse Park in Washington, D.C., where it was impossible to go one step in either direction without walking into a fragrant cloud of sweet-smelling vapor — though marketed to mimic everything from strawberries to cotton candy, it all came out smelling the same.

Hundreds of members of the vaping community gathered to protest an impending vape flavors ban announced by President Donald Trump, taking hits off their elaborate hardware while clutching signs reading "Make America vape again," or "Vape kills like Epstein killed himself." The crowd frequently broke into chants of the catchphrase of the afternoon: "We vape, we vote."
U.S. President Donald Trump said on Monday he will be meeting with vaping industry officials as well as medical and political officials to discuss vaping and e-cigarettes, amid a nationwide outbreak of injuries and deaths linked to the products.

"Will be meeting with representatives of the Vaping industry, together with medical professionals and individual state representatives, to come up with an acceptable solution to the Vaping and E-cigarette dilemma. Children's health & safety, together with jobs, will be a focus!" he wrote on Twitter.
---

---
Now It's Admitting Vitamin E Acetate In Illegal Products Is to Blame
Guy Bentley, Reason
The Centers for Disease Control and Prevention (CDC) has finally all but conceded that the deaths and lung illnesses being associated with vaping have nothing to do with legal nicotine e-cigarettes.

"For the first time, we have detected a potential toxin of concern, vitamin E acetate, from biological samples from patients," said Dr. Anne Schuchat, principal deputy director of the CDC, today. The CDC examined lung tissue samples from 29 patients across 10 states and found all of them contained vitamin E acetate oil.
Still Clinging to Faint Hope that Traditional E-Cigarettes are Causing Outbreak
Michael Siegel, The Rest Of The Story
It is now apparent that, as many of us figured out months ago, the use of vitamin E acetate oil as a thickening agent in THC vaping cartridges and perhaps other counterfeit or adulterated black market vaping products is causing the vaping-associated respiratory illness outbreak. Nevertheless, the CDC and at least one prominent anti-e-cigarette researcher have not yet given up in their attempt to pin the outbreak on traditional e-cigarettes which they apparently despise.
Via Reliance on National Youth Tobacco Survey – Brad Rodu
The federal government bases its assessment of a so-called teen vaping epidemic on data from the National Youth Tobacco Survey (NYTS). Health officials typically advance the epidemic narrative by selectively releasing NYTS details before complete data sets are made available to external researchers. This was the case with last week's article in the Journal of the American Medical Association, in which it was reported that over four million high school students were current (past-30-day) users of e-cigarettes this year. That's 28%, up from 21% in 2018. Unfortunately, we'll have to wait until mid-2020 for access to all the underlying data; at that time, I will provide an analysis, much as I did for the 2018 survey here and here.
Joseph Magero – Medium
Vaping is an alternative to combustible tobacco as a means of satisfying nicotine cravings: as Professor Michael Russell put it, "People smoke for nicotine but they die from the tar".There's conclusive evidence that completely substituting traditional cigarettes with e-cigarettes reduces smokers' exposure to numerous toxicants and carcinogens present in combustible cigarettes.

The unpalatable flavor of e-liquids can thwart the benefits of vaping. Failure to switch from traditional cigarettes to vaping may do smokers more harm and can even be life-threatening.
Preserving Vital Government Revenue Stream – Lindsey Stroud
Some states have turned future tobacco settlement payments into cash by issuing securities.
But not without risks – Jenny Gold, Danielle Jones
Danielle Jones sits at her dining room table, studying the recipe for Nerd Lyfe (v2) vape juice. The supplies she's ordered online are arrayed before her: a plastic jug of unflavored liquid nicotine, a baking scale and bottles of artificial flavors that, combined, promise to re-create the fruity taste of Nerds Rope candy in vapor form.

This is Jones' first attempt to make her own e-liquid after buying it for the past five years. Jones, 32, wants to be prepared for the worst-case scenario: a ban on the sale of the e-liquids she depends on to avoid cigarettes.
Michelle Minton
Amid an outbreak of "vaping-linked" lung illnesses, a campaign of fear against vaping has reached a frenzied peak. For years, the Food and Drug Administration (FDA), Centers for Disease Control (CDC), health groups, and lawmakers have been sounding the alarm over rising numbers of adolescents who reported using e-cigarettes once a month. The lung injuries, occurring predominantly in young people and apparently entirely related to vaping black market cannabis, has only escalated the panic. Now, many officials are jumping to support raising the minimum age for purchasing tobacco products to 21 years old as a means of addressing youth vaping.

Evidence- based approach is – Dr. Rajib Hossain Joarder
Prime Minister Sheikh Hasina's vision of making Bangladesh a tobacco-free country by 2040 is not only an extremely important task at hand, but it is absolutely essential to make tobacco related health risks a priority area. Currently, the tobacco related health situation in Bangladesh is "alarming" according to the World Health Organization.

A disturbing 35% of the adult population are currently using tobacco either in smoked and/or in smokeless form.
Scoop Media
"New findings from US government scientists show that the moral panic around vaping is dangerously anti-science", says ACT's Deputy Leader Beth Houlbrooke.

"For months we've heard that vaping is a health crisis that will endanger our children, with commentators pointing to people getting sick and even dying in the US.

"But the US government's Centers for Disease Control and Prevention has now identified that vitamin E from black market THC oil was the culprit behind the outbreak.
Last week, James Davis, the director of the Duke Smoking Cessation Program, proposed that Duke extend its soon-to-be implemented "smoking ban" to include electronic cigarettes. In its present condition, the smoke-free campus initiative will only prohibit combustible tobacco products, such as cigars and cigarettes, and does not regulate the use of e-cigarettes.
Erda Khursyiah Basir
SEOUL (Bernama) — The use of electronic cigarettes (e-cigarettes) or vaping has become an issue and has triggered polemics around the world, including in Malaysia.

One reason for this may be the report by United States authorities about 33 deaths and 1,479 confirmed and probable cases from a 'mysterious' respiratory illness linked to vaping.
---
A look back at how things have moved on or otherwise….
James Dunworth, Ashtray Blog
While the UK was close to banning vaping in 2010, since then it's slowly come to have one of the most vape friendly attitudes in the world – at least, as far it can under EU tobacco laws.

Now the United Kingdom has taken another step forward by, finally, allowing health claims to be made.

The announcement has come from the Committees of Advertising Practice (CAP and BCAP), which state:
Mawsley, Planet of the Vapes
The National Centre for Smoking Cessation Training (NCSCT) has launched a new information leaflet. It contains simple and clear information on how to get into vaping as part of a switch away from smoking.
From the New Nicotine Alliance (NNA), the NCSCT leaflet is aimed at advising smokers how to "stay switched" using e-cigarettes. It is sub-titled "Advice for new vapers from old hands" and was produced in collaboration with the NNA, University of East Anglia and Cancer Research UK.
---
Visit Nicotine Science & Policy for more News from around the World

---