Vapers Digest November 9th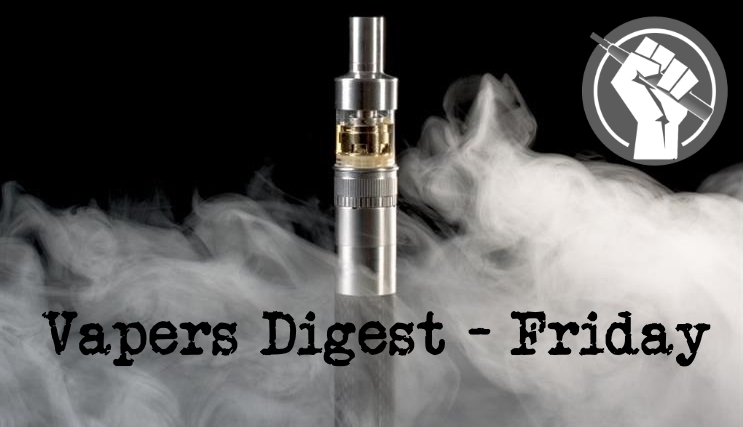 Friday's News at a glance:
UK Allows Health Claims For Vaping – New NCSCT Leaflet – Some?!? –  "I Was Just Ignorant" – EU snus and the youth protection – Vaping could help close the Indigenous health gap – FDA Will Ban Vape Flavors – The FDA's Plan to Ban Flavored E-Cigarettes – Cigarette Use Has Collapsed – Cigarette Smoking Is at Its Lowest Rate Ever -Is There Really A Teen Vaping Epidemic? – Juul Back In The News – Common Ground Will Rescue Us – Philip Morris responds to accusations of "staggering hypocrisy" – Imperial Invests an Extra £100 Million – Nicotine Science and Policy Daily Digest
James Dunworth, Ashtray Blog
While the UK was close to banning vaping in 2010, since then it's slowly come to have one of the most vape friendly attitudes in the world – at least, as far it can under EU tobacco laws.

Now the United Kingdom has taken another step forward by, finally, allowing health claims to be made.

The announcement has come from the Committees of Advertising Practice (CAP and BCAP), which state:
Mawsley, Planet of the Vapes
The National Centre for Smoking Cessation Training (NCSCT) has launched a new information leaflet. It contains simple and clear information on how to get into vaping as part of a switch away from smoking.
From the New Nicotine Alliance (NNA), the NCSCT leaflet is aimed at advising smokers how to "stay switched" using e-cigarettes. It is sub-titled "Advice for new vapers from old hands" and was produced in collaboration with the NNA, University of East Anglia and Cancer Research UK.
---

---
Dick Puddlecote
A curious piece turned up on the BBC the other day from their 'reality check' team.

Health Secretary Matt Hancock wants to encourage people in England to make "better choices" around their alcohol, sugar, salt and fat intake, while getting more exercise.

He is promising to spend more on public awareness initiatives to prevent obesity in the latest in a long line of of public health campaigns over the years. . . .
World-Renowned Vaping Researcher on His Dramatic Conversion
Dr. Riccardo Polosa is professor of Internal Medicine at the University of Catania, Italy, and a world-renowned researcher into tobacco harm reduction.

Polosa and his team have conducted numerous important clinical trials on the safety and efficacy of e-cigarettes, in addition to studies on schizophrenia, smoking and the transition from smoking to e-cigarettes. He is the founder and director of the recently created Center of Excellence for the Acceleration of Harm Reduction, a scientific advisor for the Italian Anti-Smoking League, and a special scientific advisor for the International Network of Nicotine Consumer Organizations (INNCO).
---
---
EU For Snus
On November 22, we await the verdict of the European Court of Justice on whether snus will continue to be banned or whether it will be legalized.

During the hearing before the European Court of Justice and also in the press, I noticed that there is always talk or talk about protecting the youth.

According to some statements, adolescents are animated to snus, as it is offered in different flavors. The question that arises for me is, what about the nicotine sprays that are available in different flavor variations?
ATHRA
Vaping could assist Indigenous smokers to quit and reduce Indigenous health, financial and social inequalities.

This was the message of a special workshop on vaping held today (8 November 2018) at the 5th National Indigenous Drug & Alcohol Conference in Adelaide.  The workshop was conducted by Associate Professor Colin Mendelsohn, leading researcher Professor Marewa Glover from New Zealand and Associate Professor Scott Wilson.

Indigenous smoking rates in Australia remain disturbingly high:
---

---
Jim McDonald, Vaping 360
The FDA will ban sales of closed-system vaping products like JUUL in flavors except tobacco and menthol in convenience stores and gas stations, according to the Washington Post. The Post also reports that anonymous FDA sources say the agency will impose additional age verification requirements for online sales, although these aren't specified.

Many vapers and probably millions of smokers don't live near dedicated vape shops, and depend on being able to buy products in c-stores or online…
Jacob Sullum, Reason
In an effort to curtail underage vaping, the Food and Drug Administration reportedly plans to ban the sale of most flavored e-cigarettes in stores that admit minors. This misguided, morally dubious policy will impede the shift from smoking to vaping, thereby endangering millions of Americans who might otherwise have made that potentially lifesaving switch.
So Media Scares People About Vaping Instead – ACSH
The CDC released a report on Thursday that should cause widespread celebration: The prevalence of cigarette smoking among adults (14%) is at an all-time low since the federal government began tracking such data in 1965.

That's not just extremely good news. This is a huge public health triumph and should make major headlines, just like it did on CNN. But other media outlets, like the Washington Post and New York Times, decided to downplay or ignore it and scare people about vaping, instead.

Jim McDonald, Vaping 360
The adult smoking rate in the United States dropped in 2017 to a record low, but government officials aren't giving any credit to vaping for helping to reduce the public health damage caused by cigarettes.

Just 14 percent of adults in the U.S. were current smokers in 2017, according to a new report from the Centers for Disease Control and Prevention (CDC). The number is even lower than the preliminary numbers for the first three quarters of the year that were announced in March of this year.
Neil – Ecig Click
US Government Says Give Kids That Vape Prescription Drugs Before They Turn Into Zombified Homeless Heroin Addicts
Just when you thought the anti vaping crowd over in America couldn't get anymore shocking or ridiculous apparently vaping now causes addiction to heroin leads to homelessness and other 'anti-social' traits… Yes really…more on that in a moment…
Mawsley, Planet of the Vapes
A university student has written about Juul being the better of two evils. Despite veering off to talk to a zealot, a recent CNBC report focussed mainly on the benefits of Juuls helping adults to leave a life of cigarette use. There have been calls for Juul Labs to do more to prevent youth uptake – but its efforts to implement a school education program are being resisted by the Campaign for Tobacco-free Kids (CTFK). In the UK, Juul has been listed for sale in Sainsbury's.
From E-cigarette and Vape Wars – Jeff Stier
"We should all be able to agree that E-cigarettes are not entirely safe and should not be used by kids," said Stier.

"At the same time, as Public Health England has been saying for more than three years, e-cigarettes are around 95% less harmful than combustible cigarettes and can help smokers quit.

To maximize protection to Americans of all ages, the FDA must finally formulate sensible, science-based policies to achieve two key goals:
The tobacco giant has invested an extra £100 million in its e-cigarette brand Blu, as it also steps up its marketing campaign, encouraging smokers to switch to the safer alternative. The FTSE 100 group is one of the world's biggest tobacco companies whose brands include Davidoff, Winston and Gauloises. Imperial remains based in Bristol where it dates back to 1786 when Henry Overton Wills opened a shop in the city.
To accusations of "staggering hypocrisy" – Simon Clark
Alison Cooper, chief executive of Imperial Brands, was interviewed on the Today programme on Tuesday.

Interviewer: You talk about making something better and safer for smokers. If you were that concerned about the health of smokers wouldn't you just stop making cigarettes altogether?

Alison Cooper: I think in terms of the current cigarette smoking population, many of them very much enjoy smoking. We know it's a controversial product but therefore it's even more important that responsible companies still continue to deliver that product to smokers…
---
A look back at how things have moved on or otherwise….
Omissions at home and lies abroad – Atakan Erik Befrits
The public support for Tobacco Endgame – Smoke Free Sweden 2025 is increasing. This folder updates the information on the endgame initiative – what it means and what it takes to join and be a supporting
organisation.

In Sweden the yearly death toll from smoking is approximately 12 000 people, and every year 100 000 smokers are in need for hospital care due to smoking related diseases….
Harry Shapiro
My friend Ethan Nadelmann once told of a conversation he had with an officer from the US Drug Enforcement Administration. Ethan asked him if there was anything they could agree upon, any common ground across which a bridge could be built. The officer replied that the wall between their views was just too high for him to want to climb over and engage in meaningful dialogue.

On the strength of the latest example hot from the desk of the WHO, I fear that is where we are with this agency too.
---
Visit Nicotine Science & Policy for more News from around the World

---