Vapers Digest November 12th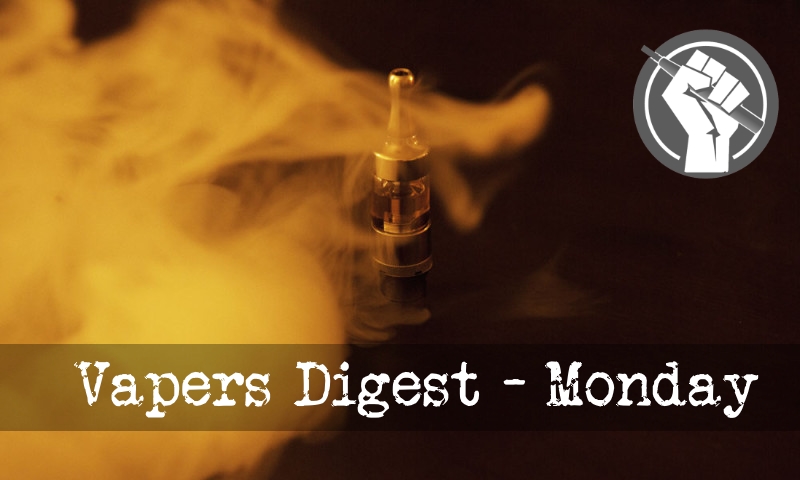 Monday's News at a glance:
Truth allowed in advertising – A charter for tobacco harm reduction? – FDA plans clampdown despite smoking at record low – A chorus of idiots – Confused Doctors – Tobacco Control Special Issue Yields Smoke But No Hazard for IQOS Aerosol – GFN 2019: It's time to talk about nicotine – E-cigarette flavors are good for public health – Tobacco Stocks Burned – A Question of Taste: – The political economy of vaping – Current and future status of Vaping in Thailand? – Smokers' shift to hike tax on loose tobacco – Vapers fume over government advisory – When reducing harm is an option – Vaping In The News November 10th – Nicotine Science and Policy Daily Digest
New Nicotine Alliance
On Friday, the Advertising Standards Authority (ASA) published the results of their consultation into e-cigarette adverts and announced that "the Committees of Advertising Practice (CAP and BCAP) have amended the ad rules so that health claims are no longer banned from ads for e-cigarettes.".

The NNA, naturally, fully welcomes the announcement and we are pleased that common sense has prevailed in this policy area. It has long been frustrating for both consumers and the vaping industry that regulations have prevented the truth being told about the reduced risk products in relation to combustible tobacco.
Harry Shapiro
No, I'm not proposing one, but referring to the outcome of the recent WHO Global Conference on Primary Health Care in Astana, Kazakhstan which produced the Astana Declaration. Of itself it isn't a charter for tobacco harm reduction (THR), but if the WHO is seriously committed to delivering on its vision and not just cherry-picking the areas of health care that suit the organisation and its funders, then it is certainly a template for THR.
---

---
Despite smoking at record low – Fergus Mason
There was even more bad news for US vapers last week, as the FDA announced it would shortly publish new restrictions on where flavoured e-cigs can be sold. The agency also wants to make it more difficult to buy vapour products online. British vapers are also facing arbitrary bans, and advocates are currently fighting to scrap one in the Scottish city of Dundee. Meanwhile Florida is set to become the latest US state to add e-cigarettes to its clean air laws following the approval of a controversial amendment on Tuesday. In even more bad news, Thailand looks set to hang on to the draconian laws that have seen tourists fined at the country's airports for trying to reduce smoking-related harm.
Heat Not Burn
Personally I'm a fan of Philip Morris International's "Hold My Light" campaign. I've been advocating for tobacco harm reduction for years, and it's good to see PMI throw their weight behind the same cause. Campaigns like this have the potential to make a huge difference, and I think they should be encouraged.

If you missed it, Hold My Light is a multimedia campaign aimed at encouraging smokers to give up and switch to reduced-harm products.
---
---
Mawsley, Planet of the Vapes
The number of cancer specialists, GPs and nurses currently ignorant about the benefits vaping offers is ridiculously high. Around half of those featuring in a recent survey claimed they didn't know enough to recommend vaping to patients.
The journey to becoming a doctor starts with the completion of chemistry, biology, and either physics, physical science or maths A-Levels. Then there's five years of university study before embarking on two years of foundation training, two years of core medical training and then up to six years of speciality training.
Also from POTV:
But No Hazard for IQOS Aerosol – Brad Rodu
Recently a special issue of the journal Tobacco Control offered 22 articles on Philip Morris International's (PMI) IQOS heat-not-burn tobacco product (here), aiming to dissuade the FDA from allowing IQOS sales as reduced risk products for smokers. In the words of editor Stanton Glantz: "Policy makers should give greater weight to the advice provided by public health scientists than to submissions from industry when it comes to regulating tobacco products such as heated tobacco products."
---

---
Thursday 13th to Saturday 15th June 2019
GFN is the only international conference to focus on the role of safer nicotine products that help people switch from smoking. The rapid development and use of safer nicotine products raises a number of challenging scientific questions about their safety, who uses them and why, and the impact on smoking. These products also raise issues for governments who seek to understand what kind of policy and regulation is appropriate.
Why is the FDA cracking down on them? – Guy Bentley
Next week, the Food and Drug Administration will announce a ban on the sale of most e-cigarette flavors in tens of thousands of convenience stores and gas stations, according to the Washington Post.

It will be one of a series of measures to tackle the alleged "epidemic" levels of youth vaping in America's high schools. Groups like Campaign for Tobacco-Free Kids and now apparently the FDA have singled out so-called "kid-appealing" e-cigarette flavors like fruits, sweets, and desserts as one of the leading causes of a spike in teen vaping over the past year.
As Reports Suggest FDA Crackdown on Vape, Menthol Sales
U.S.-focused tobacco stocks tumbled Monday following a Wall Street Journal report that suggested the Food & Drug Administration is prepared to ban the sale of menthol cigarettes alongside a crackdown on teenage vaping.

FDA Commissioner Scott Gottlieb is set to close a loophole that has kept menthol cigarettes on the market for decades, the Journal reported, citing senior agency sources.
The Public Health Case for E-Cigarette Flavors – Guy Bentley
Flavored tobacco products have long been the subject of controversy, especially with regards to their potential appeal to youth. In 2009, the federal government banned the manufacture and sale of all combustible cigarettes flavored to taste like clove, candy or fruit, but made an exception for menthol. The reason given for banning these products is that certain flavors could be especially attractive to children, luring them into smoking and serving as a gateway to lifelong cigarette addiction.
Dan Mitchell – Center for Freedom and Prosperity
In an ideal world, the discussion and debate about how (or if) to tax e-cigarettes, heat-not-burn, and other tobacco harm-reduction products would be guided by science. Policy makers would confer with experts, analyze evidence, and craft prudent and sensible laws and regulations.

In the real world, however, politicians are guided by other factors.

There are two things to understand, both of which are based on my conversations with policy staff in Washington and elsewhere.
On flavored e-cigarettes may not be legal – Bethany Bump
New York's Department of Health has rescinded regulations that sought to ban flavored e-cigarettes and liquids after industry insiders raised concerns over their legality.

The regulations, published Wednesday in the State Register, proposed a ban on the possession, manufacture, distribution or sale of flavored e-cigarette liquid or products across the state, in an effort to curb youth consumption of the products, which have risen to epidemic levels in recent years, according to the U.S. Food and Drug Administration.

Confusion appear to reign this week as what appeared to be two conflicting statements were issued from the Excise Department of Thailand and the Thai Government. We covered this on our social media feeds and will now attempt to provide clarification after looking into the matter in depth.

On one hand, you have this article sourced from the Bangkok Post, Chiang Rai Times and many other news sources in Thailand.

On the other hand, you have this article, also sourced from the Bangkok Post which has led several people to believe that E-Cigs will become "legal" soon.
Bangkok Post
The Excise Department is going to raise the tobacco tax after dozens of smokers have switched to hand-rolled cigarettes, prices for which are far cheaper than factory-made cigarettes following enforcement of a new excise tax structure last year.

Loose tobacco now costs 5-30 baht per pouch, well below the price of cigarettes at 60-100 baht per pack, said Patchara Anuntasilpa, director-general of the Excise Department. The retail price gap will widen from Jan 1, 2019, after a 40% tax is applied across the board, he said.
Banning e-cigarettes – Sonia Sarkar
Maneesh Kasera was a smoker for 28 years. Two years ago, he made the first attempt to quit smoking. He tried nicotine gums — a kind of chewing gum that delivers nicotine to the body — for a day or two but nothing could wean him away from cigarettes. Finally, he tried e-cigarettes.
Audrey Edwards
The term harm reduction was first introduced in Malaysia when the government sought to use several measures in the hopes of bringing down HIV infections.

The methadone replacement therapy and needle syringe exchange programme have since shown to work with injecting drug use contributing only five per cent to new infections last year.
Kevin Crowley, Vaping Links
Defending Juul | Drug War Veteran Punctures Panic Over Nicotine ~ Fund the vape FOIA lawsuit ~ Speaking Of Montana ~ Why Traditional "Quit Smoking Methods" Have Consistently FAILED ~ Gottlieb: Do Teen Vapers Need Big Pharma Intervention? ~ NATO Responds to FDA's Potential E-Cigarette Sales Restrictions ~ Adolescents have unfavorable opinions of adolescents who use e-cigarettes ~ "I Was Just Ignorant"—World-Renowned Vaping Researcher on His Dramatic Conversion ~ Golden Ashtray Award ~ Taking on Tobacco
---
A look back at how things have moved on or otherwise….
To switch to vaping – Dr Colin Mendelsohn
The co-author of a major international review into e-cigarettes is set to tell an audience of Australian healthcare professionals that encouraging smokers to switch to vaping has great potential to improve their health.

"The best thing smokers can do to improve their health is to quit smoking," says Hayden McRobbie, Professor of Public Health Interventions at Queen Mary University of London, UK. "For those smokers who won't or can't quit, the next best thing would be to switch to vaping."
With a pinch of salt – ECig Intelligence
Reports of scientific research into e-cigarettes should be approached with caution – especially if they appear stridently either pro or anti – one of Britain's leading researchers warns.

"People should be wary about differences between headlines and the text of articles, and suspicious of any claims that state that things have been proven," suggests Robert West, an addiction and smoking cessation specialist who is professor of health psychology and director of tobacco studies at University College London (UCL).
---
Visit Nicotine Science & Policy for more News from around the World

---