Vapers Digest November 14th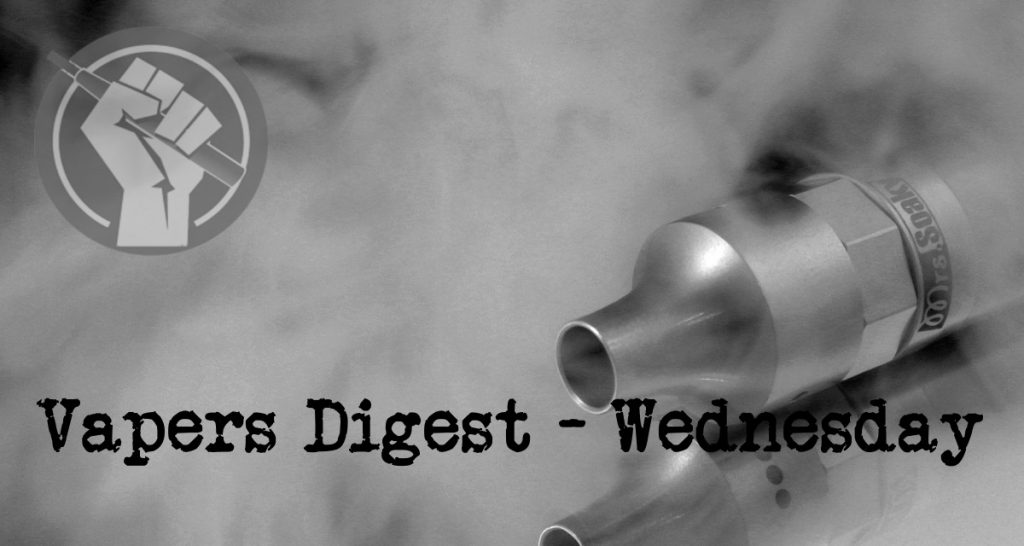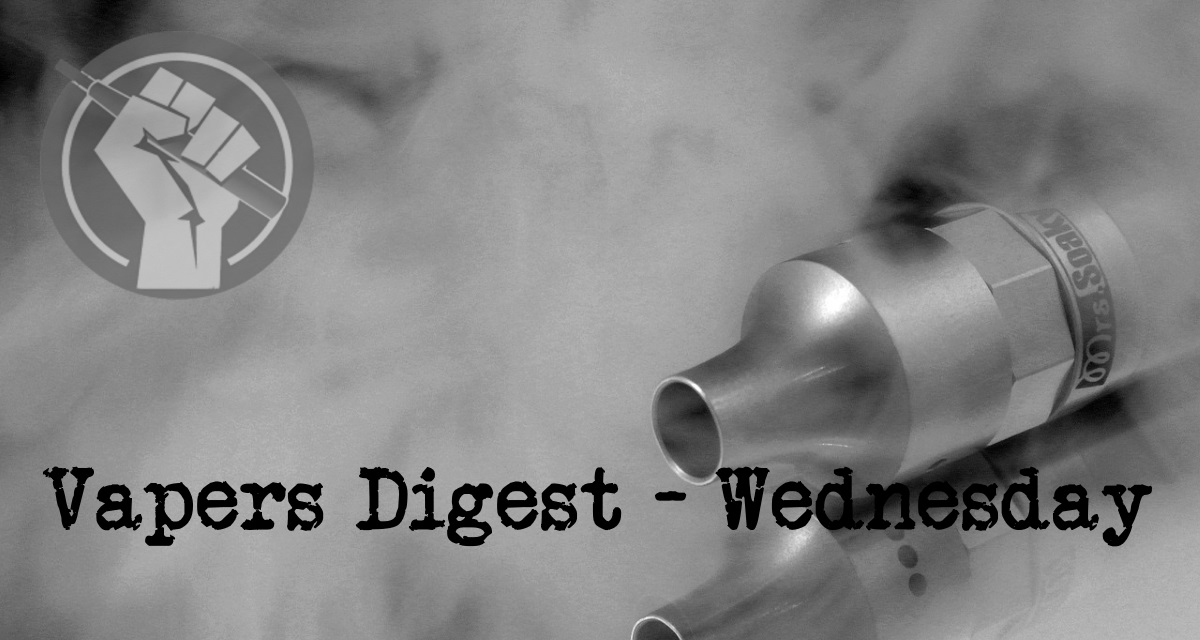 Wednesday's News at a glance:
The Science-Based Community and E-Cigarettes ~ Restricting E-Cigarette Flavors Endangers Public Health ~ No excuse for high smoking rates among Indigenous people ~ The future of tobacco control ~ FDA to Announce Ban on Sale of Most Cigarettes in Convenience Stores ~ Vaping – Question ~ "Like Restricting Clean Needles" —Advocates Slam Age-Verification Plan for Under-Fire Juul ~ Bareham's Bananas ~ Adolescent Opinions ~ FDA Fiasco ~ JUUL Will Pull Flavors Off the Retail Market – Even From Vape Shops ~ Blu e-cigarette maker plans to restrict online sales ~ Exclusive: Juul sounds out Indonesia for expansion, other Asian countries in its sights ~ What Happened When I Tried An IQOS And Heat Sticks In Tokyo ~ Smokers who spend time with vapers more likely to attempt to quit – study ~Vaping Inventor Calls on Hong Kong to Reconsider its Prohibition Proposal
 

Jeff Stier

, American Greatness
Government agencies populated with scientists people are pleased to call "experts" are often thought to be above the ordinary give-and-take of politics and, especially, immune to the clarion calls of activists and pressure of public opinion. Scientific experts, or "the science-based community," is supposed to be driven by data and evidence, not the naked pressure of agenda driven interests. As we will see in the case of the Food and Drug Administration's relationship to e-cigarette regulation, these assumptions about the impartiality of scientists don't always hold water.
Jacob Sullum, Reason
Critics of the vaping industry portray the flavors that the Food and Drug Administration wants to ban from stores that admit minors as evidence of a conspiracy to hook the youth of America on nicotine. The FDA itself has a more sophisticated understanding of the market but is still far too willing to sacrifice the interests of adult smokers in the name of fighting an "epidemic" of underage e-cigarette use.
Dr Marewa Glover, Australian Tobacco Harm Reduction Association
New harm-reduced alternatives to smoking mean there is no excuse for Governments to leave Aboriginal and other Indigenous people to die.

In this guest blog, Dr Marewa Glover (@MarewaGlover on Twitter), Director of the Auckland based Centre of Research Excellence: Indigenous Sovereignty & Smoking, reflects on the 5th National Indigenous Drug & Alcohol Conference (NIDAC) held in Adelaide last week.

Indigenous people stand to gain proportionately more from the public health benefits that will result from the introduction of vaping and other risk-reduced products like Swedish snus and heated tobacco products.
David T Sweanor, Financial Express
Over 300 million people in India regularly use tobacco products, with a third using cigarette-type products and twice as many using oral tobacco. The use of these products causes over 1 million premature deaths annually in the country, and as the population and disposable income increases, this toll can be expected to worsen significantly.

It's is a public health catastrophe, and for many people the story ends there.
---

---
Due to Addiction of Hundreds of Thousands of Youth to Cigarettes
Michael Siegel, The Rest Of The Story
Tomorrow, the FDA is expected to announce the strictest regulation of cigarettes sales in decades. Spurred by the data showing that nearly 8% of high school students are current cigarette smokers, the FDA will announce that from now on, with just a few exceptions, cigarettes may not be sold in any convenience store or gas station. Online sales of cigarettes will still be allowed, but it will be subject to advanced age verification procedures. The only stores that will be allowed to sell cigarettes without restriction will be those which are only open to adults (or which establish an area that is only open to adults).
They Work For You
– in the House of Lords at 2:45 pm on 13th November 2018.
To ask Her Majesty's Government whether they have any plans to restrict or ban the advertising or sale of flavoured nicotine vaping fluids.

I beg leave to ask the Question standing in my name on the Order Paper. In doing so, I declare that I hold shares in British American Tobacco, which are below the threshold for registration.
—Advocates Slam Age-Verification Plan for Under-Fire Juul
Sessi Kuwabara Blanchard, FilterMag
On November 13, JUUL Labs, the company behind America's most popular vaping product, announced a stringent new online age-verification system.

The move comes under the pressure of a US Food and Drug Administration investigation into the company and raging controversy over Juul's relationship with teenagers, which Filter has extensively covered. The FDA probe launched in April "to make sure JUUL, and any other e-cigarettes or tobacco products, aren't getting into kids' hands in the first place," said FDA Commissioner Scott Gottlieb.
---
I know that JUUL is not trying to screw me over and mess up my research with their social media related "youth prevention" strategies, but JUUL IS CONSTANTLY SCREWING ME OVER AND MESSING UP MY RESEARCH WITH THEIR SOCIA MEDIA RELATED YOUTH PREVENTION STRATEGIES. pic.twitter.com/32ZFf2hhq1

— Amelia Howard (@Amelia_RH) November 13, 2018
---
Three from Mawsley, Planet Of The Vapes
Minions like bananas, David Bareham likes to tweet anti-vaping nonsense. He is a physiotherapist working for the Lincolnshire Community Health Services NHS Trust, "working with people with chronic lung disease, mostly with C.O.P.D." Over the last week, the anti-harm reduction campaigner has launched a ridiculous series of attacks on supporters of vaping including Dr Alex Wodak AM and Norman Lamb MP.
In a week when a primary school-age child was depicted in a video reading a rabidly anti-vape propaganda script, research comes from California about teen attitudes towards vaping. Unsurprisingly, it advocates that campaigns build on negative images "to ensure that adolescents do not formulate 'cool' or otherwise desirable images of e-cigarette users".
Sources in the United States are confirming that Scott Gottlieb, commissioner of the Food and Drug Administration (FDA), will announce a ban on the sale of most vape products from convenience stores (c-stores) and gas stations this week. Such locations will be allowed to sell poorly performing cigalikes only – to protect children from flavoured vapes.
---

---
Jim McDonald, Vaping 360
JUUL is removing four of its popular non-tobacco flavored pods from the retail market immediately — including from vape shops. The flavors being restricted are creme, cucumber, fruit, and mango. The company will also shut down its own Instagram and Facebook accounts.
amid FDA crackdown on teen use
Angelica LaVito, CNBC
The maker of blu e-cigarettes plans to tighten its sales practices in an effort to restrict underage access and appease federal health officials amid an industry-wide crackdown on "epidemic" teen use.

Fontem Ventures, a unit of tobacco company Imperial Brands, said it will raise the minimum age requirements to buy pods on its website to 21 across the U.S. and require its online retail partners to use age verification technology, among other measures designed to stop kids from buying its products.

David Marcus, The Federalist
"I'm an American. We like to lead with that," I began. I got half a laugh from Andres Calantzopoulos, the CEO of Philip Morris International (PMI) as we sat in the Pavilion room at the Hotel Shanghai in Tokyo.

PMI had paid for the airfare and accommodations of journalists from around the globe, as well as social media influencers, for the launch of their latest heat not burn tobacco products, the IQOS 3 and the IQOS Multi. As he puffed on his IQOS device, I continued my question.
---

---
ITV.COM
Smokers who regularly spend time with vapers are more likely to attempt to quit, new research suggests.

A study by University College London (UCL) found that smokers who have frequently spent time with vapers, who smoke e-cigarettes, were around 20% more likely to have made a recent attempt to quit, and reported feeling motivated to stop smoking.

Roughly a quarter of smokers (25.8%) who participated in the study said they regularly spent time with vapers and, of these, around a third (32.3%) had made an attempt to quit smoking in the previous year.
Fontem Ventures
Fontem Ventures, the business behind blu® e-vapour products, today submitted evidence to the Hong Kong Chief Executive's office, showing that vaping can make a contribution to tobacco harm reduction and potentially improve health outcomes for Hong Kong's adult smokers.

"We are asking the Hong Kong government to reconsider their proposal for a blanket ban on vaping, which will impact the lives of current adult vapers, and those smokers who may consider switching to a potentially less harmful product," said Mr Hon Lik, the inventor of the original e-cigarette and a consultant to Fontem Ventures Research & Development team.
---
Visit Nicotine Science & Policy for more News from around the World

---