Vapers Digest 10th November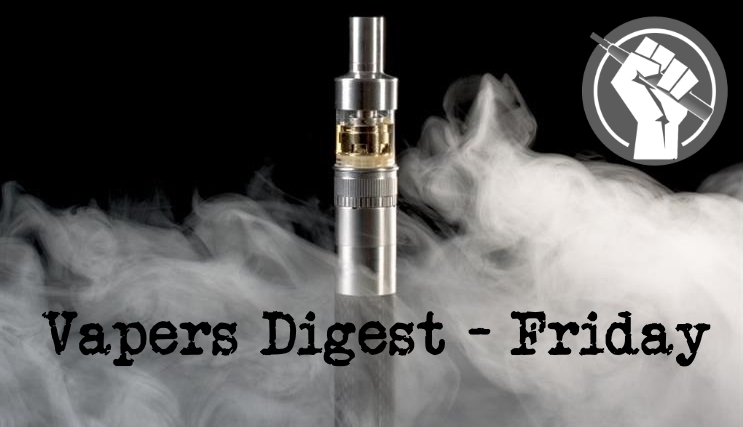 Friday's News at a glance:
Visiting expert encourages Australian smokers to switch to vaping – Take all extreme scientific claims with a pinch of salt – More Vaper Insights – Making a call on passive vaping – Evolution & Growth – Vaping draws fire in war on smoking – E-cigarettes included in Phuket beach smoking ban – Final action expected on e-cigarette ban – New laws for electronic cigarettes – MOH's adverseness against alternative tobacco products is "religious" in nature – Nicotine Science and Policy Daily Digest
To switch to vaping – Dr Colin Mendelsohn
The co-author of a major international review into e-cigarettes is set to tell an audience of Australian healthcare professionals that encouraging smokers to switch to vaping has great potential to improve their health.

"The best thing smokers can do to improve their health is to quit smoking," says Hayden McRobbie, Professor of Public Health Interventions at Queen Mary University of London, UK. "For those smokers who won't or can't quit, the next best thing would be to switch to vaping."
With a pinch of salt – ECig Intelligence
Reports of scientific research into e-cigarettes should be approached with caution – especially if they appear stridently either pro or anti – one of Britain's leading researchers warns.

"People should be wary about differences between headlines and the text of articles, and suspicious of any claims that state that things have been proven," suggests Robert West, an addiction and smoking cessation specialist who is professor of health psychology and director of tobacco studies at University College London (UCL).
---

---
Whilst the public are aware of vaping, they often have a misunderstanding of what vaping is, and its success in supporting smokers to quit. If the goal of a smoke free nation is to be realised then smokers need to be given the confidence to make an informed decision to switch to a significantly less harmful alternative than smoked tobacco.
Drawn from the FDA PATH Survey, 2013-14
Brad Rodu, Tobacco Truth
Following are additional insights into smoking and vaping from my Nicotine & Tobacco Research study (abstract here), coauthored by my economist colleague Dr. Nantaporn Plurphanswat. Earlier blog notes on this analysis of the 2013-14 FDA-funded Population Assessment of Tobacco and Health (PATH) Survey arehere.

Flavors are important to vapers, but the PATH questionnaire inquired about flavoring only by grouping them: "menthol, mint, clove, spice, candy, fruit, chocolate, alcohol (such as wine or cognac), or other sweets."  Nevertheless, we report that flavors "were consumed by 7 out of 10 current users.
---
We emailed @ArrivaTW to complain about their signs which falsely state that it's against the law to vape on their trains and platforms. Pleased to report that Arriva Trains Wales have replied to say that their signs will be changed. pic.twitter.com/IAORNq2BTZ

— NNAlliance (@NNAlliance) November 10, 2017
---
CASAA
Elk Grove Village – Loyola University, The Greyhound, Jack Ebmeier – Middleboro, MA – The Enterprise, Eileen Reece – Bridgemi.com, Michelle Minton – KTVZ.com news sources – The Washington Times, Laura Kelly
I'm calling it on passive vaping. I say that in 15 years scientists will conclude that the public health risks associated with second hand vaping are negligible.

I've looked at the research, considered the importance of quantities in relation to toxins, reflected on my own experiences, used a dose of deduction and I'm calling it.

My mates play a game where we entertain each other by framing a market around public affairs. What price the latest public figure before ICAC to be found corrupt? What odds Nathan Tinkler makes a successful commercial comeback before 2020 ($150 I reckon).
---

---
Aotearoa Vape Community Advocacy
Just an update from AVCA Central for those interested. Hard to believe that we have been officially doing our thing for over two years now (Mind you we have all been at it for much longer, but officially, when we decided to organise that is), but here we are!

First, we would like to announce that we have begun adding to our group of merrymakers here with the addition of Hazel Lyn Malgapo Mallare to AVCA as our Research and Resource Coordinator. Hazel has kindly accepted our offer to be our researcher and help to post information to our Facebook Groups, and assist with the management of our (eventual, currently in process) resource library for our website.

Cape Town
The new war against smoking has e-cigarettes and vaping in its sights.
Anti-tobacco lobbyists want legislation amended to include the latest smoking craze, which some say also has harmful effects.

Executive director of the National Council Against Smoking Savera Kalideen said vaping products should not be compared to cigarettes, but compared to itself as it came with its own harms.
Tanyaluk Sakoot
Vaping in public is already illegal in Thailand as it is by law already considered the same as smoking, Watcharin Thintalang Director of the Phuket DMCR's Marine and Coastal Management Division, told The Phuket News.

"E-cigarettes, or vaping, create smoke and that is banned under the same DMCR regulation (for banning smoking at the beaches). Vaping is 'smoking', and that breaks the law," he said.
The Alexandria City Council will consider a second and final reading of the ordinance regarding electronic delivery services during its Nov. 13 meeting, which starts at 7 p.m. at City Hall.

The council approved the ban on a 3-2 vote on Oct. 23, after a public hearing drew 11 speakers — eight, mainly from the e-cigarette industry who opposed the ban, and three health professional who supported it. There won't be a public hearing at Monday's meeting.
Tasmania
This fact sheet describes new laws in the Public Health Act 1997 starting on 29 November 2017.

The new laws:

treat personal vaporiser products (including e-cigarettes) similarly to tobacco products
increase penalties for supplying these products to a person under 18 years
introduce 'fit and proper' checks for licence applicants
set reporting requirements for licence-holders.
Terry Xu
The amendments to the Tobacco (Control of Advertisements and Sale) Act which have been approved by Parliament on Tuesday will see an introduction of a ban for people from buying, using and owning imitation tobacco products, such as e-cigarettes, e-cigars and e-pipes, which will likely be in force by next year. This basically extends the current ban on the sale, import and distribution of battery-powered devices that heat nicotine-infused liquids to produce a vapour for inhalation.
---
A look back at how things have moved on or otherwise….
Clive Bates – The Counterfactual
The UK Centre for Tobacco and Alcohol Studies (UKCTAS) has produced a devastating critique of the WHO paper on 'Electronic Nicotine Delivery Systems' (e-cigarettes or vaping products to everyone else).  The paper by WHO is for the 7th Conference of the Parties to WHO's tobacco control treaty, the Framework Convention on Tobacco Control, (FCTC COP-7) which will be held in Delhi 7-12 November, 2016.
Marewa Glover – NZ Herald
There are lots of things about other people that annoy us. Those barely-there-shorts young women wear; when people argue in public, shooting their mouths off at each other very loudly in front of your kids; and how it seems most people can't drive properly. These are the joys of living in a diverse live-and-let-live society. We only ban behaviours that result in actual harm to people.
Drew Johnson – Daily Caller
A United Nations legislative body has voted to kick journalists out of its meeting Monday.

Delegates voted unanimously to ban journalists from the remaining sessions of the biennial legislative conference of World Health Organization's Framework Convention on Tobacco Control (FCTC).
---
Visit Nicotine Science & Policy for more News from around the World

---