Vapers Digest 13th November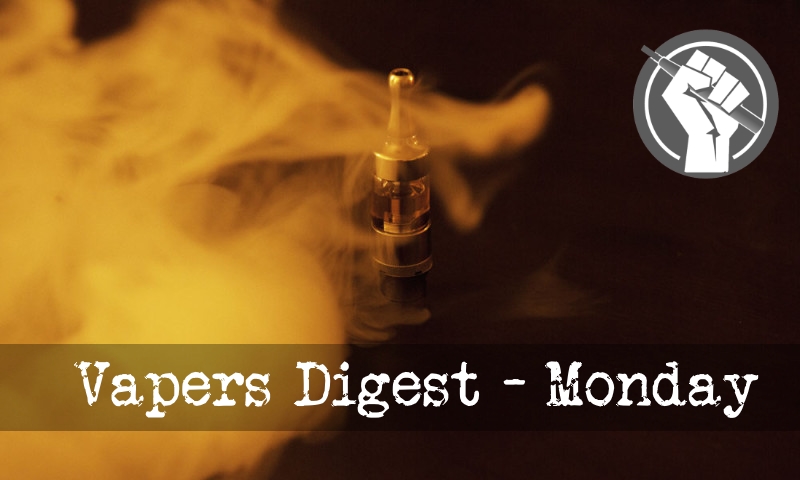 Monday's News at a glance:
ASH In A Glass House, With Stones – More evidence of vaping benefits – Yach Responds to Critics – From Doorways to Alleyways – Smokers should switch to vaping – CDC Spins Statistics To Wage War On Vaping – Leicester nurses take e-cigarette message to shoppers – Is Australia out of step with other countries? – AVCA response to ARFNZ – America needs a candid smoking control champion – Four Negative Vape Studies – Smokers use vaping to quit cigarettes – Asians seek less harmful alternatives – Nicotine Science and Policy Daily Digest
Dick Puddlecote
Today, ASH has been pathetically throwing stones around in their glass house. This, in the Times, is truly astonishing.

Tobacco firms may face 'murder' trials
Action on Smoking and Health (Ash) has begun work on pressing the director of public prosecutions (DPP) to bring charges or to allow a private prosecution…
But prohibitionists press on – Fergus Mason
New studies from the USA and Italy have provided more evidence that vaping is both cheaper and safer than smoking – and the UK's annual smoking campaign, after changing policy to support e-cigarettes, has achieved record popularity. Despite this, however, lawmakers continue to tighten the screw, to the extent that PHE has complained about misleading information being given to Australia's latest government debate on harm reduction products.
Mawsley, Planet of the Vapes
The reaction from certain areas to Derek Yach setting up The Foundation for a Smoke Free World, or, moreover, obtaining funding from the tobacco industry, was predictable in its negativity. The same names and organisations rapidly crept out of the woodwork to slate the organisation – and yet support from the harm reduction community seems to be absent too.
---

---
Steve Dohmen, AVCA
Cowering inside a partially constructed lean-to or huddled under leak ridden over-hangs, you'll find the common sight against the urban landscape of Invercargill – a smoker enjoying their nicotine fix… congregating timorously next to them will be a new product of PC gone demented, The Vapers…
Australia
Health professionals gathered in Melbourne on Monday to hear how the smoke-free technology could help smokers move away from deadly cigarettes.

"For those smokers who won't or can't quit, the next best thing would be to switch to vaping," Queen Mary University professor Hayden McRobbie told AAP.
James Bullen and Olivia Willis
E-cigarettes and their potential health effects have been hotly contested for some time.

Advocates say they are a less harmful alternative to tobacco cigarettes, and could help smokers quit, and, ultimately, save lives.

But many Australian public health experts oppose the use of e-cigarettes, arguing there isn't enough evidence to show they're safe.
---
---
Carl V. Phillips, Daily Vaper
The CDC has released their 2015 estimates of the US prevalence of vaping, smoking and other tobacco product use. As expected, the messaging they pushed to the mainstream media in their press release focused on the policy preferences of the CDC's and the FDA's anti-tobacco units. That message, a call for more aggressive actions, would have been the same no matter what the data showed. However, it is possible to learn from both the actual study results and the press release.
Steve Ford
Specialist nurses in Leicester will be promoting e-cigarettes to the public later this month, as part of efforts to boost smoking cessation.

Lung cancer specialist nurses at University Hospitals of Leicester NHS Trust will run a stall at Beaumont Leys Shopping Centre on Thursday 16 November from 9am-4pm.
---

---
"There is no evidence for a public health claim for an unregulated approach to e-cigarettes and personal vaporizers. ARFNZ recommends that if there is support for e-cigarette use in New Zealand as a smoking cessation device, then these products should be classified as therapeutic devices and regulated through Therapeutic Goods Administration (TGA), Medsafe and PHARMAC."

Link to original press release from ARFNZ is here.
Mawsley, Planet of the Vapes
New studies continue to flood into the inbox at POTV Towers. Unfortunately, most of them are typified by the following pieces of work: RTI International has identified that people who tweet about vaping fall into distinct groups. Dutch doctors write up a case intoxication, Finnish academics study teens, and the American Heart Association sponsors flavour fears.
Candid smoking control champion – The Hill
On July 28, 2017, the United States Food and Drug Administration (FDA), under the leadership of a newly appointed Commissioner, Scott Gottlieb, announced that the agency would chart a bold new course on regulating nicotine products and tobacco. He laid out two guiding principles. First, smoke from a tobacco cigarette is by far the most dangerous form of nicotine consumption and more must be done to help smokers quit. Second, nicotine is not a major source of harm when delivered without smoke.

Jim McDonald, Vaping360
Once again, data show that smokers who use e-cigarettes are more likely than other smokers to try quitting combustible cigarettes.

The new research comes from data gathered in a survey done by the state of Tennessee, in cooperation with the Centers for Disease Control and Prevention (CDC). The survey asked questions of smokers in Tennessee.
Roderick T. dela Cruz
Vapers and vaping advocates from different Asian countries have gathered for the first time in Jakarta, Indonesia to call on their governments to allow and regulate the use of electronic cigarettes and the so-called 'heat-not-burn' tobacco products which are considered less harmful alternatives to smoking.
A member of a South Korean reggae band has been fined for smoking an electronic cigarette on a Korean Air Lines flight earlier this year, a local court said Sunday.

The Incheon District Court fined Ra Guk-san, who belongs to Kim Ban-jang and Windy City, South Korea's longest-running roots reggae band, 1 million won (around US$895) for violating the aviation security law.
---
A look back at how things have moved on or otherwise….
Business Wire
Totally Wicked arrived in the USA in 2008 and established the very first American brick and mortar vape shop. Since then, we have built up a credible business with a proud history of standing up for vapers' rights. We challenged the FDA in 2010 when it was illegally impounding our goods, and in Europe in 2015 we challenged the EU Tobacco Products Directive. As a business we operate in both the EU and the USA, have a loyal customer base, offer a wide and dynamic range of hardware and e-liquids and try always to deliver the best possible service in an open and ethical way.
Vapers in Power
There is only one council in the entire country with a decent attitude towards vaping.

Thanks to the work of Freedom to Vape we now know that the vast majority of councils lump vaping in with smoking, against the advice of both Public Health England and the Health and Safety Executive.

You can read their report here. You can read the write-up in the Mirror here.
Kedist Tedla – ACSH
It is well documented that cigarette smoke causes lung cancer, but giving up nicotine still proves to be the most challenging part of quitting cigarettes.

Of all the available smoking cessation aides, electronic cigarettes (e-cigarettes) have gained the most popularity – likely because they are designed to simulate the cigarette-smoking experience.
---
Visit Nicotine Science & Policy for more News from around the World

---