In the News November 10th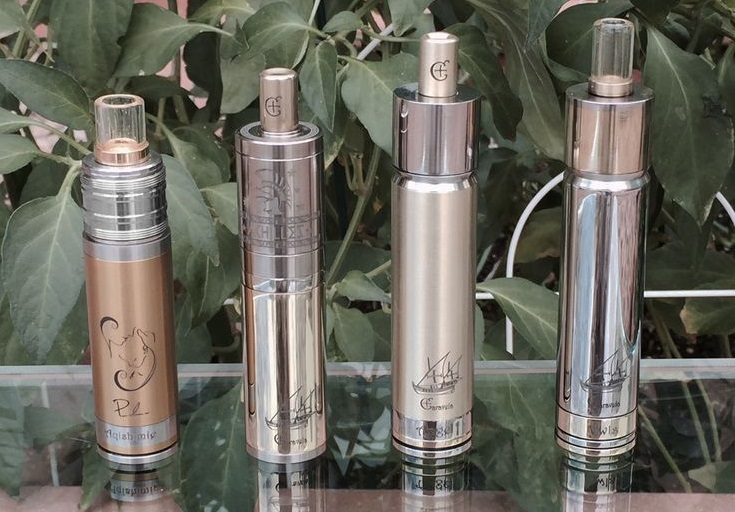 Thursdays News at a glance:
WHO's anti-vaping scientific castle of cards toppled (updated) – Vaping, the route to a smokefree New Zealand – What is going wrong at the WHO FCTC? – Reporters Banned From Global Anti-Tobacco Conference – Changing how YOUR Council sees vaping – MHRA Update Email #11 – Britain must speak up for e-cigarettes – A Billion Lives Reaches India – WHO FCTC's CoP7: A review across social media – The WHO's war on e‑cigs – #FCTC: 'Obsessive and paranoid secrecy' – Is There a Silver Lining in a Dark Cloud? – Health inequalities and e-cigarettes – California hikes tobacco taxes – Nicotine Science and Policy Daily Digest – Thursday, 10 November 2016
Clive Bates – The Counterfactual
The UK Centre for Tobacco and Alcohol Studies (UKCTAS) has produced a devastating critique of the WHO paper on 'Electronic Nicotine Delivery Systems' (e-cigarettes or vaping products to everyone else).  The paper by WHO is for the 7th Conference of the Parties to WHO's tobacco control treaty, the Framework Convention on Tobacco Control, (FCTC COP-7) which will be held in Delhi 7-12 November, 2016.
Marewa Glover – NZ Herald
There are lots of things about other people that annoy us. Those barely-there-shorts young women wear; when people argue in public, shooting their mouths off at each other very loudly in front of your kids; and how it seems most people can't drive properly. These are the joys of living in a diverse live-and-let-live society. We only ban behaviours that result in actual harm to people.
#COP7FCTC Banning ecigs at a tobacco control conference makes as much sense as banning wind power at a climate change conference.

— Dr Attila Danko (@AtelierDanko) November 10, 2016
ECITA
The Framework Convention on Tobacco control (FCTC) is, in principle:

"[A]n evidence-based treaty that reaffirms the right of all people to the highest standard of health."

It sets out some strong principles that few people would disagree with, such as:

"The  objective  of  this  Convention  and  its  protocols  is  to  protect  present  and  future  generations from the devastating health, social, environmental and economic consequences of tobacco consumption and exposure to tobacco smoke"
Drew Johnson – Daily Caller
A United Nations legislative body has voted to kick journalists out of its meeting Monday.

Delegates voted unanimously to ban journalists from the remaining sessions of the biennial legislative conference of World Health Organization's Framework Convention on Tobacco Control (FCTC).
---

---
Vapers in Power
There is only one council in the entire country with a decent attitude towards vaping.

Thanks to the work of Freedom to Vape we now know that the vast majority of councils lump vaping in with smoking, against the advice of both Public Health England and the Health and Safety Executive.

You can read their report here. You can read the write-up in the Mirror here.
John Summers – GlosVaper
We would like to remind producers (a term which includes manufacturers, importers and those who re-brand products) that after 19 November 2016, only products that comply with all the requirements of the Tobacco and Related Products Regulations 2016 (TRPR) can be manufactured or imported.  All aspects of the product must comply; this includes requirements relating to the quality and characteristics of the product and its labelling.
Gerry Stimson – Spectator Health
Last week Public Health England announced that fewer people than ever are smoking in England (less than 17 per cent). They also highlighted the role of e-cigarettes in helping smokers to quit cigarettes.

Action on Smoking and Health (ASH) estimates that 2.8 million Brits vape — more than in any other country outside the US. In Britain we see this as something to celebrate. Last year a report from Public Health England found that e-cigarettes are 95 per cent safer than smoking. A second report by the Royal College of Physicians agreed.
---
Coming to a Cinema near You –  Reserve your tickets Now!
---
Dick Puddlecote
I travelled down to the Ojas Art Gallery last night for the much talked about Indian screening of A Billion Lives, scheduled to coincide with the FCTC's COP7.

For Delhi, it was a rather plush venue, but the journey there was quite incredible. On Tuesday evening, Indian Prime Minister Narendra Modi had announced a shock policy which declared that 500 and 1000 rupee notes (about £6 and £12 respectively) cease to be legal tender in 72 hours…
A review across social media – Jérôme Harlay
India is hosting the Seventh Session of the Conference of Parties (COP7) to World Health Organization (WHO) Framework Convention on Tobacco Control (FCTC) for the first time, this week. Social media give the "color of the negotiations " until an official communicate is released.
Rob Lyons – Spiked
he World Health Organisation (WHO) is currently holding its annual anti-tobacco jamboree in Delhi, where thousands of anti-smoking health officials, wonks and activists get together to think up new ways of stopping us from enjoying a cigarette. But in the abbreviation-heavy world of UN events, the seventh session of the Conference of the Parties (COP7) to the Framework Convention on Tobacco Control (FCTC) seems to be FUBAR (ask someone who's seen Saving Private Ryan).
Martin Banks – EU Reporter
Neither media nor the public will be allowed to attend the WHO meeting in India, which is being held behind closed doors and which concludes on Saturday (12 November). It is the third time that media and public have been asked to leave plenary sessions and side meetings, as the same happened at earlier COP5 and COP6 meetings held in Seoul and Moscow, respectively.
---

---
Michael Siegel – The Rest of the Story
From a public health perspective, there are many reasons to be concerned about the outcome of Tuesday's election. However, there is one reason to potentially be encouraged. With a Trump presidency, and with Republican control of the Senate, we ironically have a tremendous opportunity to once and for all craft a sensible regulatory strategy for electronic cigarettes and vaping products.
Frances Thirlway
While the e-cigarette wars continue to rage, we still have very little information on the extent to which the most disadvantaged smokers are using e-cigarettes to quit. The smoking toolkit provides invaluable information regarding overall UK usage; however, most international research into the practices of e-cigarette users has been done via on-line user groups or forums. For anyone concerned with health inequalities and the social gradient in smoking, this is of limited use since the digital divide means that e-cigarette users active on internet forums are unlikely to come from the poorer communities where smoking is now concentrated…
California voters soundly approved a ballot measure Tuesday to raise tobacco taxes $2 a pack and start taxing electronic cigarettes, marking what supporters called a victory for public health that overcame a heavily financed fight by tobacco companies.
---
A look back at how things have moved on or otherwise…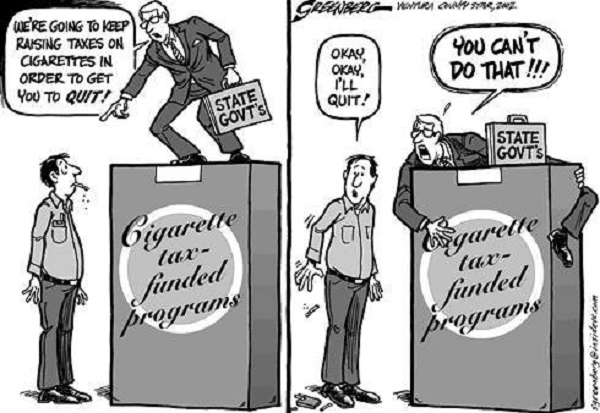 Dick Puddlecote
OK, we all know tobacco controllers lie, it's just what they do. It is module one of the induction course before they learn other essential skills such as hurling ad hominems, publishing junk science, ignoring the public and blaming everything on Big Tobacco.

But I don't think I've ever seen or heard an article where the tobacco controller lies from start to finish before. Not till yesterday anyway.
Confirms that (as common sense suggests) reducing the appealing aspects of e-cigarettes devalues them to both smokers and vapers
To those who use e-cigarettes (and economists of any stripe), this will seem like such a completely self-evident fact that it raises the question of why it was even studied. It does, however, provide some information on a question that has been asked recently in Wales (although it was funded by the Florida Department of Health, and conducted in Florida, so the populations will be a bit different. Given the Welsh Health Ministers apparent preference for US data over Welsh, or even UK data, this would not seem problematic however)….
Dr. Istvan Zentai
Since a few days back all governmental communication channels are full of the united propaganda of the Big Pharma and Big Tobacco lobbies against e-cigarette.

Fearmongering and lies recalling the forms of the darkest medieval witch-hunts are being spread by the lackeys of the National Public Health and Medical Offer Service and the Ministry of State for Health Care over all the available public service channels.
---
Visit Nicotine Science & Policy for more News from around the World

---