In the News 10th November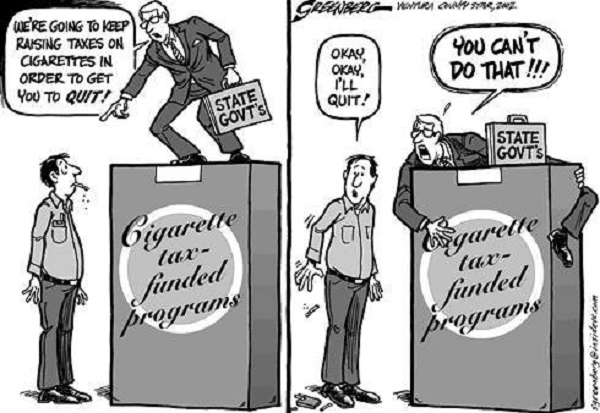 Tuesdays News at a glance:
Meet Mendacious Martina – New research confirms that reducing the appealing aspects of e-cigarettes devalues them to both smokers and vapers – From Hungary – With Anger – In Reality, FDA Deeming Regulations are Thinly Veiled Prohibition – Red Flag for Vapers: Avoid Some Flavoring Agents – SFATA Blog. Latest News – Summary of VPX NOLA Advocacy Panel – Vaping under threat in the USA – FDA Clears Smokeless Snus for Sale – Nicotine Science and Policy – Daily Digest – Tue, 10 November 2015
Dick Puddlecote
OK, we all know tobacco controllers lie, it's just what they do. It is module one of the induction course before they learn other essential skills such as hurling ad hominems, publishing junk science, ignoring the public and blaming everything on Big Tobacco.

But I don't think I've ever seen or heard an article where the tobacco controller lies from start to finish before. Not till yesterday anyway.
Confirms that (as common sense suggests) reducing the appealing aspects of e-cigarettes devalues them to both smokers and vapers
To those who use e-cigarettes (and economists of any stripe), this will seem like such a completely self-evident fact that it raises the question of why it was even studied. It does, however, provide some information on a question that has been asked recently in Wales (although it was funded by the Florida Department of Health, and conducted in Florida, so the populations will be a bit different. Given the Welsh Health Ministers apparent preference for US data over Welsh, or even UK data, this would not seem problematic however)….
Dr. Istvan Zentai
Since a few days back all governmental communication channels are full of the united propaganda of the Big Pharma and Big Tobacco lobbies against e-cigarette.

Fearmongering and lies recalling the forms of the darkest medieval witch-hunts are being spread by the lackeys of the National Public Health and Medical Offer Service and the Ministry of State for Health Care over all the available public service channels.
FDA Deeming Regulations are Thinly Veiled Prohibition – The Rest of the Story
Yesterday, based on my analysis of the FDA draft guidance that will accompany the electronic cigarette deeming regulations, I explained that the requirements for a pre-market tobacco product application (PMTA) are so cumbersome and expensive that only a few of the largest e-cigarette manufacturers would be able to keep their products on the market….
Avoid Some Flavoring Agents – Tobacco Truth
As a health professional, I started telling smokers to switch to smokeless tobacco in 1994, based on decades of definitive epidemiologic evidence for the relative safety of smokeless tobacco. But I was slow to endorse e-cigarettes as a reduced-risk option for smokers.

There is no parallel body of evidence for e-cigarettes, but then, there is no scientific evidence that would link vapor inhalation to cancer, heart attacks or strokes…
Cynthia Cabrera, president of the Smoke-Free Alternatives Trade Association (SFATA), has sent a letter to California's Attorney General Kamala D. Harris, offering commentary on "California Healthcare, Research and Prevention Tobacco Tax Act of 2016," a proposed ballot initiative that attempts to classify vapor products as tobacco products, while extending new cigarette "sin" taxes to this growing category….
Vape Emporium Blog
The FDA regulations that have been sent to the OMB are currently secret – but judging from the proposed regulations which was released in 2014, it does not look good. 'Liquid Nicotine' will be deemed as a tobacco product and strict regulations will be in place that will be impossible to meet by most e-liquid companies.

In turn, vape shops will be hit with restrictions to advertising and label designs on e-liquids will be restricted for fear of attracting underage vaping….
The most important part of VPX NOLA this weekend had nothing to do with new e-liquid lines, cloud competitions, or after-parties. Instead, it was a panel of industry leaders who took part in a hugely informative session on the state of the vaping industry.
Members of the panel were….
John Gever – MedPage Today
Swedish-made "snus," a smokeless tobacco product packaged in individual use portions, will be allowed for sale in the U.S., the FDA announced Tuesday.

But for now, at least, they will sport the same warning labels stating that they are "not a safe alternative to cigarettes" currently required for other smokeless tobacco products….