In the News 9th November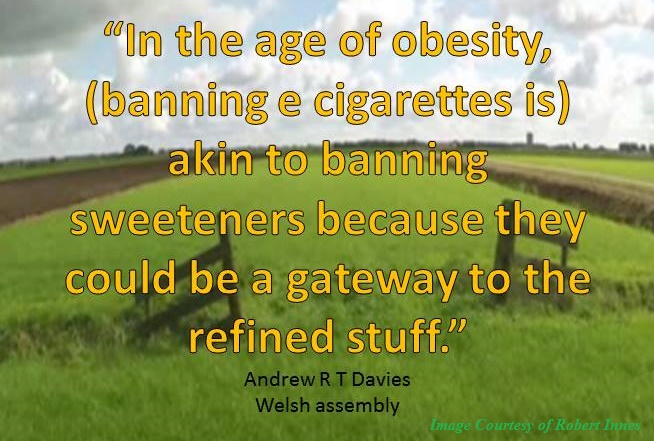 Mondays News at a glance:
Lest we forget EFVI – We are ruled by idiots – Why academic journal attacks on Public Health England e-cigarette report should be completely ignored – Labour's E-Cigarette ban is madness and will undermine efforts to cut smoking – FDA is Out of Its Mind: Deeming Regulations Should Be Called "The Cigarette Protection Act of 2015" – Sunday Science Lesson – Stop Smoking. The monkey on your back – Flavors & E-Cigarettes. Taking Adults AWAY From Tobacco – More Than 9mil Adults Vape Regularly in the US – The politics of vaping – Nicotine Science and Policy – Daily Digest – Mon, 9 November 2015
European Free Vaping Initiative – Alan Beard
This appears to be a timely reminder to all who participated, or wish to find out about the EFVI, approaching it's anniversary on November 25th

EFVI was part of a European Citizens Initiative(ECI) http://ec.europa.eu/citizens-initiative/public/basic-facts that roughly condensed, states that if citizens gain 1 million signatures to a proposal, the European Commission must examine and give valid reasoning for acceptance or rejection,but that it was not obliged to adopt the measure….
Tim Worstall – Adam Smith Institute
A crucial economic distinction is between a complement (no, not a compliment) and a substitute. For example, it is often asserted that more pornography leads to more sex crime: we are indeed primates and thus potentially subject to the "monkey see, monkey do" cause of action. That would mean that pornography is a complement to sex crimes: one aids in causing the other. However, as it happens….
E-Cigarette report should be completely ignored – Dr Farsalinos
Shortly after the, now famous, e-cigarette report released by Public Health England (PHE), there has been a coordinated attack by anonymous or signed publications in well-respected academic journals criticizing PHE for releasing a recommendation which, according to their opinion, is not evidence based. More recently, BMJ released an infographic which, indirectly but clearly, implied that there is some financial conflict behind the report.
Deeming Regulations Should Be Called "The Cigarette Protection Act of 2015" – The Rest of the Story
Regs are an Embarrassment to Public Health and Will Decimate the Vaping Industry

The Tobacco Vapor Electronic Cigarette Association (TVECA) has obtained a copy of the FDA electronic cigarette deeming regulations that were sent to the Office of Management and Budget (OMB) for final approval before promulgation, as well as a draft of the guidance that the agency intends to release in conjunction with the deeming regulations. The guidance relates to the recommended procedure for filing pre-market tobacco product applications (PMTA's). The TVECA has made the PMTA guidance publicly available on its web site, but did not make the deeming regulations available upon the request of the FDA….
And will undermine efforts to cut smoking – Andrew Davies
Labour's e-cigarette ban will not save a single life. Let's be clear about that from the start.

On the contrary, it is likely to undermine the efforts of tens of thousands of smokers seeking help to quit tobacco products. And therein lies the problem. Mark Drakeford's legislation isn't based on science – it's Labour nannying at its worst. In the age of obesity, it's akin to banning sweeteners because they could be a gateway to the refined stuff….
BBC Wales Today – Thank you as always to @dnglos for the YouTubage!
MSPs have called for national guidance on the risks and benefits of e-cigarettes as they backed new restrictions on their sale.
Holyrood's Health Committee also threw its weight behind a legally enforceable ban on smoking in parts of hospital grounds.

The committee has been examining a Scottish Government Bill that would introduce restrictions on the sale and marketing of e-cigarettes, including a minimum purchase age of 18 and a limit on advertising….
Why people mistakenly think RCTs (etc.) are always better – Carl V. Phillips
I recently completed a report in another subject area which explains and rebuts the naive belief by non-scientists (including some who have the title of scientists but are clearly not really scientists) that some particular epidemiologic study types are always better, no matter what question you are trying to answer. I thought it might be worthwhile to post some of that here, since it has a lot of relevance to studies of THR….
A Double Bill from Vaping Links
To stop smoking is a personal journey. It is also a personal choice. You alone are trying to stop smoking. Experts have advice on what smoking can do to you.

They are informative! Statistics of what is bad about smoking at their fingertips – reasons why smoking is bad – all kinds of stats and figures!
Holidays are coming up. Good times. Friends. Family. Gatherings. Social events. I'll bet my last tweet, there may, just may, be flavors involved in these festivities. Cookies. Candy. Pies. Cakes.

Grandma's secret confections….
Paul Blair – Americans for Tax Reform
9 million adult consumers aren't going to sit idly by as the products they accurately attribute to saving their lives are under the threat of prohibition. With the growing number of adult e-cigarette consumers in the United States, vapers represent a significant single-issue voting bloc. Candidates for federal, state, and local office would be wise to recognize this constituency as the latest addition to the "Leave Us Alone" coalition, especially in swing states and close elections….
News from Malayasia
The prices for some cigarettes have spiked following a hike of up to 40 per cent in excise duties, which the industry has called "unprecedented."

It is almost certain that prices will just continue to go up in this sick game where the government keeps raking in money because people will still keep smoking as none of the cash will be granted to a more effective anti-smoking campaign…
More time should be given to electronic cigarettes (e-cigarettes) sellers to legalise their business, said Deputy Health Minister Datuk Seri Dr Hilmi Yahaya.

Commenting on the recent nationwide clamp down on vaping by the Health Ministry, he said the action taken was a bit 'drastic'.