In the News November 9th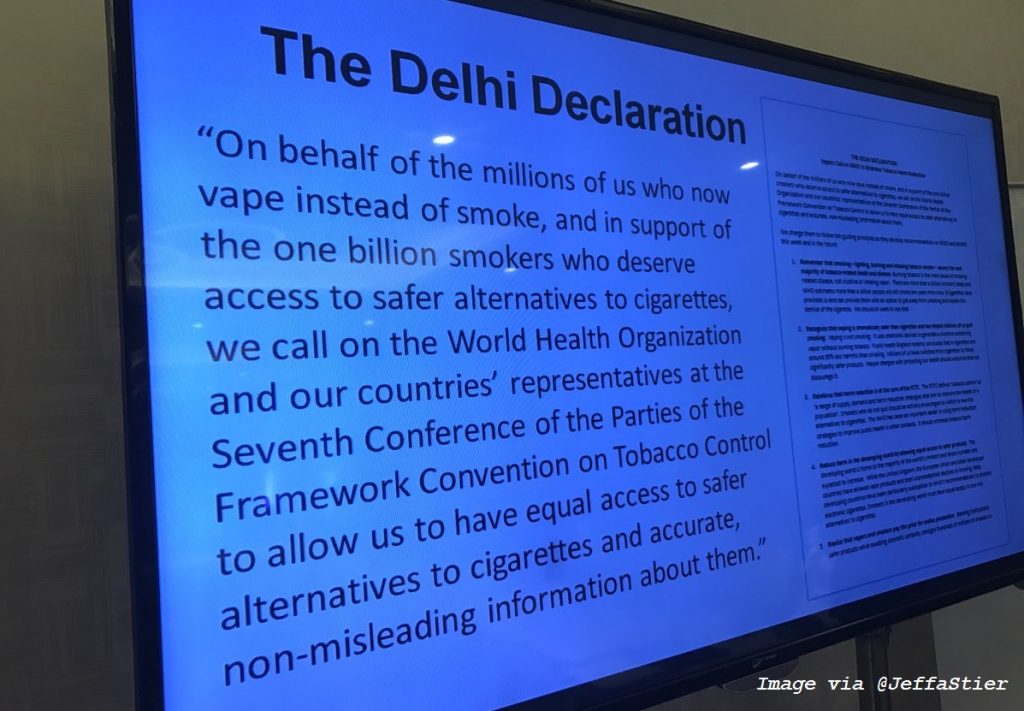 Wednesdays News at a glance:
A Well-Deserved Award And Meeting Biebert – Meeting Asian Vapers – Marijuana is being legalised, now legalise vaping – Is the worm turning? – A Challenge for Vaping – 'May', 'Might', 'Related', 'Suggest', 'Imply' – Changing how YOUR Council sees vaping – Is Bristol Mayor relaxing ban on vaping at work? – A third of councils forcing vapers to use smoking shelters – E-cigarette use in public places – Ex "Winston Man" exposes corrupt science – Vaping Is a Gateway to Quitting – ECIV briefing on the WHO report on vaping – 70% of Filipinos favor vaping – Nicotine Science and Policy Daily Digest – Wednesday, 9 November 2016
Dick Puddlecote
Last night I travelled down to Le Meridien Hotel here in New Delhi for an auspicious awards ceremony. Well, I say awards in the plural but there was only one; and unlike other awards ceremonies there were no other nominations simply because no other organisation even comes close to the winner in this category.
Dick Puddlecote
Following on from yesterday's article about the bizarre chaos at COP7, I mentioned that I had later attended an extremely useful event designed for vapers from a number of countries in Asia.

The first thing to note is that I finally saw an Indian vaper! His name was Nikhil, and a very personable young lad he was too.
Now legalise vaping – Christopher Snowdon – Velvet Glove Iron Fist
Never mind the presidential election. Today saw California, Nevada and Massachusetts join Alaska, Colorado, Oregon, and Washington in legalising marijuana (Arizona rejected it and results in Maine are still being counted). Close to a quarter of all Americans will soon have access to legal cannabis. This is progress.
Head Rambles
The world is going through an "interesting" phase at the moment. More and more we are seeing evidence of groups who think they are unaccountable, above the law and somehow superior to the rest of us.

We have the bankers and stockholders who all but brought the world to its knees with their recklessness. Very few have been brought to account…
---

---
Mawsley – Planet of the Vapes
Vaping is an escape from the vice-like grip of tobacco smoking for some. Others, playing fast and loose with evidence, claim it is the entry point to smoking. Evidence is mounting to support vaping as a controlled method to withdraw from nicotine addiction even if pharmacists may wonder if it's no different to other vices they deal with.
Bolton Smokers Club
An amusing post by Michael Siegel: Here

He comments adversely on a recent study which claims that ecig flavours are a gateway to smoking. He quotes this from the study:

"Consistent with previous findings about e-cigarette use, our findings suggest that youth use of flavored e-cigarettes might serve as a gateway for future cigarette use." [My bold]
---
Coming to a Cinema near You –  Reserve your tickets Now!
---
Vapers in Power
There is only one council in the entire country with a decent attitude towards vaping.

Thanks to the work of Freedom to Vape we now know that the vast majority of councils lump vaping in with smoking, against the advice of both Public Health England and the Health and Safety Executive.

You can read their report here. You can read the write-up in the Mirror here.
Linda Bauld, Ann McNeill, Peter Hajek, John Britton, Martin Dockrell
The availability, marketing and use of electronic cigarettes or nicotine vapourisers is subject to a range of regulations across different countries, varying from the prohibition of sales and use, to little or no regulation. The most common approach adopted in countries that permit some use of e-cigarettes has been to adapt existing laws or frameworks designed for tobacco products to include e-cigarettes.
Tristan Cork – Bristol Post
The Mayor of Bristol has conceded that council employees could be allowed to vape at their desks – or at least in a special indoor vaping room – rather than outside with smokers of traditional cigarettes.

Marvin Rees could meet representatives from the vaping industry to discuss possible changes to the rules for council workers who have given up smoking and taking up vaping instead.
To use smoking shelters – Laura Sharman
Nearly a third of councils are ignoring expert advice by forcing vapers to use the same designated spaces as smokers, according to new research.

A freedom of information request by The Freedom Association found 29% of councils require e-cigarette users to vape in designated smoking shelters.
---

---
Behind WHO's ban on e-cigarettes – eSomoking Association
Ex "Winston Man" David Goerlitz, for 25 years the icon of public campaign against smoking honoured by WHO's Medal of Honour sent back his medal to General Director of WHO, Margaret Chan. – WHO call to ban e-cigarettes is based on corrupt science, misinformation, and lies! Why WHO has never called for a ban on tobacco?! – ex "Winston Man" explains in his exclusively interview given to eSmoking Association.
Jacob Sullum – Reason
Survey data indicate that millions of Americans have used electronic cigarettes to quit smoking, thereby dramatically reducing the health risks they face. Thomas Frieden, director of the U.S. Centers for Disease Control and Prevention, is unimpressed.
European Coalition for Independent Vape (ECIV)
This briefing sets out ECIV's considered response to the latest WHO report6 on vaping. With the exception of the first heading, all others are drawn from those used in the actual WHO report.
Lyn Resurreccion
TJ Villaruz placed a tube to his mouth, and a few seconds later a cloud of "smoke" billowed. But the smoke had no tobacco stench. It smells of cinnamon.

No, Villaruz, 27, was not smoking a conventional cigarette. He was using electronic cigarette (e-cigarette). And the cloud emitted was not smoke—it was vapor

A former cigarette smoker, Villaruz turned to vaping in 2012 when he experienced chest pains, which has since gone. Also, his appetite for food has improved.
---
A look back at how things have moved on or otherwise…
European Free Vaping Initiative – Alan Beard
This appears to be a timely reminder to all who participated, or wish to find out about the EFVI, approaching it's anniversary on November 25th

EFVI was part of a European Citizens Initiative(ECI) http://ec.europa.eu/citizens-initiative/public/basic-facts that roughly condensed, states that if citizens gain 1 million signatures to a proposal, the European Commission must examine and give valid reasoning for acceptance or rejection,but that it was not obliged to adopt the measure….
Tim Worstall – Adam Smith Institute
A crucial economic distinction is between a complement (no, not a compliment) and a substitute. For example, it is often asserted that more pornography leads to more sex crime: we are indeed primates and thus potentially subject to the "monkey see, monkey do" cause of action. That would mean that pornography is a complement to sex crimes: one aids in causing the other. However, as it happens….
E-Cigarette report should be completely ignored – Dr Farsalinos
Shortly after the, now famous, e-cigarette report released by Public Health England (PHE), there has been a coordinated attack by anonymous or signed publications in well-respected academic journals criticizing PHE for releasing a recommendation which, according to their opinion, is not evidence based. More recently, BMJ released an infographic which, indirectly but clearly, implied that there is some financial conflict behind the report.
---
Visit Nicotine Science & Policy for more News from around the World

---