Vapers Digest 9th November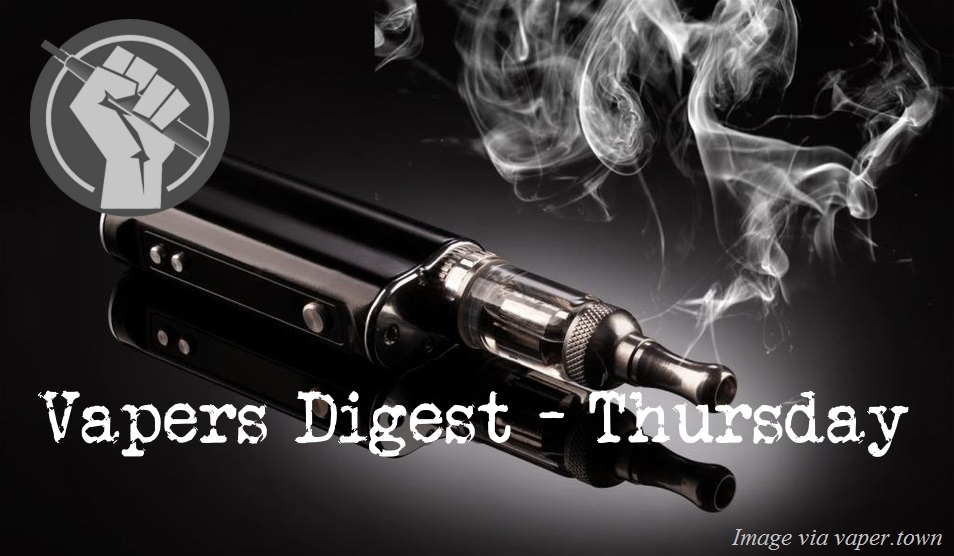 Thursday's News at a glance:
Swedish TC do it again – omissions at home and lies abroad – Another Brick in the Wall – UK MP urges caution – Singapore MPs question their government's stance on vaping – Expect FDA's 'Real Cost' Campaign To Feature Unreal Claims Against Vaping – Could Low Nicotine Levels Cause Harm? – Lafayette council member wants to ban e-cigs – E-cigarette users save more money – Study Shows E-Cigarettes Much Safer – Lawmakers raise e-cigarette taxes – Nicotine Science and Policy Daily Digest
Omissions at home and lies abroad – Atakan Erik Befrits
The public support for Tobacco Endgame – Smoke Free Sweden 2025 is increasing. This folder updates the information on the endgame initiative – what it means and what it takes to join and be a supporting
organisation.

In Sweden the yearly death toll from smoking is approximately 12 000 people, and every year 100 000 smokers are in need for hospital care due to smoking related diseases….
Harry Shapiro
My friend Ethan Nadelmann once told of a conversation he had with an officer from the US Drug Enforcement Administration. Ethan asked him if there was anything they could agree upon, any common ground across which a bridge could be built. The officer replied that the wall between their views was just too high for him to want to climb over and engage in meaningful dialogue.

On the strength of the latest example hot from the desk of the WHO, I fear that is where we are with this agency too.
---

---
Over suggesting e-cigs as safer alternatives – Diane Caruana
Despite the number of studies indicating that e-cigarettes have great potential as smoking cessation tools, speaking in Westminster MP Gregory Lloyd Campbell said that it would be wrong of governments to promote the devices as such.

Campbell added that the real hurdle will be reaching the hardcore smokers. "Part of the traditional problem with smoking has been that when the number of smokers declined and we got down to about 20 per cent, it was then difficult to make further inroads, "
---
---
Importing and selling vaping products has been banned in the island city-state since 2014, and possession of the products has been made illegal since December 2015. In line with Singapore's Tobacco (Control of Advertisements and Sale) Act, anyone caught in possession of the products will be fined $2000  and as a consequence of this, Singapore is now known to have a thriving e-cigarette black market.
---

---
Brent Stafford, Regualtor Watch
"Electronic cigarettes are not a magic cure," says Dr. Lynne Dawkins co-author of the British Psychological Society's briefing on Electronic Cigarettes. That's why improving ease of use and "not restricting levels of nicotine in the liquid to arbitrary low levels" should be a priority for the industry and regulators, in order to encourage smokers to make the switch.

In this RegWatch Web Extra hear more Dr. Dawkins on why she thinks capping the levels of nicotine could do more harm than good—only on RegWatch by RegulatorWatch.com.
To Feature Unreal Claims Against Vaping
Carl V. Phillips, Daily Vaper
In August, the FDA announced that its "Real Cost" campaign, a series of over-the-top messages designed to manipulate teenagers, would be expanded from traditional tobacco products to include attacks on vaping. This is expected to launch within the next few months. The messages are likely to further interfere with tobacco harm reduction efforts.

For those not familiar, the campaign consists mainly of a series of television ads, targeting viewers of South Park and similar programs, which show grisly "disease porn" images and make false or misleading claims about risks.

Gordon Jackson
E-cigarette users in Lafayette could soon see more restrictions on where they can vape.
Right now, there is no city ban on electronic cigarettes. But council member Ron Campbell feels vaping is as much of a nuisance as traditional cigarette smoke.
That's why he would like to see vaping only in restricted areas. He's proposing that e-cigarettes be banned in the same places as cigarette smoking.
"I see them all over," said Campbell. "If you're following somebody, you see a huge bloom of smoke."
Laura Kelly – The Washington Times
Switching from cigarettes to vaping products save users an average of $1,500 per year, according to an online poll of daily e-cigarette users.

Packs of cigarettes can range in price from around $6 to as high as $14 depending on the state and their taxes. Heavy smokers can burn through a pack a day.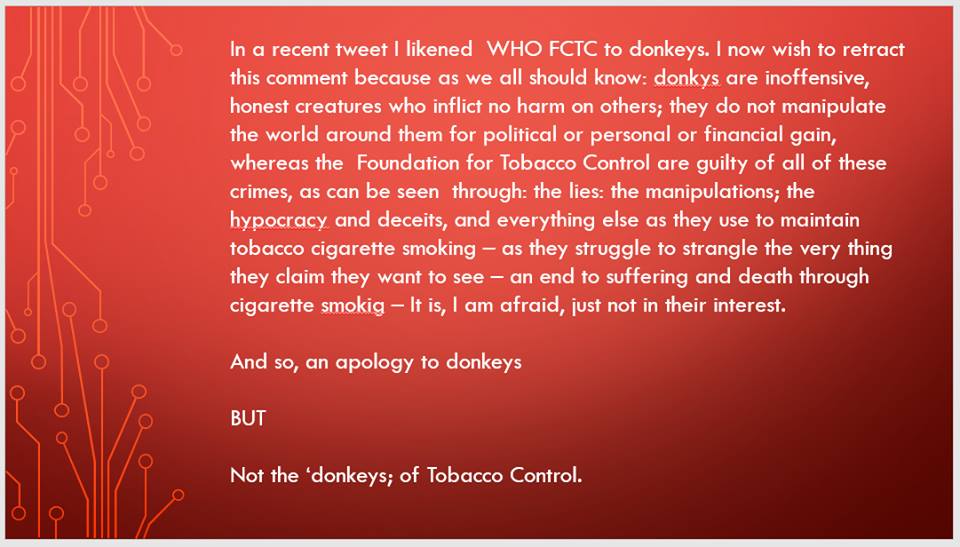 Jakarta
Electronic cigarettes are much safer and less toxic than conventional tobacco, according to the findings of a study that analyzed the levels of dangerous substances in such products.

Achmad Syawqie Yazid, founder of the Indonesian Public Health Observers Foundation (YPKP), said on Thursday (09/11) that many people still do not understand the effects of alternatives, such as nicotine pastes, snus, e-cigarettes and heat-not-burn tobacco products.
The National Assembly decided to increase the individual consumption tax on sticks for so-called heat-not-burn cigarettes sold in Korea. They include Philip Morris' IQOS, British America Tobacco's glo and KT&G's lil. These devices electronically heat up sticks of tobacco to a point at which nicotine can still be extracted without burning them like conventional cigarettes.

Currently, the tax on a pack of 20 tobacco sticks is 126 won ($0.11), compared to 594 won for conventional cigarettes. Under the revised law, the individual consumption tax for sticks will rise to 529 won
---
A look back at how things have moved on or otherwise….
Dick Puddlecote
Last night I travelled down to Le Meridien Hotel here in New Delhi for an auspicious awards ceremony. Well, I say awards in the plural but there was only one; and unlike other awards ceremonies there were no other nominations simply because no other organisation even comes close to the winner in this category.
Dick Puddlecote
Following on from yesterday's article about the bizarre chaos at COP7, I mentioned that I had later attended an extremely useful event designed for vapers from a number of countries in Asia.

The first thing to note is that I finally saw an Indian vaper! His name was Nikhil, and a very personable young lad he was too.
Now legalise vaping – Christopher Snowdon – Velvet Glove Iron Fist
Never mind the presidential election. Today saw California, Nevada and Massachusetts join Alaska, Colorado, Oregon, and Washington in legalising marijuana (Arizona rejected it and results in Maine are still being counted). Close to a quarter of all Americans will soon have access to legal cannabis. This is progress.
Head Rambles
The world is going through an "interesting" phase at the moment. More and more we are seeing evidence of groups who think they are unaccountable, above the law and somehow superior to the rest of us.

We have the bankers and stockholders who all but brought the world to its knees with their recklessness. Very few have been brought to account…
---
Visit Nicotine Science & Policy for more News from around the World

---