Vaping Digest November 13th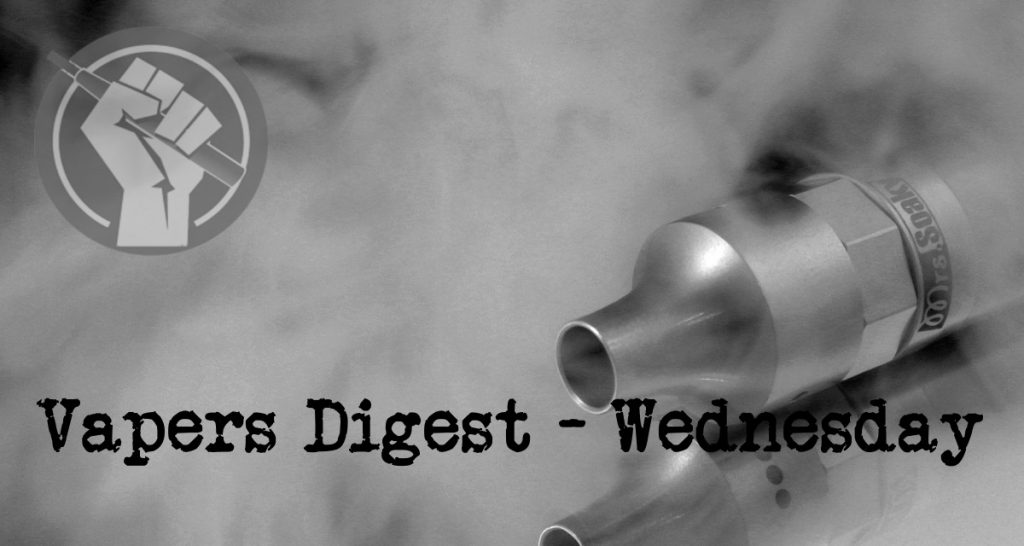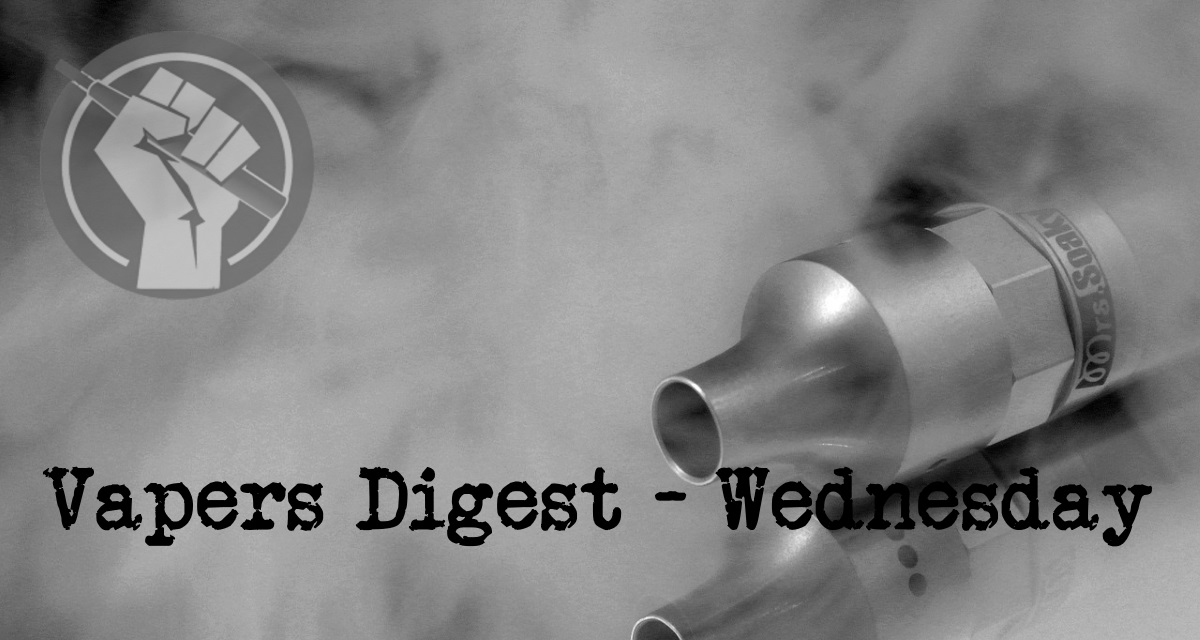 Wednesday's News at a glance:
The War Against E-Cigarettes Is Profoundly Wrong ~ Expert reaction to case study linking lung inflammation to vaping in a 16-year-old ~ Expert reaction to study looking at e-cigarette vapour and vascular effects in mice and smokers ~ Harry's blog 95: Flavour bans are fruitless ~ Duterte certifies alcohol, e-cigarette excise tax hike bill urgent ~ South Korea bans liquid e-cigarettes on army bases ~ Fixed it for you – a Science Lesson based on a anti-vaping junk newspaper article ~ White House Rally: Look What You Did, Vapers! ~ Our Voices: We, The People ~ IT'S A PUBLIC HEALTH SCANDAL ~ 'We vape. We vote': Pro-vaping groups protest flavor ban ~ Trump announced a big vaping meeting, but who's invited? ~ Giving in to the moral panic on vaping would risk the lives of smokers ~ Banning E-Cigarettes Could Do More Harm Than Good ~ A Taxing Issue ~ Hypersensitivity pneumonitis ~ Glantz Discipline Letter Leak ~ The Bias Against E-Cigarettes in Medical Research: An Example from the American Heart Association Annual Meeting ~ Opportunity For the World-Wide Research Community: Spend 15 Minutes to Counter Falsified Research in the Journal of the American Heart Association
Steve Forbes, Forbes

You'd never know it from all the lurid headlines in recent months about the seeming epidemic of deaths from "smoking" e-cigarettes, but vaping is actually a public-health godsend for smokers. The hysteria surrounding vaping says more about the peculiar fevers of our times than about the realities of puffing e-cigarettes.

Those deaths we hear about didn't result from normal e-cigarettes but from tainted contents, particularly the active ingredient found in cannabis. The cries for prohibiting vaping make no more sense than banning milk because a few bad characters peddled adulterated versions.
Two from Science Media Centre
Dr Nick Hopkinson, British Lung Foundation Medical Director and Reader in Respiratory Medicine at Imperial College London, said:

"It's possible the patient's illness could have been due to an allergic response to a component of e-cigarette vapour. However, in this kind of condition it can often be difficult to make an accurate diagnosis or know for certain what the cause is.
Prof Peter Hajek, Director of the Tobacco Dependence Research Unit, Queen Mary University of London, said:

"The authors detected two effects.  In human smokers, nicotine from e-cigarettes produced a typical acute stimulant effect, also seen after drinking coffee, that on its own signals no danger.  In mice and in tissue samples, acrolein, a chemical that can be generated when e-liquid is fried, had more damaging effects.  This however is not relevant for human vapers.
Harry Shapiro, Nicotine Science and Policy
Anti-tobacco harm reduction campaigners backed by US Federal and state authorities, supportive media and large wodges of Bloomberg cash are about to deliver the worst possible news for millions of American smokers who wish to continue using nicotine while significantly reducing the risk of a premature and painful death.
---

---
Christia Marie Ramos, Inquirer News
President Rodrigo Duterte has certified as urgent a proposed law that will increase excise tax on liquor, e-cigarettes, and vapor products. In a November 12-letter to Senate President Vicente Sotto III, Duterte underscored the "necessity of the immediate enactment" of Senate Bill No. 1074, which, he noted, will "address the urgent need to generate additional revenue to support the effective implementation of the Universal Health Care Act and to further protect the right and health of the people."
CNBC
The South Korean Army has banned the use and possession of liquid e-cigarettes on its bases for health reasons, the military said on Monday, following a government warning for people to stop using the devices.
---
Anti-THR Lies, Carl V. Phillips
I was asked to write something about the "research result" that was the germ of this Daily Mail article. I realized that I could turn the whole article into a science lesson about not only the particular result, but about the general flaws in this field. So here it is, in the form of a "fixed it for you" rewrite of all of it.
---
Is there something big driving the recent anti-vaping headlines? The Totally Wicked Vape Podcast is back. Rachel sits down with Technical Director, Liam Humberstone to discuss the recent attacks on vaping. https://t.co/tIEhvxFi1a #vapingsaveslives

— Totally Wicked_UK (@Mr_Wicked) November 13, 2019
— Jesse George (@jessegeorgeky1) November 13, 2019
---
Jim McDonald, Vaping 360
The rally last Saturday in Washington was postponed for an hour while President Trump prepared to board a helicopter on his way to a football game. Vapers waited patiently across the street near the Washington Monument.

When Trump took off, he flew right over the vapers, who had come from all over the country to meet in his backyard and warn that he should fear their political strength—especially in battleground states he barely won last time around.
Kevin Crowley, Vaping Links
Over the weekend, I took a little trip to Washington, D.C. to exercise my first amendment rights with a few friends. It's kind of a thing, speaking my mind. Knock, knock, Mr. President. On Friday, while I traveled to D.C., President Trump stated they'd be coming out with a "very important position on vaping" and mentioned raising the age to "21 or so", as reported here.
Guy Bentley, Brent Stafford, Regulator Watch
Nick Rose, Yahoo Finance
E-cigarette users converged upon Washington D.C. on Saturday to deliver a simple message to U.S. lawmakers: They vape and they vote. The vaping activists traveled from across the country, some from key swing states, to protest a proposed ban on flavored e-cigarette products which, they say, could hurt President Trump's chances at winning re-election in 2020.
President Donald Trump announced plans for what appeared to be a wide-ranging meeting to find solutions for kids and businesses impacted by the "Vaping and E-cigarette dilemma," in a tweet on Monday.

According to Trump, the meeting would be attended by medical professionals, as well as vaping industry and state representatives. "Children's health & safety, together with jobs, will be a focus!" he said in the tweet.
---
, The Telegraph
When people have severe allergic reactions to peanuts, we have every sympathy with their experience – and rightly so. But if the BBC responded by fabricating a health panic about the general population's peanut consumption, we'd think Auntie had gone completely bonkers.

This is exactly what's happening with vaping. The case of Ewan Fisher – a 16-year-old boy suffering with severe lung inflammation after a presumed allergic reaction from using an e-cigarette – has dominated headlines in recent days.

---
Michael Siegel , The Rest of the Story
Later this week, the American Heart Association will hold its annual scientific conference in Philadelphia. In anticipation of the conference, the American Heart Association issued a press release yesterday announcing the results of a new study on e-cigarettes that will presented at the conference. The headline of the press release is: "E-cigarettes take serious toll on heart health, not safer than traditional cigarettes."
Brad Rodu, Tobacco Truth
The Journal of the American Heart Association on June 5, 2019, published a bogus research article, "Electronic cigarette use and myocardial infarction among adults in the US Population Assessment of Tobacco and Health [PATH]," by Dharma N. Bhatta and Stanton A. Glantz (here).

Drs. Bhatta and Glantz used PATH Wave 1 survey data to claim that e-cigarette use caused heart attacks. However, the public use data shows that 11 of the 38 current e-cigarette users in their study had a heart attack years before they first started using e-cigarettes.
---
Visit Nicotine Science & Policy for more News from around the World

---