Vaping Digest November 15th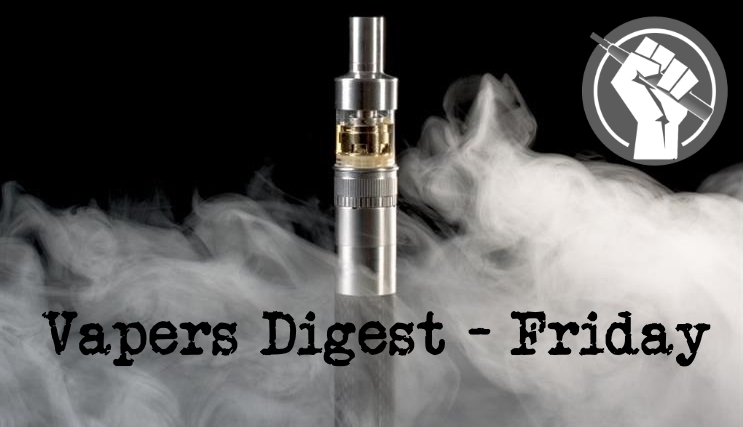 Friday's News at a glance:
E-Cig Summit Round Up 2019 – Act Now: Say No to a Senate Bill – Hypersensitivity pneumonitis – Vaping #1 in Wales – Preventing a Catastrophe – Blood Vessel Study Trashed – Massachusetts House Passes Bill that Promotes Marlboro Cigarettes – Surgeon General Endorses Dubious Research – Is it safe to vape? – Apple removes vaping apps from app store – Netflix's Broken Highlights – Vaping hysteria's other victims – US and Europe are worlds apart – Why isn't vitamin E acetate illegal? – B.C. to hike taxes on vaping – Nicotine Science and Policy Daily Digest
James Dunworth, Ashtray Blog
Time drifts away like a cloud of gentle vapour, and after attending the 1st E-Cigarette summit in 2013 (and every one since!) it seems astonishing to find myself at the 7th event.

Events change too, and gone are the huddles of dedicated vapers at the back of the room. Indeed, you can't now vape in the building of the Royal Society, or even in the forecourt. Instead you have to head to the side of the road and join the tobacco guys, the engineers and the occasional remaining advocate for a chilly vape and warmer conversation.
That Will Ban Vape Mail! – Jim McDonald, Vaping 360
The Senate is considering a bill that would prohibit the U.S. Postal Service from shipping vapor products, and would require online purchasers to pay extra for point-of-delivery age verification. The cost of an online vaping purchase could increase by as much as $20.

Senate bill S 1253 is known as the Preventing Online Sales of E-Cigarettes to Children Act. The House of Representatives already passed an identical bill (HR 3942) on Oct. 28. If the Senate approves the bill, it will go to President Trump to be signed into law or vetoed.
---

---
That Promotes Marlboro; Why are They Doing This Huge Favor for Philip Morris?
Michael Siegel, The Rest Of The Story
Yesterday was a dream come true at the Massachusetts State House for Philip Morris USA – the nation's largest domestic cigarette manufacturer. The House voted to approve a bill that bans the sale of all e-cigarettes except those with tobacco flavoring, bans the sale of menthol cigarettes, and imposes a 75% excise tax on all e-cigarettes. According to an article in the Boston Globe, the aim of the legislation is "to protect young people from the harmful effects of tobacco."
Alex Berezow
It hasn't been a good year for U.S. Surgeon General Jerome Adams.

Back in July, Dr. Adams endorsed giving post-operative patients Tylenol instead of morphine. Let's think about surgery for a moment. It often involves cutting through a person's skin and muscle, poking and pulling at stuff inside, and then sewing it all up like a patch on worn jeans. It's painful, and a couple of Tylenol probably won't cut it for many people.
---
---
As docs urge e-cig ban after Brit teen nearly died – The Sun
WITH a British teenager having suffered a severe allergic reaction to vaping, users fear the alternative to cigarettes could carry hidden dangers.

But while a German professor warned that e-cigs might harm the brain, lungs, heart and blood vessels, the extent of the risk remains unclear. Here, British expert Professor PETER HAJEK answers the big questions.
BBC News
Apple is removing all vaping apps from its online store. It said it had taken the decision because of growing official concerns about the impact vaping can have on health.

In the US, 42 deaths and more than 2,100 cases of lung injury have been linked to a respiratory illness tied to vaping.

Apple's decision means a total of 181 apps will not be available on iPhones, reports tech news site Axios.

Four from Dave Cross, Planet of the Vapes
The BBC and numerous other news outlets are reporting that a 16yr-old Nottingham teen contracted hypersensitivity pneumonitis and was admitted to hospital following something he breathed in. Questions have to be asked about the reason why this is being covered now and not in 2016 when it happened and why it is being used to spread fear in vapers and smokers.

Doctors Nair, Hurley, Gates, Davies, Chen, Todd, Fairclough, Bush, Mahendra Bhatt write about "a previously healthy 16-year-old boy presented to the emergency department with a 7-day history of fever, cough and increasing difficulty breathing despite oral antibiotics and inhaled salbutamol."
Vaping is now the number one quit smoking method in Wales according to the latest data published by Welsh government. Twice as many smokers in the principality chose to use electronic cigarettes to switch away from tobacco than those who opted for traditional nicotine replacement products like gum or patches.

The Welsh government says, "Tobacco is the leading single cause of premature death in Wales and a major contributor to health inequalities." The Tobacco Control Action Plan for Wales set out a vision of a smoke-free society for Wales in 2012 and stated an aim of reducing adult smoking levels to 16% by 2020.
Is the onslaught of anti-vaping news giving you paws for thought? Well, did you know that there is a greater danger poised to knock vaping of the prohibitionist's flat table? Fur real, we're not kitten you. Even Stanton Glantz would agree that the clawful prospect of this new furmidable threat is one that should leave us all feline worried.

"CATS ARE SERIOUSLY DANGEROUS," shouts the headline. "While the Cat Industry claims that some types of cats are safer than others, science proves that cats are a serious risk to kids."
Every year prior to the E-Cigarette Summit meeting at The Royal Society in London the media is flooded with second-rate studies and scare stories about vaping. This week we've seen a boy claim vaping almost killed him, and today German cardiologists claim vaping damages the brain, heart, blood vessels and lungs.

The researchers say in the paper that "aggressive steps are warranted to limit" the use of electronic cigarettes. "We cannot allow an entire generation to become addicted to nicotine," said lead author Münzel, so he set about aggressively harming loads of mice.
---

---
Near schools and playgrounds – Harry Brent
Minister Harris, speaking at the launch of a new patient advocacy service on Wednesday said he wanted to crack down on advertisements of e-cigarettes and vaping products close to schools, creches and playgrounds.

"I had an excellent meeting with the Irish Cancer Society and the Irish Heart Foundation yesterday in relation to this. They, like I, are extremely concerned in relation to vaping products are being marketed as cessation tools.
The Dangers Of E-Cigarettes And Fake Beauty Products
In an upcoming original series, Netflix is tackling the vaping crisis that's left 39 dead and over 2,000 sick in the United States. The Broken docuseries — which will air on Netflix on 27 November — will look into issues within four big industries in America: vaping, plastic, counterfeit beauty products, and pre-made furniture. In a trailer released Wednesday, you'll get a sneak peek of each episode, including snippets from an interview with the co-founder of JUUL.
---
Discusses the US lung injuries on the BBC World Service
Thanks as always to @dnglos for the YouTubage
Also uploaded this week:
---
Cigarette smokers who won't now quit – Marni Soupcoff
The underacknowledged danger of the recent spate of vaping-related deaths and illnesses is that we'll lose the progress that has been made in the public health goal of getting people to quit smoking.

That might not seem like such a great peril. But if there is any contrast to the ambiguity about the long-term health effects of vaping, it is the absolute scientific certitude about the deadly damage conventional cigarettes, and their dozens of human carcinogens, cause the people who smoke them.
That the US and Europe are worlds apart – Ian King
"Americans are from Mars, Europeans from Venus." So said Robert Kagan, a former foreign policy official in the Reagan administration, in his book Of Paradise And Power, America And Europe In The New World Order.

Published in early 2003, on the eve of the second Gulf War, Mr Kagan explored why, in the fields of foreign policy and defence, Americans and Europeans so frequently disagree.

The business world has long known of this divide. The corporate annals are full of examples of American companies failing to crack Europe, such as Wal-Mart in Germany, and of European businesses failing to crack the US, such as Tesco, Saab and Carrefour.

Jayne O'Donnell and David Robinson
State officials are reconsidering their marijuana regulations and quality control in the wake of investigators' discovery that 29 patients with vaping-related lung illness tested recently had greasy vitamin E acetate from THC in their lungs.

Dr. Anne Schuchat, principal deputy director of the Centers for Disease Control and Prevention, said last week states are trying to decide whether their oversight needs strengthening as the monthslong national outbreak continues and the number of cases and deaths rise each week.
But not ban flavours
B.C. will hike taxes on vaping products and restrict the amount of nicotine in e-cigarettes but not ban flavoured vape juice, under new regulations revealed Thursday.

Health Minister Adrian Dix said he will introduce legislation this month to increase the provincial sales tax from seven per cent to 20 per cent on vaping products, becoming the first province in Canada to specifically tax e-cigarettes.

The new tax rate will come into effect Jan. 1, 2020, if the legislation passes. It would also increase the tobacco tax rate by two cents to 29.5 cents per cigarette.
About restricting sales of e-cigarette flavors
Wisconsin U.S. Sen. Ron Johnson says he has concerns about reports the Trump administration is planning to restrict sales of e-cigarette flavors (see related story).

The Trump administration plans to announce this week how it intends to curb underage vaping. Health and Human Services Secretary Alex Azar said in September the Food and Drug Administration will develop guidelines to remove all e-cigarette flavors except tobacco from the market.
May deliver nicotine more effectively than others
When it comes to nicotine delivery, not all electronic cigarettes are created equally, according to Penn State researchers. New research from Penn State College of Medicine shows that JUUL, a popular pod-based electronic cigarette, can deliver more nicotine at a faster rate than most other types of electronic cigarettes that have been studied.

Jessica Yingst, first author and researcher at the College of Medicine, said that previous studies of other electronic cigarettes with high liquid nicotine concentrations revealed that many delivered very little nicotine to the user. The researchers profiled the nicotine delivery capabilities of JUUL, which is known to have a high concentration of nicotine in its pods.
Now There's Vape Sober – Alex Norcia
Keith Fairman spent his childhood visiting his mom in prison. As he grew up, he fell into drugs and racked up more than 20 felonies, he said. That descent halted in March 2009, when Fairman was imprisoned in Florida's Miami-Dade County jail, where another inmate sparked an epiphany. He told Fairman this would be his life forever—out on the streets and behind bars, a never-ending cycle. The words stuck. After Fairman was released the next day, he deleted most of the contacts from his phone, so he wouldn't be able to find drugs even if he wanted to…
To protect tobacco farmers
Metro Manila (CNN Philippines, November 14) – A bill seeking to regulate vaping products has been filed at the House of Representatives.

AAMBIS-OWA Party-list Representative Sharon Garin's House Bill 5099 or Electronic Nicotine Delivery Systems/Electronic Non-Nicotine Delivery Systems (ENDS/ENNDS), Heat-Not-Burn devices Regulation Act of 2019 has been pending with the Committee on Trade and Industry since last week.
---
A look back at how things have moved on or otherwise….
 

Jeff Stier

, American Greatness
Government agencies populated with scientists people are pleased to call "experts" are often thought to be above the ordinary give-and-take of politics and, especially, immune to the clarion calls of activists and pressure of public opinion. Scientific experts, or "the science-based community," is supposed to be driven by data and evidence, not the naked pressure of agenda driven interests. As we will see in the case of the Food and Drug Administration's relationship to e-cigarette regulation, these assumptions about the impartiality of scientists don't always hold water.
Jacob Sullum, Reason
Critics of the vaping industry portray the flavors that the Food and Drug Administration wants to ban from stores that admit minors as evidence of a conspiracy to hook the youth of America on nicotine. The FDA itself has a more sophisticated understanding of the market but is still far too willing to sacrifice the interests of adult smokers in the name of fighting an "epidemic" of underage e-cigarette use.
Dr Marewa Glover, Australian Tobacco Harm Reduction Association
New harm-reduced alternatives to smoking mean there is no excuse for Governments to leave Aboriginal and other Indigenous people to die.

In this guest blog, Dr Marewa Glover (@MarewaGlover on Twitter), Director of the Auckland based Centre of Research Excellence: Indigenous Sovereignty & Smoking, reflects on the 5th National Indigenous Drug & Alcohol Conference (NIDAC) held in Adelaide last week.

Indigenous people stand to gain proportionately more from the public health benefits that will result from the introduction of vaping and other risk-reduced products like Swedish snus and heated tobacco products.
---
Visit Nicotine Science & Policy for more News from around the World

---