Vaping Digest November 18th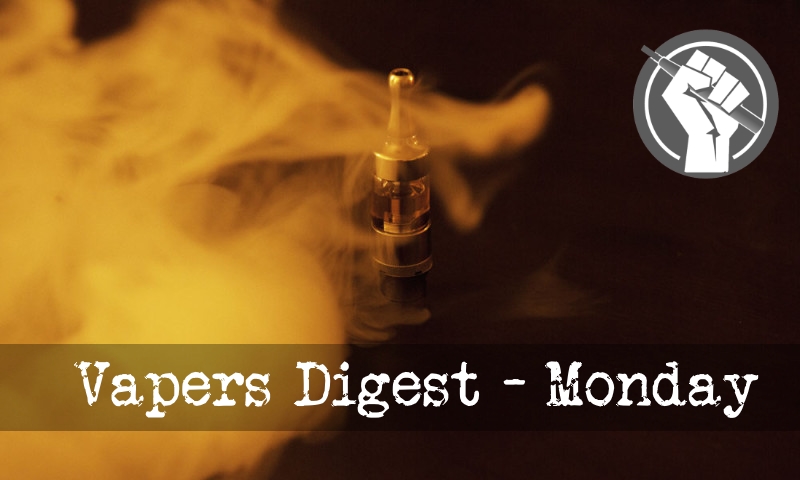 Monday's News at a glance:
Is vaping safe? – Landmark study identifies cardiovascular benefits – Switch to vaping 'helps smokers' hearts' – Vaping In The News November 16th – American Heart Association Claims – Merseyrail bans smoking, vaping and e-cigarettes – Ad Study Analysed – No Gateway – Apple Removes Vaping Content – Philippines' Health chief backs e-cigarette regulation – Vaping deaths: Are e-cigarettes really safer – Iowa attorney general stands up for e-cigs – Picturing the Risk of Smoking vs Vaping – Public health experts slam Government advice – Nicotine Science and Policy Daily Digest
British Heart Foundation
A study from the University of Dundee, published in November 2019 and funded by the British Heart Foundation, suggests that vaping may be less harmful to your blood vessels than smoking cigarettes. Within just one month of switching tobacco for electronic cigarettes, measures of blood vessel health, including blood pressure and stiffness of their arteries, had started to improve. The study looked at 114 people who had smoked at least 15 cigarettes a day for at least two years.
Cardiovascular benefits as early as 1 month after switching from smoking to e-cigarette use
Dr Farsalinos, E-Cigarette Research
A study published today in the Journal of the American College of Cardiology (JACC) provides the most fascinating news for smokers who have managed to quit using e-cigarettes. Improvements in vascular function were observed as early as 1 month after making the switch. Similar improvements were observed for those using nicotine-containing and nicotine-free e-cigarettes, debunking a common myth (which has already been disproven through snus research) that nicotine contributes substantially to smoking-related cardiovascular risk.
James Gallagher, BBC Health
Smokers can improve the health of their hearts within weeks of switching to e-cigarettes, the largest trial of its kind shows. The month-long study of 114 smokers suggests vaping has the potential to reduce heart attack and stroke risk.

The team, at the University of Dundee, stressed vaping was "not safe" – just less harmful than tobacco. The British Heart Foundation said stopping smoking was the single best thing you could do for your heart. Chemicals in cigarette smoke narrow arteries as they get furred up with fatty deposits increasing the risk of a deadly blockage. Ultimately smoking doubles your risk of having a heart attack.
---

---
E-Cigarettes are as Harmful as Smoking, a Clinical Trial Shows Immediate Cardiovascular Improvement After Smokers Switched to E-Cigarettes
Michael Siegel, The Rest of the Story
Last week, the American Heart Association issued a press release whose headline read: "E-cigarettes take serious toll on heart health, not safer than traditional cigarettes."

But while the American Heart Association was busy disseminating this message throughout the world, the results of an actual clinical trial of this very research question demonstrated the almost immediate improvement in cardiovascular health that occurs when smokers switch to e-cigarettes.
Kevin Crowley, Vaping Links
Landmark study ~ The Corruption of Public Health ~ The War Against E-Cigarettes Is Profoundly Wrong ~ Rep. Lakeshia Myers ~ Vaping Industry Defends Right To Use Legal Products ~ #QuitLYING #EndTheLies, American Heart Association ~ Our Voices: We, The People ~ Rally, BOSTON, Massachusetts ~ Vape ban Violators face fines, loss of cars ~ E-Cig Summit Round Up 2019 ~ Say No to a Senate Bill That Will Ban Vape Mail! ~ SNUS
---
---
Tom Houghton
Merseyrail has today announced it will ban smoking at every one of its stations from December 1.  From the start of next month, smoking, including e-cigarettes and vaping, will be banned from all public areas of the network's stations – with the exception of car parks.

Merseyrail said the move comes off the back of the national Stoptober campaign, and is part of its commitment to cleaner air and the comfort of its passengers across the network. Staff and Byelaw Enforcement officers will also be "actively requesting" commuters, shoppers and other passengers to stop smoking on platforms and other areas of stations.

Dave Cross, Planet of the Vapes
Alice Davies and Sophia Lowes from Cancer Research UK, with assistance from Professor Linda Bauld at the University of Edinburgh and the UK Centre for Tobacco and Alcohol Studies, looked at research examining youth perceptions of vape advertising.

Researchers from America, Canada and the United Kingdom analysed data from the 2017 ITC Youth Tobacco and Vaping Survey. They examined young people's exposure to and perceptions of vaping marketing in all three countries.
Dave Cross, Planet of the Vapes
New research in the medical journal Nicotine & Tobacco Research finds that previous studies claiming a link from vaping to smoking is flawed and is more a case of vapers sharing risk factors with smokers. Lead author Arielle Selya said the work debunks the so-called "gateway hypothesis".

While pointing out the potential drawbacks of vaping, the paper notes: "e-cigarettes may aid in reducing or quitting conventional cigarette smoking, therefore, resulting in substantial harm reduction."
---

---
Jim McDonald, Vaping 360
Apple removed 181 vaping apps from its App Store yesterday, preventing developers from updating them and new phone buyers from downloading them. Existing users may continue to use them for now, but future iOS updates may render them unusable.

The change wasn't entirely unexpected. Apple had announced in early 2017 that it would no longer accept new vaping apps from developers. The new policy will prevent updates to existing apps as well.
Emma Snaith, Independent
It is thought that Vitamin E acetate, an oily chemical added to some THC vaping liquids, could be behind the mystery illness after the substance was found in every lung fluid sample from afflicted patients.

But in the UK, no vaping-related deaths have been confirmed and health officials continue to endorse e-cigarettes as an effective way to quit smoking.
After winning 1998 big tobacco lawsuit
"If smokers were to switch to e-cigarettes they could well save their lives," Miller said. Miller knows his opinion is not common in the anti-tobacco community.

"That's not surprising," Miller said. "They fought this battle for a long time. They see it as the same battle. I see it as totally different."

Iowa has received more than $1 billion from the landmark 1998 settlement against big tobacco Miller helped lead. He sees e-cigarettes as yet another way to move people away from smoking traditional combustible cigarettes.

Dr Marewa Glover (PDF)
To scare people, anti-tobacco harm reduction (THR) lobbyists often exaggerate the risks associated with vaping or using snus or a tobacco heating device.

A common metaphor they use likens the risk of smoking to jumping off of a 10-story building! Using a risk-reduced alternative, such as snus, a heated tobacco product or vaping, they say is like jumping out of a window on the 6th floor.1,2 This is absurd! They're implying that both smoking, and use of any of these less risky products, will kill you. But, only about half of long-term smokers will die from a smoking-related disease.
ATHRA
Doctors and tobacco experts have slammed the latest government guidelines on e-cigarettes claiming it exaggerates the harms of vaping nicotine and is forcing people back to smoking.

New advice released last week on a government health website claims "e-cigarettes are not proven to be effective in helping people give up smoking". The article also said there was new evidence linking "electronic cigarettes and lung disease".
Implies use of devices also prohibited
The Indian government has told a court that its federal ban on the sale of electronic cigarettes implies that their use is also prohibited, legal documents seen by Reuters showed, in a further clampdown on the devices.

Citing health risks, India in September banned the import, manufacture, sale, advertisement, storage and distribution of e-cigarettes, dashing future plans of companies such as U.S.-based Juul Labs and Philip Morris International.
THE haze has come and gone, but there is still a cloud of smoke hanging over the issue of e-cigarettes.

Almost every other day or week, there is yet another Malaysian voice clamouring in the mainstream media or on social media for a blanket ban on these devices, also known as vape.

Several deaths in the US tenuously linked to vaping don't help matters. Let's lay some cards on the table first: smoking and vaping are not healthy.
Backs e-cigarette regulation over total ban on vape
Health Secretary Francisco Duque III on Saturday said he would support measures that would regulate the use of e-cigarettes instead of policies banning the product. Duque's statement is a departure from the Department of Health's recent call to ban electronic cigarettes in the country.

"If I had my way, I want to ban it but we have to be more evidence-based. We have to have more scientific basis for banning it," Duque told ANC's Dateline Philippines Weekend.
---
A look back at how things have moved on or otherwise….
New Nicotine Alliance
Here is the text from Sarah's talk at the E-Cigarette Summit at the Royal Society on 15 November 2018:

The veterans of harm reduction will tell you that they've seen all this before. Some see it as a battle between absolutism and pragmatism, and that a pragmatic view necessitates the involvement of all parties, including industry.

Others see it as a fight for the vulnerable against powerful commercial interests, and so those interests must be excluded and fought at all costs.
James Dunworth – Ashtray Blog
I still can't believe that we've reached the 6th E-Cig Summit – it doesn't seem so long ago that the first one was held! This is very much a non-commercial conference, with sales pitches banned (hooray!) and proficient speakers who are good at lightening up some challenging topics with a bit of humour. Add that to superb organisation and it all makes for a great conference.

I'd like everyone who is interested in vaping to go along, but not everyone has the time or the funds. So once again, for those of you who are interested I've popped my notes on to the blog.
---
Visit Nicotine Science & Policy for more News from around the World

---