Vaping Digest November 20th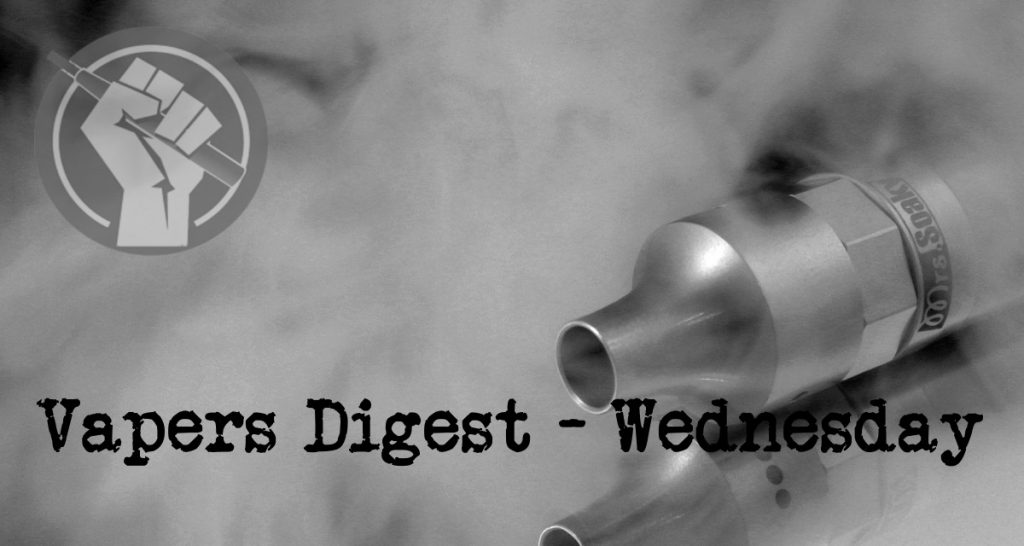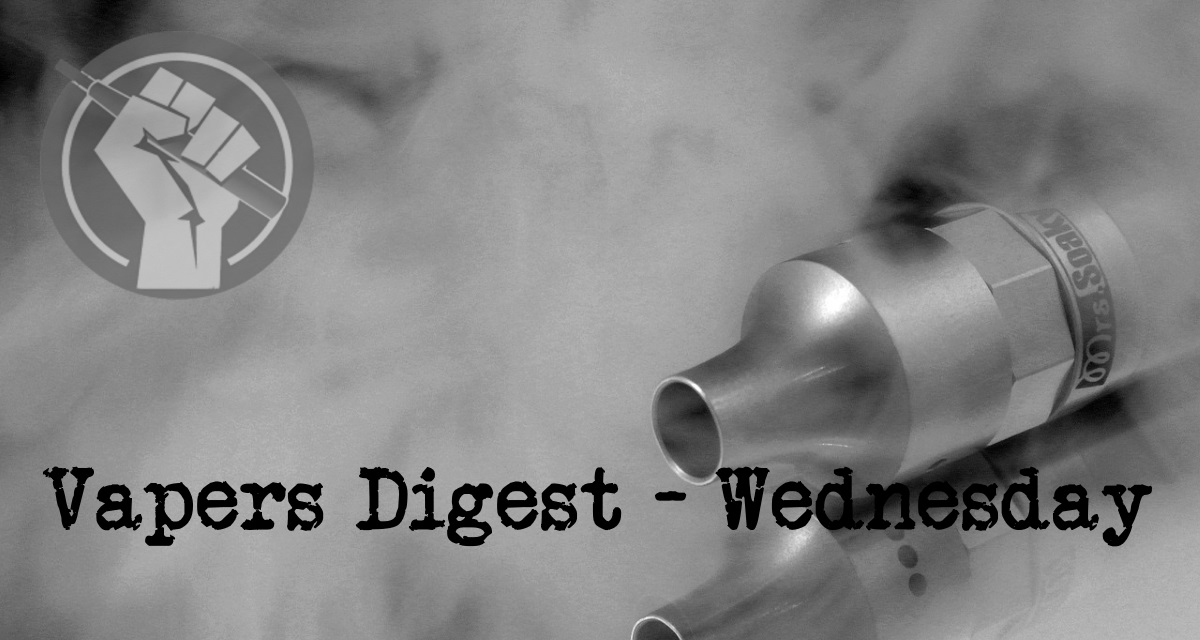 Wednesday's News at a glance:
Communicating the relative health risks of E-cigarettes ~ Duterte bans use, importation of vapes ~ Vaping and Public Health: Fact vs. Fiction ~ Israel's First 'Vaping Disease' Victim in Critical Condition ~ Regulatory Restriction Of E-Vapor Products Under International Human Rights Law ~ Influential U.S. doctors group calls for ban on vaping products ~ CDC Comes Clean on Cause of So-Called Vaping Epidemic ~ America's Vaping Problem ~ The Virtues of Vaping (As in Quitting Cigarettes) ~ We Can't Overlook Adults In The Vaping Health Epidemic ~ Vaping, babies and bathwater. Why Australia's vaping ban is poor policy ~ The AVA's Greg Conley on Yahoo Finance (18/11/19) ~ Surgeon General Endorses Dubious Research Again, This Time on Vaping ~ Massa Tax ~ Proper Heart Science ~ Trump Changes His Mind on Flavors; Future Remains in Doubt ~ Don't Trust Trump ~ Trump Trap: Did Progressives Overreach on Vape Ban? ~ Trump's Decision to Back Away From Vaping Ban Is the Right Policy
An online experimental study exploring the effects of a comparative health message versus the EU nicotine addiction warnings on smokers' and non-smokers' risk perceptions and behavioural intentions.
Science Direct
This study investigated the effects of the European Union Tobacco Products Directive [EU-TPD] Article 20 E-cigarette (EC) health warnings ("This product contains nicotine which is a highly addictive substance. [It is not recommended for non-smokers.]") and a comparative harm message ("Use of this product is much less harmful than smoking" [COMP]) on smokers' and non-smokers' perceptions and behavioural intentions.
Xave Gregorio, CNN Philippines
President Rodrigo Duterte issued a verbal order to ban the use and importation of vapes, following the first confirmed report of electronic cigarette or vaping-associated lung injury (EVALI) in the country.

Duterte said he is banning vapes because it is "toxic" and has not been approved the Food and Drug Administration (FDA).
Molly Gluck, Medium
Vaping and lung illness cases and perspectives are infiltrating headlines, conversations, and policies across the nation — but medical professionals, the government, the public, and corporations can't seem to get on the same page. Michael Siegel, a physician and professor in the Department of Community Health Sciences at the Boston University School of Public Health has been a tobacco researcher for the past 30 years focusing on tobacco control, exposure, and policies.
Ido Efrati, Israel News
A 20-year-old man was hospitalized for two weeks in serious condition in Meir Hospital in Kfar Sava with a lung disease that was diagnosed and treated as "vaping disease." It happened after he used an e-cigarette, which contained a liquid refill that was purchased illegally.
---

---
Carrie Wade, RStreet
Key Points
That health is recognized as a right under international law demonstrates its importance for most nations and considers that the protection of human health is a responsibility that must be undertaken by governing bodies.

According to major leading public health experts, e-vapor products are considered to carry no more than 5 percent of the risk associated with combustible cigarettes.

Under international treaties, Governments may have a duty to provide access to less harmful alternatives to combustible cigarettes in the pursuit of a right to health. This includes equal or preferential taxation and treatment of e-vapor products.
---
, The National Interest
Many smokers successfully quit by switching to e-cigarettes (vaping), but doctors can't recommend this treatment without good evidence from clinical trials. They now have this evidence. Our latest study confirms that e-cigarettes are indeed an effective way to help smokers quit.
---
John Menadue, Pearls and Irritations
Australia is the only western democracy to ban the sale and use of nicotine for vaping. Australian policy is out of step with the scientific evidence and denies smokers who can't quit a safer and potentially lifesaving alternative. There are better policy options available.

Australia is no longer a world leader in tobacco control. The decline in smoking in Australia has slowed considerably over the last 6 years in spite of plain packaging, the world's highest cigarette prices and strict tobacco control laws.
---
---
Those "few people", led by Prof Ann McNeil, who have authored Public Health England's evidence reviews of e-cigarettes for the past 4 years are among the most respected & talented public health scientists in the world. Their collective expert opinion is now UK national policy. https://t.co/jyPNR0dQrL

— Christopher Russell (@NicotineSurveys) November 20, 2019
---
Two from Dave Cross, Planet Of The Vapes
The American state of Massachusetts taxes tobacco at 40%. To reduce the rates of smoking related harm it plans to tax vaping at 75%. Not only does the state want to tax vaping at almost twice the rate of smoking, but it I threatening to impound cars belonging to vapers if they are caught with "untaxed" products.
The British Heart Foundation (BHF) raises money to fund research into cures and treatments, "so we can beat heartbreak forever." The BHF funded a team from the University of Dundee to investigate "the early vascular impact of switching from [cigarettes] to [vaping] in chronic smokers."
 Alex Berezow, American Council on Science and Health
It hasn't been a good year for U.S. Surgeon General Jerome Adams.

Back in July, Dr. Adams endorsed giving post-operative patients Tylenol instead of morphine. Let's think about surgery for a moment. It often involves cutting through a person's skin and muscle, poking and pulling at stuff inside, and then sewing it all up like a patch on worn jeans. It's painful, and a couple of Tylenol probably won't cut it for many people.
---
Jim McDonald, Vaping 360
In a story published Sunday evening, the Washington Post reported that President Trump has taken no action on flavored vaping products. The inaction is attributed to Trump's concern over potential lost votes in 2020 battleground states and job losses.

The story was a big one across Washington, not because of concern over vaping kids or lost harm reduction opportunities for adults, but because it is another example of the President backtracking on previous commitments. Oh look, said the pundits, he backed down again after being lobbied, just like he did with immigration and background checks on guns.

---
Visit Nicotine Science & Policy for more News from around the World

---