Vaping Digest November 22nd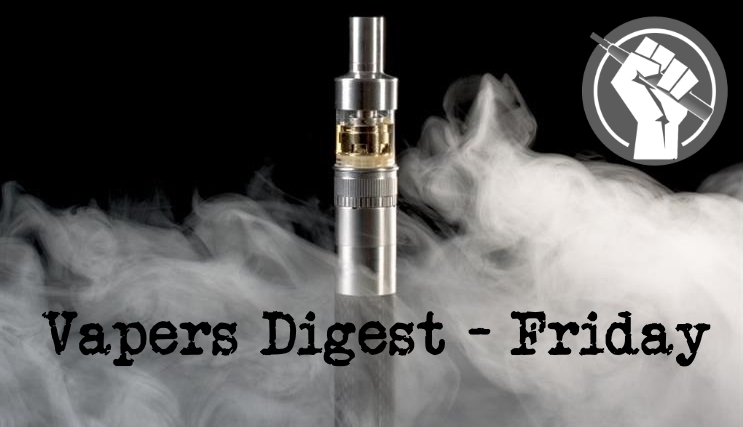 Friday's News at a glance:
Open Letter to the American Heart Association: #QuitLying – NGO's Can't Quit Lying – Is the USA coming to its senses on e-cigarettes? – White House Meeting Friday – Massachusetts Emergency Ban – Case of Popcorn Lung in Canada Due to E-Cigarettes? – Worst Vaping Law in the Country – Pinoy No No – Communicating Risk – ASA Not Blu About Ads – Vape UnAPProved By Apple – Study finds increase in US adults – Vaping is still safer than smoking – The AMA declares war on vaping – If you must use tobacco, pick snus – The Stoner's Guide to Vaping Illness – Heads Should Roll at CDC – Indonesia Also Mulls Vaping Ban – Are e-cigs wiping out teen smoking? – Nicotine Science and Policy Daily Digest
Brad Rodu, Tobacco Truth
On November 15, you reported that the American Heart Association launched a "game-changing research initiative" that "will help us answer critical questions about the health consequences of vaping and nicotine addiction…"  You emphasized an issue important to every health professional and parent: youth e-cigarette use.  And you used an especially relevant but ironic hashtag: #QuitLying.

Your flagship publication, the Journal of the American Heart Association, on June 5, 2019, published a bogus research article, "Electronic cigarette use and myocardial infarction among adults in the US Population Assessment of Tobacco and Health [PATH]," by Dharma N. Bhatta and Stanton A. Glantz (here).
Kevin Crowley, Vaping Links
While we're still waiting on President Trump to make decisions on banning flavors of less harmful products, or keeping them on the market, the Non-Governmental Organizations (NGO's) posing as "public health" have no real interest in the health of the public, are politically and financially motivated. They can't quit lying, and have completely lost their minds.

Can they quit lying? I didn't think I'd have to use their own words against them, but I personally tracked down, quoted, and linked the hard to find (often halfhearted but necessary to voice – just to cover their asses) these comments and positions of these NGO's and government officials for a reason.
---

---
Christopher Snowdon, Velvet Glove Iron Fist
After an insane few months, there are signs that the USA is coming to its senses…

President Donald Trump has reversed plans to ban flavoured e-cigarettes amid a national youth vaping crisis, US media report.

He announced plans for a ban in September, but reportedly decided not to enact it this month because of possible job losses and voter pushback.

Vapers have done a great job of getting on the street and letting Trump know that they will not be voting for anyone who takes away their e-cigarettes.
Will Attend White House Meeting Friday – Jim McDonald
Vaping360 has confirmed that Vapor Technology Association (VTA) executive director Tony Abboud and American Vaping Association president Gregory Conley have been invited to the meeting. That means the independent vaping industry and consumers will be represented at the meeting.

Conley confirmed the information.

The VTA represents more than 1,000 small- and medium-sized vaping businesses, and has emerged in recent years as the most effective vaping trade organization. The AVA doesn't represent industry or consumers specifically, but generally promotes vaping through media appearances and in public forums.
---
---
Regarding the Massachusetts Emergency Ban on the Sale of E-Cigs
Michael Siegel, The Rest Of The Story
The Department of Public Health justified its emergency order by arguing that removing vaping products from the market would protect the public – and especially youth – from the vaping-associated respiratory disease outbreak that has now affected more than 2,000 people and caused 47 deaths.

However, unbeknownst to many, this emergency order was not successful in removing all vaping products from the market. In fact, the Department's emergency order exempted – and therefore failed to remove from the market – a large number of flavored e-liquid products that are highly popular among youth and which Massachusetts youth continue to use, despite the emergency order.
Jim McDonald, Vaping 360
The Massachusetts Senate passed a ban on all flavored vaping products (except tobacco) last night, making the state the first in the country to do so. The bill also imposes a tax on vapor products, and a limit on nicotine content. If signed into law, it will take effect next June.

The vote was 32-6. The bill has been sent to the governor for approval (see call to action below).

"Our hope is that this bill will be a model for the rest of the country," said the bill's sponsor, Sen. John Keenan. Certainly, tobacco control activists around the country will see the new law as a template for other states, and inspiration for anti-vaping colleagues around the country.
Michael Siegel, The Rest Of The Story
It is being widely reported in the media that there was recently a case of "popcorn lung" in Canada that was due to the use of e-cigarettes. These reports are exaggerated and inaccurate representations of a medical journal article published in the Canadian Medical Association Journal.

The article reports the case of a 17-year-old patient who presented with severe respiratory failure requiring mechanical ventilation. A chest CT scan revealed a "bud-in-tree" pattern which is consistent with a diagnosis of bronchiolitis.

Four from Dave Cross, Planet of the Vapes
A team from the Centre for Addictive Behaviours Research at London South Bank University (LSBU) has published a report looking at the impact of health warnings provided on vape products. The study was funded by Cancer Research UK (CRUK) and published in the journal Addictive Behaviors.

The study investigated the effects of the European Union Tobacco Products Directive [EU-TPD] Article 20 E-cigarette health warnings and compared them to a warning stating relative harm when compared to smoking. E.g. "This product contains nicotine which is a highly addictive substance. [It is not recommended for non-smokers.]") vs. "Use of this product is much less harmful than smoking".
The Philippines is to outlaw import of vape kit but, more than that, it will also criminalise the act of vaping and arrest vapers caught practising harm reduction. He says that vapers "contaminate people" and aims to extend the vicious crackdown on drugs to cover tobacco harm reduction.

In June, we reported how the pendulum was swinging against tobacco harm reduction in the Philippines. Ex-chain smoker Duterte's government was planning to "raise 'sin' taxes on tobacco and alcohol to close a cumulative funding gap estimated at around P426 billion [£6.5 billion] over the next five years."
---
---
The Advertising Standards Authority (ASA) has knocked back complaints about Imperial Tobacco's recent Blu advertising campaign. The organisation received twelve complaints from "members of the public" and the quit-for-cash company Allen Carr Easyway (International) Ltd.

The complaints were made about three separate incidents of the marketing campaign. Firstly, a poster displayed on the side of a bus, "featured a stylised drawn character of a woman wearing sunglasses and holding an e-cigarette."
Apple may know about creating in-demand tech products but it has demonstrated it is clueless when it comes to tobacco harm reduction. The company has blocked new vaping related apps from appearing in the App Store and recently removed all available apps from being downloaded.

Apple has been refusing to list any vaping related application on the App Store since June. Despite there being zero evidence that companies were using the platform to promote their brands, or that the presence of apps was linked to a take up of vaping, it has deleted 181 apps from the App Store.
---

---
Who perceive E-cigarettes more harmful – EurekAlert
The number of U.S. adults who perceive e-cigarettes to be at as harmful as, or more harmful than, cigarettes has increased between 2017 and 2018, even prior to the national outbreak of vaping-related lung disease and deaths, a study by tobacco researchers from Georgia State University's School of Public Health has found.

The findings, published in JAMA Network Open, augment earlier work by the researchers that found an increase in perceived harm of e-cigarettes relative to cigarettes between 2012 and 2017.
That message is getting dangerously muddled – Julia Belluz
Amid the many controversies about vaping's health effects, there's one thing public health experts agree on: E-cigarettes are less harmful than regular cigarettes. Tobacco kills up to half of its users, which is why cigarettes are considered the deadliest consumer product ever introduced to the market. Even with the uncertainty about vaping's long-term risks, researchers have found that vapers are exposed to fewer toxins and carcinogens than cigarette smokers…. The public, meanwhile, seems increasingly confused.
Matthew Perrone
In almost any other year it would be hailed as a public health victory: The smoking rate among U.S. high schoolers took its biggest hit ever this year, federal figures show, falling to a new low.

Instead the milestone was relegated to a lone figure at the bottom of a government press release and went unremarked by anti-tobacco groups that have spent decades working to stamp out youth smoking.
Snus, a moist, smokeless, non-fermented, pasteurised, powdered tobacco, is making a comeback in parts of Europe and America, with the blessings of science. Studies have shown that in people who can't (or won't) quit smoking, moving to snus has far fewer harmful effects for health.

But what is snus, and how exactly is it better than cigarettes? Read on to know:

 Jacob James Rich, Washington Times
Amid an unprecedented percentage of teens reporting that they had vaped at least once during the past month, the Trump administration was poised to announce a ban on flavors in all nicotine vaping products earlier this month. Yet after the American Medical Association and other leading health organizations urged the White House to finalize the ban, President Trump dissented and chose to delay the proposal. This prompted a temporary sigh of relief among many vaping advocates, but now the AMA is calling for a complete ban on all e-cigarette products, and many are worried about the public health implications of Mr. Trump's impending final decision.
After Botched Vaping Investigation – Guy Bentley
The Centers for Disease Control and Prevention (CDC) has finally identified a primary suspect in the wave of vaping-related lung illnesses and deaths.

Examining lung tissue samples of patients hospitalized with vaping-related illnesses, 100 percent tested positive for vitamin e acetate, often used to cut marijuana oils. This was not a surprise to those who have been arguing that the cause of these illnesses is not the commercial e-cigarette market, but the illicit market for THC vapes.
Katie Heaney, The Cut
It has been challenging, to say the least, to determine exactly how worried we should be about the phenomenon experts are now calling VAPI (vaping-associated pulmonary illness). It has so far been attributed to 47 deaths and 2,290 confirmed and probable cases in the United States. Most news coverage — and proposed legislative response — has focused on nicotine products like Juul, whose CEO stepped down amidst these public health concerns, replaced by an executive at Altria, a cigarette empire. Walmart, which will continue to sell cigarettes (and guns), has announced plans to stop selling e-cigarettes, and several states have banned them outright.
Jacob Grier
It's well-established that humans are subject to various biases when weighing risks. We tend to overlook familiar, yet significant, dangers, while reacting strongly to dramatic or unfamiliar perils that are prominent in the news or make us feel dread. Most of us know, for example, that commercial air travel is much safer than driving. It's been more than a decade since the last fatal airline crash in the United States, while more than 30,000 Americans die each year in traffic accidents. Yet, many of us feel anxious about flying despite driving cars without a moment's hesitation.
As home market collapses in scandal
The embattled American vape company Juul is pushing foreign governments to ditch strict e-cigarette regulations as it aggressively expands across the globe in an attempt to offset lost profits in the US.

Juul, which sells sleek e-cigarettes and flavoured nicotine "pods" that have become a craze among American teenagers, is planning to enter new markets in Europe, the Middle East, Africa, South America and Asia. As it expands, the company has spent millions of dollars lobbying politicians in an attempt to pre-empt or roll back relevant regulations on products in several different countries.
 RTTNews
Indonesia is exploring a total ban on the use of electronic cigarettes and vape products in the country due to healthcare concerns following the lung illness outbreak related to vaping in the U.S., according to reports.

However, the South-East Asian country has not reported any cases of vaping-related illness.

The Indonesian government reportedly plans to amend the existing laws so as to totally prohibit the use of e-cigarettes and vape products, based on a proposal submitted by the Food and Drug Control Agency or BPOM.
---
A look back at how things have moved on or otherwise….
Brad Rodu, Tobacco Truth
Jonathan Swift 300 years ago observed that "Falsehood flies, and the Truth comes limping after it; so that when Men come to be undeceiv'd, it is too late; the Jest is over, and the Tale has had its Effect." (here)  That is the story of e-cigarettes and vaping today.

Billions of dollars have been transferred from tobacco consumers to companies to the FDA in the form of user fees (here).  The FDA, via the NIH, has transferred hundreds of millions to fund university research on tobacco use and effects, in order to provide a "scientific basis" for FDA regulations (here).
Recommending more liberal workplace vaping policies
New Nicotine Alliance
The NNA applauds the report's recommendation for the Parliamentary estate to lead the way by becoming vape-friendly.
Public vaping bans create a false perception that e-cigarette vapour is dangerous, MPs are right to act to correct this misperception.
There is a clear misunderstanding amongst the public about vaping, today's recommendations – if adopted – could act as an example to other workplaces.
UK health bodies recommend smokers switch completely to e-cigarettes, more liberal workplace vaping policies would facilitate this and be beneficial to public health.
Mawsley, Planet Of The Vapes
Planet of the Vapes attended the launch of the latest report from the All Party Parliamentary Group for Vaping, at the House of Commons. The report, "Vaping in workplaces and public places", presents a number of recommendations for employers, Public Health England and vapers.
---
Visit Nicotine Science & Policy for more News from around the World

---