Vaping Digest November 25th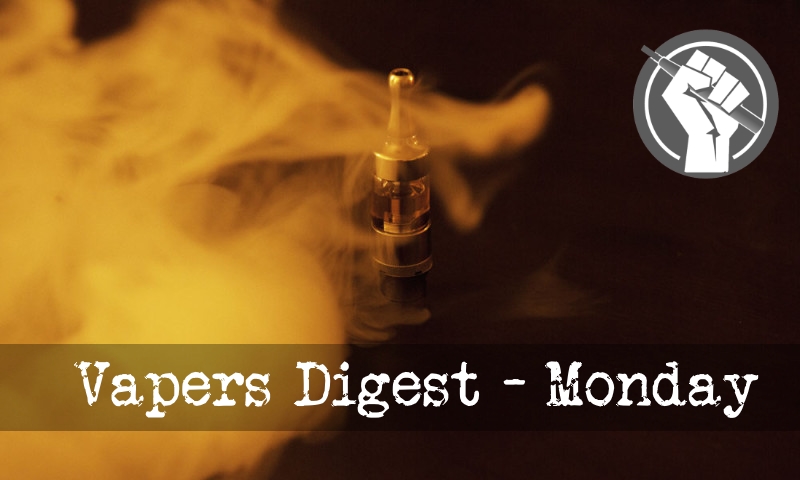 Monday's News at a glance:
"Small Vape" Stood Up for Itself at the White House – White House: Trump asks for Solutions – Vaping In The News – November 23rd – Youth Vaping is a Problem created by Juul – NNA In Public – U-Turn Trump – Online Sales Attack – Vaping fears are putting smokers off switching – Vapers May Vote for Trump; Mike Bloomberg Won't – Estonian FinMin – Oregon State Health Department – Senate agrees on regulation – Vape users, shop owners slam Charlie Baker's ban – Massachusetts Legislators' Rush to Judgment – Growing backlash against vaping in Canada, U.S. – Cops seize e-cigarettes; legal basis questioned – Nicotine Science and Policy Daily Digest
Jim McDonald, Vaping 360
In a White House listening session that at times turned into a free-for-all shouting match, President Trump tried to get answers on the role of flavors in the adolescent "vaping epidemic," and how to best regulate vaping products. And the attendees representing vapers and small vaping businesses gave as good as they got—or even better.

Reporters and cameras were invited in for the first hour of the meeting, allowing the whole country to hear Campaign for Tobacco-Free Kids president Matthew Myers lie to the President's face about tobacco being the most popular vaping flavor for adults. That wasn't the only falsehood flung at Trump by anti-vaping activists.
Thanks as always to @dnglos for the YouTubage
Kevin Crowley, Vaping Links
President Trump asked to have a conversation with public health and vaping industry organizations. The purpose of the meeting was to get "representatives of the Vaping industry, together with medical professionals and individual state representatives" to "come up with an acceptable solution to the Vaping and E-cigarette dilemma. Children's health & safety, together with jobs, will be a focus!", according to his tweet.

If the President invited me to sit face to face with him along side of those who may not agree with science and data I'd be explaining, I'd certainly read the invite and be prepared to… Well, I'd take reasonable steps above and beyond to accommodate – by offering an acceptable, comprehensive solution he was asking for.
---

---
Kevin Crowley, Vaping Links
"Small Vape" Stood Up for Itself at the White House ~ Trump Hears From Vaping Opponents, Industry Executives ~ Remarks by President Trump in a Listening Session ~ Heart Association Claims Tweet Of The Week ~ Regulatory Restriction of E-Vapor Products Under International Human Rights Law ~ Is the USA coming to its senses on e-cigarettes (and cigarettes)? ~ Ethan Nadelman ~ Open Letter to the American Heart Association ~ NGO's Can't Quit Lying ~ Heads Should Roll at CDC after Botched Vaping Investigation ~ Vaping and Public Health: Fact vs Fiction ~ Vape Debate: Are e-cigarettes wiping out teen smoking?
Neil Humber, ECig Click
Trump Vape Meet Re-cap | JUUL Wants UK Nicotine Limit Lifted | AMA Calls For Flavour Ban | New York City Flavour Ban Imminent | Irish Times Backs Vaping | Red Box Expands | MY Blu Ads NOT Illegal and the HILARIOUS Cat Free Kids – End the Fear Website!
---
"At first, I was hesitant to let them know that I vape, because unfortunately THC is still illegal"

"problem with THC is, since it's illegal, you have to resort to the black market"

"Banning just flavored e-cigarette products would not change anything"https://t.co/6rKcQAqaC8

— Phil (@phil_w888) November 24, 2019
---
Here's how to fix it – John Grefe
It's taken me some time to get this together as the concept is fairly controversial inside the Vaping industry. Many proponents of not 'harming' the industry see any criticism of products or business practices as harming the industry overall and shouldn't be discussed. While I can appreciate the philosophical basis for this line of argumentation, these people will simultaneously bemoan the anti-vaping groups for the variety of untruth in their statements and campaigns. I find this intellectually dishonest, and instead our mission should be to pursue our higher virtues and truth. The truth fears no investigation and if made clear should arm policy makers with the ability to make rational decisions.
And misinformation is making things worse – Paul Gallagher
A "wave of misinformation" surrounding vaping is putting smokers off giving up and moving to e-cigarettes in a bid to quit the habit, a leading academic has claimed.

Professor Peter Hajek, director of the tobacco dependence research unit at Queen Mary University of London, said that despite the fact that anyone making the switch would "significantly" reduce their cancer risk, too many people are being put off.

Three from Dave Cross, Planet of the Vapes
The New Nicotine Alliance (NNA) developed from a group of individuals who – by themselves and through their links with leading smoking and tobacco researchers and policy analysts – have contributed in the last two years to improving individual, organisational and public understanding of what is known as 'tobacco harm reduction'.

The NNA wishes to see a mature public and organisational understanding of the potential of safer nicotine products for reducing cigarette smoking, including their safety and efficacy, and hence contribute to the reduction in cigarette smoking. This entails speaking at national and international smoking cessation and public health conferences.
Coordinated protests over President Trump's proposed ban on flavours appears to have achieved its goal. Following a meeting of interested parties at the White House, Trump is backing away from his 'public health measure' to the disgust of the anti-vaping zealots.

Administration officials were all set to celebrate the banning of candy, fruit and mint e-liquid flavours, with a promise that shelves would be clear within a 30-day period following the announcement. The prohibitionist bandwagon screeched to a halt with the news the Trump had refused to sign a one-page decision memo on his night flight to a rally in Kentucky.
The Consumer Advocates for Smoke-free Alternatives Association (CASAA) is calling on vapers to take action as the American Senate fast tracks a bill aiming to prevent the U.S. Postal Service from accepting packages containing vapour products – effectively trying to ban online vape sales.

CASAA says: "S.1253, which is the Senate version of HR 3842, is being fast-tracked through committee. This bill would prohibit the U.S. Postal Service from accepting packages of vapour products for delivery. While this is not an all-out ban on online sales (private carriers like UPS and FedEx offer signature on delivery), it would raise the cost of purchasing vapour products (by $15-$20 per shipment) for people who depend on being able to have safer alternatives delivered to their door (i.e. people who live in rural areas, people who are unable to be home to sign for deliveries, etc…) by requiring signature on delivery."
---

---
Act Today to Stop the Flavor Ban! – Jim McDonald
The largest city in the country is on the verge of banning flavored vaping products. The New York City Council will vote on the ban Tuesday afternoon, and many council members have already declared their support.

The law will serve no purpose. It will destroy legitimate small businesses that serve adult vapers, but will not prevent online sales or the many black market products that will flow into the city to fill the vacuum.
Claims that Nicotine-Based E-Cigs are Causing Respiratory Disease Outbreak
Michael Siegel, The Rest Of The Story
In an op-ed piece published yesterday in the Oregonian, the Oregon state health department claims that a substantial proportion of cases of the vaping-associated respiratory illness outbreak are caused not by THC/CBD vaping, but by nicotine-containing electronic cigarettes. The piece claims that: "we can say the hospitalizations and deaths are not exclusively attributable to cannabis use."

This is very different from claiming that we do not yet know definitively whether some nicotine-containing e-liquids are causing the illness. Instead, the statement claims that we do know that many cases are being caused by electronic cigarettes.
Mike Bloomberg Won't – Guy Bentley
"If President Trump won't take steps to protect our children, then we need someone in the office who will," presidential hopeful Michael Bloomberg tweeted recently.

Bloomberg was responding to reports that Trump is reconsidering the prohibition of all e-cigarette flavors. Bloomberg's squealing shouldn't deter Trump. A full flavor prohibition is both unnecessary and unlikely to solve the teen vaping problem.
Looking into prospect of lowering excise duty for e-cigarettes
The Estonian Ministry of Finance is preparing an analysis with a view to lowering he excise duty on e-cigarettes, the news portal of Estonia's public broadcaster ERR reported.

The main aim of the move under consideration is reducing the black market for e-cigarettes and e-liquids, spokesperson for the ministry Siiri Suutre said. The analysis is planned to be ready by the end of January.

Black market is estimated to account for 62 percent of the market for e-cigarettes in Estonia, and for up to 80 percent according to some estimates, MP Tarmo Kruusimae, head of the the support group for smoking-free Estonia in the Riigikogu, said on Thursday.

Taxing of vaping, e-cigarettes – Neil Arwin Mercado
Zubiri said senators reached an agreement on regulating vaping and e-cigarette products during a caucus requested by Senator Pia Cayetano who chairs the chamber's ways and means committee.

Duterte earlier certified as urgent Senate Bill No. 1074 which seeks to increase excise tax on liquor, e-cigarettes, and vapor products.
A steady stream of outraged vape smokers and shop owners slammed Gov. Charlie Baker's vape ban before state health officials in the one and only public hearing on the controversial legislation, which took effect two months ago.

"This ban is taking medication away from people who need it," said Jamie McLaughlin, a medical marijuana patient who offered testimony.
Is Destined to Cause More Harm – Jeffrey A. Singer
Reacting to a media-fueled panic surrounding teen vaping, Massachusetts legislators this week banned the sale of all flavored e-cigarettes, including menthol, and levied a 75 percent excise tax on vaping products. This was portrayed as "a forceful response to an epidemic in which one out of every five Massachusetts high-schoolers use e-cigarettes." In reality, it is an impulsive act that ignores the evidence and endangers public health.
Raises public-health concerns in Britain – Paul Waldie
The growing backlash against vaping in Canada and the United States has raised concern among public-health officials in Britain, where vaping has long been seen as a critical tool in the fight against smoking.

Britain has been among the world leaders in promoting e-cigarettes as an alternative to smoking, and Public Health England has gone so far as to say that vaping is 95-per-cent safer than cigarettes. It is credited with helping as many as 70,000 smokers quit every year in the U.K., according to researchers at University College London.
Legal basis questioned – Dale G. Israel, Jovic Yee
In just three days after President Rodrigo Duterte ordered a ban on electronic cigarette (e-cigarette) use in public, the police in Central Visayas had already confiscated at least 230 vaping gadgets.

The confiscated devices were displayed on Friday at Camp Sotero Cabahug during the Cebu City Police Office's Police Service Anniversary rites attended by Central Visayas police chief, Brig. Gen. Valeriano de Leon.
And Finally..
European Free Vaping Initiative
Alan Beard
This appears to be a timely reminder to all who participated,or wish to find out about the Efvi,approaching it's anniversary on November 25th

Efvi was part of a European Citizens Initiative(ECI) http://ec.europa.eu/citizens-initiative/public/basic-facts that roughly condensed,states that if citizens gain 1 million signatures to a proposal, the European Commission must examine and give valid reasoning for acceptance or rejection,but that it was not obliged to adopt the measure.

I don't wish to write up all of the background to the establishment of the Efvi, or be overly detailed in charting its progress, but rather highlight certain key stages that were memorable to myself…
---
A look back at how things have moved on or otherwise….
To uphold the ban on snus a blow to the public health of EU citizens
This morning's decision by the European Court of Justice to maintain the EU ban on the oral tobacco product snus has been criticised by a UK harm reduction charity. The New Nicotine Alliance had intervened in the case on behalf of the EU's 100 million smokers to defend their right to health in being able to choose safer nicotine products.

Snus is a popular and effective harm reduction product which has helped hundreds of thousands of former smokers in Sweden and Norway avoid the risks of combustible tobacco use.
Knowledge Action Change
We have developed a Scholarship package to provide Scholars with a grounding in the theories and practice of tobacco harm reduction. Go to prospectus page
The Scholarships will commence at the Global Forum on Nicotine (GFN) Conference in Warsaw, Poland, between 13th to 15th June 2019.

We want people to learn from GFN and have the opportunity to implement this learning in their home countries. There will be 20 Scholarships for the year, with funds available to support agreed projects up to the value of $10,000. The Scholarships are a K•A•C initiative funded by a grant from the Foundation for a Smoke-Free World (FSFW).
---
Visit Nicotine Science & Policy for more News from around the World

---