Vapers Digest November 23rd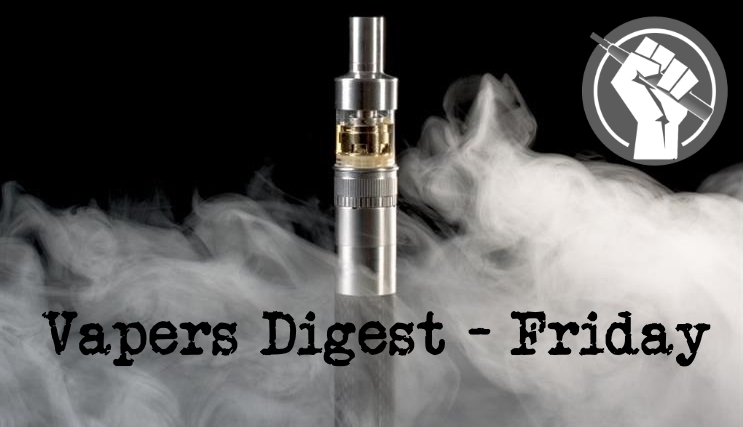 Friday's News at a glance:
NNA brands ECJ decision to uphold the ban on snus a blow to the public health of EU citizens – The KAC Global Tobacco Harm Reduction Scholarship Programme – The NNA Welcomes APPG Report – JUUL's Industrial Revolution Runs Away – A healthy critique and an unhealthy invitation – The Rt Hon Norman Lamb MP – Clive Bates at the Ecig Summit – Vape Questions In Parliament – Pressure Mounts on Glantz – Dangerous Metals in Vaping Put Into Context – Declines in Adolescent Smoking Accelerated – The "Winston Man" – Stop withholding the truth from smokers – Asia Has a Smoking Epidemic – New Zealand introduces sensible, balanced regulation – Claim that nicotine causes schizophrenia – Nicotine Science and Policy Daily Digest
To uphold the ban on snus a blow to the public health of EU citizens
This morning's decision by the European Court of Justice to maintain the EU ban on the oral tobacco product snus has been criticised by a UK harm reduction charity. The New Nicotine Alliance had intervened in the case on behalf of the EU's 100 million smokers to defend their right to health in being able to choose safer nicotine products.

Snus is a popular and effective harm reduction product which has helped hundreds of thousands of former smokers in Sweden and Norway avoid the risks of combustible tobacco use.
Knowledge Action Change
We have developed a Scholarship package to provide Scholars with a grounding in the theories and practice of tobacco harm reduction. Go to prospectus page
The Scholarships will commence at the Global Forum on Nicotine (GFN) Conference in Warsaw, Poland, between 13th to 15th June 2019.

We want people to learn from GFN and have the opportunity to implement this learning in their home countries. There will be 20 Scholarships for the year, with funds available to support agreed projects up to the value of $10,000. The Scholarships are a K•A•C initiative funded by a grant from the Foundation for a Smoke-Free World (FSFW).
---

---
Diane Caruana
Earlier this week, the All-Party Parliamentary Group (APPG) for Vaping, recommended a fundamental liberalization of workplace vaping policies to encourage more smokers to switch to vaping.

The NNA issued a statement saying that it "warmly welcomes this report" and would like to see these recommendations implemented in full. The organization added that being practical and evidence-based, these policies would contribute to clearing the current confusion and misinformation that currently exists towards vaping.
The "Lone Wolf" Graphic Arts Technologist
I always found the statement "The Industrial Revolution Runs Away" a very interesting take on disruptive technologies (like vaping). Government can't control everything. Wright figured this out in 1932.

Today, some 85 years later FDA is cracking down on JUUL; wrestling JUUL down by the horns to prevent "the children" from vaping.

Unfortunately for the FDA the industrial revolution (in this case JUUL tech) is running away. The horse is out of the barn. To wit from "Not Blowing Smoke" on Facebook we have
Gerry Stimson
First, the critique. Kicking the policy can down the road is often expedient, but never wise. Not least when every day 200 people die from failure. That is where we are on UK tobacco policy. It is an important-but-never-urgent issue starved of the political attention it merits.

Our health ministers rarely cover themselves in glory: Edwina Currie succeeded in banning the smoking substitute snus – a product responsible for the astonishing collapse of smoking in Scandinavia.
---
---
Four Five! from Mawsley, Planet of the Vapes:
The Right Honourable Norman Lamb MP, Liberal Democrat MP for North Norfolk since 2001 and chair of the Science and Technology Select Committee, spoke to the Ecig Summit about evidence and regulation. During his talk he took time to criticise the world health organisation, those who accuse him of Big Tobacco links, and The Lancet.
"Talking about significant developments, only thing that's going on down the road as we speak," Norman Lamb opened. We had a Prime Minister at the start of the presentation, but it was unclear if there would be one by the time Lamb stopped speaking, he joked.
Clive Bates spoke about disruption during the third session at the E-cigarette Summit 2018. He highlighted the areas that have driven or undergone change and made a forecast for how he sees the future, both in the USA and globally. Ultimately, he argued, the power remains in the hands of the consumer.
"I've missed the last two and it's great to be back – it's been really stimulating so far, so lets hope it doesn't take a dip now. I keep trying to understand what is going on with the technology and what it's effecting, so I've tried to draw out ten different aspects of the disruption."
Doctor Konstantinos Farsalinos opened up the second session of the E-Cigarette Summit by looking at the prejudice and predisposition against vaping within the scientific research community. He gave examples of the bias and demonstrated how easy it is to select data to support an ideological agenda.

Dr Farsalinos began by making the audience laugh, with a promise to be brief. The leading light in vape research is nothing if not a slave to the truth, and the promise of brevity was consequently upheld. Albeit with a caveat: "Honestly, not as brief as you might think – but briefer than any other time."
Further questions about vaping have been asked in the House of Commons and the House of Lords. Lord Vaux was keen to push the hysterical American approach to regulation, but was knocked back. The rest of the questions demonstrate how Parliament has a mature approach to harm reduction.
In the House of Commons, Philip Davies MP asked the Secretary of State: "Whether heated tobacco products will be included in the annual Public Health England report on e-cigarettes; and when that report will be published?"
Pressure continues to mount on Stanton Glantz and his employer, the University of California San Francisco (UCSF). New allegations of sexual harassment have come to light, and another official complaint has been lodged. Plus, Glantz was heckled about his behaviour when speaking at a UCSF event last week. How long will it be and how many complaints will it take until UCSF terminates his employment?
---

---
Jim McDonald, Vaping 360
Exposure to risky toxins is a regular feature in mainstream media vaping coverage, and it would be a valid concern if the studies being covered by the press were honest scientific inquiries. Unfortunately, they're often not. Research is frequently designed to facilitate anti-vaping propaganda.

Back in February, we covered a Johns Hopkins University study that purported to find dangerous levels of metals in e-cigarette vapor. The study was briefly a fixture in news coverage, as many scary vaping stories are. Reporters covered the Hopkins study uncritically, assuming that the research was legitimate and meaningful.
Jacob Sullum, Reason
In the midst of a federal campaign against underage vaping, a new study finds that downward trends in smoking among teenagers and young adults accelerated as e-cigarette use rose. The findings, based on data from five national surveys, suggest that the official panic about the "epidemic" of e-cigarette use by minors, which has led to restrictions that affect adult access to vaping products and government-sponsored propaganda that exaggerates their hazards, is fatally misguided.
A Transition from Cigarettes' Model to Vaping Advocate – Diane Caruana
Last weekend, Vaping Post's founder Ghyslain Armand was at the Vapexpo exhibitionin Las Vegas. Before he had even landed, Ghyslain was informed that someone would like to meet him, and not long after he had arrived in Vegas, he found himself shaking hands with the most renowned ex-smoker in the United States, the "Winston Man".

In the 80's, before the Big Tobacco litigation scandal broke, David Goerlitz was an attractive advert model for the Winston brand, who was filmed carrying out various physical activities whilst smoking. However, eventually Goerlitz did a total U-turn.
David Sweanor, Brian Lee Crowley
As we are seeing with the opioid crisis, and as we experienced with numerous other historic injustices, it can take a long time for governments to act forcefully to protect a shamed and marginalized group. An ongoing tragic example is the treatment by the federal government of people who smoke cigarettes.

We know that smoking is deadly and addictive. It is directly responsible for over 100 deaths a day in our country; our largest cause of preventable death. But because of addiction, and a variety of other reasons, Canadians continue to smoke.

But Also Incredible Harm Reduction Innovations – Helen Redmond
The second Asia Harm Reduction Forum convened in Manila on November 14. Organized by the Harm Reduction Alliance of the Philippines (HARAP) and the Indonesian Public Health Observer Foundation (YPKP), its purpose was to strategize on reducing the harms of smoking combustible tobacco in the world's largest continent.

More than half of the world's 1.1 billion smokers live in Asia. According to the World Health Organization, China's smoking rate among men is 42 percent. In Indonesia, the world's fourth most populous nation, the male smoking rate is a whopping 65 percent.
ATHRA
The Associate Minister of Health, Jenny Salesa (pictured) announced progressive new regulations on vaping and other smokeless tobacco products today. ATHRA applauds the regulations which find a sensible balance between helping smokers to switch to safer products and protecting people who don't smoke, particularly young people.

The NZ government approach to smokers is supportive and non-judgemental. It strongly endorses the role of tobacco harm reduction and recognises that alternatives beyond 'just quitting' are needed for some smokers:
Divide anti-tobacco groups as state bans online sale of e-cigarettes
Anti-tobacco groups are divided over new regulations restricting the sale of e-cigarettes in South Australia which have been described as "draconian".

SA is the last state in the country to introduce regulations around the sale and use of e-cigarettes and is the first to ban their sale online or by mail.
ATHRA
Researchers have raised 'serious concerns' that nicotine may cause schizophrenia. However, there is no evidence to support the claim.

The study in the journal Frontiers in Psychiatry by researchers from Australia and Finland aimed to determine if SMOKING CAUSED schizophrenia. People with schizophrenia are more likely to smoke and it is important to find out if smoking is one of the causes. The study finding was that the current evidence is inconclusive.
---
A look back at how things have moved on or otherwise….
Robert Innes, Vaping Post
"It looks like smoking, so it must be smoking." Kevin O'Flaherty of the Campaign for Tobacco-Free Kids, at a New York City Council meeting, stated, "If it walks like a duck and it talks like a duck and it sounds like a duck and it looks like a duck, it is a duck."

And this just about sums up the level of knowledge and attainment on the topic achieved by most of the public, the majority of news reporters and those regiments of regulators who line up daily to snipe at vaping and vapers. They have seen people vaping.
Of presenting 'factual errors' to e-cig inquiry
Adam Creighton, The Australian
A British government agency has accused a trio of top Australian public health advocates, including prominent anti-smoking campaigner Simon Chapman, of putting a "series of factual errors" to a parliamentary inquiry into vaping and the use of e-cigarettes, which are effectively illegal in Australia.

Public Health England, an arm of the British Health Department, has written to a Senate inquiry into electronic cigarettes "to correct" arguments made by professors Chapman, Becky Freeman and Maurice Swanson that it believes misrepresent the evidence around the use of e-cigarettes
---
Visit Nicotine Science & Policy for more News from around the World

---