Vaper Digest November 26th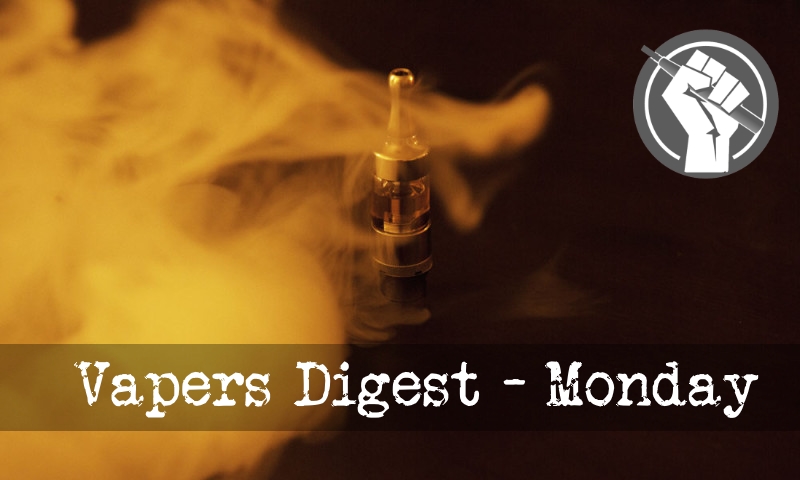 Monday's News at a glance:
More heat than light – new US statistics on youth vaping provide no basis for FDA policy – British MPs push for more sensible vaping policies, but US continues to urge bans – When misusing the precautionary principle kills – My recent contribution to Clive's weekly reading list – McTheft – Juul Labs' Negative Response – Tobacco Master Settlement at 20 Years – Psychiatrists endorse vaping – Govt urged to lift ban on e-cigarettes – Health Ministry drawing up legislation to ban vapes – Vaping In The News November 24th – Nicotine Science and Policy Daily Digest
New US statistics on youth vaping provide no basis for FDA policy
Clive Bates, The Counterfactual
New data on youth vaping. Time to take a closer look at the disclosure of some 2018 U.S. National Youth Tobacco Survey data (see MMWR).  The survey is conducted annually, with field work in February-June.  Usually, the results are published in headline form about a year later (2017 data was published in June 2018) and full datasets some time after that. 2018 is different however.  CDC and FDA (the co-authors) have rushed out data that they argue supports the claim there is an 'epidemic' of teenage vaping use (see FDA chief calls youth e-cigarette an 'epidemic', Washington Post).
But US continues to urge bans – Fergus Mason
A new report by an influential British government committee says employers should make life easier for vapers by separating e-cigs from existing smoking policies and creating designated indoor vaping areas. However, the European Union refused to reconsider its controversial ban on Swedish snus, in a move greeted with dismay by harm reduction supporters. Meanwhile the US CDC continues to push the narrative of a "teen vaping epidemic" using widely discredited statistics.
---

---
Simon Cooke, The View from Cullingworth
"Vaping will be banned in smoke-free areas, although 'this is a precautionary measure' as there is no robust evidence of harm from second-hand vapour."
Welcome to the carefully considered decision of New Zealand's public health gauleiters. Yes folks, they're going to ban something they know isn't harmful because, y'know, precaution. Just let's be clear about this – every single drug introduced onto the market would need banning under this principle. No clinical trial, no epidemiological analysis, no Cochrane Review, no metanalysis and no research appraisal can eliminate the possibility that, in some way, there might be harm.
Carl V. Phillips
As some of you know, Clive Bates puts out a weekly somewhat-annotated list of PubMed-indexed articles that are related to low-risk tobacco products and/or tobacco harm reduction (the search string for that appears at the end of what follow). It is a great resource; if you do not receive it, I am sure he would be glad to add you to the distribution list. As part of a planned projected that I have alluded to before, I am working on how to reinterpret this as an annotated weekly suggested reading (or knowing-about) list.
---
---
Mawsley, Planet of the Vapes
Peter Walker is gifted the generous title of "businessman" as the Daily Mail "exposes" him for selling vape liquids all wrapped up in McDonald's logos. Whatever people may feel about the irresponsible use of the logos, it provided more ammunition for the newspaper to attack vaping and accuse juice makers of targeting children.
Walker runs Second Vape Ltd from his parents' small house in Ferryhill, County Durham. Through a website that appears to have been made during the days of AOL Online, he sell equipment, liquids and a stunning range of overpriced "previously loved" mods.
Mawsley, Planet of the Vapes
Juul Labs, makers of the market-leading Juul e-cigarette, has played directly into the hands of rabid public health campaigners and the Food and Drug Administration. Its actions and announcement support the evidence-free policies being pushed upon the industry and constitutes a direct attack on vapers, smokers and harm reduction advocates.
The company has capitulated in the face of growing hysteria rather than sticking fast to evidence and facts. It has announced it is withdrawing most of its flavoured products from retail stores and will discontinue with any social media promotions.
---

---
Crystal Phend, MedPage Today
The major U.S. tobacco companies settled litigation with the states on November 23, 1998, in what is known as the Master Settlement Agreement, which requires the tobacco companies to pay out $206 billion to the states over 25 years.

Those funds have been paid out annually, basically as cash windfalls that were supposed to bankroll tobacco control and cancer research programs.

However, nearly all states have diverted the money to their general funds, with their anti-tobacco programs underfunded and neglected.
ATHRA
The Royal Australian and New Zealand College of Psychiatrists (RANZCP) supports the availability of vaping devices with nicotine as consumer products for Australian smokers who are unable or unwilling to quit.

In its first Position Statement on vaping, the RANZCP, the professional organisation of psychiatrists in Australia and New Zealand supports legalising nicotine for vaping along with regulations that are proportional to their level of risk.

Jintana Panyaarvudh
A NETWORK OF e-cigarette users and importers have suggested that lifting the ban on smoke-free products and issuing appropriate regulations would be a more-effective measure to discourage people from smoking rather than selling cigarettes in plain packages. The Public Health Ministry is in the process of announcing a new regulation requiring cigarettes to be sold only in plain packages, with 10 new pictures and warning messages designed by the ministry. The new regulation will come into force in 270 days after being published in the Royal Gazette.
Nor Akmar Samudin
KUALA LUMPUR: The Health Ministry is in the process of drawing up legislation to manage cigarette smoking as well as the use of electronic cigarettes or vapes.

Deputy Health Minister Dr Lee Boon Chye said that currently, it is difficult for the government to ban vaping due to the lack of laws governing the activity, including vaping liquid which do not contain nicotine
Kevin Crowley, Vaping Links
Scott Gottlieb: JUUL is Now Your Bitch ~ FOIA Request for Nicotine Statements… ~ Are The Kids Alright? ~ The "Winston Man": A Transition from Cigarettes' Model to Vaping Advocate ~ Should flavours be banned in cigarettes and e-cigarettes? ~ More than 50 tickets issued for underage vaping ~ Tobacco Control Is Failing! ~ Antivaping Hysteria Is Unhealthy ~ The Last and Only Solace ~ Stossel: Let Them Vape ~ "National Drug Threat Assessment" ~ Vaping to smoking initiation among US youth and young adults: a reality check ~ RODENTS! ~ Free Child Labor ~ More Junk Studies
---
A look back at how things have moved on or otherwise….
Marewa Glover
A professor of public health has claimed smoking rates would be dramatically reduced if misinformation wasn't being spread about e-cigarettes.

Massey University professor of public health Marewa Glover says smokeless products like vapes are the key to reducing smoking rates, following a mere 0.6 percent decrease in smokers over the past year.

"These new smokeless products that are much less harmful, they are like a flaming torch, you give everyone one of them, stand them at the top of the glacier and we would see it melt much faster," she said.
Ashtray Blog
For the first time, we have a study which looks at the effect of vaping on the lungs over the long term. The result? No negative impact on the lungs over a period of several years.

Most vapers are ex-smokers, and could be expected to have some lung damage. To get round this problem, the researchers decided to seek out vapers who had never smoked.

This wasn't easy – at the time just 0.01% of people who have never smoked, vaped!
---
Visit Nicotine Science & Policy for more News from around the World

---