Vapers Digest 23rd November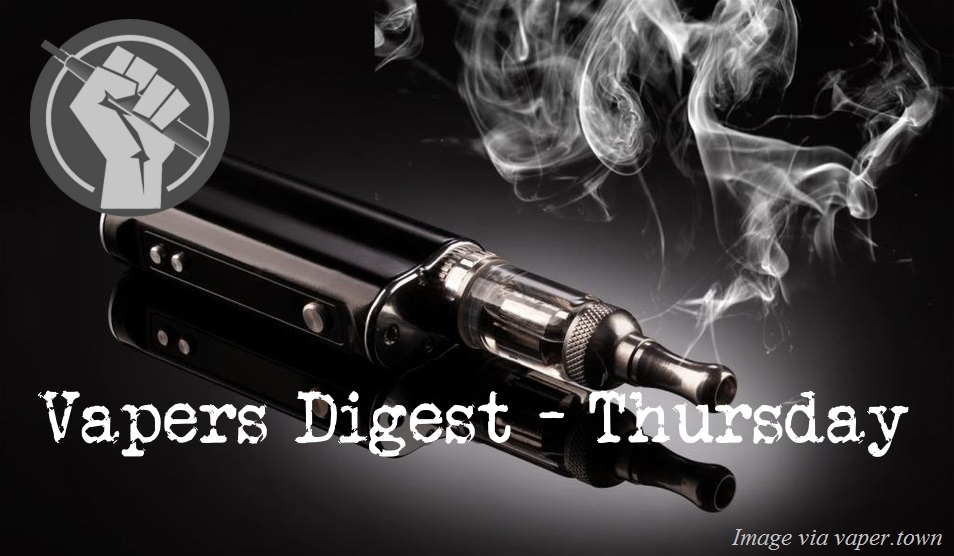 Thursday's News at a glance:
O'Flaherty's Duck – Health trio accused of presenting 'factual errors' to e-cig inquiry – Recovering from the addiction disease model – Misinformation is spreading over e-cigarettes – New York officially bans e-cigarette use – E-cigarette brand mocks tobacco control – Tamworth ahead of the rest of the state on e-cigarettes – Ordinance proposed to license stores – Nicotine Science and Policy Daily Digest
Robert Innes, Vaping Post
"It looks like smoking, so it must be smoking." Kevin O'Flaherty of the Campaign for Tobacco-Free Kids, at a New York City Council meeting, stated, "If it walks like a duck and it talks like a duck and it sounds like a duck and it looks like a duck, it is a duck."

And this just about sums up the level of knowledge and attainment on the topic achieved by most of the public, the majority of news reporters and those regiments of regulators who line up daily to snipe at vaping and vapers. They have seen people vaping.
Of presenting 'factual errors' to e-cig inquiry
Adam Creighton, The Australian
A British government agency has accused a trio of top Australian public health advocates, including prominent anti-smoking campaigner Simon Chapman, of putting a "series of factual errors" to a parliamentary inquiry into vaping and the use of e-cigarettes, which are effectively illegal in Australia.

Public Health England, an arm of the British Health Department, has written to a Senate inquiry into electronic cigarettes "to correct" arguments made by professors Chapman, Becky Freeman and Maurice Swanson that it believes misrepresent the evidence around the use of e-cigarettes
---

---
New Zealand
Massey University associate professor of public health Marewa Glover says that smokeless products like vapes are the key to reducing smoking rates, following a mere 0.6 per cent decrease in smokers over the past year.
"These new smokeless products that are much less harmful, they are like a flaming torch, you give everyone one of them, stand them at the top of the glacier and we would see it melt much faster," she said.
---
"I am not aware of a single case of popcorn lung disease in smokers let alone in vapers… levels of diacetyl in tobacco smoke can be up to 750 times higher than in EC aerosol". Professor Polosa on popcorn lung https://t.co/F9jZWugVp7

— James Dunworth (@inijames) November 23, 2017
---
Glenn Blain
Vaping in the workplace and many other indoor places is now banned. The state Health Department announced Wednesday that a law signed by Gov. Cuomo in October placing new restrictions on the indoor use of e-cigarettes is now in effect.

"Although e-cigarette use is promoted as a healthier alternative to tobacco use by the vaping industry, research has shown that they may carry long-term health risks for users and those exposed to secondhand emissions," State Health Commissioner Dr. Howard Zucker said.
---

---
Olivia A Wackowski, M Jane Lewis
Blu's 2017 'Something Better' print ad campaign prominently featured ad claims in the visual style of tobacco warning labels ('Important: Contains flavor'; 'Important: Vaping blu smells good'; 'Important: No ashtrays needed') (see figure 1). The fake and sarcastic 'warnings' are featured in large text boxes at the top of the ads, which ran in June–November 2017 issues of popular magazines including Esquire, ESPN, Rolling Stone and US Weekly.

Chris Bath
Over 20 of the state's most prominent health organisations have called for the NSW Health Minister to ban the use of e-cigarettes in smoke free areas of NSW.

E-cigarettes emit vapour instead of smoke, and are used by people all over the world to quit smoking, or instead of tobacco.
That sell tobacco, e-cigarettes
Aiming to keep tobacco, electronic cigarettes and related devices out of the hands of young people – and to keep tabs on who sells them – the Montgomery Township Board of Health has introduced an ordinance that requires the stores to be licensed.

To get feedback on the ordinance before it is adopted, a public hearing on it has been set by the Board of Health for Nov. 29 at 7:30 p.m. in the courtroom at the Municipal Building on Route 206.
Harry Shapiro
The wires this week were not so much humming as soaring in full operatic splendour over the vexed subject of whether addiction is a brain disease (hereafter BDMA or Brain Disease Model of Addiction). It was sparked by a very interesting development in the addictions field, akin to the split among academics, clinicians and public health officials over safer nicotine products.
---
A look back at how things have moved on or otherwise….
Jonathon Fell, The Counterfactual
Simon Chapman, Emeritus Professor in Public Health at the University of Sydney, is a regular contributor to, and Friend of, The Conversation, and on 20 October published a piece called Big Tobacco sees its future in cigarettes, not vaping. This is not the first time he's expressed these sort of views; he wrote something very similar in a BMJ blog in March 2014, Why is big tobacco investing in e-cigarettes?, which I responded to at the time via the BMJ's comment section (hereand here).
Cigarettes Aren't Smoke-Free Tobacco
Brad Rodu – Tobacco Truth
Motorcycles are more dangerous than cars. We know this because a government agency, the National Highway Traffic Safety Administration, routinely provides data that confirms it.

For example, the NHSTA reports there were 0.85 auto-related deaths for every 100 million miles Americans drove in 2014. By contrast, the death rate for motorcycles was 22.96 for every 100 million miles, making motorcycles 27 times deadlier than cars….
---
Visit Nicotine Science & Policy for more News from around the World

---