Vapers Digest November 21st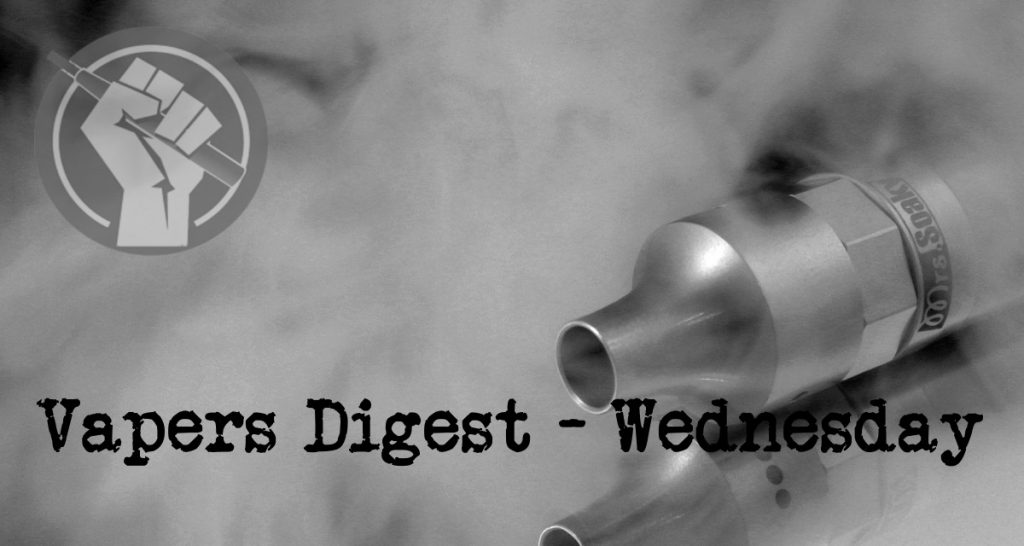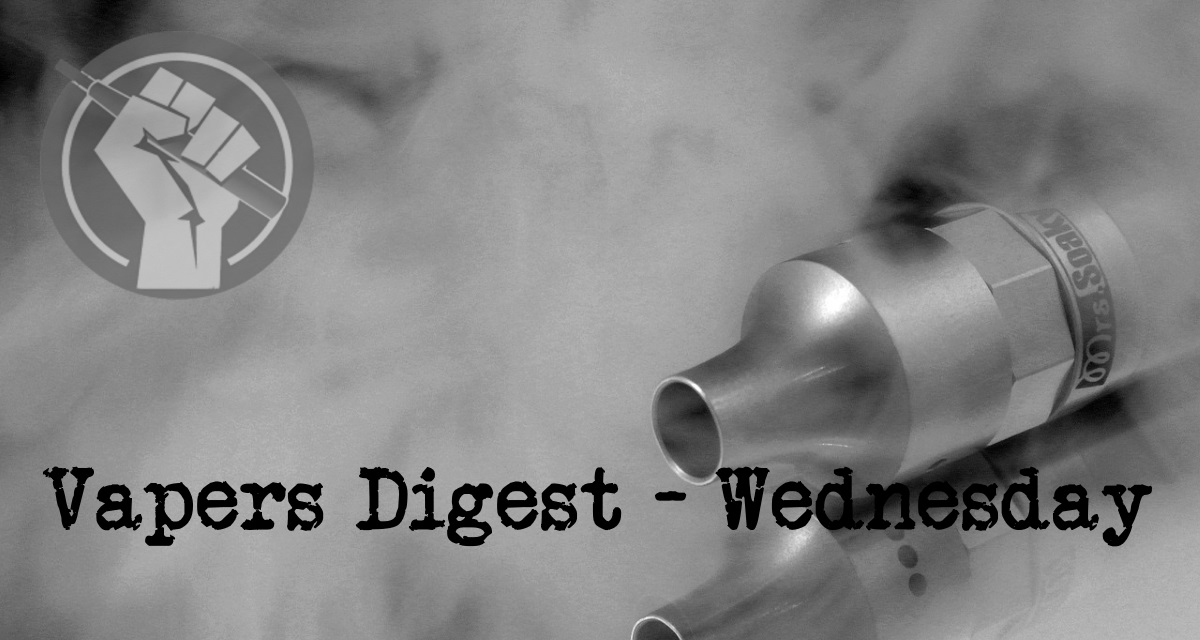 Wednesday's News at a glance:
Detoxing the Heavy Metal Vape Scare ~ NNA welcomes today's Parliamentary report ~ Workplace Vaping: APPG Report Launch ~ Written Questions ~ Parliament Uk ~ Youth smoking rates falling 3 times faster since vaping popular ~ Smoking rates plummet as vaping becomes more popular ~ That big claim that vaping leads to smoking ~Examining the relationship of vaping to smoking initiation ~ Anti-Vaping Crackdown Puts Cigarette Smokers' Health At Risk ~ Stossel: Let Them Vape ~ FDA announces new steps to curb youth tobacco use ~ FDA Declares War ~ Will Marijuana Become the Next Juul? ~ The Last and Only Solace
Brad Rodu, Tobacco Truth
Jonathan Swift 300 years ago observed that "Falsehood flies, and the Truth comes limping after it; so that when Men come to be undeceiv'd, it is too late; the Jest is over, and the Tale has had its Effect." (here)  That is the story of e-cigarettes and vaping today.

Billions of dollars have been transferred from tobacco consumers to companies to the FDA in the form of user fees (here).  The FDA, via the NIH, has transferred hundreds of millions to fund university research on tobacco use and effects, in order to provide a "scientific basis" for FDA regulations (here).
recommending more liberal workplace vaping policies
New Nicotine Alliance
The NNA applauds the report's recommendation for the Parliamentary estate to lead the way by becoming vape-friendly.
Public vaping bans create a false perception that e-cigarette vapour is dangerous, MPs are right to act to correct this misperception.
There is a clear misunderstanding amongst the public about vaping, today's recommendations – if adopted – could act as an example to other workplaces.
UK health bodies recommend smokers switch completely to e-cigarettes, more liberal workplace vaping policies would facilitate this and be beneficial to public health.
Mawsley, Planet Of The Vapes
Planet of the Vapes attended the launch of the latest report from the All Party Parliamentary Group for Vaping, at the House of Commons. The report, "Vaping in workplaces and public places", presents a number of recommendations for employers, Public Health England and vapers.
Related: Parliament Uk
---

---
Colin Mendelsohn, Australian Tobacco Harm Reduction Association (ATHRA)
The long-term decline in smoking rates in youth and young adults has ACCELERATED in the US since vaping became popular in 2014, according to a new study in the journal Tobacco Control today.

The study is by leading researchers Professors David Levy, Ken Warner and Australian Ron Borland.
Katherine Ellen Foley, Quartz
For the past few months, the US Food and Drug Administration (FDA) has been waging a battle on e-cigarettes.

In September, the FDA gave e-cigarette companies 60 days to figure out how to prevent teenagers from vaping. When that period ended last week, the organization ruled that vape companies could still sell e-cigarette cartridges in retail stores, provided that the devices were in an area only accessible by those 18 and older.
Tobacco Control, BMJ
The 2018 National Academies of Sciences, Engineering, and Medicine Report found substantial evidence that electronic cigarette use (vaping) by youth is strongly associated with an increased risk of ever using cigarettes (smoking) and moderately associated with progressing to more established smoking. However, the Report also noted that recent increases in vaping have been associated with declining rates of youth smoking.
---
---
Satyajeet Mara, Daily Caller
Across the United States, the war against electronic cigarettes continues amidst ongoing concerns about a so-called "teenage vaping epidemic." The FDA just flagged a ban on pleasant flavors for vaping products sold at retail stores in the wake of a crackdown which made special note of five popular vaping brands — Juul, Vuse, MarkTen, blu e-cigs, and Logic. Elsewhere in the country, the state of Florida recently passed a ban on indoor vaping. Such moves are misguided, and actually threaten the health of tobacco smokers — by making safer alternatives less appealing and harder to access.
---

---
John Stossel, Tanvir Toy, Reason
Our government says e-cigarettes and vaping are the latest "epidemic" among teens. So the Food and Drug Administration (FDA) says it will restrict them. Cities across the country are banning e-cigarette use in public.

But e-cigarettes help smokers quit traditional cigarettes. Michelle Minton of the Competitive Enterprise Institute tells John Stossel that people have misconceptions about e-cigarettes. "It's about 95 percent less harmful than a normal traditional cigarette," she says.

Mawsley, Planet Of The Vapes
The Food and Drug Administration (FDA), as predicted last week, has announced steps to curb vape product sales in the United States. The restrictions put forward are, in the opinions of harm reduction experts, unsupported by the evidence and could herald the destruction of the American vape industry. Following months of nonsense, this is its declaration of all-out war on harm reduction.
Healio
The FDA announced today that to get youth to stop smoking, it will revisit significant parts of two policies that restrict access to newly regulated non-combustible tobacco products, electronic nicotine delivery systems, and e-cigarettes.

"The changes I seek would protect kids by having all flavored [electronic nicotine delivery systems] products (other than tobacco, mint and menthol flavors or nonflavored products) sold in age-restricted, in-person locations, and, if sold online, under heightened practices for age verification,"
---

---
Michael Siegel, The Rest Of The Story
Yesterday, the first recreational marijuana facility opened in Massachusetts. Out of curiosity, I decided to check out its menu of offerings. Although I thought that this ballot initiative was all about allowing adults to use marijuana for recreational purposes, I was surprised to find a menu that is certain to appeal to youth.
Frank Davis
I've been digging up stuff about the use of tobacco in wartime:

Tobacco is not so much a luxury as an actual necessity to our men at the front – Lieut-Colonel Henry Paul Treeby, Commandant of the East Surrey Depot, 1916

You ask me what we need to win this war. I answer tobacco, as much as bullets – General John Joseph "Black Jack" Pershing, Commander-in-Chief of the American Expeditionary Force, 1917

Why was it such a necessity?

---
Visit Nicotine Science & Policy for more News from around the World

---