Vapers Digest November 19th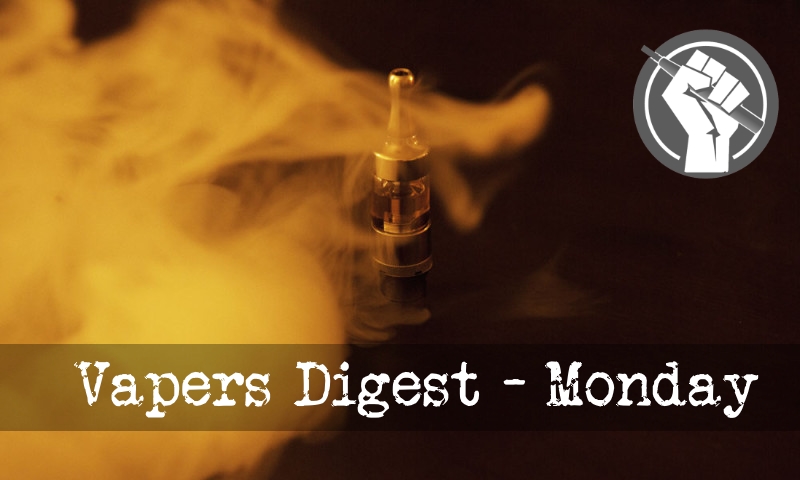 Monday's News at a glance:
Harry's blog 75: Getting grown up about nicotine – FDA crackdown causes chaos – Scott Gottlieb: JUUL is Now Your Bitch – What Is Scott Gottlieb Smoking? – Should flavours be banned in cigarettes and e-cigarettes?  – The E-Cigarette Summit: Science, Regulation and Health – A Decade – Want to quit cigarettes? – Are the Kids Alright? – Antivaping Hysteria Is Unhealthy – First iQOS e-cigarette store in South Africa – FDA Stomps Big Vape, But at What Cost? – Researchers uncover impact of vaping – Vaping In The News – November 17th – Nicotine Science and Policy Daily Digest
Harry Shapiro
In breaking news, alcohol is really not a safe drug. It is a major cause of non-communicable death and disease; for example, over time it can damage many of your vital organs in ways that no other drugs can, including heroin. Addiction to alcohol can wreck individual lives and the lives of families and loved ones. It is a significant factor in domestic violence and the whole gamut of anti-social behaviour and public disorder. People kill people under the influence of alcohol whether running them over in a car or shooting them in a booze-fuelled rage.
Fergus Mason, Vaping Post
This week's vaping news has been dominated by the FDA's tough new restrictions on flavoured e-liquids. Allegedly aimed at deterring teen use, the agency's move is likely to slash the number of harm reduction products available in small retail outlets – although it could be good news for specialist vape shops. So far, two major manufacturers of pod systems have announced that they're pulling most of their flavours from the shelves and only making them available online. More are likely to follow.
---

---
The "Lone Wolf" Graphic Arts Technologist
My children, their children, all know this. The fact that smoking is bad is engrained in their DNA almost from birth (while this may seem like a good idea it's in fact not because you lose your critical thinking skill as I describe below).

Originally at https://www.fda.gov/forconsumers/consumerupdates/ucm345087.htm we now find a HTTP 404 Not Found error.  (Preserved in this blog is the original though now even the saved https://archive.is/ejhfI is gone…):
Jeff Stier and Henry I. Miller
The FDA's just-unveiled Draconian restrictions on vaping products are an example of good PR but bad public-health policy. And regulators know better.

When he headed the FDA, Dr. Frank Young used to admonish his minions that there were times when common sense should modulate established policies and rules. That can be done in federal agencies via "enforcement discretion," a tool that regulators use to carry out their mandate in light of sometimes ambiguous laws and regulations.
Buckell J, et al. Tob Control. 2018
A ban on flavoured e-cigarettes alone would likely increase the choice of cigarettes in smokers, arguably the more harmful way of obtaining nicotine, whereas a ban on menthol cigarettes alone would likely be more effective in reducing the choice of cigarettes. A ban on all flavours in both products would likely reduce the smoking/vaping rates, but the use of cigarettes would be higher than in the status quo. Policy-makers should use these results to guide the choice of flavour bans in light of their stance on the potential health impacts both products
---
---
Science, Regulation and Health – Mawsley POTV
Scientists, public health professionals and policy makers gathered at The Royal Society in London, on Thursday, for The E-Cigarette Summit: Science, Regulation and Health 2018. Planet Of The Vapes was invited to attend and listen to speakers discussing research, evidence and viewpoints on the issues surrounding vaping and tobacco harm reduction (THR).
The E-Cigarette Summit has been running since 2013; its sixth incarnation continued to offer a neutral environment for people of differing sides of the vape debate to engage in meaningful dialogue.
Dick Puddlecote
Yesterday was the tenth anniversary of this little corner of the internet.

As long-time readers will have noticed, the last year has been considerably lighter on content than previously, and in recent months very sparse indeed. This is because, sadly, a lot of real life has barged its way in – both business and personal – and has left me little time (and sometimes inclination) to write much here.
---

---
Indicate tobacco control is failing – Joseph Magero
According to the 6th Edition of the Tobacco Atlas , a free online resource and companion book that maps the nature and magnitude of the tobacco epidemic and chart a course toward clear, proven solutions ( funded by the American Cancer Society ) , tobacco use has greatly increased in ALL African countries. More adults , children and women are smoking cigarettes . Tobacco related deaths also uniformly increased in ALL countries .
Here's why you've got a better chance of succeeding than ever before
Dave Masters – Daily Mirror
Giving up cigarettes isn't easy. Although some can quit completely, for others it can be a hard journey.

Over 60% of smokers in Great Britain want to give up*. So what's stopping them? There are more ways than ever to help smokers quit, such as nicotine patches, gums and tablets. And there are better alternatives to smoking such as e-cigarettes and heated tobacco. Many will carry on smoking without the right help and support, as the figures show.

Holdmylight.co.uk is a new and exciting approach to help smokers give up for a month – with a little help from their friends.

​On September 12th FDA Commissioner Dr. Scott Gottlieb publicly declared that youth usage of vapor products had reached "epidemic" proportions. The FDA sent out over 1,000 warning letters to businesses for the illegal sale of e-cigarettes to minors and issued 131 fines to repeat offenders. They also sent letters to 5 large vapor manufacturers whose products were sold to minors during the "enforcement blitz" and whom the FDA believes collectively represents the majority of the vapor market – Juul, Vuse, MarkTen, Blu, and Logic.
Steve Forbes
FOR NO RATIONAL REASONS, healthcare officials and antismoking crusaders are waging war against vaping, even though millions of people have found it to be the only effective way to give up smoking. Users get the pleasure of nicotine while avoiding tar and other substances in cigarettes that are truly lethal. What are these witless prohibitionists inhaling?
Bloomberg
Philip Morris International Inc. will open a flagship store in Johannesburg as it tries to stoke demand in Africa for its alternative cigarette known as iQOS, which heats rather than burns tobacco to give users their nicotine kick.

The Marlboro maker plans to use the shop as a springboard to expand in the rest of the continent, according to spokesman Alessandro Poggiali. South Africa is the only African country in which Philip Morris distributes iQOS, but more are slated to follow, he said.
Roderick T. dela Cruz
Preliminary findings of studies conducted by two universities in the Philippines and Indonesia show that vaping or the use of electronic cigarettes is less harmful than smoking.

Harm reduction advocates, including doctors, scientists and lawmakers, said the results of such clinical research should convince health authorities, including the Department of Health in the Philippines, to consider the use of e-cigarette as an effective harm reduction tool or as a way to quit smoking.
Brent Stafford, Regulator Watch
What to make of FDA's new JUUL Rule? Well, you could feel 'hope' after hearing Commissioner Scott Gottlieb state that there is a "public health benefit" for adult cigarette smokers who switch to vaping. Gottlieb also emphasized the importance of flavors for adult vapers and he clarified FDA "is not revisiting the compliance policy" for vapor products sold in age-restricted locations i.e. vape shops.
Peter J. Pitts & Robert Goldberg
This week FDA Commissioner Scott Gottlieb announced a plan to close the on-ramp to kids using e-cigarettes while preserving adult use of "potentially less harmful forms of nicotine delivery." The plan's centerpiece curbs the sale of flavored e-cigarettes, which regulators claim entice youth (logic that apparently doesn't extend to Absolut Peach vodka or Jack Daniel's cinnamon whiskey), but which also help smokers quit because they don't remind them of traditional cigarettes.
On flavoured vaping products — but Health Canada isn't going there
The Canadian Paediatric Society is calling for a ban on flavoured e-cigarettes after the U.S. Food and Drug Administration (FDA) sounded the alarm on a rise in teen vaping, describing it as an "epidemic."

The number of U.S. high school students who say they've used e-cigarettes in the last 30 days is 78 per cent higher this year than last year, according to the latest National Youth Tobacco Survey, a joint study by the FDA and the U.S. Centers for Disease Control and Prevention (CDC). For younger students in middle school, the increase was almost 50 per cent.
Kevin Crowley, Vaping Links
Youth tobacco and nicotine use – proportionate and responsible reaction ~ Lunar Rover ~ First Annual VapinGreek Consumer Advocate Award ~ Juul, because Juul ~ Nicotine and children ~ The political economy of vaping ~ VTA Executive Director, Tony Abboud, joins CNBC's Power Lunch ~ FDA to Announce Ban on Sale of Most Cigarettes ~ Kids As Clickbait ~ Cranky Old Broad ~ Employers to discriminate against smokers
---
A look back at how things have moved on or otherwise….
Clive Bates, The Counterfactual
So, a big tobacco company puts up $1 billion over twelve years to fund a foundation with an objective "to accelerate global efforts to reduce health impacts and deaths from smoking, with the goal of ultimately eliminating smoking worldwide". I certainly share that goal or something like it (see my 'endgame' scenario), and would like to see plenty of money spent wisely on pursuing that cause.  But then there is the issue of a big tobacco company putting up the money.

Go straight to letter (PDF) or cover note and letter
As Australian experts fight to modernise attitudes
Fergus Mason, Vaping Post
An alarming report from the UK has revealed that local government is continuing to force vapers out into smoking areas – and the number of councils doing this is actually rising. Meanwhile, in Australia, prominent tobacco control experts are pushing back against the country's reactionary health establishment by calling for legalisation of vapour products.

Libertarian advocacy group The Freedom Association released its latest report into how British local councils are treating vapers this week, and the results paint an alarming picture.
---
Visit Nicotine Science & Policy for more News from around the World

---