Vaping Digest 11th November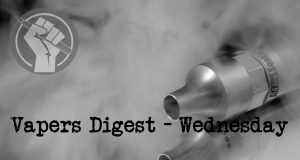 Wednesday's News at a glance:
Editorial: New research strengthens the case for e-cigarettes as smoking cessation aids, but more evidence is needed ~ Editorial: New research strengthens the case for e-cigarettes as smoking cessation aids ~ Expert reaction to the randomised control trial on e-cigarettes for quitting smoking ~ Expert reaction to the randomised control trial on e-cigarettes for quitting smoking ~ EU countries still puzzled over how to achieve smoking reduction ~ Nicotine Vaping and the Law: An interview with Dr Alex Wodak, President of the Australian Drug Law Reform Foundation ~ Artificial Ineptitude ~ Mouse Cruelty Criticised ~ How California's flavored tobacco ban will hurt communities and budgets
, Tobacco Research and Treatment Center, Massachusetts General Hospital
New research shows that electronic cigarettes (e-cigarettes) can help smokers quit smoking cigarettes, according to an editorial in JAMA by Nancy Rigotti, MD, director of the Tobacco Research and Treatment Center at Massachusetts General Hospital.
---
Dr Jamie Hartmann-Boyce, Prof John Britton, Prof Paul Aveyard, Dr Nicola Lindson, Dr Nick Hopkinson, Prof Peter Hajek, Science Media Centre
"Randomized controlled trials are considered the best way to test if a treatment works. In this study, the researchers randomized people who smoke to nicotine e-cigarettes, e-cigarettes without nicotine, or no e-cigarettes. No participants in the study experienced serious harms from e-cigarettes.

---
Sarantis Michalopoulos, Euractiv.com
The discussion over how and whether so-called "novel products" such as e-cigarettes and heated tobacco products can help people stop smoking has been prominent in Europe in recent years. Different EU countries have adopted various approaches but there is still no overall picture of their effectiveness and their long-term health effects.
---
A big win for @CDCTobaccoFree and @TobaccoFreeKids and great payback for @BloombergDotOrg – good job!

Oh, wait. It is blindingly obvious that their absurd war on safer alternatives to smoking would lead to … er … more smoking. But they don't care and are not accountable. https://t.co/bwLzH6lqg9

— Clive Bates (@Clive_Bates) November 11, 2020
---
Enjoy a blunt takedown of ludicrous research into iQOS by @PMIScience expert @DrGilchrist – I am glad they are not just letting this BS stand. Thread 👇 https://t.co/A2xTxGAayi

— Clive Bates (@Clive_Bates) November 11, 2020
---
Dr. Aled Wodak, Poppy Morandin, Lexology
Regulations regarding nicotine vaping products could soon be changed, with a Select Committee on Tobacco Harm Reduction set to report by 1 December 2020.

The Select Committee with inquire into tobacco reduction strategies, with specific reference to the health impacts of allowing vaping, the effectiveness of the method as a quitting aid and concerns regarding up-take of vaping by non- smokers or young people.
---
TWO from Dave Cross, Planet of The Vapes
The World Health Organization has enlisted a bot with artificial intelligence, called Florence, to help persuade smokers to quit. A slight problem: there are mixed messages coming from WHO about what's going on and it can get very confusing.
*This article contains an image some may find unsettling*
Dr Andreas Stucki of PETA Deutschland and PETA US has strongly criticised the likes of Cancer Research UK and other people using mice for vape-related research. He told journalists that money was being "wasted" on these "horrific" experiments. We have seen many useless studies using rodents over the last few years.
---
J J Rich, The Orange County Register
The largest tobacco manufacturers are suing California to prevent its broad tobacco flavor ban.

Set to take effect in January 2021, the ban would prohibit the sale of all flavored products that contain nicotine, including flavored vaping products and menthol cigarettes. An exception has been made for hookah and premium cigars, but tobacco manufacturers stand to lose millions in revenue as the ban targets their most popular flavored products.

---
U.S. President Donald Trump said on Monday he will be meeting with vaping industry officials as well as medical and political officials to discuss vaping and e-cigarettes, amid a nationwide outbreak of injuries and deaths linked to the products.

"Will be meeting with representatives of the Vaping industry, together with medical professionals and individual state representatives, to come up with an acceptable solution to the Vaping and E-cigarette dilemma. Children's health & safety, together with jobs, will be a focus!" he wrote on Twitter.
Michelle Minton
Amid an outbreak of "vaping-linked" lung illnesses, a campaign of fear against vaping has reached a frenzied peak. For years, the Food and Drug Administration (FDA), Centers for Disease Control (CDC), health groups, and lawmakers have been sounding the alarm over rising numbers of adolescents who reported using e-cigarettes once a month. The lung injuries, occurring predominantly in young people and apparently entirely related to vaping black market cannabis, has only escalated the panic. Now, many officials are jumping to support raising the minimum age for purchasing tobacco products to 21 years old as a means of addressing youth vaping.
---
Visit Nicotine Science & Policy for more News from around the World

---