Vaping Digest 13th November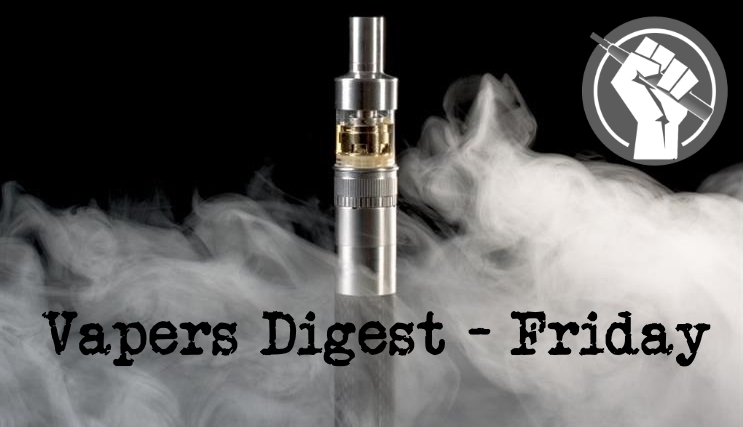 Friday's News at a glance:
When you think you've seen it all – Effect of the covid-19 outbreak and the abolition of Public Health England – Anchorage Passes a 55% Tax on Vaping Products – E-Cigarettes Prevail in Cessation Aids Study – AVCA Welcomes New Associate Health Minister – Broken 'Gateway' Record Needs Changing – Heartless Heart Association – NY Ordered To Reimburse VTA – Bates On Burning Issues – Contradictions and Conflicts – A pilot comparison to NRT and Champix – Ampol backs easing of restrictions – Africa: Tobacco Harm Reduction – Demystifying Nicotine – Street Drugs Discussions – Policy reforms needed – Abuse liability assessment of the JUUL – Nicotine Science and Policy Daily Digest
American Heart Association strikes again with an e-cigarette "study" that insults scientific reasoning
Dr. Konstantinos Farsalinos
A new study presented as an abstract in the American Heart Association Scientific Sessions 2020 provides new evidence about clinical symptoms and EVALI-like symptoms experienced by e-cigarette users compared to non-users. At least that is what the study is supposed to show. There is also a press release by the American Heart Association, titled "Lung symptoms common among users of e-cigarettes and related products".
The study examined 1432 current e-cigarette users who completed an online survey in 2016 (please remember that). They asked if they had any of the following symptoms:

dry mouth, cough, nausea, headache, loss of taste/smell, shortness of breath, chest pain, irregular heartbeat, heartburn, high blood pressure, itching/burning skin, rash, bad breath, irritability, leg cramps, runny nose, stuffy nose, sore throat, upset stomach, hoarse voice, nightmares.
And the abolition of Public Health England on achieving a smokefree England by 2030
Bukky Balogun, Nikki Sutherland
A debate will be held in the Commons Chamber on Thursday 12 November 2020 on the effect of the Covid-19 outbreak and the abolition of Public Health England on achieving a smokefree England by 2030. The debate will be opened by Mary Kelly Foy MP. The subject for the debate has been nominated by the Backbench Business Committee.

In July 2019, the Government published a consultation on proposals to address the causes of preventable ill health in England.[1] Within the consultation document, Advancing our health: prevention in the 2020s, the Government set an ambition to go 'smoke-free' in England by 2030:
---

---
Jim McDonald, Vaping 360
With little fanfare, the Municipality of Anchorage, Alaska, has passed an ordinance taxing vaping products. The tax, which was unanimously passed by the Anchorage Assembly, will take effect Jan. 1, 2021.

The ordinance adds vaping products (including devices and e-liquid) to the municipality's existing "other tobacco products" tax, which is currently set at 55 percent of wholesale cost. The Assembly amended the law to exclude devices used for cannabis vaping, according to Alaska Public Media. (Recreational cannabis is legal in Alaska.)
---
---
Tobacco Reporter
E-cigarettes showed considerable promise as a smoking-cessation aid during a study in the U.K. that was recently published by Reed Wellbeing.

The health and lifestyle service engaged in a one-year pilot from February 2019 to February 2020 to independently assess the impact of directly supplying e-cigarettes as a form of nicotine replacement therapy (NRT) to up to 200 participants though the One You Haringey stop-smoking service.

Five from Dave Cross, Planet of the Vapes:
Aotearoa Vapers Community Advocacy (AVCA) has welcomed the appointment of Dr Verrall, the new Associate Health Minister for New Zealand. Ayesha Verrall replaces Jenny Salesa who has lost all of her ministerial appointments following the general election.

AVCA was formed in 2016 by vapers across New Zealand wanting their voices heard in local and central government. All members are former smokers who promote vaping to help smokers quit – a much less harmful alternative to combustible tobacco products. AVCA does not have any affiliation or vested interest in industry – tobacco, pharmaceutical and/or the local vaping manufacturing or retail sectors.
The latest issue of Pediatrics journal is carrying yet another anti-vaping research paper. This one pops the broken 'gateway' record back on the turntable; "e-cigarette use is associated with a higher risk of cigarette smoking among adolescents who had no prior intention of taking up conventional smoking."

Lead author Olusegun Owotomo, a paediatric resident at Children's National Hospital, said: "Research is showing us that adolescent e-cigarette users who progress to cigarette smoking are not simply those who would have ended up smoking cigarette anyway. Our study shows that e-cigarettes can predispose adolescents to cigarette smoking, even when they have no prior intentions to do so."
The American Heart Association (AHA) has a long history of coming out with nonsense classified as "stupid" to "downright dangerous" by tobacco harm reduction experts. It is now promoting another piece of duff non-peer-reviewed research in the lead up to its online Scientific Sessions 2020 eConference next weekend. The author, Thanh-Huyen T. Vu claims a third of all vapers currently suffer from the EVALI disease (proven to be caused by Vitamin E Acetate in a small American batch of illegal THC liquids).

"The American Heart Association is a relentless force for a world of longer, healthier lives. We are dedicated to ensuring equitable health in all communities," it says. Many would beg to differ.
Vape shops and the Vapor Technology Association (VTA) trade body funded a legal fight back against New York's anti-science vape ban. The judge found in their favour and declared that Governor Andrew Cuomo's attempt at prohibition was "unconstitutional" and ordered the state to pay the full fees and costs incurred by the harm reduction advocates.

The VTA "represents the manufacturers, wholesalers, small business owners and entrepreneurs who have developed innovative and quality vapor products, providing adult consumers with a better alternative to traditional combustible products."
Last week saw the launch of Global State of Tobacco Harm Reduction's Burning Issues report. A number of online presentations took place and advocate and expert Clive Bates discussed "The Good, The Bad, and The Ugly" outcomes for tobacco harm reduction.

To begin with, Clive discussed "The Good" – how we would like the world to be: "It requires a deep and changed understanding in the public health community and the world at large on how tobacco harm reduction works. It is not a smoking cessation product; it is a rival value proposition to smoking as a way to consume nicotine – a relatively innocuous consumer lifestyle drug."
---

---
State ownership of tobacco companies and the WHO FCTC
Tobacco products kill 8 million people every year. Between 2000 and 2019, overall global tobacco use declined by less than a quarter of a percentage point per year, despite global attempts to address the pandemic, spearheaded by the World Health Organization's Framework Convention on Tobacco Control (FCTC), in force since 2005. There are currently 182 parties to the FCTC, which has as its main objective "to protect present and future generations from the devastating health, social, environmental and economic consequences of tobacco consumption and exposure".

The objective of this report is to highlight a basic contradiction in the FCTC: part of the objective of the FCTC is "to reduce continually and substantially the prevalence of tobacco use and exposure to tobacco smoke", and it requires the governments that have signed or ratified the FCTC to take action in order to achieve this objectiv
And counselling therapy 'may help smokers quit'
A combination of nicotine-based e-cigarettes and talking therapy may be twice as effective in helping long-time smokers quit – compared to receiving counselling alone, according to research.

Scientists have found that more people quit smoking after using nicotine e-cigarettes at 12 weeks, compared to those who did not use e-cigarettes.

But the team said there was less of a difference between the groups at 24 weeks.
---
---
A pilot comparison to NRT and Champix
This year, we trialled a programme to provide e-cigarettes to One You Haringey participants on their Be Smoke Free programme. The aim was to discover whether e-cigarettes are an effective quit aid compared to Nicotine Replacement Therapy (NRT) or Champix prescription medication.

As a result of this pilot, we discovered that e-cigarette users (with and without additional NRT) are more likely to achieve a 4-week quit than those using only NRT or Champix. You can read our full report below.

E cigarette for Smoking Cessation A pilot comparison to NRT and Champix
Evidence and E-Cigarette Use in England
Since E-Cigarette use has been widespread, and often touted as a harm reduction, many of us will have wondered the truth about vaping, it's benefits and it's harms. Dr Sharon Cox of University College London takes us through the key evidence.

Hosted in Professor Chris Chandler of London Metropolitan University this webinar will explore:

Ampol backs easing of e-cigarette restrictions
A major Australian convenience store and petrol station retailer says it would be happy to train staff to suggest e-cigarettes as an alternative to normal cigarettes in a bid to help reduce the smoking rate.

Ampol, owner of Caltex and Foodary outlets across the country, urged the government to allow nicotine-based vaping products to be sold in the same way as cigarettes in its submission to a Senate inquiry.
Is the Context Still Unfavorable to its Global Implementation?
On November 4th, 2020, the United-Kingdom based Public Health Organization Knowledge Action Change, which aimed at promoting health through the concept of harm reduction issued a report entitled: Burning Issues: The Global State of Tobacco Harm Reduction and also organized two discussions about the state of Tobacco Harm Reduction in the world.

The organization that focuses on harm reduction as a key public health strategy brought to attention the fact that 1.1billion people smoke worldwide according to the World Health Organization (WHO).
Unethical to Deprive People of Less Harmful Alternatives
Smoking cigarettes is the most harmful form of consuming nicotine and it is the duty of government, industry and society to ensure that smokers have access to less harmful nicotine products.

This was the expressed view of Health Activist and Harm-Reduction Advocate, Dr. Kgosi Letlape in a recent briefing to industry, media and tobacco harm-reduction advocates entitled 'Demystifying Nicotine'.
For every 100 smokers – Oliver Mathenge
Experts are calling for the scaling up of Tobacco Harm Reduction, which enables smokers to switch to safer alternative nicotine products that do not produce the smoke that causes death and disease.

This followed the launch of the paper titled 'Burning Issues: The Global State of Tobacco Harm Reduction' (GSTHR) 2020, published by UK public health agency called Knowledge Action Change on Wednesday 4 November.
To combat India's tobacco crisis:
New Delhi: Speaking at the UK launch of a global report, tobacco harm reduction advocate Samrat Chowdhery said evidence-led policy reforms lead to better outcomes than bans in helping reduce deaths and disease from tobacco use.

The biennial report, Burning Issues: The Global State of Tobacco Harm Reduction (GSTHR), published by UK-based public health agency Knowledge Action Change, finds that currently there are nine safer nicotine products (SNPs) users for every 100 smokers globally, most of whom live in high income countries.
In four flavors relative to combustible cigarette, nicotine gum and a comparator electronic nicotine delivery system among adult smokers
Methods: Adult smokers (N = 66; 50.0 % female; mean age = 41.1; 63.6 % white) completed a 7-arm within-subjects cross-over product-use study while confined to a clinical laboratory. Participants used JS in four flavors (Virginia Tobacco, Mango, Mint, Creme, [5.0 % nicotine; 59 mg/mL]), their usual brand (UB) cigarette, a comparator ENDS (VUSE Solo; 4.8 % nicotine, tobacco-flavor), and mint nicotine gum (4 mg) under controlled use conditions. After each product use, nicotine PK and subjective effects were assessed.
---
A look back at how things have moved on or otherwise….
Steve Forbes, Forbes

You'd never know it from all the lurid headlines in recent months about the seeming epidemic of deaths from "smoking" e-cigarettes, but vaping is actually a public-health godsend for smokers. The hysteria surrounding vaping says more about the peculiar fevers of our times than about the realities of puffing e-cigarettes.

Those deaths we hear about didn't result from normal e-cigarettes but from tainted contents, particularly the active ingredient found in cannabis. The cries for prohibiting vaping make no more sense than banning milk because a few bad characters peddled adulterated versions.
Two from Science Media Centre
Dr Nick Hopkinson, British Lung Foundation Medical Director and Reader in Respiratory Medicine at Imperial College London, said:

"It's possible the patient's illness could have been due to an allergic response to a component of e-cigarette vapour. However, in this kind of condition it can often be difficult to make an accurate diagnosis or know for certain what the cause is.
Prof Peter Hajek, Director of the Tobacco Dependence Research Unit, Queen Mary University of London, said:

"The authors detected two effects.  In human smokers, nicotine from e-cigarettes produced a typical acute stimulant effect, also seen after drinking coffee, that on its own signals no danger.  In mice and in tissue samples, acrolein, a chemical that can be generated when e-liquid is fried, had more damaging effects.  This however is not relevant for human vapers.
---
Visit Nicotine Science & Policy for more News from around the World

---