Vapers Digest 22nd October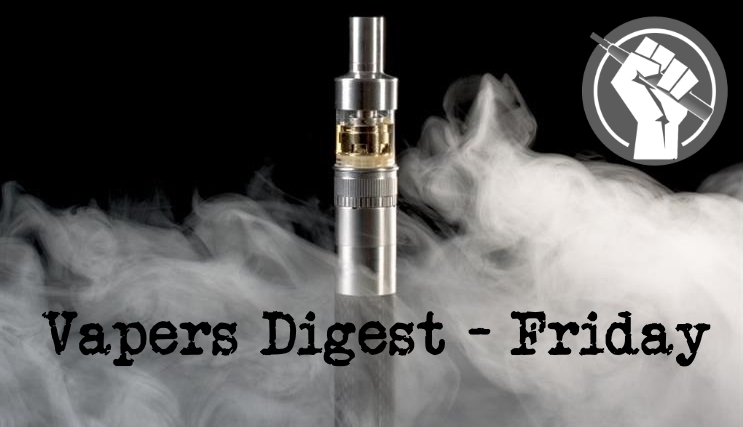 Friday's News at a glance:
Up In Smoke: How Vape Bans Increase Tobacco Use – USPS Vape Mail Ban Is Now in Effect – Backlash Against the FDA Grows – Experts Demand EVALI Rename – BAT Delivers "Critical Year" Keynote – ATS Beats A Broken Drum – Thai Vape Support Goes Global – Parliamentary Activity – Vaping: one policy the Kiwis have got right – Altria Will End U.S. IQOS Sales November 29th – Hong Kong Prohibits Sales of Vaping Products – New Study Muddies the Vaping Debate – The WHO fails again – on smoking – Tobacco Control Policies Are Misguided – New Alarm Over Youth Vaping in Canada – National and international health nannies – Evidence on effectiveness of e-cigs is incontrovertible – Nicotine Science and Policy Daily Digest
James Dunworth – Ashtray Blog
I remember my local pub a decade ago. Just outside, the smokers would gather, sipping their beer and blowing streams of smoke into the air by the road. Even when I vaped, I would join them, as quite often that was where the most interesting conversations were.

How different it is now. One by one, the smokers took their last puff and switched to vaping. They'll still gather outside when it's warm, but it's vapour, not smoke, that fills the air around them.

They're not alone. In the UK millions of people have switched from smoking to vaping. According to ASH England, more than 2 million of them have also gone on to stop using nicotine entirely. It's a situation replicated around the world, with over 60 million smokers quitting since vaping was introduced.
Jim McDonald, Vaping 360
The United States Postal Service will issue a final rule Oct. 21 that will end delivery of vaping products through the U.S. Mail. The new USPS rule, which will take effect immediately after publication in the Federal Register, will drastically change online sales and shipping of vaping devices and liquids.

As mandated by Congress in the Preventing Online Sales of E-Cigarettes to Children Act (POSECCA), the final rule will not contain any exceptions for residential delivery of either nicotine or cannabis vaping products (except within the states of Alaska and Hawaii). POSECCA was passed with no opposition and signed into law by President Trump last December as part of the federal budget bill.
---

---
As Vape Company Ramps Up Legal Fight – Alex Norcia
On October 20, My Vape Order (MVO) petitioned a federal court of appeals for "an emergency motion for a stay pending a review and for expedited consideration" on the company's vapor products that have been removed from the market.

In early September, the Food and Drug Administration (FDA) had issued a marketing denial order for MVO's products. Like all other vape companies in the United States, MVO had until September 2020 to file premarket tobacco product applications (PMTAs) to be able to keep selling its vapes and e-liquids; the FDA, in turn, had until September 2021 to review the PMTAs.
---
When a cardiologist tells a patient they shouldn't vape because nicotine causes heart attacks, and the patient was already smoking heavily, the doc is more likely to be believed than the stop-smoking advisor. We need better clinician education

— Louise (@grannylouisa) October 22, 2021
Une enquête trace le panorama de l'aide à l'arrêt tabagique dans les vapeshops Suisses https://t.co/7Kp6o59HNe

— European Tobacco Harm Reduction Advocates (@europethra) October 21, 2021
---
Nancy Loucas
The Asia Pacific region has been split in two as to how to best deal with vaping. No bigger is the contrast than between Australia and New Zealand. While the two countries are close cousins, they're miles apart when it comes to adopting Tobacco Harm Reduction (THR) policies that work for their citizens.

Last year, New Zealand legalised and regulated vaping. Meanwhile, across the Tasman, Australia has passed regulations for nicotine to only be available via a prescription model. This not only significantly impacts the 500,000 vapers in the country but further limits access to the 2.3 million daily smokers to safer nicotine products. The human cost to this regulation may be thousands of lives over the coming decade.

Five from Dave Cross, Planet of the Vapes:
Seventy-five multidisciplinary experts have written to the Centers for Disease Control and Prevention (CDC) to get 'EVALI' renamed. The letter, sent to Director Rochelle Walensky, includes seven individuals who have served as president of the Society for Research on Nicotine and Tobacco. They believe the linking of the cannabis-related disease to vaping is a mistake and needs to be corrected.

EVALI, otherwise known as "E-cigarette or Vaping Product Use-Associated Lung Injury" came about following a series of hospital admissions due to people using a liquid containing cannabis and Vitamin E acetate – nothing to do with e-cigarettes, e-liquid, or vaping.
British American Tobacco's Chief Marketing Officer Kingsley Wheaton called 2021 "a critical year for progress" for tobacco harm reduction as he addressed the Global Tobacco and Nicotine Forum (GTFN). GTFN is an event where GTNF senior business leaders, scientists, and stakeholders exchange views on tobacco harm reduction.

At GTFN, BAT's Director of Scientific Research called for "robust scientific data and evidence-based policies" and Marina Bellini, the company's Director of Digital and Information said "the role of digital is key to our A Better Tomorrow™ transformation – and to that of our wider industry."
"Claims that e-cigarettes are a harm reduction tool remain unproven," says the blinkered American Thoracic Society (ATS), a non-profit organisation "focused on improving care for pulmonary diseases, critical illnesses and sleep-related breathing disorders." The ATS makes its claims in response to last week's decision by the Food and Drug Administration (FDA) to issue marketing approval to a Vuse product.

Lynn Schnapp, President of the ATS, responded to the FDA's announcement: "E-cigarettes are not 'safe' and the claims that e-cigarettes are a harm reduction tool remain unproven. All e-cigarettes have significant health risks including nicotine addiction and respiratory disease."
"The brave call by a Thai Government Minister for Thailand to overturn its harsh ban on the sale of vape products has received applause and accolades from around the world," says Nancy Loucas, Executive Coordinator of the Coalition of Asia Pacific Tobacco Harm Reduction Advocates (CAPHRA).

Loucas' comments follow Thailand's Digital Economy and Society Minister, Chaiwut Thanakamanusorn, telling local media that vaping is safer for people trying to quit smoking. What's more, he is now looking at ways vaping could be legalised in order to offer a less harmful alternative to smoking regular cigarettes.
David Jones MP, former Welsh Secretary and Brexit minister, and Mark Pawsey MP, chair of the All Party Parliamentary Group for Vaping (APPG), have been speaking out about the threat from the World Health Organisation (WHO) and pressing the Government on tobacco harm reduction. The WHO will host the ninth Framework Convention on Tobacco Control (FCTC) Conference Of Parties (COP9) summit this November.

The pair of pro-vaping politicians spoke about how the WHO's stance on tobacco harm reduction is placing millions of lives at risk – both smokers who need encouraging to switch and ex-smokers who may be scared back from using e-cigarettes to smoking.
---

---
Jim McDonald, Vaping 360
Altria has announced that heated tobacco product (HTP) IQOS will be removed from the U.S. market Nov. 29, 2021. The decision follows an order by the federal International Trade Commission in a patent dispute initiated by British American Tobacco (BAT) and its U.S. subsidiary Reynolds American (RAI).

The ITC ordered an end to IQOS imports within 60 days. Altria is appealing the court decision, but that process could take a year or more.

Altria announced the decision on its website: "Due to an order issued in an ongoing patent dispute, we have to remove IQOS® Devices and HeatSticks® from all stores as of November 29 and stop advertising these products online and on social media in the event we do not prevail while the order is under review. We're working hard on a solution to make these products available again as soon as possible."
Jim McDonald, Vaping 360
Hong Kong has finally banned the sale of vaping products—more than five years after a ban was first proposed. The law passed the Legislative Council Thursday by a 32-3 margin, according to the South China Morning Post.

The Hong Kong law makes it illegal to sell, manufacture, import or promote vaping and heated tobacco products. It does not criminalize personal use. It's unclear how the ban will affect vaping manufacturers that ship products from Hong Kong ports.

Hong Kong lies just a few miles south of Shenzhen, China—the vaping production capital of the world. Many of the vaping products produced in Shenzhen are transported into Hong Kong and exported to other countries through the ports and shipping facilities in Hong Kong.

New Study Muddies the Vaping Debate – Cameron English
Do electronic cigarettes help smokers give up tobacco? A growing body of research supports that conclusion, but not all experts are convinced, including the authors of a study just published by JAMA Network Open.

The researchers analyzed the outcomes of former smokers from the Population Assessment of Tobacco and Health (PATH) study. These were adults who identified as smokers at the beginning of the study who, at their first follow-up a year later, reported quitting. Use of e-cigarettes or some other "noncigarette tobacco product" was assessed at that same follow-up. Since there were four "waves" in the Path study, the researchers put participants from waves 1-3 in one cohort (7,089 individuals) and participants from waves 2-4 in a second cohort (6,515 individuals).
David Leyonhjelm
Whatever reputation for competence and honesty the World Health Organisation might once have had has been destroyed by its response to Covid.  It ignored Taiwan's warnings, claimed China had averted or delayed hundreds of thousands of cases and protected the global community, said China was not hiding anything, and recommended China's epidemic control policy to the world, saying there was no "clear evidence of human-to-human transmission" of the coronavirus.

Even after the doctors and journalists trying to expose the outbreak's extent were brutally suppressed, Dr Tedros Adhanom Ghebreyesus, the WHO's director-general, lauded the Chinese government for its "transparency" and for making us "feel safer." And only after enormous international pressure did it take seriously the likelihood that the virus originated from a laboratory in Wuhan.
And Failing To Prevent Deaths – Soko Directory
A LETTER by one hundred of the world's leading tobacco and nicotine experts calling on governments to demand that the World Health Organization (WHO) reforms its strategy to prevent tobacco-related deaths has been welcomed by local non-profit, Campaign for Safer Alternatives (CASA).

The letter, which is addressed to all countries attending the WHO's Conference of the Parties on Tobacco (COP9) on the 8th November says that the WHO'S misguided and unscientific approach to tobacco harm-reduction is failing to prevent the 8 million deaths caused by tobacco every year.
RegWatch (Live)
Who are threatening our freedoms – Jason Reed
Those who value freedom of choice when it comes to issues of lifestyle celebrated the demise of Public Health England. But the new Office for Health Improvement and Disparities (OHID), which is set to take over the part of PHE's former brief relating to issues like obesity and tobacco, might not be an improvement after all.

The OHID has set itself a worryingly wide remit to police our lifestyles, centring around two perceived crises: obesity and smoking.
Is incontrovertible – Voices of Vapers
Evidence on the efficacy of harm reduction products like e-cigarette is incontrovertible, said speakers at a webinar on Thursday.

The webinar was organised by Bangladesh-based organisation 'Voices of Vapers', where speakers presented findings of a recently released white paper containing case studies on vaping in four countries, said a press release.

The speakers discussed the findings of the paper and answered questions from a group of audiences who participated at the live session.
On US FDA's likely approach to alternatives – Barnaby Page
While some of the biggest players in the US vapour market wait for the Food and Drug Administration (FDA) to decide whether their products can remain on sale, a document published by the agency along with its authorisation of two Reynolds cartridges provides insight into its processes and priorities.

Although this decision relates specifically to e-cigarette products, it's highly likely that much the same priorities will govern FDA thinking on other alternative products.
---
A look back at how things have moved on or otherwise….
Karolien Adriaens, PhD, Frank Baeyens, PhD, Konstantinos Farsalinos, MD, MPH, Ecigarette Research
While everyone's attention is essentially on the COVID-19 pandemic, there are some developments in the field of tobacco harm reduction and e-cigarettes. Besides the recent SCHEER report, for which i will prepare a detailed response, another important issue has been the discussions in the Netherlands concerning a potential ban on flavored e-cigarettes. Together with Dr Karolien Adriaens and Prof Fran Baeyens from the Univ. Of Leuven, we prepared a letter that was sent to the Secretary for Health, Welfare and Sports concerning this issue. The leter is presented below.
Christopher Snowdon, Velvet Glove Iron Fist
Last month, the EU's Scientific Committee on Health, Environmental and Emerging Risks (SCHEER) published a preliminary opinion on electronic cigarettes which assesses the risks associated with vaping products and is designed to alert the European Commission to the "potential need for legislative amendments" to the Tobacco Products Directive. Reading it is like taking a step back in time, or being in Australia.
Clive Bates, CounterFactual
I have made a short submission to the consultation on the European Commission SCHEER Committee preliminary opinion on e-cigarettes.  You can respond to the consultation on this very poor scientific assessment here, where you can find all relevant documentation.  The closing date is just before midnight CET, Monday 26 October 2020. All contributions are helpful, but keep it polite, objective and on the subject – the science of e-cigarettes – and most importantly, in your own words.
---
Visit Nicotine Science & Policy for more News from around the World

---