Vapers Digest 20th October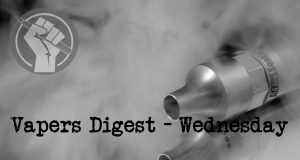 Wednesday's News at a glance:
Global broadcast counters secretive WHO conference ~ ETHRA and partners write to the delegations of the European Parties to FCTC COP9 ~ World Health Organisation slammed in open letter for 'anti-vape' stance contributing to 'millions' of deaths ~ More Bad Behavior from Journal Authors & Editors on A Fatally Flawed Study of Vaping & COPD ~ Youth19 Vaping Survey – Dated, Disingenuous And Damaging ~ Tobacco Harm Reduction Products Help Smokers Quit ~ Medical misinformation derailing public health initiatives around the world ~ GSTHR Releases Briefing Papers ~ The sCOPe Round-the-Clock Broadcasting Event ~ Advocate Attacks Public Health Organisations ~ Whose Lungs Are They Anyway? ~ PMTA News: FDA Authorizes Zombie Nicotine Product ~ Biden's FDA Just Gave Big Tobacco Control of the Vape Industry
European Tobacco Harm Reduction Advocates, ETHRA
ETHRA and partners have today, Tuesday 19 October, written to the Heads of Delegation of the European Parties to the Framework Convention on Tobacco Control (FCTC), in advance of the 9th Conference of the Parties (COP9).  We are calling on delegates to urge the WHO to modernise its approach to tobacco policy, and to include tobacco harm reduction in the FCTC.  We attached the recent expert letter, signed by 100 specialists in nicotine science, policy and practice, which calls on the Parties to the FCTC to take a positive stance on tobacco harm reduction.  Read our letter to delegates below.
Dominica Funnell, Sky News
An open letter drafted by 100 experts has berated the World Health Organisation for its strong stance against vaping products, claiming the global health body's unwillingness to endorse the smoke-free products has contributed to "millions of smoke-related deaths".

Addressed to Parties to the Framework Convention on Tobacco Control ahead of a meeting next month on tobacco control during a global health crisis, the letter urges members to take a "more questioning and assertive approach to the WHO's advocacy on smoke-free alternative to smoking".
---
---
There is a new website 'a consumer guide to COP' worth checking out! https://t.co/6U3FNjRhtB

— Richard Pruen (@PruenRichard) October 20, 2021
---
Aotearoa Vapers Community Advocacy (AVCA)
A recently released Youth19 survey which questioned Auckland, Northland, and Waikato secondary school students on vaping was conducted prior to Parliament passing the Smokefree Environments and Regulated Products (Vaping) Amendment Act last year and well before many significant regulations came into force, says Nancy Loucas, co-director of the Aotearoa Vapers Community Advocacy (AVCA).
---
Elizabeth Wright, Citizens Against Government Waste (CAGW)
It is discouraging to see various countries, like the U.S. and others restrict access to tobacco harm reduction (THR) products like vaping, heat-not-burn technologies (HNB), chewing tobacco, and snus.  THR products are a viable solution to help smokers transition away from products that all health officials can agree are deadly – combustible cigarettes.  Burning and inhaling smoke from tobacco is what causes cancer, heart disease, lung diseases, diabetes, and chronic obstructive pulmonary disease (COPD), including emphysema and chronic bronchitis.
David Thompson, Nature World News
A new study by researchers at the UK's University of Bristol and the University of Pennsylvania in the US shows how misinformation distributed via social media may be stymying adult smokers' attempts to quit the habit.

The Cancer Research UK (CRUK)-funded study – the first of its kind – returned the troubling finding that even a brief exposure to misinformation suggesting that e-cigarettes are as harmful or more harmful than conventional cigarettes could lower the chances of adult smokers switching to these reduced-risk nicotine products.
---

---
Three from Dave Cross, Planet of the Vapes
The Global State of Tobacco Harm Reduction (GSTHR) has released a new series of briefing papers, with a focus on the World Health Organization's (WHO) Framework Convention on Tobacco Control (FCTC) Conference of Parties (COP9), in advance of its forthcoming report. International experts from tobacco control, drug policy and nicotine consumer advocacy will speak at report launch, with livestreaming free and open to all.
A significant round-the-clock global broadcasting event, featuring world-leading tobacco harm reduction (THR) experts and consumer advocates for safer nicotine products, has been announced. It will coincide with the secretive World Health Organization's Conference of Parties summit (COP9).
Anyone expecting the constant attacks on vaping in Australia to calm down once it moved to its harsher harm reduction legislative position this year will have been sadly disappointed. Quit, Heart Foundation, Lung Foundation Australia and Public Health Association Australia have lined up to post another ludicrous position statement on vaping. Doctor Colin Mendelsohn says they're misleading the public.
---
Jeffrey A Singer, Quadrant Online
As of October 1, 2021, Australians can only purchase nicotine-containing e-cigarettes if they have a prescription from a licensed health care practitioner. Ironically, combustible tobacco cigarettes that contain carcinogens and other toxins in addition to nicotine will not require prescriptions. If nicotine is so dangerous, then perhaps prescriptions should be required for tobacco products, and for tea and coffee, which contain caffeine—a substance very similar to nicotine and, according to some, equally harmful, which is to say not very harmful at all.
The FDA today added a nicotine chew to its short list of authorized consumer nicotine products. It becomes the second product authorized in the last seven days, after RJ Reynolds' Vuse Solo earned a go-ahead last week.
Dave Morris, Inside Sources
Smokers have been looking for effective ways to quit their deadly addiction to combustible cigarettes for generations.  Smoking cessation products that such as Nicorette, Chantix, and Zyban – all approved by the U.S. Food and Drug Administration (FDA) – promised hope to the tens of millions of American smokers desperately trying to lead healthier lives.
---

---
Potential benefits of switching from smoking to vaping
Davide Campagna, Maria Domenica Amaradio, Mark F. Sands & Riccardo Polosa
Electronic cigarettes (ECs) are emerging as an attractive long-term alternative nicotine source to conventional cigarettes and are being adopted by smokers who wish to reduce or quit cigarette consumption. Also, given that the propylene glycol in EC aerosols is a potent bactericidal agent, switching from smoking to regular vaping is likely to produce additional lung health benefits.
Carl V. Phillips, Daily Vaper
This week, U.S. District Court Judge Amit P. Mehta denied a motion by a group of six anti-tobacco organizations to intervene in a lawsuit by cigar manufacturers against the FDA. The lawsuit challenges the legality of parts of the new regulation they face after the FDA asserted jurisdiction over ("deemed") cigars and vapor products. It is based on the right to free speech, specifics of the Tobacco Control Act, and other constitutional and statutory arguments.
---
Visit Nicotine Science & Policy for more News from around the World

---