Vapers Digest 18th October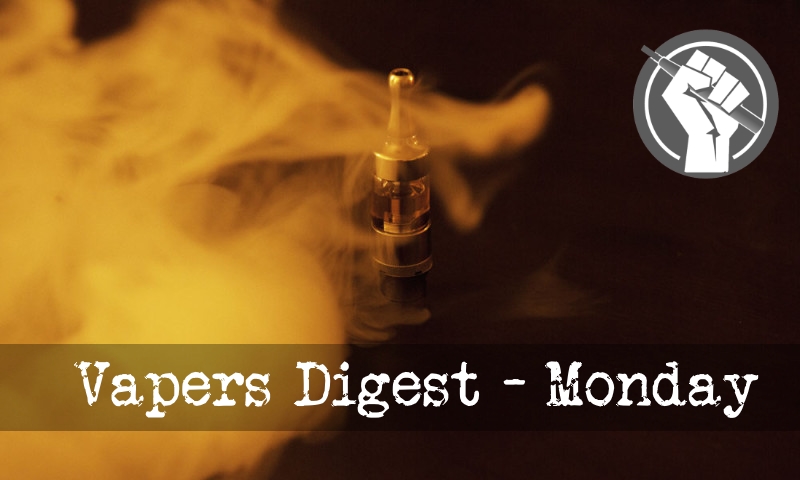 Monday's News at a glance:
Expert statements on WHO and tobacco harm reduction – One hundred specialists call for WHO to change its hostile stance – Removing Barriers from Vaping: Tips for People with Disabilities – At Least 28 Vape Companies Have Challenged MDOs in Court – The FDA's Confusing Rulings – Mackem Manager's THR Madness – This Newsletter Is Not "FDA Approved" – A global look at vaping regulations – US sketches out tough regime for e-cigarettes – FDA's Negligence Led to Youth E-Cigarette Use – Survey finds students are using vaping as quit smoking aid – Kenya must step up bid to help smokers – Scientists push for THR policies – Illegal Vape Products Seized in New Waterford – Nicotine Science and Policy Daily Digest
Clive Bates, The Counterfactual
100 experts have come together to publish a joint letter expressing grave concerns about the approach taken by the World Health Organisation to tobacco science and policy.  We believe WHO is on the wrong track.

The letter in PDF form in English, French, and Spanish and the full text were published on 18 October and will be sent to delegates of the Ninth Session of the Conference of the Parties (COP-9) of the Framework Convention on Tobacco Control, a global intergovernmental treaty in which WHO plays a major role. This meeting will be held on 8-13 November 2021: details are on the COP-9 website.
To change its hostile stance on tobacco harm reduction – new letter to FCTC delegates published
Clive Bates, The Counterfactual
The letter pushes back against WHO's misguided and unscientific drive for prohibition or excessive regulation and taxation of vaping products, heated and smokeless tobacco products, and novel oral nicotine products, such as pouches.

From 8-13 November 2021, the ninth meeting of the Conference of the Parties of the Framework Convention on Tobacco Control (COP-9) will be held online. The meeting details are here.

The letter makes seven main points relevant to FCTC parties and then six recommendations. The letter text must speak for itself.

Several signatories have made statements on the letter, or on WHO's approach to tobacco harm reduction and innovation. These are set out here.
---

---
Tips for People with Disabilities – James Dunworth
Updated: October 2021: Last week a customer asked us when our shops would be open again.

She used to visit on a regular basis in order to get her coils changed. Due to problems with her hands, she struggled to change them herself.

She's not alone – my mother has arthritis in her hands, and struggles with some vape devices. However, with the right device, there's simply no need to struggle with coil changing – or any of the more fiddly aspects of vaping.

For all of you who have limited mobility, disabilities, or simply want to avoid the more fiddly aspects of vaping, we've put this guide together to help you choose a device which will fit your needs.
---
---
Have Challenged MDOs in Court – Jim McDonald
Although news about vaping industry legal actions against the FDA has focused mostly on Turning Point Brands' successful challenge, at least 27 other manufacturers and distributors have also filed petitions asking federal circuit courts to review their Marketing Denial Orders (MDOs).

None of the companies on the list of MDO recipients received their denials after Sept. 17, which means those on the list that have not already filed a petition for review are beyond the 30-day window for appeal. However, several of the companies that have filed actions in court are not included on the FDA's list, so it's possible other unlisted companies are still within the 30-day time limit. (The FDA also hasn't updated its official list since Sept. 23.)

Two from Dave Cross, Planet of the Vapes:
America's Food and Drugs Administration (FDA) has finally authorised a premarket tobacco product application (PMTA), but the decision leaves uncertainty in its wake. Any company wishing to sell its products in the USA had to apply for every single product, the FDA missed its September deadline to review them all. The granting of marketing orders to R.J. Reynolds received a muted celebration and widespread condemnation.

"Today's authorisations are an important step toward ensuring all new tobacco products undergo the FDA's robust, scientific premarket evaluation. The manufacturer's data demonstrates its tobacco-flavoured products could benefit addicted adult smokers who switch to these products – either completely or with a significant reduction in cigarette consumption – by reducing their exposure to harmful chemicals," said Mitch Zeller, J.D., director of the FDA's Centre for Tobacco Products.
Sunderland AFC football club head coach Lee Johnson has attacked tobacco harm reduction product snus for being like "smoking three or four cigarettes at one time". His ill-judged outburst is poorly timed, coinciding with Stoptober, and will do little to encourage current cigarette smokers to switch to a product that has helped Sweden achieve historically low smoking and cancer rates.

Resembling some of the more ludicrous accusations thrown at vaping, Johnson attempted to equivocate the use of a nicotine product to that of smoking – missing the point that the danger comes from the combustion of the tobacco leaf, not the use of the alkaloid found in snus and e-liquid.
---

---
Alex Norcia
On Thursday, a reporter asked Jen Psaki, the White House press secretary, about President Joe Biden's opinion on taxing e-cigarettes like other tobacco products. She essentially punted the question, but did mention how one e-cigarette was recently "approved" by the FDA.

That statement is not true.

This week, the FDA "authorized" a marketing order for how the Vuse Solo and two of its original, tobacco-flavored cartridges could specifically be advertised and sold. The agency determined that these products are "appropriate for the protection of the public health" — which has come to be understood as helping adult smokers switch and not introducing a new generation to nicotine. In the letter to the R. J. Reynolds Vapor Company, which produces Vuse, the agency states none of these products can say that they are "FDA approved."
A global look at vaping regulations – Carol Hills
For the first time ever, the US Food and Drug Administration has given its approval to an electronic or e-cigarette. It was three e-cigarettes, actually, made by Vuse, which is part of RJ Reynolds. There's been a fierce public health debate in the United States about whether e-cigarettes are a help to people trying to quit smoking or another way for companies to hook another generation to nicotine. To get a global comparison to how e-cigarettes are regulated, Marco Werman speaks with Clifford Douglas, the director of the University of Michigan Tobacco Research Network and adjunct professor at the University of Michigan School of Public Health.
With first authorisation – Jamie Smyth
The authorisation of the first e-cigarette by US regulators this week was described by industry experts as a historic moment for the $5bn sector, which has been operating under a cloud since a crackdown on a teen vaping "epidemic" in 2018.

But the US Food and Drug Administration's choice of product for its first ever green light — an unpopular device shaped like a real cigarette made by a subsidiary of British American Tobacco — puzzled some observers.

Juul, the market leader with a 43 per cent share, has also filed for authorisation, and has yet to find out whether its products will be authorised too.
Worse for Adult Smokers – Lindsey Stroud
The Centers for Disease Control and Prevention (CDC) recently released results from the National Youth Tobacco Survey (NYTS) examining e-cigarette use among middle and high school students. There's good news as youth e-cigarette use has continued to decline, with an estimated 11.3 percent of high school students and 2.8 percent of middle schoolers reporting having used a vapor product on at least one occasion in the month prior to the survey in 2021. Among high school students, vaping rates have declined by 41.8 percent since 2020, when 19.4 percent had used e-cigarettes, and a 58.9 percent decrease from 2019, when 27.5 percent reported using e-cigarettes.

As quit smoking aid, recommends ban – Saqib Sarker
A small-scale focus group study by Dhaka Ahsania Mission found that many of the participants took up vaping to help them quit cigarette smoking and most of the survey participants were not aware of "potential health risks" of vapes, also known as e-cigarettes.

The findings of the survey were published in a press event held earlier this month. Carried out between January and February of 2020, the survey consisted of three focus group discussions with two university students – Dhaka University and North South University. The participants were daily vape users.
Quit the killer habit – Okanga Nashon
Nine in ten of Kenya's 2.5 million smokers regret having taken up the habit, according to a report by the International Tobacco Control (ITC) in May.

Yet it seems necessary support frameworks for smokers are insufficient or non-existent, with little effort made by relevant government bodies to help them quit.

The Ministry of Health says smoking is a major cause of preventable deaths. The report also found that 89 per cent of tobacco users think the government should do more to tackle the harm.
While the coronavirus pandemic, which has been raging for the past two years, has claimed more than 4,5 million lives around the world so far, smoking still remains relatively fatal, as it is killing more than eight million people annually.

Health authorities are still grappling to come up with appropriate policies to reduce fatalities.

In 2005, the World Health Organisation came up with the Framework Convention on Tobacco Control (FCTC) as a response to the "tobacco epidemic".

It currently has 168 signatories, including Zimbabwe.
In New Waterford
More illegal vape products have been taken off the streets of Nova Scotia following an investigation by the Department of Service Nova Scotia and Internal Services' compliance and special investigations unit.

On October 6 in New Waterford, a 36-year-old man was apprehended and found in possession of 733 bottles of flavoured e-juice totalling over 54,000 millilitres (54 litres) and valued at $34,500. He was arrested and the illegal products seized.

"Vaping can be harmful to your health, particularly for our youth," said Service Nova Scotia and Internal Services Minister Colton LeBlanc. "The seizure we announced today is an example of how our compliance officers are working together with police to help protect our youth and keep illegal products off our streets."
---
A look back at how things have moved on or otherwise…
And bureaucrats working together to harass citizens and protect the cigarette trade
Clive Bates, The Counterfactual
I remember back when I was Director of Action on Smoking and Health in the UK (1997-2003), we used to glance across hemispheres and admire what they were doing on tobacco in Australia. Australia's anti-smoking coalition was engaged in a feisty battle for genuine public health, defending the little guy from predatory tobacco companies. At that time, it was the David of the story taking on the giant.

No longer.

What a pitiful spectacle they make now.  Now they are the predatory giants, harassing and bullying the little guy.
Colin Mendelsohn
A new Australian Parliamentary Inquiry into Tobacco Harm Reduction has been established to review the future of vaping nicotine in Australia. International and Australian vaping supporters are invited to make submissions which are due by 5 November 2020. The Inquiry is critical for reversing the increasing restrictions on vaping being imposed by the federal Health Minister, Greg Hunt. In stark opposition to the rest of the western world, access to liquid in Australia is being reduced even further.

Under proposed customs changes, vapers will no longer be able to import nicotine liquid into Australia for personal use from 1 January 2021. A fine of $220,000 will apply for attempts to do so. Further regulatory changes will ensure nicotine liquid is classified strictly as a medicine.
---
Visit Nicotine Science & Policy for more News from around the World

---