Vaping Digest 16th October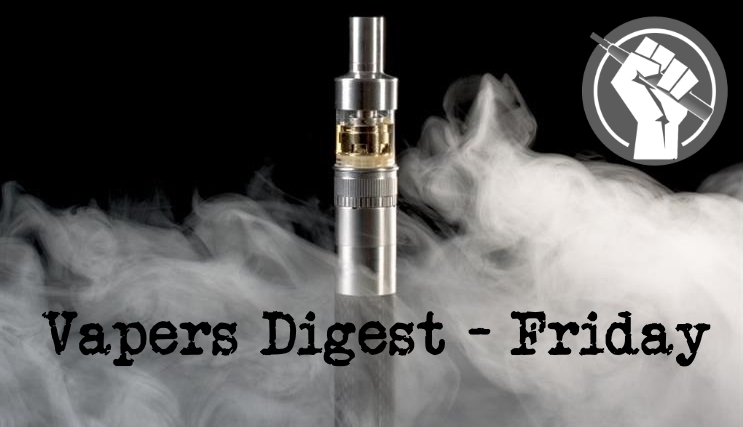 Friday's News at a glance:
Australia's anti-vaping activists and bureaucrats – Vaping nicotine facing a crisis in Australia – E-cigarettes: the Cochrane Review – Vaping Better Than NRT to Quit Smoking – COVID and Vaping: A Perfect Storm of Misleading Science and Media – Exposing Claptrap – Sheffield's Dull Legislative Blade – Shenzhen Shutdown – Bloomberg's War Chest Probed – Swedish Research Proving HPV Vaccine Prevents Cancer – False e-cigarette health fears linked to big drop in North East – E-Cigarette Use Not Tied to Wheezing in Teens – Smokefree voters need to be wary of a vaping tax – Māori Women Benefit From a Harm Reduction Approach – FDA accused of violating Filipino vapers' rights – Cigarette sales in Nova Scotia increasing – R.J. Reynolds and Philip Morris Sue CA – Nicotine Science and Policy Daily Digest
And bureaucrats working together to harass citizens and protect the cigarette trade
Clive Bates, The Counterfactual
I remember back when I was Director of Action on Smoking and Health in the UK (1997-2003), we used to glance across hemispheres and admire what they were doing on tobacco in Australia. Australia's anti-smoking coalition was engaged in a feisty battle for genuine public health, defending the little guy from predatory tobacco companies. At that time, it was the David of the story taking on the giant.

No longer.

What a pitiful spectacle they make now.  Now they are the predatory giants, harassing and bullying the little guy.
Colin Mendelsohn
A new Australian Parliamentary Inquiry into Tobacco Harm Reduction has been established to review the future of vaping nicotine in Australia. International and Australian vaping supporters are invited to make submissions which are due by 5 November 2020. The Inquiry is critical for reversing the increasing restrictions on vaping being imposed by the federal Health Minister, Greg Hunt. In stark opposition to the rest of the western world, access to liquid in Australia is being reduced even further.

Under proposed customs changes, vapers will no longer be able to import nicotine liquid into Australia for personal use from 1 January 2021. A fine of $220,000 will apply for attempts to do so. Further regulatory changes will ensure nicotine liquid is classified strictly as a medicine.
---

---
Christopher Snowdon, Velvet Glove Iron Fist
A new Cochrane Review of e-cigarettes was published this week. Cochrane Reviews focus on randomised controlled trials, which are generally seen as the gold standard of scientific evidence. You don't see many of them in 'tobacco control', but they are possible when it comes to smoking cessation.
The previous Cochrane Review could only find two high quality RCTs. The new review found four, with nicotine replacement therapy and/or nicotine-free e-cigarettes used by the control group. It concludes:
To Quit Smoking, Says Cochrane Review – Jim McDonald
A new Cochrane review says that vaping nicotine is more effective for smoking cessation than using nicotine gum or patches. The new publication, which is the second update of a 2014 review, included results from 50 studies, including 26 randomized control trials (RCTs).

The Cochrane organization systematically organizes and analyzes evidence on nearly every health care intervention, producing "gold-standard" reviews depended upon by millions of doctors and academic researchers around the world.
E-Cigarettes Appear More Effective Than Nicotine Replacement Therapy
A newly published review in the Cochrane Library Database of Systematic Reviews provides further evidence that e-cigarettes and vapor products are more effective than nicotine replacement therapy (NRT) in helping smokers quit.

The authors employed 50 completed studies that had been published up to January 2020, which represented over 12,400 participants. Of the 50 studies, 26 were randomized control trials, "in which people who smoke were randomized to an [e-cigarette] or control condition." In order to be included in the Cochrane review, "studies had to report abstinence from cigarettes at six months or longer and/or data on adverse events or other markers of safety at one week or longer."
---
---
A Perfect Storm of Misleading Science and Media
Annie Kleykamp & Helen Redmond
Seven months and more than a million deaths into the pandemic, scientists around the globe still don't understand why some people infected with coronavirus get extremely ill and die, while others survive. The sheer range of outcomes for people who get COVID-19—from asymptomatic, to mild symptoms, to moderate disease leading to months-long complications, to death—has infectious disease doctors baffled. In a desperate race against time, researchers are rushing through work to better understand the disease, to find treatments and ultimately to develop an effective vaccine.
George Gay, Tobacco Reporter
One figure in a recent report on smoking habits in the U.K. seemed to be of special note. According to the report, "Adult smoking habits in the U.K.: 2019"*, which was published on July 7 by the Office for National Statistics (ONS), 52.7 percent of Great Britain's smokers say they intend (my emphasis) to quit smoking.

Only 52.7 percent? That is below the figures usually quoted in respect of the proportion of smokers who want to quit. For instance, according to the September 2018 edition of Public Health England's (PHE) Health Matters, about 60 percent of England's smokers wanted (my emphasis) to quit.

Five from Dave Cross, Planet of the Vapes
The Independent European Vape Alliance held an eConference where experts spoke about the new Tobacco Products Directive (TPD) process and probable impact on countries and vapers. The event included Patricia Kovacevic, lawyer and global regulatory expert, Peter Becket, founder of vapingdotcom, and Clive Bates, The Counterfactual.

IEVA founding members are spokesmen to the European institutions, saying it provides TAXUD with industry information to clear the perspective on e-cigarette taxes and hosts events in the EU parliament to give first-hand information about the benefits of a suitable vaping legislation for the European public.
Smoking is banned indoors, but when it comes to pubs the government left the door open for landlords to make their own decisions. This isn't good enough for some Sheffield puritans and they have been pushing for something that is at least 95% safer than smoking to be treated in the same manner.

Council officials changed the wording of the new draft statement of licensing policy, saying that vaping, "isn't unlawful, just treated in the same way as smoking".
Shenzhen sits on the east bank of the Pearl River estuary on the central coast of southern Guangdong province. For the best part of a decade it has grown into the powerhouse of the vape manufacturing world – but people using the devices it makes doesn't sit comfortably with the Chinese Communist Party. Claiming that measures are part of its quest to become a "smoke-free city", law makers have banned vaping and the sale of products near schools.

Some will highlight that the moves might not necessarily be tied to evidence or the desire to promote good health. China runs its own tobacco company as a state monopoly, producing more than 1.7 trillion cigarettes each year for its 350 million smokers which raises well over £1.5 billion in profit. In 2003, this income accounted for almost 10% of China's total revenue.
The House leader in the Philippines House of Representatives has pushed for an inquiry into funds accepted by the nation's Food and Drugs Administration (FDA). This agency is responsible for the approaches to vaping and other non-tobacco alternative nicotine products. This was followed by another politician calling for the immediate suspension of all FDA public hearings.

The FDA acknowledged that it has accepted donations from two organisations, The Union and Bloomberg Initiative. Effectively, this means all of the funding comes from a single source – billionaire Michael Bloomberg.
Serial anti-vape junk scientist Jessica Barrington-Trimis is behind another trash study published recently by the slack JAMA Network. Barrington-Trimis, partners up again with Adam Leventhal, and a host of others, to claim evidence shows that teens who vape are more likely to use cannabis.

"Little is known about cannabis vaping trajectories across adolescence and young adulthood or the co-occurrence with nicotine vaping," they write. Little will be known from this work either as it follows the same trajectory as every other piece of vape-related work Barrington-Trimis and Leventhal have conducted – lightweight, skewed data analysis, and an intentional conflation of correlation with causation.
---

---
Prevents Cancer Mirrors that Country's Life-Saving Snus Experience
Brad Rodu, Tobacco Truth
Research from the Karolinska Institute in Stockholm and Lund University, published in the New England Journal of Medicine, proves beyond a shadow of a doubt that the human papillomavirus (HPV) vaccine protects women from cervical cancer.  It showed that vaccinated women had only 37% of the risk of contracting that cancer compared with women who weren't vaccinated (incidence rate ratio [IRR] = 0.37, 95% confidence interval [CI] = 0.21 – 0.57).

Earlier vaccination was even better.  Girls younger than 17 years were 88% less likely to get cervical cancer (IRR = 0.12, CI = 0.00 – 0.34), while protection among women age 17 to 30 was over 50% (IRR = 0.47, CI = 0.27 – 0.75).
Linked to big drop in North East users
Health officials are concerned that the uptake in e-cigarettes in the North East has seen a big drop over the last year.

The annual survey by anti-smoking group ASH carried out by YouGov found that in March 2020 there were 154,990 people vaping in the region, compared to 169,700 in 2019. Across Great Britain the figure dropped from 3.6 million to 3.2 million.

At the same time as this report a review by the Cochrane Collaboration, a respected international charitable research body, found that using an e-cigarette was 70% more effective at helping smokers quit than the most commonly used medication at present, nicotine replacement therapy.
Use of electronic cigarettes by teens is not significantly associated with wheezing, according to a study published online Oct. 13 in JAMA Network Open.

Alayna P. Tackett, Ph.D., from University of Southern California, Los Angeles, and colleagues examined the association between e-cigarette use and self-reported wheezing among 7,049 U.S. adolescents (ages 12 to 17 years) participating in the Population Assessment of Tobacco and Health study (Oct. 19, 2015, to Jan. 3, 2018).
Need to be wary of a vaping tax – AVCA
Vaping Kiwis and smokefree supporters still to vote need to be aware that the implementation of an excise tax on vaping products is a possibility if the Greens hold the balance of power, says Aotearoa Vapers Community Advocacy (AVCA).

The Greens have publicly stated they do not support changes to the existing tobacco tax scheme, but they do support introducing an excise tax on vaping products.

"Huge tobacco excise has long failed our poorer communities. The prospect of also adding an excise tax to vaping – the world's most effective smoking cessation tool – makes no sense.

From a Harm Reduction Approach to Smoking – Helen Redmond
Smoking rates among Indigenous peoples have remained stubbornly high around the world, despite stigmatizing anti-smoking campaigns and massive increases in cigarette taxes. In New Zealand, a pack of cigarettes now costs the equivalent of almost $25 US.

Māori women are one of the most socially deprived groups in New Zealand, and have the highest smoking rate of any demographic there, at 36 percent. Pregnant Māori women are 35 percent more likely than the general pregnant population to be smokers. Māori men also smoke at a high rate of 31 percent.
Tobacco harm reduction advocates have accused the Philippines Food and Drug Administration of violating the rights of Filipino vapers and consumers when the agency allegedly delivered lectures, instead of holding public consultations, on the draft guidelines for the regulation of e-cigarettes and heated tobacco products.

Clarisse Virgino, the Philippine representative to the Coalition of Asia Pacific Tobacco Harm Reduction Advocates or CAPHRA—a regional alliance of consumer tobacco harm reduction advocacy organizations, said the FDA held "moro-moro" hearings that ignored the inputs from stakeholders who will be directly affected by the draft guidelines.
Matt Brand
Flavoured vaping products were banned in Nova Scotia back on April 1st. But a recent survey shows more people may be going back to regular, combustible cigarettes. The poll by Abacus Data shows about 29 percent of the vaping population in Nova Scotia is at risk of switching to cigarettes.

But according to Mike Hammoud, president of the Atlantic Convenience Stores Association, the switch from e-cigarettes to original cigarettes has already begun.
For New E-Cigarette Ban – Christina Tabacco
A group of tobacco and vaping companies filed a federal lawsuit on Friday asking the court to set aside California's new law, Senate Bill 793, banning menthol cigarettes, menthol-flavored vapor products, and numerous other flavored tobacco products manufactured and sold by the plaintiffs. The Southern District of California suit seeks declaratory and injunctive relief against the California Attorney General Xavier Becerra and the District Attorney for the County of San Diego Summer Stephan.

The plaintiffs are a collection of R.J. Reynolds and Philip Morris companies that oppose the ban, arguing that it violates the Constitution on both preemption and dormant Commerce Clause grounds. The plaintiffs contend that the law is "an overbroad reaction to legitimate public-health concerns about youth use of tobacco products…"
---
A look back at how things have moved on or otherwise….
Elizabeth Hewitt, Columbia Journalism Review
On September 27, federal health officials announced that they had tracked a number of bootleg THC cartridges to the vaping-related lung illnesses that have afflicted more than 1,000 people across the country. The most common cartridge cited by officials is a brand known as Dank Vapes.

Emma Betuel, a mind and body reporter for Inverse, began investigating the murky origins of Dank Vapes months earlier, as questions about the origins of the illnesses swirled. She had seen a local news report about vaping-related illnesses, in which an interview subject shows a brightly colored package bearing the Dank Vapes name.
Belfast Telegraph
Vapers should not stand with smokers because it could entice them into smoking, but there is no danger to the public from passive vaping, an expert has claimed. Whether or not to vape in close proximity to others is a "courtesy issue" but there is no evidence it poses health risks to those nearby, according to Professor John Britton.
The Washington Times
Health officials increasingly are pointing to THC-based products as key elements in the growing outbreak of lung injuries linked to vaping, putting industry advocates on the defensive as companies and states heighten their efforts to ban flavored e-cigarettes.
---
Visit Nicotine Science & Policy for more News from around the World

---