Vaping Digest 14th October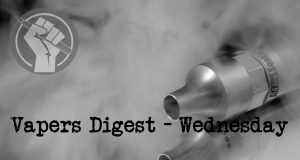 Wednesday's News at a glance:
Electronic cigarettes for smoking cessation ~ E-cigs better than gum or patches to help people quit smoking ~ E-cigarette use decreases as evidence shows they increase smokers' chances of quitting ~ UKVIA responds on latest regulatory changes to vaping in Northern Ireland post-Brexit ~ European Advocacy Group Releases Major Nicotine Use Survey – THR Update ~ Amanda Wheeler Will Lead New Small Vape Trade Group ~ NZ Misses Opportunity ~ Welsh Kids Dropping Vaping ~ Ireland Blind To Harm Reduction ~
Cochrane Library
Electronic cigarettes (ECs) are handheld electronic vaping devices which produce an aerosol formed by heating an e‐liquid. People who smoke report using ECs to stop or reduce smoking, but some organisations, advocacy groups and policymakers have discouraged this, citing lack of evidence of efficacy and safety. People who smoke, healthcare providers and regulators want to know if ECs can help people quit and if they are safe to use for this purpose. This review is an update of a review first published in 2014.
University of East Anglia
Electronic cigarettes could increase the number of people who stop smoking compared to nicotine replacement therapy – such as chewing gum and patches – according to research involving the University of East Anglia.

A new Cochrane review published today also shows that e-cigs help people stop more than just quitting smoking without any treatment.
---
Action On Smoking And Health
E-cigarette use decreases as evidence shows they increase smokers' chances of quittingAn international review published today [14th October] finds e-cigarettes are 70% more effective in helping smokers quit than nicotine replacement therapy [1]. The findings come as public health charity Action on Smoking and Health (ASH) publish figures showing e-cigarette uptake dropped in 2020 compared to 2019 [2]. The charity warns that unfounded concerns about health risks from e-cigarettes may mean thousands of smokers who could benefit from switching completely are missing the chance.
---

---
UK Vaping Industry Association
The UK Vaping Industry Association notes with concern the Government's publication of regulations regarding vaping in Northern Ireland. The 'Tobacco Products and Nicotine Inhaling Products (Amendment) (EU Exit) Regulations 2020' mean that the EU Tobacco Products Directive (TPD) will continue to be applied in Northern Ireland after the Brexit Withdrawal Period. The UKVIA recently wrote to the Department of Health and Social Care and the Department of Business, Energy and Industrial Strategy on this matter.

While the TPD is currently transposed into UK law as the Tobacco and Related Products Regulations (TRPR), the Government has committed to a review of the TRPR by May 2021.
---
To be clear, I am NOT a "public health figure" @mmoore50

…and nor do I present myself as such.

I'm a PhD scientist & I work for a tobacco co.

I'm not "deployed" to "enhance arguments"— I'm employed to transparently communicate our science 🧪🧬🩺🔬https://t.co/mbkflH9O0t pic.twitter.com/smdlSj41hC

— Dr. Moira Gilchrist 🧼🖐🖐 (@DrGilchrist) October 12, 2020
Australian #vapers have been given a chance to raise their #vapersvoice and safeguard #vaping.

Follow our partner @LegaliseVaping and let's work to help Australian #vapers!https://t.co/2jg4cynAO5

— World Vapers' Alliance (@vapers_alliance) October 12, 2020
---
VIDA News
---
Jim McDonald, Vaping360
A new vaping industry trade association launched Monday, with the goal of representing small businesses trying to navigate the FDA's complex regulatory pathway for vaping products. The new organization, the American Vapor Manufacturers Association (AVM), plans to engage in federal lobbying and provide reduced-cost scientific testing and expert regulatory compliance advice for members.
---
THREE from Dave Cross, Planet of The Vapes
The Aotearoa Vapers Community Advocacy (AVCA) says New Zealand has missed an opportunity during this Stoptober by not getting in behind the campaign and promoting vaping. The organisation believes the Ministry of Health could have done much more and has failed to fully support Kiwi smokers quit.
A report from the Centre for Development, Evaluation, Complexity and Implementation in Public Health Improvement (DECIPHer) has been released. It looks at youth smoking and vaping in Wales and finds that the Mark Drakeford's historical fear of vaping becoming an epidemic and renormalising smoking were overblown.
The Irish Examiner has reported distorted findings from a study by The Health Research Board, claiming that vaping is a gateway into smoking for teens. It feeds into the anti-vape climate that has been whipped up in the country, creating an environment where the Irish Heart Foundation is advocating measures contrary to its English counterpart.

---
ETHRA
Research commissioned by SOVAPE reveals that a staggering 45% of French adults think that vaping is as dangerous as smoking and 80% believe that nicotine is carcinogenic.

The survey was undertaken by BVA for ETHRA partner SOVAPE and will be published at the Sommet de la Vape today.

PRESS RELEASE:  Les français vont-ils se priver du vapotage pour arrêter de fumer?

SURVEY REPORT: Sondage sur le vapotage
Kate Kelland
E-cigarette or vaping-linked lung injuries that have killed 29 and sickened more than 1,000 people in the United States are likely to be rare in Britain and other countries where the suspect products are not widely used, specialists said on Monday.

Experts in toxicology and addiction said they are sure that the 1,299 confirmed and probable American cases of serious lung injuries linked to vaping are "a U.S.-specific phenomenon," and there is no evidence of a similar pattern of illness in Britain or elsewhere.
---
Visit Nicotine Science & Policy for more News from around the World

---