Vapers Digest 15th October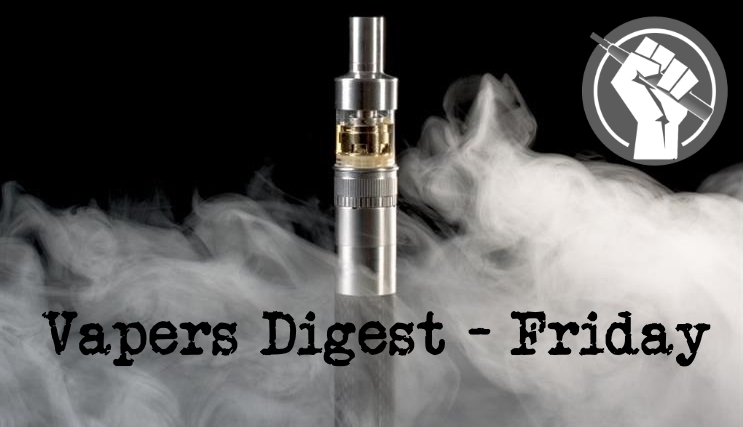 Friday's News at a glance:
UK E-Cigarette Summit – Nicotine regulation in Europe: – The Disposable Vapes Debate – Michigan Drops Its Vape Flavor Ban – Blind Lawmakers in Costa Rica – All Change For Thailand? – Stoptober NHS Advice – Tories Told About THR – Miss Information – Biden Could Pick Vaping Foe Robert Califf as FDA Chief – Heated Denver Council Hearing – FDA and Triton Argue in Court Filings – Chaos & Disorder – FDA's First-Ever Vaping Product Authorization – FDA Approves an E-Cigarette for the First Time – Just Tell Me If Vape Lung Was Fake – WVA Calls On New Zealand – Vaping harm perceptions and an SSA fellowship – Experts Challenge WHO Position on Safer Nicotine – Nicotine Science and Policy Daily Digest
7th – 8th December 2021
We are excited to be making plans for the UK E-Cigarette Summit which will take place virtually on 7-8 December 2021 and hope that the Virtual Summit will provide a welcoming focal point to grapple with the challenging questions posed by e-cigarettes and new novel nicotine products.

For decades, the known harms from smoking and combustible products has aligned public health and tobacco control communities to a common goal. However, the emergence of e-cigarettes and novel nicotine products has created clear divisions within the both the scientific and policy communities. At the same time governments have a pressing demand to interpret conflicting evidence in to appropriate legal and regulatory frameworks.
'It feels like we're going backwards' – Snusforumet
Despite ample evidence that snus and new nicotine products can save lives by helping people quit smoking, harm reduction advocates and industry experts fear that European policymakers are less informed about nicotine regulation today than they were a decade ago.

Part of the problem, says Swedish MP Joar Forssell of the Liberal Party, is that tobacco control "policy entrepreneurs" are unable to accept that people are making healthier choices.

In Sweden, where smoking rates are already among the lowest in Europe, tobacco control groups have instead focused on demonising all forms of nicotine. He characterised the shift as an act of self-preservation by groups that must justify their existence in order to continue receiving taxpayer funding.
---

---
Vaping Industry Insiders Speak – Neil Humber
It might feel like they're new on the vaping scene but the disposable vapes debate has been rumbling since they first appeared a few years ago.

Back then it was a handful of vape companies bringing them out, with the USA seemingly the main target.

However, and out of nowhere half way through this year, the larger vape companies has been releasing disposable vapes in their droves.

It's reminiscent of the endless release of pod kits – back in the day – that still shows no sign of stopping – and we've pretty much began to live with those…
---
---
But Advocates Wary of What's Next – Alex Norcia
Marc Slis wanted to live a quiet life. As a geophysicist, he had spent decades exploring for oil all over the world. He had often been out at sea and had visited close to 160 countries. Finally, in 2015, he thought that he had found a way to stay put. He purchased a vape shop from a friend in Houghton, a small city located on Michigan's Keweenaw Peninsula near Lake Superior. Previously a customer of the shop, Slis vowed to make 906 Vapor his own: He would dedicate the rest of his life to helping smokers quit using vaping products, as he had done. And he would finally have some calm.

"People laugh when I tell them that story now," he told Filter.

Slis has had no time to relax. For the past few years, he has found himself "grudgingly" at the forefront of vaping advocacy in his home state of Michigan, a particularly hostile place toward tobacco harm reduction.

Five from Dave Cross, Planet of the Vapes
Costa Rican politicians claim that there is no evidence of any benefits from switching from smoking to vaping and move to ban the use of vape devices in public spaces. Clear evidence exists in the United Kingdom, it is clear that the lawmakers simply aren't looking hard enough.

The Project 21.658 bill was debated for the second time last week in the Costa Rican parliament. The bill contains measures to prohibit the use of ban all kinds of vaping equipment in public areas as well as opening up the route to place punitive levels of taxation onto ecigs, e-liquids and anything else used for vaping.
Thailand has implemented many bans on vaping, but could this be set to change and the government finally accept the value of tobacco harm reduction? It has been reported that the Digital Economy and Society Minister is considering relaxing the current ban, but this has been met with "fierce" opposition from groups funded by billionaire Michael Bloomberg.

At one point it became impossible to count the number of times the Thai government announced a ban on vaping due to the frequency they enacted a new piece of prohibitive legislation. Each time it was met with indifference and ignored by the police, vapers, and shop owners selling vaping products.
The NHS spits truth about vaping and harm reduction in advice to compliment the UK's Stoptober campaign aimed at encouraging smokers to take part in a mass quit attempt. Along with offering advice and support, the NHS lays out the facts about using e-cigarettes to stop smoking.

Simply put, "In recent years, e-cigarettes have become a very popular stop smoking aid in the UK. Also known as vapes or e-cigs, they're far less harmful than cigarettes and can help you quit smoking for good."

It doesn't get more definitive than that – and a number of countries around the world could benefit their citizens by following the NHS' lead.
Mark Oates, the Director of We Vape, spoke on a panel at Conservative Party Conference to argue that Vaping in Britain is having a demonstrable impact in helping people stop smoking. However, he pointed out that more needs to be done to inform current smokers that vaping is scientifically proven to be safer than smoking.

Mark Oates said: "Currently around 60% of smokers either don't know if vaping is safer than smoking or think it is actually as dangerous. This has been caused by the large amount of irresponsible misinformation and scare stories in the media relating to vaping. To tackle this Government needs to do more to make sure public health messages around switching to vaping are getting through.
When it comes to trusting messages about vaping, who can we turn to for an honest comment? Jamie Hartmann-Boyce, that's who. Jamie is a Senior Research Fellow, Departmental Lecturer and Director of the Evidence-Based Healthcare DPhil Programme, at the Centre for Evidence-Based Medicine, University of Oxford. She has recently spoken out about the misinformation surrounding tobacco harm reduction products.

"There are many reasons why misconceptions about the safety of e-cigarettes persist, but undoubtedly it didn't help that the cause of Evali was confirmed just as COVID began dominating news cycles. And, until now, many discussions on e-cigarettes have focused on the risks to young non-smokers. This means the potential benefits of e-cigarettes to people who smoke – and those around them – are often ignored," she said.
---

---
As FDA Chief – Jim McDonald
The Biden administration is vetting former FDA commissioner Robert Califf for a possible second appointment to the post. A final decision hasn't been made, and the White House is still considering other names for the job, but the news, first reported yesterday by the Washington Post, has gotten a lot of attention in Washington.

President Joe Biden has been in office for nearly nine months, but has not nominated a candidate for FDA commissioner. FDA veteran Janet Woodcock has served as Acting Commissioner since Biden took over in January, but by law can't remain in the job beyond mid-November.
Debates Vape Flavors Ban – Kevin Garcia
On October 6, Denver City Council (specifically the Safety, Housing, Education and Homelessness Committee) held a public hearing to discuss an ordinance to ban the sale of flavored "tobacco products," including nicotine vapes. The bill was created and sponsored by Councillors Amanda Sawyer and Deborah Ortega.

The Denver City and County chamber was packed, and councillors remarked that they hadn't seen a meeting so full since COVID. Advocates on both sides were fired up, frequently breaking into applause or reacting with obvious anger as various points were made.
Jim McDonald
After yesterday's news that the FDA has authorized one vaping product to be sold—and only in a tobacco flavor—the independent industry's efforts to challenge the agency on legal grounds become more important. As of today, there are some updates to report.

The FDA has responded to Triton Distribution's Oct. 6 emergency motion for a stay of the agency's Marketing Denial Order (MDO). A stay could allow Triton to continue selling its flavored vaping products while the court considers Triton's petition for review (although the FDA disputes that).
FDA Floats Trial Balloon with Vuse Authorization | RegWatch
Brings Mixed Feelings – Alex Norcia
On October 12, the Food and Drug Administration (FDA) authorized the first-ever vaping product to legally be sold in the United States.

The FDA determined that the Vuse Solo, along with two "tobacco"-flavored e-liquid cartridges, were "appropriate for the protection of public health"—meaning the agency believed that the products were more likely to help adult smokers switch to a safer alternative than to introduce a new generation to nicotine. The decision is historic, but leaves advocates on both sides of the raging vaping debate dissatisfied.
But Still Seems Bent on Banning the Flavors Former Smokers Overwhelmingly Prefer
Jacob Sullum – Reason
Seven years after the Food and Drug Administration (FDA) officially declared its intention to regulate e-cigarettes, it has finally approved one such product. But the FDA, which has rejected applications for millions of other vaping products, still seems inclined to ban the e-liquid flavors that former smokers overwhelmingly prefer. Why? Because teenagers also like them.

Yesterday the FDA announced that it had authorized the marketing of Vuse Solo, a vaping device made by R.J. Reynolds Vapor Company, along with two tobacco-flavored replacement cartridges. That decision implicitly recognizes the lifesaving potential of "electronic nicotine delivery systems" (ENDS), which offer smokers a far less hazardous alternative to conventional cigarettes.

I really hate these nicotine patches – Tarpley Hitt
Well, well, well. It's a big week for some of us with disgusting personal habits. On Tuesday, the Food and Drug Administration authorized the marketing of e-cigarettes for the first time ever. Officially, they told the R.J. Reynolds Company to go hog wild with three products related to the Vuse vape, after a study found its aerosols were "significantly less toxic" than combusted cigarettes. In case you glazed over that last clause, the FDA said "significantly less toxic."
To Share Its Success Story With The WHO
The New Zealand Government must persuade the World Health Organisation (WHO) and other countries to back vaping and beat smoking, like New Zealand has done, at the upcoming FCTC 'COP9' conference.

New Zealand's endorsement of vaping as a tool to quit smoking has seen smoking rates drop to all time lows of 10.5% in 2021. This downward trend has accelerated as the Ministry of Health has rolled out programmes such as 'VapetoQuitStrong', aimed at young indigenous smokers. If global leaders acted like New Zealand, 200 million lives could be saved.'
And an SSA fellowship: the SSA talks to Katie East
Dr Katie East started an SSA fellowship in October 2021. The SSA's Rob Calder caught up with Dr East to find out more about her research and her tips for getting a post-doctoral fellowship.

We are going to use large international datasets to look across different countries that have different e-cigarette regulations and identify different ways that governments communicate the harms of vaping.
On smoke-free alternatives a realistic goal?
A global consensus between industry, scientists and regulators around the role of tobacco alternatives in smoking cessation could be achieved in the long term, but experts believe more cooperation and work towards accurate information are the main challenges.

Professor Riccardo Polosa of the University of Catania in Italy believes that it is "utopian" to think of reaching unanimous agreement but that it is not impossible.
On Safer Nicotine – Tobacco Reporter
The Global State of Tobacco Harm Reduction (GSTHR), a Knowledge·Action·Change (KAC) project, launches a new series of briefing papers ahead of the publication of its latest report, Fighting The Last War: The WHO and International Tobacco Control on 27 October.

The suite of new GSTHR publications aim to draw attention to, and challenge the direction of travel of, the Framework Convention on Tobacco Control (FCTC) Conference of the Parties 9 (COP9), a major global meeting on tackling smoking. The meeting is being held virtually in early November.
---
A look back at how things have moved on or otherwise….
Cochrane Library
Electronic cigarettes (ECs) are handheld electronic vaping devices which produce an aerosol formed by heating an e‐liquid. People who smoke report using ECs to stop or reduce smoking, but some organisations, advocacy groups and policymakers have discouraged this, citing lack of evidence of efficacy and safety. People who smoke, healthcare providers and regulators want to know if ECs can help people quit and if they are safe to use for this purpose. This review is an update of a review first published in 2014.
University of East Anglia
Electronic cigarettes could increase the number of people who stop smoking compared to nicotine replacement therapy – such as chewing gum and patches – according to research involving the University of East Anglia.

A new Cochrane review published today also shows that e-cigs help people stop more than just quitting smoking without any treatment.
---
Visit Nicotine Science & Policy for more News from around the World

---