Vapers Digest 13th October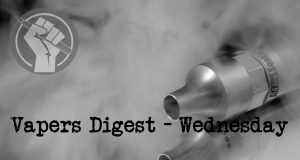 Wednesday's News at a glance:
Thai Minister's Support For Vaping 'goes Global' ~ The Digital Economy Minister Crusading To Legalize Vaping In Thailand ~ FDA Permits Marketing of E-Cigarette Products, Marking First Authorization of Its Kind by the Agency ~ FDA Issues First Authorization for a Vaping Product ~ Day 2: Post Tobacco – Recreational nicotine and society ~ Leading health organisations mislead the public on vaping ~ Health Canada Is Poised to Take a Disastrous Wrong Turn on Vaping ~ Consumer Voices Will Not Be Silenced ~ Embrace new evidence-based tobacco control to save lives ~ Stoptober Safety Win ~ Indian Vape Ban A Total Failure ~ Michigan Gov. Whitmer Drops Proposed Flavor Prohibition ~
Coalition of Asia Pacific Tobacco Harm Reduction Advocates (CAPHRA)
"The brave call by a Thai Government Minister for Thailand to overturn its harsh ban on the sale of vape products has received applause and accolades from around the world," says Nancy Loucas, Executive Coordinator of the Coalition of Asia Pacific Tobacco Harm Reduction Advocates (CAPHRA).

Her comments follow Thailand's Digital Economy and Society Minister, Chaiwut Thanakamanusorn, telling local media that vaping is safer for people trying to quit smoking.
YAËL OSSOWSKI, Consumer Choice Center
In our work promoting smart policies on harm reduction around the world, the Consumer Choice Center is often engaged in battles to stave off vaping flavor bans or tax hikes that will harm consumers and smokers looking to quit.

And while those efforts are vital to individuals moving away from tobacco in liberal democracies, there are countries outside that sphere that still maintain outright bans or harsh restrictions on vaping and harm-reducing technologies – depriving millions of a less harmful method of consuming nicotine.
Marking First Authorization of Its Kind by the Agency
U.S. Food and Drug Administration
Today, the U.S. Food and Drug Administration announced it has authorized the marketing of three new tobacco products, marking the first set of electronic nicotine delivery system (ENDS) products ever to be authorized by the FDA through the Premarket Tobacco Product Application (PMTA) pathway. The FDA issued marketing granted orders to R.J. Reynolds (RJR) Vapor Company for its Vuse Solo closed ENDS device and accompanying tobacco-flavored e-liquid pods, specifically, Vuse Solo Power Unit, Vuse Replacement Cartridge Original 4.8% G1, and Vuse Replacement Cartridge Original 4.8% G2. As the RJR Vapor Company submitted data to the FDA that demonstrated that marketing of these products is appropriate for the protection of public health, today's authorization allows these products to be legally sold in the U.S.
Related: Editor note: Same title, different article:
---
---
Dr. Colin Mendelsohn, ColinMendelsohn.com.au
A group of Australia's most respected public health organisations (including Quit, Heart Foundation, Lung Foundation Australia and Public Health Association Australia) recently published a Position Statement on vaping. This document is alarmist and misleading and selectively quotes the evidence. It exaggerates the risks of vaping and uses studies known to be flawed to argue its case.

This misinformation has a real risk of deterring smokers from vaping and perversely may increase smoking deaths. Australians deserve better from leading public health bodies.
---
Martin Cullip, Filter Magazine
The Canadian government recently consulted on its proposals for regulating—read:banning—flavors used in vaping products. Its supposed justifications include a perceived increase in youth vaping exposing young people to harm, and the notion that vaping is a "gateway" into cigarette smoking.

Both concerns are flawed to say the least, as is Health Canada's claim that banning all flavors except tobacco and menthol is any kind of solution.
Consumers' Association of 
Canada, Cision
The Consumers' Association of Canada (CAC) is renewing efforts to ensure consumer voices are heard as Health Canada prepares new regulations for flavoured vaping products, through submissions, radio ads and a new testimonial video.

First, the CAC filed a submission condemning Health Canada for silencing 24,000 consumer voices during an earlier consultation about restricting flavoured vaping products.
---
---

---
Two from Dave Cross, Planet of the Vapes
Public Health England's Stoptober is underway and the might of the government, quit services and the emergency services is behind it. Everyone is being made aware that vaping is safer than smoking, at least 95% safer according to PHE, but the Northamptonshire Fire & Rescue Service have pointed out another benefit of switching.
The Indian vaping ban has been a total failure, according to the survey conducted by the Coalition of Asia Pacific Tobacco Harm Reduction Advocates (CAPHRA). "This is the most significant independent survey we've seen coming out of India since its 2019 vaping ban. It shows an overwhelming call for the Government to lift the ban and regulate access to safer nicotine products," says Nancy Loucas, CAPHRA's Executive Coordinator.
---
Jim McDonald, Vaping 360
Michigan Governor Gretchen Whitmer and the state's Department of Health and Human Services (MDHHS) have abandoned their plan to pass a permanent rule prohibiting the sale of flavored vaping products—for now, anyway.

The news was a surprise, and came the day before a scheduled meeting of the Michigan legislature's committee that approves rules proposed by executive agencies. MDHHS last month sent the final rule to the Michigan state legislature's Joint Committee on Administrative Rules (JCAR) for approval. The meeting was cancelled after the rule was withdrawn.
---

---
Worse Than North Korea – Dick Puddlecote
Swivel-eyed anti-tobacco extremist Simple Simon has been dismissing the notion that eye-watering sin taxes might have societal negative consequences.

The debate is occurring because Australia last month slapped a third 12.5% tax increase (applied every three months) on tobacco, pushing the cost of a pack of 30 to AU$32, around £16….
The most recent Welsh Health Survey failed to find a single vaper who said they had never smoked before – Save E-Cigs
One of the key arguments used by the Welsh Government in support of their proposed ban on vaping in enclosed public places and work places is that e-cigarettes may be a gateway to smoking.

As a campaign we have supplied the Welsh Government with a significant amount of credible independent expert evidence that clearly shows this not to be the case. Each and every time we have done this we have been ignored…
---
Visit Nicotine Science & Policy for more News from around the World

---