Vapers Digest 11th October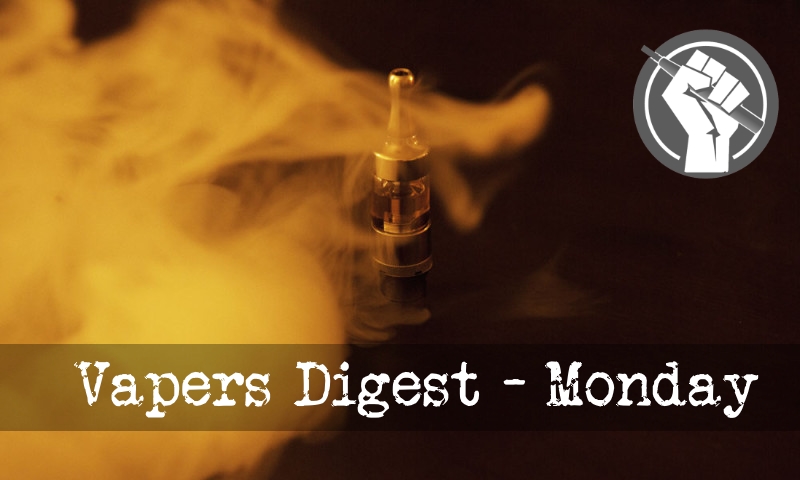 Monday's News at a glance:
Australia's Black Friday – Medical Journal of Australia censors debate on vaping harms – The battle over the government's tough new vaping ban – FDA Backs Down, Rescinds Turning Point Brands' MDOs – Turning Point Brands' PMTAs Are Back Under FDA Review – Four reasons to reject a federal tobacco tax increase – Boris urged to use Brexit freedoms to end e-cigarette ban fears – Federal Health Agencies Don't Need More Funding – Banning e-cigarettes would cost lives, not save them – Nicotine Science and Policy Daily Digest
Dave Cross, Planet of the Vapes
October 1st was Australia's Black Friday as the Therapeutic Goods Administration (TGA) expanded its prescription-only model with customs to clampdown at the border. This means no more personal importation of nicotine vaping liquids, via overseas websites, without a doctor's prescription.

"Friday, 1 October marks the day deadly cigarettes become a lot easier to obtain in Australia than safer nicotine vaping products," says Nancy Loucas, Executive Coordinator of the Coalition of Asia Pacific Tobacco Harm Reduction Advocates (CAPHRA).

"It's worse than medicalisation as very few doctors are registered with the TGA to prescribe. Australia's 500,000 vapers are now expected to hunt down a willing doctor for a medical assessment and prescription. Many, undoubtedly, will return to the easier option of grabbing a packet of cigarettes. It's sadly another dark day for Australia."
Censors debate on vaping harms – Colin Mendelsohn
An article in the Medical Journal of Australia (MJA) last week confidently attributed a case of lung illness in Sydney to 'EVALI' from vaping nicotine. However, this case was almost certainly NOT EVALI and there is no evidence it was due to vaping.

Leading researcher and respiratory physician Professor Riccardo Polosa and I wrote a letter to the Medical Journal of Australia outlining why the diagnosis of EVALI was likely to be wrong. The letter was rejected by the editorial committee without going out for peer-review.

EVALI (e-cigarette or vaping product use-associated lung injury) is a serious lung condition which occurred in the United States from September 2019 to February 2020 and was caused by vitamin E acetate (VEA) which had been added to illicit THC (cannabis) vaping oils.
---

---
The battle over the government's tough new vaping ban – Warwick Jones
With more Australian kids picking up vapes and some as young as 13 reportedly becoming addicted to nicotine, the federal government has taken action.

Starting on October 1, Federal Health Minister Greg Hunt closed a loophole that allowed Australians to import nicotine vaping products (NVPs) from overseas without a doctor's prescription.

But some experts are concerned the new laws will put users at a higher risk of harm, by forcing them into the black market to buy a product that could save their lives.
---
---
Rescinds Turning Point Brands' MDOs – Jim McDonald
The FDA has reversed the Marketing Denial Order (MDO) it issued for some Turning Point Brands e-liquids. The agency has moved the TPB products back into scientific review, and in response the company has withdrawn its federal court petition for review, according to Filter reporter Alex Norcia.

Norcia broke the new todays in his blog, which includes a copy of the letter sent Thursday to TPB from FDA Center for Tobacco Products Office of Science Director Matthew Holman. In the letter, Holman claimed the agency had somehow overlooked the scientific evidence the company submitted with its Premarket Tobacco Applications (PMTAs)—which is difficult to believe.
Are Back Under FDA Review – Alex Norcia
On Friday, Turning Point Brands, which late last month petitioned a federal court to review a marketing denial order (MDO) for many of its vapor products, is withdrawing its appeal. The company is doing so because, on Thursday, the Food and Drug Administration informed TPB the products that had been denied are now back under review.

"Upon further review of the administrative record, FDA found relevant information that was not adequately assessed," reads a letter addressed to Brittani Cushman, TPB's senior vice president of external affairs, and signed by Matthew Holman, the director of the office of science at the FDA's Center for Tobacco Products.

 Guy Bentley
The Tobacco Tax Equity Act currently being considered in Congress would increase taxes on all tobacco and nicotine products to raise revenue for President Joe Biden's proposed $3.5 trillion reconciliation bill.

The proposed tax increase attempts to equalize the taxes on all nicotine products—regardless of their risk, use patterns, or approval by the Food and Drug Administration. Taxes on combustible cigarettes would double to $2 per pack under the bill's current form. The tax on dipping tobacco, roll-your-own tobacco, and pipe tobacco would rise by 2,023 percent, 100 percent, and 1,651 percent, respectively.
---

---
Boris urged to use Brexit freedoms to end e-cigarette ban fears
A FORMER Cabinet minister has demanded that Britain helps save millions of lives by using its Brexit freedoms to stand up to the European Union (EU) during the next summit on tobacco organised by the World Health Organisation (WHO).

David Jones, a former Welsh Secretary and Brexit minister, made his intervention after a leading anti-smoking campaigner accused the WHO of putting millions of lives at risk by trying to ban e-cigarettes which are 95 percent safer than traditional tobacco products. Clive Bates, the former director of the anti-smoking campaign group ASH, branded the WHO as "negligent and incompetent" and claimed that the global health body is "ignoring the science".

Don't Need More Funding for E-Cigarette Alarmism – Lindsey Stroud
While Democratic lawmakers publicly laud the Food and Drug Administration (FDA) for denying more than 1 million applications for vape products, they continue to be frustrated that the FDA is dragging its feet on deciding the fate of some of the more high-profile applications.  Now, instead of waiting for the FDA to conclude their review process, some members of Congress have decided to introduce even more vaping-related legislation in a misguided attempt to put a stop to a supposed youth vaping epidemic.

Sen. Richard Blumenthal (D-Conn.) and Rep. Debbie Wasserman Schultz (D-Fla.) recently introduced the Preventing Opportunities for Teen E-Cigarette and Tobacco Addiction (PROTECT) Act. The legislation would earmark federal funding to the Centers for Disease Control and Prevention (CDC) and states to improve "research, education, and outreach" and provide such agencies and "localities with the funds and tools necessary to protect young people from the e-cigarette industry's manipulative practices."

Not save them – Alice Calder
Attacking e-cigarettes does not aid efforts to reduce levels of smoking in the UK. Prioritising such a policy focus ahead of more effective means such as education programmes simply serves to put more lives at risk, writes Alice Calder.

Cigarettes have undoubtedly lost their lustre in the UK. Once a mainstay in the hand of any aspirational figure, smokes are declining in popularity. Currently only about 14 per cent of the adult population indulge. Fifty years ago, it was closer to 50 per cent. Numbers continue to go down year by year. Between 2018 and 2019 the population of smokers in the UK as a proportion of the adult population fell by four per cent.
---
A look back at how things have moved on or otherwise…
David MacKintosh
I confess to having always enjoyed party conference season. This is an annual ritual where the main UK political parties gather at a major city with the aim being to enthuse their membership and map out a vision attractive to the voting public.  When I was a Civil Servant, they often provided a useful insight into the direction of future policy.  Away from the main platform you could, on occasion, discover events where politicians would stray from their doctrinaire trenches and engage in meaningful debate.

So, with hope rather than expectation I dipped into the virtual New Statesman fringe event being run alongside the Labour Party Conference.  The session on How Does England go smoke-free by 2030? attracted my interest. Now it has to be acknowledged that much of the political interest in tobacco harm reduction has tended to come from the libertarian right.
Brad Rodu, Tobacco Truth
The Centers for Disease Control and Prevention has released data from the 2019 National Health Interview Survey (NHIS).  After a short delay, during which I caused the agency to correct an error in their release (here), I can now present the latest figures on smoking and vaping.  Like last year, our government has had the 2019 data for months but has not released any findings.

The prevalence of current smoking was 13.6%, which was not a significant change from 2018 (13.7%); that's 34.1 million.  Twenty-two percent of Americans were former smokers, the same as the year before.

Prevalence of current vaping increased from 3.2% in 2018, to 4.3% in 2019.  That translates to about 10.82 million American adult vapers in 2019, up from 8.07 million the year before.  That is the second annual increase and it represents the largest number of vapers since the CDC started tracking e-cigarette use in 2014.
---
Visit Nicotine Science & Policy for more News from around the World

---